TOKYO — Japan observed the 60th anniversary of its defeat at the end of World War II with an apology from Prime Minister Junichiro Koizumi for suffering caused by Japanese military aggression during the war — and a pledge that Tokyo would never return to go to war again.
But underscoring the deep distrust in the region, the message was received with skepticism by neighboring nations.
"Only with an honest attitude toward history can a nation win reconciliation and then integrate into the global community," the China Daily newspaper said Monday.
While economic interdependence and cultural exchange in East Asia continue to grow to unprecedented heights, politically, this year has marked a new low for Tokyo's diplomacy with China, the region's powerhouse. The development has been coined, "cold politics and hot economy."
Volatile year
In April, large-scale anti-Japanese demonstrations erupted in several Chinese cities, including Beijing and Shanghai, over four consecutive weekends. The local police largely stood by and watched as protestors, mostly students, threw rocks and painted graffiti on Japanese diplomatic missions and businesses.
The trigger for the protests was Japan's bid for a seat on the U.N. Security Council which galvanized Chinese sentiment that Tokyo has yet to fully repent for its actions during the war.
"Only a country that respects history, takes responsibility for past history and wins the trust of the people in Asia and the world at large can take greater responsibility in the international community," the Chinese Foreign Ministry spokesman said at the time.
The media in Japan immediately fired back, suggesting that the anti-Japanese sentiment, citing provocative rhetoric in China's own "patriotic education," was being driven by Beijing with a political aim to discredit Japan's leadership in the region.
Under Koizumi, Japan has taken aggressive steps in projecting a more active role overseas, mainly by allying itself with the United States — the most notable measure being the dispatch of the Japanese self-defense forces to participate in the reconstruction efforts in Iraq.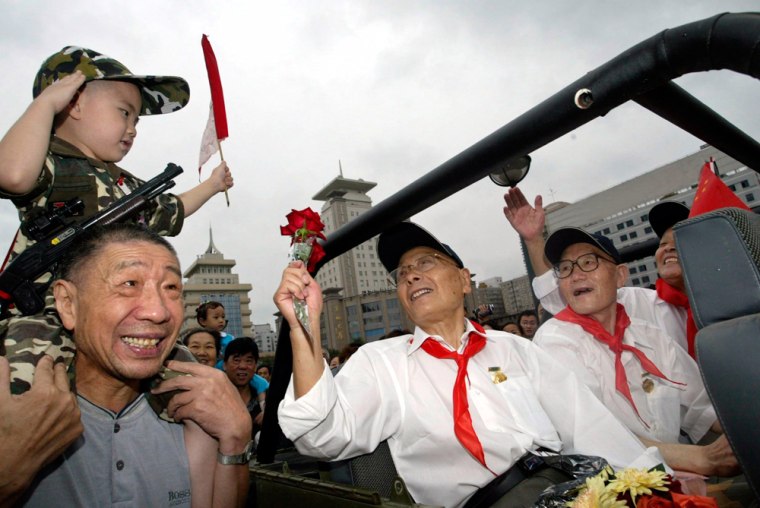 But the repeated gaffes by Japanese leaders over the nation's role during World War II, compounded by the attention given to a nationalistic history textbook and Koizumi's homage to the controversial Yasukuni Shrine, have put into question Japan's perspective on its own history and whether it's fit to take on the U.N. role.
Shrine visit criticized
Even though Japan has apologized on several occasions for its role in World War II, critics say that Japanese leaders have been slow, reserved and muddled in expressing the nation's remorse toward their Asian neighbors.
Koizumi's annual visit to Yasukuni Shrine, which has served as the nation's main veteran's memorial since the Meiji Era, has been criticized by Asian countries because 14 Class A war criminals are enshrined among the 2.5 million war dead.
Koizumi maintains that his visits are not meant to honor the war criminals, nor to romanticize Japan's militaristic past.
During a parliamentary debate in June, the prime minister said, "The visits are meant as a vow to never start another war and also to honor those, who perhaps unwillingly, had to sacrifice their lives by going to the battlefields. Because Japan's development was not only achieved by those living today."
But that explanation has hardly appeased the anger of the Asian victims of the Japanese occupation who are still to this day fighting in Japanese courts for individual compensation and an official government apology.
Textbook controversy
Similarly, the controversial Japanese history textbook, which is actually only used in less than one percent of the nation's junior high schools, has incited anger not only from China but also from other Asian countries.
Those who promote the new history textbook claim that the decades of apologetic, self-critical attitude of postwar Japan has allowed some of the facts to get skewed and their goal is to set the record straight.
"There was a time when there were all these Japanese history textbooks that were self-critical. I think it's a good thing that there are less references to 'comfort women' and 'forced labor,'" the education minister said last year before subsequently apologizing.
But even within Japan, civic groups charge the government distorts history to omit the atrocities committed by the Imperial Japanese army and to try to justify its motives during the war.
About 200 Japanese activists demonstrated outside parliament last week demanding a swift government resolution to the issue of "comfort women," or Asian women forced into prostitution by the Imperial Japanese Army. One of the protester, Yoko Shiba, said, "The government may have given away money and apologized, but for the victims, nothing has been resolved."
Economic trends
In the long run, what may bring Japan and its Asian neighbors closer together may be economic necessity more than anything else. This year China surpassed the United States as Japan's largest trading partner, with total trade amounting to $200 billion.
And just last month, Japanese tourist visas, which were limited to Chinese visitors from eight cities and provinces including Beijing and Shanghai, were extended to the entire country.
According to the Japan National Tourist Organization, visitors from China rose 37 percent in 2004. That figure is expected to further increase with the latest deregulation.
But there are also other simmering issues that could further damage the relations of the two countries. At the forefront is the territorial dispute in the East China Sea and China's offshore oil exploration.
Last Wednesday, Japan's trade minister announced that despite Tokyo's objections, China appears to have activated one of its oil rigs in the disputed waters.
Koizumi's foreign policy has been largely defined by Japan's close alliance with the United States, and critics point out that as a result, too little attention has been paid to equally important Asian neighbors.
He may find that addressing historical arguments and finding a solution to these points of tension might be the first important step.