/ Source: The Associated Press
It doesn't take much money to set up a militia force in Afghanistan. A few dollars a day buys the loyalty of impoverished villagers, and weapons are cheap and available.
It's so easy that one Afghan province, Kunar, near the eastern border with Pakistan, has 10 illegally armed groups, U.S. military officials say. Though each has its own agenda, they are believed to share a common aim: to disrupt or even stop landmark legislative elections next month.
"I got them all: Taliban, al-Qaida, Hig, foreign fighters, smugglers and other criminals," said Lt. Col. Peter Munster, a U.S. Army commander in Kunar. "They are like the Mafia."
Hig refers to a militant network led by renegade former premier Gulbuddin Hekmatyar, who is wanted by the United States.
Munster said the militias "are against the elections. ... They are coming in with money and throwing it around. This is a poor area. People can be bought."
Sept. 18 elections
The Sept. 18 elections are Afghanistan's next key step toward democracy after a quarter century of war and subverting them would be a highly symbolic blow to the U.S.-backed nation-building process that is slowly marginalizing the Taliban and other extremist groups.
The amount being spent on recruiting new fighters and the number of foreign militants coming into the region has spiked in the lead-up to the vote, said Kirimat Tanhah, an Afghan Special Forces commander in Kunar.
"This area is full of foreigners: Pakistanis, Chechens, Arabs. Weapons caches have been hidden and the local villagers are being paid to fight," he said, before a joint operation with U.S. Marines into Korengal Valley, a militant stronghold in remote mountains in Kunar.
The U.S. military in Afghanistan suffered its deadliest blow in the valley on June 28, when militants killed three Navy SEAL commandos in an ambush and shot down a special forces helicopter with 16 troops on board who had gone to rescue them.
The attacks came amid a major upsurge in fighting nationwide that since March has left nearly 1,000 people dead, more than half of them suspected militants — some of the bloodiest months since the Taliban's ouster by U.S.-led forces in late 2001.
To counter the worsening violence and the threat of attacks during the elections, the U.S. military has brought in extra troops and gone on the offensive, launching major operations in southern and eastern regions, where most of the militants are based.
'Nothing to fear'
"We want to keep the bad guys off-balance in the lead-up to the elections. We want to disrupt them," Lt. Col. Jim Donnellan, commander of the 2nd Battalion, 3rd Marine Regiment, said in an interview with The Associated Press at a U.S. base in Asadabad, the main town in Kunar.
"We want to show villagers before the elections that there is security, that they have nothing to fear," he added.
One such operation is the deployment of hundreds of Marines and Afghan Special Forces into Korengal Valley to flush out Taliban rebels suspected in the June 28 assaults.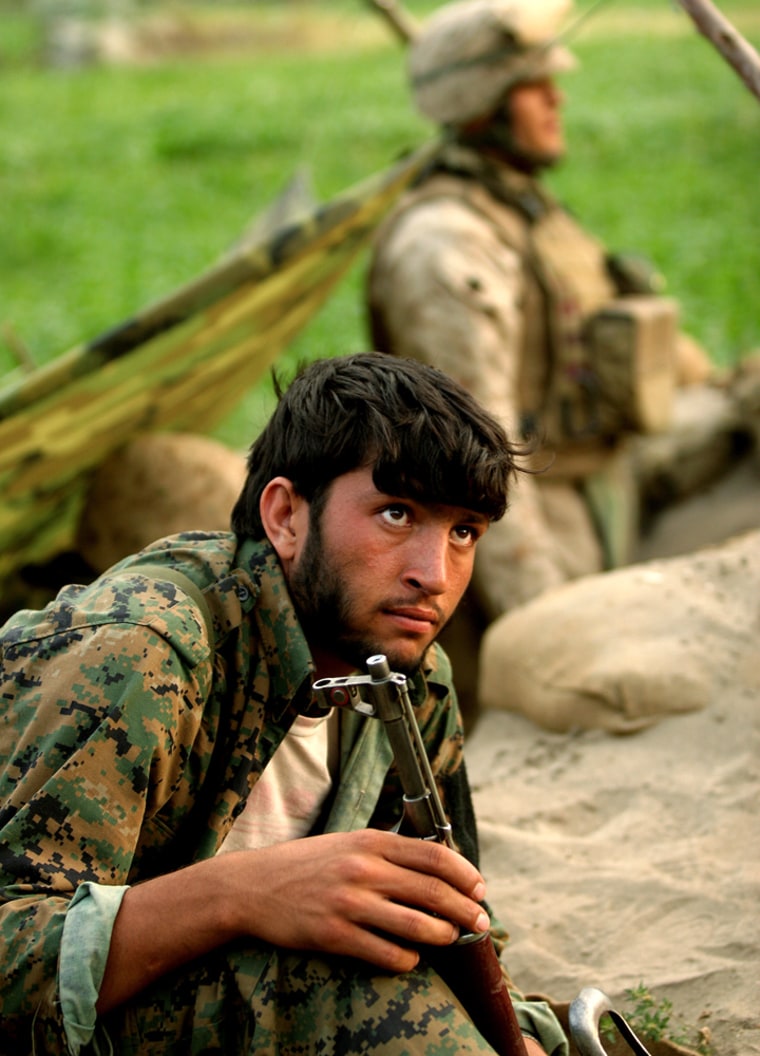 The U.S. military and the Afghan government also have set up local militia forces of their own. In Kunar, nearly 1,000 villagers have been recruited, trained and armed in the past month to provide security. This force is in addition to the police and Afghan army.
And the military has launched a string of reconstruction projects for roads, schools and medical clinics, that employ poor villagers so they won't become militants.
But persuading them to vote won't be easy.
Militants have distributed leaflets in some regions, threatening to kill anyone who takes part in the election. They've even tried to intimidate Afghan troops by tuning into their radio frequencies and threatening to attack, said Tanhah, the special forces commander.
"They accuse us of being bodyguards for the Americans," he said. "They say we are brothers and should join them. But we radio back and tell them that we are fighting for our country and that they are fighting for foreigners who want our country ruined."
Flashing mirrors
The militants have extensive resources in some areas, including satellite phones and digital cameras, which they use to record attacks and then post them on Web sites, Tanhah said. Other communication methods are more basic.
"The bad guys pay little kids to flash mirrors from hilltops to warn them of approaching troops," Munster said. "Many villagers are paid good money to work with the militants."
Tanhah said that while most of the militants claim to be fighting for Islam, many are just in it for the money.
"Many foreign fighters are only here to be paid," he said. "And the locals don't care who pays them, whether it be the Taliban, al-Qaida or the U.S. military. They just want to earn money."