/ Source: msnbc.com news services
A spokesman for West Caribbean Airways said Tuesday that the plane that crashed in Venezuela, killing all 160 people aboard, had dropped its tail cone last month during a flight but was later repaired.
Meanwhile, Venezuelan rescue workers have found one of two black box flight data recorders from the airplane, officials said.
And as workers and officials sifted the wreckage for clues, Panamanian aviation officials said Tuesday they found no evidence of contamination in the fuel supplied to the jetliner that crashed.
Tail-cone matters, other repairs
John Ospina, spokesman for the Medellin-based airline, told The Associated Press that the tail-cone incident involving the McDonnell Douglas MD-82 plane happened in early July while the plane was headed to an airport in Colombia's coffee-growing region.
Ospina said the same plane also underwent several hours of repairs while passengers waited to board a domestic flight about two weeks ago. He said he did not know the nature of that problem.
Ospina, in a telephone interview from West Caribbean's headquarters, said the tail cone's function is to improve fuel efficiency and aerodynamics, and was in no way related to any problems that caused Tuesday's crash.
The pilot on Tuesday's flight reported engine problems before the plane went down in Venezuela early Tuesday on a flight from Panama to the French Caribbean island of Martinique.
The plane carried mostly vacationers from Martinique. There were 152 passengers and eight crew members.
"The plane went out of control and crashed," said Col. Francisco Paz, president of Venezuela's civil aviation authority. "There are no survivors."
Rescue teams pulled dozens of bodies from the wreckage, which officials said was strewn across a forested area among farms.
Airport authorities lost radio contact with the plane later in the area of Machiques, Paz said. "Residents in the area said they heard an explosion," Paz added.
Fuel issues discounted
Authorities downplayed any chance of fuel problems. "We have not found any kind of contamination in the fuel," said Tomas Paredes, director of Panama's Civil Aeronautics Authority, who said investigators had looked at the source of fuel supplied to the jetliner.
In broadcast remarks to reporters, Paredes said a plane from the DHL courier company had been fueled from the same source for a flight to Miami and "it did not have problems." He did not say if it was fueled before or after the charter flight.
"We are discounting situations little by little," he said.
' There are children who are orphans'
Officials in Martinique said the vacationers included groups of civil servants and their families who had chartered the flight for a one-week trip to Panama.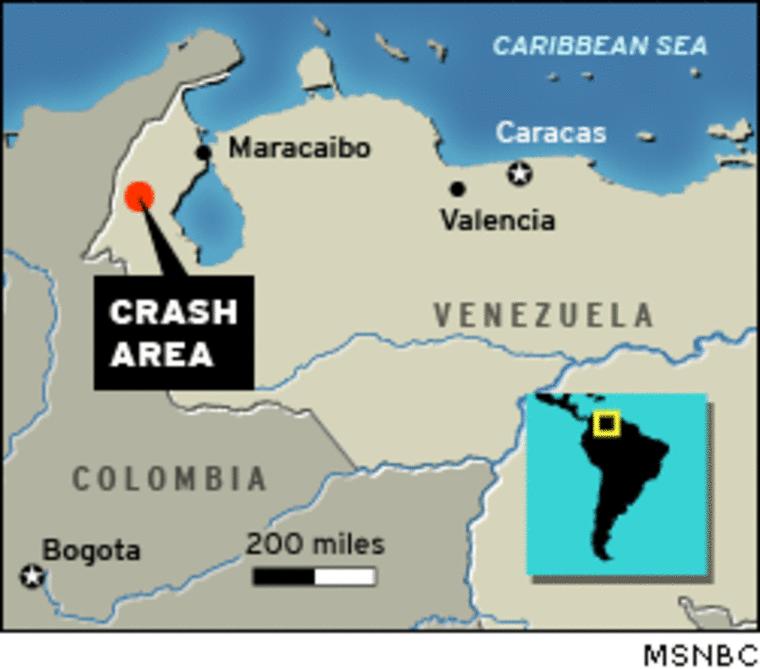 "There were couples who went away, and so today there are children who are orphans," Andre Charpentier, mayor of the Martinique town of Basse-Pointe, from which 16 of the victims came, said on France's I-Tele.
About 150 distraught friends and relatives, many crying, gathered in Martinique outside the city hall of Ducos, a town of 20,000 people where about 30 of the victims reportedly lived.
"The airplane should have landed early this morning. I heard on the radio it had crashed," said Claire Renette, 40, whose sister had been on the plane. "I don't understand. It's as though the sky fell on my head today."
In a statement, French President Jacques Chirac expressed "his deepest condolences and his profound compassion for the families of the victims." 
France's Foreign Ministry set up a crisis unit to handle calls from anxious relatives.
The crash came only two days after a north of Athens, Greece, killing all 121 people aboard.
Trouble with both engines
Paz said the pilot reported trouble with both engines to the Caracas air control tower just after 3 a.m. local time.
Interior Minister Jesse Chacon said the aircraft had changed its route to request a landing at Chinita Airport in the western Venezuelan city of Maracaibo, but crashed in the Sierra de Perija mountains near the town of Machiques.
"When it was flying over Venezuelan airspace, they had problems with one engine and then with another engine, and at that moment it went down," Chacon said.
Peter Goelz, former managing director of the U.S. National Transportation Safety Board, said investigators would most likely look for evidence of fuel contamination.
"It's not unusual to lose one engine. It is unusual to lose both," Goelz said. "One of the first things you always look at is fuel contamination."
Goelz said he understood that both engines had recently had work done on them to suppress noise. Within the last few weeks, he said, hush kits — noise-suppression devices — were supplied to the engines.
French Transport Minister Dominique Perben said West Caribbean Airways had operated a charter since spring between Panama and Martinique.
French aviation authorities checked the plane twice since May and found nothing unusual, he said. For Monday's flight, the plane had been chartered by a Martinique travel agency, he said.
Airline had earlier crash
West Caribbean Airways last March saw one of its passenger planes crash as it left the airport on Old Providence Island off Colombia. The L-410 aircraft's two crew and six of the 12 passengers were killed.
On Old Providence Tuesday, officials at the island's small airport announced the suspension of all West Caribbean flights, without giving a reason.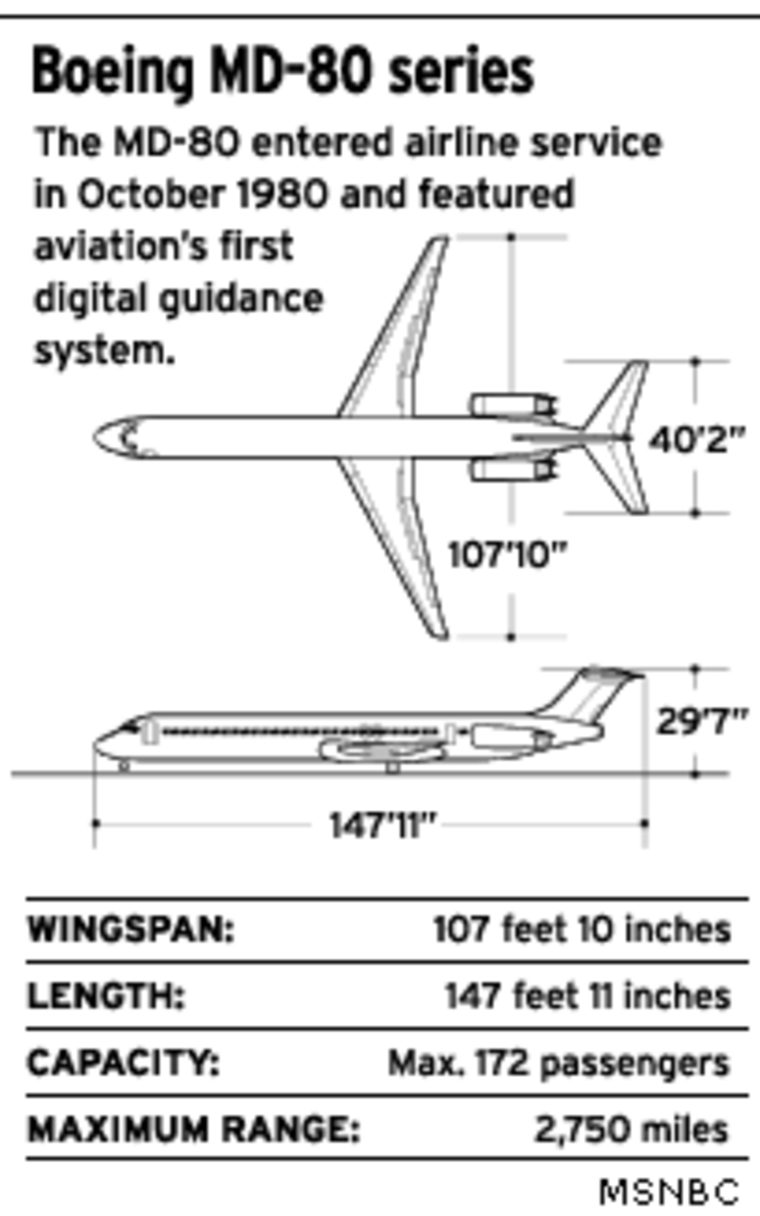 Two dozen stranded passengers huddled around a television in Old Providence's palm-studded airport, watching news reports of the crash.
"I don't even want to fly on West Caribbean, even if they offer a flight," said Olmo Cardoso, a Colombian-Italian student visiting relatives on Old Providence. "Two crashes in such a short period is obviously too much. There's something wrong."
The airline operates three jets from the MD-80 series, two MD-81s and the MD-82 that crashed.
MD-80 series production started in 1980 by McDonnell Douglas, which was later acquired by Boeing. Production ended in December 1999.
70- to 80-mile glide range
Paul Czysz, emeritus professor of aerospace engineering at St. Louis University, said South America's mountainous terrain makes it a challenge for pilots.
"You have to know what you're doing down there," he said. "If you're losing altitude in the wrong place, you're in trouble."
Czysz said all twin-engine planes have to be able to fly with one engine. Even if both engines were out on the MD-82, the plane still could have glided another 70 or 80 miles — if mountains weren't in the way.
"The difficulty when you're in a glide is that you're losing altitude every second. If the ground is rising in front of you, your glide range is cut dramatically," Czysz said.