/ Source: The Associated Press
Average scores on the ACT college entrance exam held steady across all subjects for the high school class of 2005 compared with last year's seniors, an indication that schools are treading water in their efforts to prepare students for college-level work.
Administrators noted that the average national composite score of 20.9, unchanged from 2004, represents slight progress in the sense that scores kept up even though more students — particularly Hispanics — are taking the ACT. Yet the test scores also suggest that many students remain severely under-prepared for college work, they said.
ACT scores range from 1 to 36.
Nearly three in four test-takers failed to reach a benchmark indicating they are likely to succeed in a college biology course, and only 41 percent hit a similar benchmark in math. Barely one in five hit the benchmark in all four measured subject areas: math, science, English and social science.
Facing 'disconnect'
"Hundreds of thousands are going to have a hard time because of the disconnect between their plans for college and the cold reality of their readiness for college," said Richard Ferguson, CEO of the independent, not-for-profit ACT, based in Iowa City, Iowa.
Nearly 1.2 million members of the class of 2005 took the ACT, or 40 percent of all graduates. The number rose slightly from last year to an all-time high. In Illinois and Colorado, the exam is taken by almost all 11th-graders under a state-mandated program.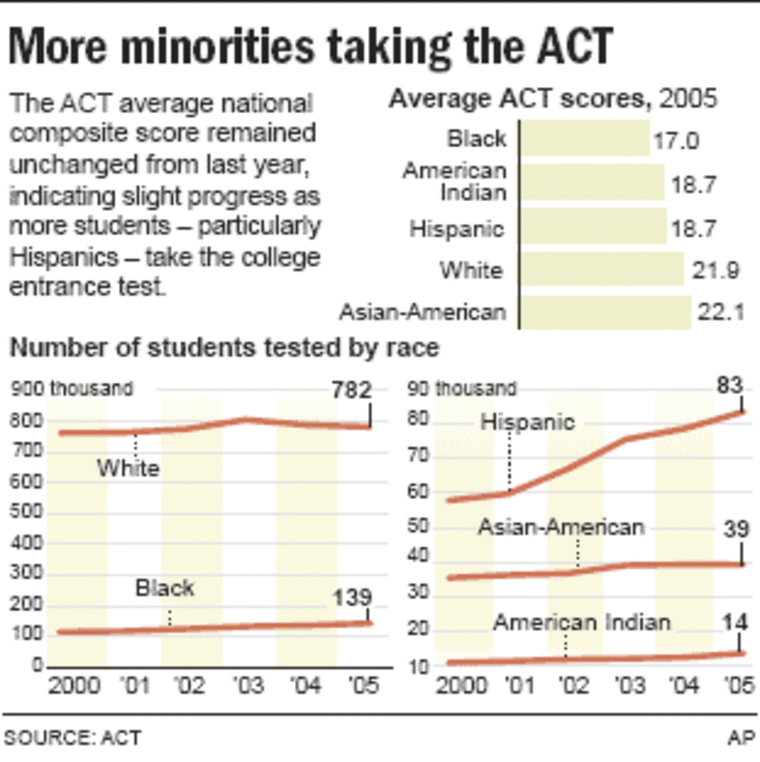 The ACT exam is the predominant college entrance exam in about half the states, mostly in the middle part of the country, while the SAT is more popular on the East and West Coasts. Most colleges accept either exam.
The results come amid some renewed focus, including from the National Governors Association, on getting more students to take a core curriculum. In February, a coalition of 13 states agreed on a plan to toughen high school courses and graduation requirements. A survey out last week found nine in 10 students said they would work harder if their high school expected more of them.
Almost half ignore the core
But for now, only 56 percent of last year's seniors who took the ACT said they were taking the recommended core curriculum for college prep: four years of English, and three each of math, science, and social studies. That figure has changed little over the last decade despite research indicating students who take the core do better in college, the ACT said.
"Somehow the message doesn't seem to be getting through to students — they will have to work in high school and take some of these core courses," Ferguson said.
Other tests the ACT administers to 10th- and eighth-graders indicate the high school classes of 2007 and 2009 are on track to fare no better in college preparation. But Ferguson said there is some hope down the line. The latest National Assessment of Educational Progress, released last month, gave 9-year-olds their highest ever scores in math and science since tests were first given in the early 1970s.
Results will not be released until next year for the new optional essay section the ACT began offering this year.
Other results
Among other ACT results for the class of 2005:
The number of Hispanic test-takers is up 40 percent since 2001, to 83,447, and minorities comprise 27 percent of all ACT test-takers, up from 24 percent in 2001.
Average scores for Asian-Americans rose 0.2 points to 22.1, while white students' scores rose 0.1 to 21.9. Hispanics' scores rose 0.1 to 18.7, while blacks' fell 0.1 to 17.0.
Girls accounted for 56 percent of test-takers, unchanged for four years. Average boys' scores rose 0.1 from last year to 21.1; girls' scores were unchanged at 20.9.