Teenagers Jonny Dallo, Allison Cole, Shari Lininger, and Cassi Harp have left behind their friends and family and come here to Central California to the Academy of the Sierras— AOS for short. It's the first residential high school for overweight teenagers, and a place of last resort for kids who are dangerously obese.
"Dateline" will follow them on a five-month journey as they try to lose the weight that's threatening their lives, and to confront the painful reasons for their obesity. For these kids, the stakes couldn't be higher.
Jonny Dallo: The rebel 17-year-old
Jonny Dallo from San Diego weighs 365 lbs. and is worried if he doesn't do something soon he'll reach 500 lbs.
Jonny was actually close to getting a gastric bypass surgery. "We were actually about to plan a day where I was going to go and get the surgery done. I was getting tired of looking in the mirror and feeling ashamed."
At AOS, his goal is to lose 100 lbs. over the next five months. He's spending his senior year at AOS because he's embarrassed by being so big — like the time he couldn't squeeze into an amusement park ride.
"I went on to the ride and they couldn't close the lap/chest thing over me, because I was so big. They had, like, five people trying to push it down."
Difficult feelings that have taken their toll on Jonny. "Most people don't understand what it's like to be overweight because they just think, 'Why don't you just stop eating or something?' It almost feels like people think of you as like not even human," he says.
He's failing at school, gotten a pile of speeding tickets. He's lived by his own set of rules and managed to talk his way out of everything. Jonny, the rebel, won't be able to do that at AOS.
Allison Cole: The actress 
17-year-old Allison Cole from Virginia Beach, Virginia weighs in at 323 lbs. Her goal is to drop at least 50 lbs. in the next five months. Like Jonny, she's come here for her senior year of high school, wanting to make a new start when she begins college in the fall. Mostly, she wants to change how people see her.
"I want to go up to people, or like go places and be paid attention to," she says. Like if I walk into a place like you start a topic with somebody and they'll just kind of blow you off a lot of the times. Like, 'Oh, you have nothing important to say, you're fat.'"
Ironically, the only place she seems to feel comfortable, is on the stage, where she can adopt a character. But Allison the actress is beginning to understand that won't always work for her in real life.
Cassi Harp: The perfectionist 
16-year-old Cassi harp from Bentonville, Arkansas weighs 245 lbs. and wants to lose 60 while she's at AOS.
She loses her breath just walking up the stairs, but that's not the only thing that's exhausting her: Cassi the perfectionist is always trying to please people and food eases her anxiety.
"It's really hard to hold that image up that you're fine and nothing bothers you at all," she says. "It gets really stressful after a while and hard to balance everything."
Shari Lininger: The singer
And the youngest, 14-year-old Shari Lininger from Yuba City inNorthern California would not reveal her weight. She wants to lose 60 lbs. at AOS. But her ultimate goal is bigger: "I think that I need to lose at the least like 100. It's like a whole person."          
"It's an unreasonable goal to expect myself to lose 100 pounds while I'm here.  My goal here is to learn the lifestyle, learn the eating habits, and go home and live like this for the rest of my life," says Shari
Shari is a singer, and she worries she won't make it to a stage some day unless she makes it at AOS.
They all have goals for losing pounds. What they don't know is that they can't lose them unless they are willing to uncover the hidden emotional weight they're also carrying.
In the next 5 months, one of them will become a homecoming queen, one will star on the stage, one will be expelled. They will all have setbacks. Each has a unique story to tell, and none of them knows what's in store.
The Academy of the Sierras
Dr. Dan Kirschenbaum is the one of the architects of the program, and he says if the kids continue to gain weight, they won't survive.
"I've worked in this field for over 30 years and I've seen people in their teens and early 20s who died from heart attacks," says Kirschenbaum.
Kirschenbaum put this program together with Ryan Craig, the AOS director.
What makes AOS unique is that every waking moment is scheduled with rigorous exercise, intense emotional therapy, and a strict code of conduct.
The kids willing to endure all that because the situation is so critical for them.
At AOS, the school tries to keep some of their time as teenagers the same, but the philosophy of the school is that the weight is a mask that you use to hide something.
Each of teenagers are hoping AOS will be the place that will be the answer to losing the weight that has plagued them since they were children.
At the start of a typical day at school, 7 a.m. is time to be up and exercising. It's one of the three hours in the day when teens exercise: One more in the afternoon, and another in the evening.
The students also keep track of their steps. Everyone wears a pedometer and 10,000 steps a day is the rock-bottom minimum. There's no telephone, no TV, no surfing the net, no video games. There's not much time for sitting, except in the classroom.
AOS is an accredited school run by a for-profit corporation. Kids are in class from 9 to 3. But the heartbeat of the place is in the cafeteria.
A new way to eat
At the school, students are served 1,200 calories of controlled food each day and only 12 grams of fat. There are low-fat bagels and soups, buffalo dogs and buffalo burgers.
For Jonny, this is going to be a challenge: He was used to four times the number of calories a day.
"Before I came here, I was on the McDonald's trip. I'd almost eat it every day after school. It would consist of three double cheeseburgers and a large fry and then a large drink," he says.
That however, wasn't his only meal. He consumed 4,5000 to 5,000 a day, just of junk food.
That number of calories put Jonny and the others into a downward spiral of depression and anxiety. For a few kids at the school, it was even worse.
According to Dr. Kirschenbaum, of the 40 kids they've worked with the past year, two or three were at a significant risk of suicide.
"[The parents were] clinically stressed out to a degree they could easily qualify for serious diagnoses themselves because they are so upset about what's going on," says Kirschenbaum.
So the kids' families get a double helping of advice and less stress, as their kids change to less than half the calories they used to eat.
There's a lot of choice and every part of a meal is a learning process. Most of the students have been on every diet you could name. At AOS they're teaching kids a new lifestyle and a new way to eat, because up to now, they've all failed dieting.
"I've tried pretty much every kind of diet," says Shari. "I've tried low-fat, I've tried low carb.  I've tried diet pills. I've tried exercising my butt off. I've tried doing the like Slim Fast thing too."
A big part of what's going on here is called self-monitoring: writing down everything you eat every day so if you eat too much today you can cut down or exercise more tomorrow.
Unmasking their problems
But there's much more to saving those lives than losing the pounds. At AOS, they say obesity is a mask, something that covers up emotional problems. If they don't take off the mask, they won't take off the pounds — at least, not permanently.
"This is not the end of their life, this is the beginning of their life," says Molly Carmel, the deputy clinical director. She herself used to weigh over 300 lbs. "This is not a death sentence, this is like the happiest moment. This is great for them, we're saving lives here."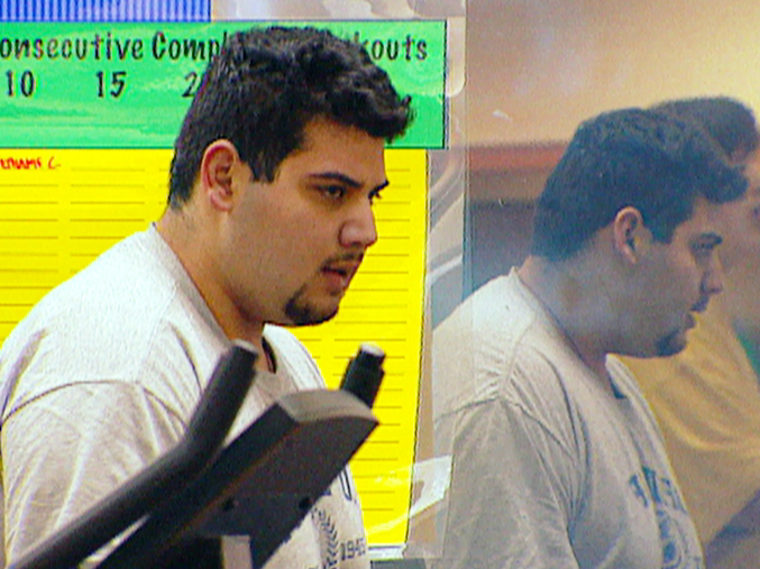 Jonny was the first member of our group to face a crisis. Jonny had been with the program for only 5 weeks and already was breaking the rules: He got caught smoking. 
"Honestly, I was used to getting caught. Like this place, I can get in trouble for something, and they can kick me out and I could never return to this place," he says. "And this is something I really care about."
But five days after he got caught smoking, Jonny was expelled, shipped off to Texas to an even tougher place — a wilderness intervention program run by the Aspen Education group, the same corporation that runs AOS. Jonny can only return to AOS if he succeeds there.
Smoking wasn't the only reason he was booted. He broke another hard and fast rule at AOS: no dating.
"I actually got into a relationship with a girl there," he says. "That's one of the non-negotiables. That was basically the last straw."
So even though he'd lost 43 lbs. in the first five weeks— almost halfway to his goal— he was failing in the eyes of AOS. And increasingly, Jonny was failing in his own eyes as well.
"In reality, I followed the rules to my own convenience," says Jonny.
And the rules at the intervention program were even tougher. For a guy who's a bit of a germ freak, who took three showers a day and refused to eat anything from the salad bar because he didn't think it was sanitary, the wilderness was a shock.
"We use the same canteen cup, the same spoon, and the same pot for every meal," says Jonny.  "We also take showers once a week."
There were no guarantees Jonny could return to AOS. "I definitely see this as an intervention," he says. "[It's a] kind of stopping you in your tracks, saying you're going the wrong path."
Shari's challenge: A talent show and a trip home
It's the beginning of spring, about two months into the program. And our three women are making great strides: Cassi the perfectionist has lost 32 lbs., more than halfway to her goal; Allison the actress is even closer to her finish line. She's lost 35 lbs., with only 15 more to go.
Shari the singer has lost the most: 50 lbs., only ten pounds from her goal.
They've all cut minutes off their mile and seen their energy go up. And they're dramatically reducing the risk of high blood pressure, one of the greatest health risks for these kids.
But the numbers only tell part of the story. There are other signs that Cassi, for example, is making real progress: She's taking more pride in her looks.
"I've just been wearing more dresses and stuff since I've lost weight," says Cassi.
And Shari the singer's making progress, slowly starting to pull back that mask but realizing how hard it will be to take it off completely. "I know it's going to be hard to deal with things that I've never talked about before," she says. "I've been telling myself that my weight's not a problem. I've been telling myself that I don't care.  I've been telling myself that it doesn't matter to me.  But it's hard to come here and realize that it really does matter to me."
Ever since Shari was a child, she had this dream of getting up on a stage and singing. And each year, as she put on the pounds, even through her cheerleading years, she never forgot that part of her dream.
"I am 100 percent sure I really, really want to be a singer when I get older and that is totally like my life dream," says Shari.
When Shari and her AOS friend Kat saw notices for a local talent show like "American Idol," they decided to try their luck.
This was progress— getting the confidence to stand in the spotlight and not be embarrassed.
On the night of the show all the students were there to cheer them on and when Shari was on stage, it seemed like she was singing just to them.
"I was a little bit self-conscious before I went on the stage. But there's just this thing inside of me. Like, when I get on stage, I'm just like, 'Hey, you know, I am who I am. There's not really anything that holds me back when I get up on stage.'"
But her biggest test was yet to come — it was time for spring break back at home, with all the temptations of the real world and none of the rules of AOS.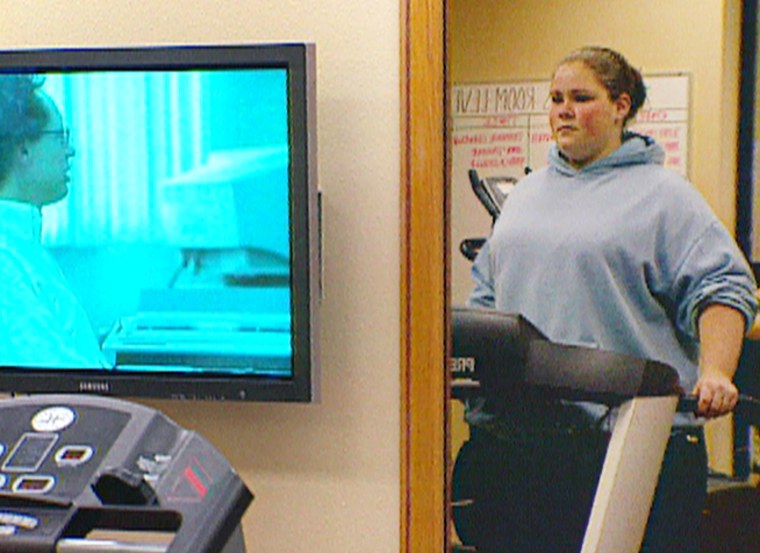 Weight is a family problem for Shari, and she inherited biology—her mom's. Shari's mom Sandy Lininger, the superintendent of a charter school in Yuba City, California, has had a weight problem almost her whole life. About 20 years ago, she had her stomach stapled and lost 100 lbs. But she gained back all the weight and more. And she doesn't want Shari to suffer the way she has.
"I don't want anything to stand in the way for her," says Sandy. "And the one thing that would potentially stand in the way is her weight.  Because I've seen it stand in the way for me."
Shari's family, like a third of the students' families, took out a loan to send her to AOS. At $5,500 a month, it's expensive. They're hoping insurance will cover a portion. But Sandy says she would have sold a kidney to pay for it.
"I didn't want her to experience the prejudice that I've had to live with—like having to buy two airplane seats," says Sandy.
As Shari returns to AOS after spring break, a crisis. At home, she hadn't exercised enough and she'd indulged in some sweets.  She's worried she may not reach her weight goals and achiever her dream of being a professional singer.
"It's a terrible feeling. Because you know that you've worked so hard to come to where you are. And nobody—no matter what they say, nobody likes to fail.  Nobody likes to feel like they've done something for nothing."
After being a star one night, Shari was back at the gym the next day. And still working, along with Cassi and Allison, to take off that mask they've all been wearing.
Four months: Shedding the emotional weight
At AOS, the kids are very good at making it up. The school says the weight is a mask they're hiding behind.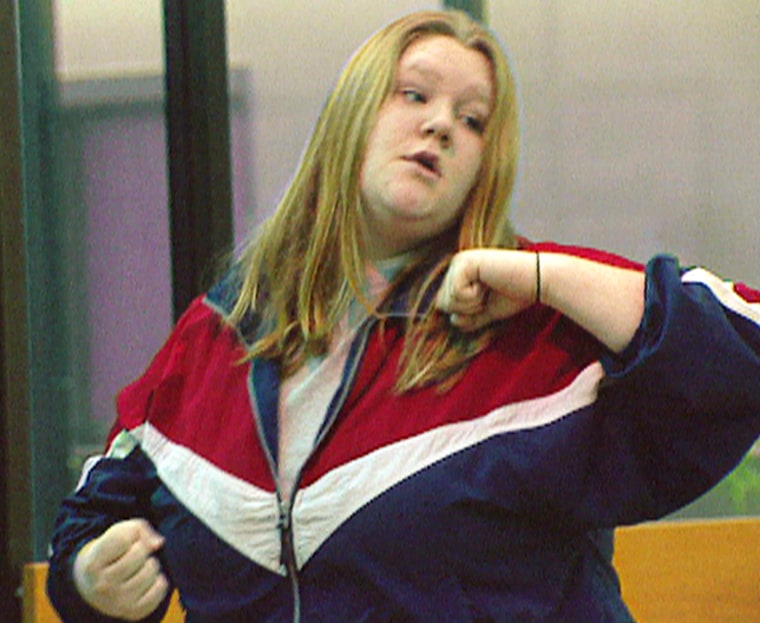 For the actress Allison, being someone else is easy. Being herself is hard. Fears and anxieties usually come out in therapy. But for Allison, that's been difficult, sharing real feelings is not something she's comfortable with.
"I'm not doing good in therapy at all," she says. "Like, I have a problem trusting people, like my therapist, and stuff a lot.  So I haven't really talked to him that much recently."
It's still hard to talk about her childhood. When Allison was a little girl, her dad called her his "Alley-cat." but her parents divorced and very soon she heard her dad calling his new little girl "Alley-cat." she's never forgotten how that felt. Then her mom remarried and the family began to eat out for every single meal. It was fun, but fattening, and Allison's having trouble confronting this in therapy.
For Molly Carmel, the deputy clinical director, the denial is very important — it's how she's survived this long.
"Any change is good change and any realization is good realization," says Carmel. " It doesn't have to be 100 percent.  Life's not about that because if we ask them to be perfect, they would certainly fail," says Carmel.
At AOS, they say anyone can lose the weight.  But it's not so easy to change emotional behavior, like using food for comfort. That, they say, requires therapy— twice a week individually and twice a week in a group.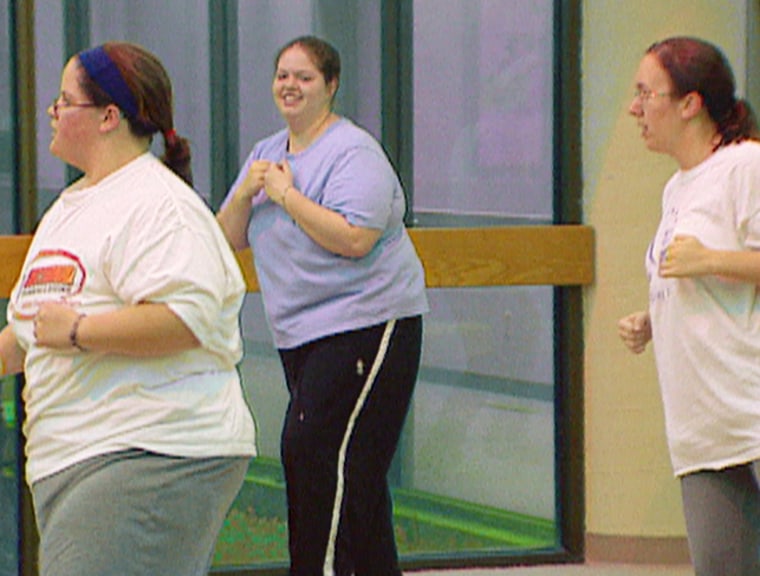 Cassi, on the other hand, has immersed herself in therapy. The pressure of being perfect had driven her to overeat.  Now she says therapy has unmasked her reluctance to admit problems.
"One of my masks was like perfectionist.  So if I'm doing something wrong, I wouldn't want to say it. [But now] I'm not like Cassi like perfect—I'm not perfect. And people know that."
Meanwhile, back in Texas, it slowly began to dawn on Jonny what he had done.  And what he needed to do. And those thoughts so dominated his thinking that he wrote a poem to his family explaining his feelings.
Back home in San Diego, Jonny's mother, Mona Dallo, was heartbroken and hanging on his every word.
"I must have been reading this poem 30 times a day, and I would cry every time. There wasn't a day that a minute that passed by that I didn't think of him," says his mother.
Jonny's mother says the decision to send Jonny was not made without deep thought.  She felt it was his last chance and she trusted the professionals at AOS.
As it turned out, Jonny did make it out of the woods of Texas and  back to AOS. A thinner, but more importantly, a calmer, gentler Jonny came back to AOS.
"That was the first time Jonny ever had to really pay consequences for something that he did.  And I think it was a great lesson. You can't sweet-talk the wilderness," says his mom.
The kids are usually in therapy with other students but they agreed to have a session with just the four of them so that we could listen in. Molly Carmel led the group, and they shared their realizations with "Dateline."
"I learned I have to realize what it is that's actually bothering me because at home I'd just be so upset, but I never knew why," says Shari.
She never knew why she was eating.
It took these kids only a few days here to start losing weight, but it took months to unmask the fact they were all pretending to be people they were not. For Shari, it was acting as though her weight didn't bother her, for Jonny it was acting as if nothing bothered him.
"I've had a feeling for a long time that I hadn't really experienced before, and that was being lonely. Like, that was something that was not part of my normal, like, life," he shares.
For Cassi, her mask was acting as if life was perfect and for Allison it was just plain acting.
"I realized that if like I could take on another character, I can become that character and I wouldn't feel so fat, and I wouldn't feel so ugly," says Allison. "That I could become whoever they were and be somebody else."
Now through therapy, Allison is learning to be herself and prepare for life on the outside, which is always a test.
Celebrating success
At the homecoming ball, Cassi, the former queen of perfectionism now knows she doesn't have to be flawless to be accepted. She was voted homecoming queen at AOS.
Five months since they arrived, the students find out how much weight they've lost.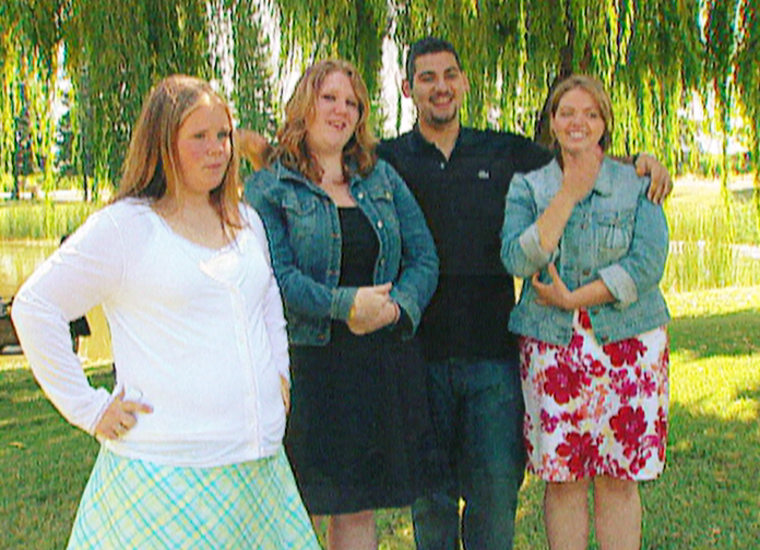 Back in January, Cassi weighed 245 lbs. In June, she's lost 14 inches in her waist and reached her goal of losing 60 lbs.
Shari, the singer, who wouldn't reveal her weight before is now confident enough to tell us she started at 343 lbs. Shari lost 8 inches off her waist and 86 lbs., also surpassing her goal.
Allison, the actress, who weighed 323, lost 6 inches in her waist and 61 lbs., 11 more than her goal.
And Jonny, the rebel, who weighed 365 lbs., is a rebel no longer. He lost 17 inches off his waist and a whopping 115 lbs., 15 more than he'd hoped for.
Five months ago when they came to AOS, they all thought weight was their problem. Now they know it was masking something deeper: All the feelings they'd been hiding inside. They may look different, but the biggest transformation happened on the inside.
They're seeing people they hadn't seen before – themselves.
"I look and I see like a new person," says Jonny. "Right now, I would appear to be almost like a normal human being."
Jonny is no longer ashamed to look in a mirror, passing classes instead of failing, turning his schoolwork in on time and no longer depressed.
As for Allison, she doesn't have to always be another character.  She's a lot more satisfied being herself.  "I'm never going to be like gorgeous and stuff, but I don't think people are going like, 'Look at that.' I'm content with how I look and like I'm a lot more satisfied with who I am," she says.
For Allison, the hardest part will be saying goodbye to her friends.
Transition day
It was bittersweet when this first AOS class, 32 strong, gathered in June to say goodbye. They called this ceremony "transition," not "graduation," because they say you never graduate from weight control, you transition back to the real world.
The youngest member of the class, Kevin Marema, was just 12 years old. He lost 89 pounds.
The students are not worried about how they'll stay on the program once they leave here, but they're worried about leaving their support group, all the new friends who've become like family.
For Shari in particular that means her deputy clinical director Molly Carmel. "She has seriously like saved my life here," she says of the woman she now considers her friend. "I'm just amazed that she cared enough about me to do that. Even when she didn't know me that well, even when I wouldn't talk, even when she knew that I was avoiding stuff and not talking about it, she still like was there for me and she still stuck it through. She just  never gave up on me."
For six months they will keep in daily touch with AOS by e-mail or phone. After all, AOS wants to know as well whether its results are lasting.
They were just a bunch of teenagers acting like teenagers, but together, they lost more than 300 lbs. Together, they gained a new way of life.
Since "Dateline" last saw the students in June, they all say they've continued to lose weight —at least 7 lbs. each. The corporation that started AOS has helped  launch a pilot program with some Washington D.C. schools called "Stepping Up To The Plate." The project uses some of the methods similar to AOS to help school kids get more exercise, and eat better at home.