On a December day in 2003, a worker on a lunch break called 911 from a waterfront park in Vancouver, Canada. The caller said a woman was screaming as if she'd been attacked and that she didn't seem to be fully-clothed.
Vancouver Police Detective Ron Bieg says when cops arrived on the scene, they found a prostitute stumbling out of the bushes. "She was crying and she indicated that she'd been sexually assaulted," says Bieg.
Police didn't know it yet, but that one incident was about to put them on the trail of an international sex predator, one who traveled far and wide to commit his crimes.
"Dateline" would later be instrumental in cracking the case. What cops saw at that moment was a prostitute alleging a man who paid her for sex had beaten her instead.
The prostitute she said there was proof: The whole entire incident had been taped. The man she accused was arrested at the scene carrying a video camera.
His name was Donald Bakker.
'A regular guy'
On the surface, Donald Bakker was a work-a-day guy who didn't stand out in a crowd. For 16 years he had a job setting up banquets at a luxury hotel in Vancouver. He had a wife and a child. And in his spare time he raised money for an international children's charity.
But according to Canadian authorities, he also liked to torture prostitutes with things like metal clips and electric cords. And he liked to create a memento by videotaping it all.
Bieg and another detective on the case, Benedikta Wilkinson, found that out when they viewed the tape confiscated from Bakker.
"There were actually seven other women on that particular video tape. At that point, we realized that there was more to this investigation," says Bieg.
But there was much more: Police searched Bakker's home and car and recovered tapes of dozens of similar incidents and then they found something even more disturbing — video Donald Bakker shot of himself on trip abroad having sex with very young girls.
"We were blown away by it," says Bieg.
On the trail of a child rapist?
For the police, Bakker's video was clear cut evidence, but to make a case against him for raping children, they needed more. They had to be able to prove when and where the crimes took place and who his victims were.
Police discovered he had traveled overseas in early 2003 and from his passport were able to narrow their search to four countries he'd visited in Southeast Asia. While they were trying to pinpoint the location, the detectives had no idea that "Dateline" was about to broadcast a story about child sex slaves in one of the countries Bakker had visited: Cambodia — a destination well-known to sexual predators.
Dateline's report in January 2004 and an eerie similarity
A "Dateline" team had gone to Cambodia in March 2003 undercover, with hidden cameras, posing as predators looking to pay for sex with young children.
Along with an undercover human rights investigator, we made our way to a notorious place, a village outside the capital city Phnom Penh, where we met a teenage pimp. We were taken from one brothel to another and saw children as young as five being sold for sex.
One girl said she was 9 years old and who was joined by a 10-year-old-who told us they knew how to perform oral sex and then told us their price.
The human rights group we were with, the International Justice Mission, was planning an operation to rescue the girls and put the adults exploiting them behind bars.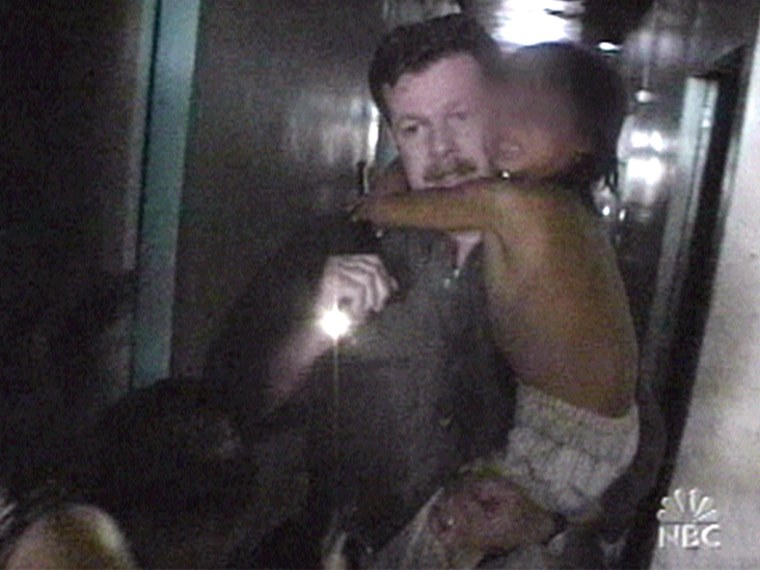 The head of the group, Gary Haugen, persuaded the Cambodian police to conduct a raid. Dateline's team was undercover inside a brothel when police burst in. And 36 girls were rescued that day and a dozen traffickers were arrested.
About 10 months later, in January 2004, those events in Cambodia would change the course of the investigation into Donald Bakker back in Vancouver. The turning point, Detective Ron Bieg says, was a phone call he received from another investigator. He was told him to turn on his TV to "Dateline." 
Bieg says he couldn't believe his eyes. "We see rooms that look eerily similar to the rooms in Bakker's videotape," says Bieg.
Some of the children even looked to be similar.
Bieg explained to "Dateline" how he compared images from our broadcast with Bakker's tapes. A closer look at our tapes reveals other details that match: pieces of furniture, windows, the posters on the wall.
But even if the cops now were pretty sure they knew where Bakker had sexually assaulted the young girls, they still had to figure out who those girls were. For that, the detectives sought help from the human rights group that organized the raid in Cambodia.
The International Justice Mission is made up of former prosecutors and police who used their expertise to compare the seven girls on Bakker's tapes to the girls identified during the undercover operation shown on Dateline. 
It turns out that some of the girls seen on Baker's video performing sex acts on him were seen being rescued in our story.
"Four of them," says Baker. "That was the break that we needed."
Detectives see the brothels, victims in person
The detectives wanted no holes in their case. So they flew to Cambodia to legally prove they had identified the crime scene and the victims. They videotaped the rooms where Bakker had raped the young girls.
"It was eerie knowing that there's children in there that were being abused," says Wilkinson. "You could hear it. It was haunting."
Even more haunting, Wilkinson says, was meeting some of Bakker's young victims in person at a group home in Cambodia.
"It was extremely emotional," says Bakker. "When I came out, I just didn't even know what to do with myself. Because all you want to do is take these kids and keep them safe."
When they came back from Cambodia, the detectives felt they had an air-tight case against Bakker.
Seven years in prison for Bakker
Donald Bakker became the first Canadian ever to be prosecuted under a so-called sex tourism law, making it a crime to travel abroad for sex with a minor. 
Kevin McCullough, Bakker's lawyer, says he's handled many sex offender cases, but few with evidence as disturbing as Bakker's tapes.
"It's not something that you watch twice unless you have to," says McCullough.
But Bakker's tapes alone could not have convicted him for what he did in Cambodia.  McCullough says the Dateline broadcast made the difference.
"That was something that was truly a needle in a haystack. The police would never have been able to solve this case, and it would have gone simply uncharged," he says.
Once the police had identified the location and the victims, McCullough realized his client had few options. Bakker could have faced indeterminate imprisonment.
On June 2 of this year, Donald Bakker pleaded guilty to sexually assaulting seven girls in Cambodia and three adult prostitutes in Vancouver. 
He was sentenced to seven years in prison. As for Bakker's young victims, at least four of them are no longer sex slaves. We last saw them shortly after their rescue two years ago. Today, they are being cared for by an international charity in Cambodia. The youngest of those children are now back in school.
"They're flourishing as children," says Wilkinson. "They had smiles on their face. There was joy in their eyes. There was hope for them."
And now there is also hope that putting predators like Donald Bakker in prison will deter others from exploiting children trapped in the international sex trade.