• Aug. 26, 2005 | EZ-Rocket rises again: Today, SpaceShipOne may be a museum piece in the making, but yet another rocket plane has risen into the skies over California's Mojave Desert, at least for a few minutes.
XCOR Aerospace's EZ-Rocket took off today for the first time in three years, as part of the shakedown testing for its scheduled star turn at the Countdown to the X Prize Cup exposition in New Mexico this October.
Veteran test pilot Dick Rutan — who was on Voyager's record-setting 1986 round-the-world flight and has taken the controls for previous EZ-Rocket flights — was in the cockpit once again for today's flight from the Mojave Airport, said XCOR spokesman Rich Pournelle.
Pournelle said this flight was somewhat shorter than anticipated: About a minute after taking off, a fire hazard indicator light started blinking, and that led Rutan (the big brother of SpaceShipOne designer Burt Rutan) to cut off the rocket engine and bring the plane back down for a gliding landing.
The plane didn't get beyond 5,000 feet in altitude, Pournelle said. Nevertheless, XCOR's chief executive officer, Jeff Greason, said "all test objectives were met" for this first flight.
"We had a false positive indicator on the fire sensor which led the pilot to shut down early — that's been fixed, and we're ready to carry on with the flight program," Greason said in a written statement.
If all goes according to plan, the next flight will be piloted by former astronaut Rick Searfoss, who is due to take October's demonstration flights as well, Greason said.
The EZ-Rocket is a homebuilt Long-EZ airplane that has been modified to run on alcohol and liquid oxygen. It's a real crowd-pleaser, wowing audiences at the EAA AirVenture air show in Oshkosh, Wis., in 2002 — the last time it took to the air. Since then, the plane had been mothballed at XCOR's Mojave headquarters.
"It's a pretty involved process to get it going again," Pournelle said. Some components have been upgraded to take advantage of what XCOR has learned over the past three years, he said.
Although EZ-Rocket is now primarily an air-show demonstrator, XCOR is moving on with a variety of rocket projects, including plans to develop the Xerus, a winged suborbital spaceship meant for passenger flights. Perhaps at a future X Prize Cup, rocket planes will fill the skies — but for now, the EZ-Rocket is about as good as it gets.
Check out the X Prize Cup Web site and our archived story for more information about October's event and the EZ-Rocket's role.
• Aug. 26, 2005 | Gems from Gemini: The Gemini Observatory is releasing two images that show cosmic dynamics at work: One documents a galactic pile-up that hints at what might happen to our own galaxy billions of years from now, and the other shows a dark, dusty nebula that looks like a "Chinese dragon" in outer space.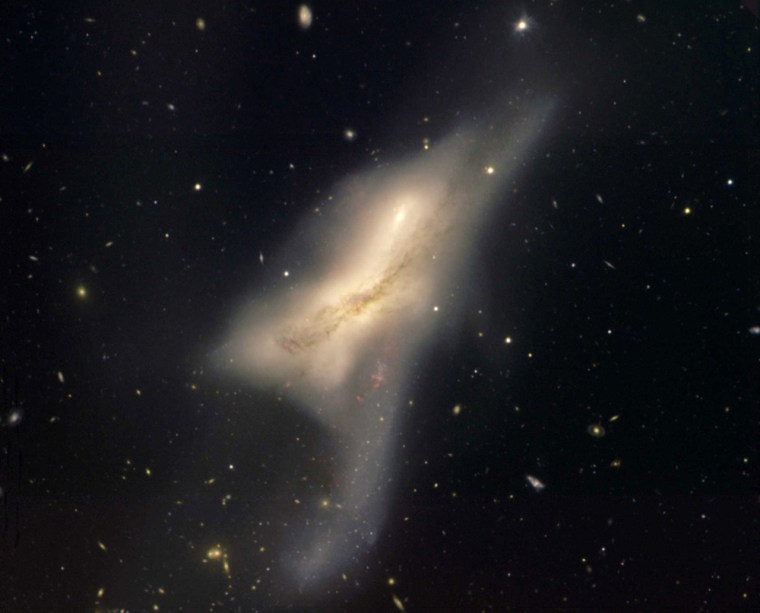 The galactic collision is taking place in the constellation Pisces, about 100 million light-years from Earth. Two galaxies are merging into a messy combination known as NGC 520, their shapes distorted by gravitational interactions.
Astronomers say that our Milky Way appears to be headed for just such a collision with the neighboring Andromeda Galaxy. Ian Robson, director of Britain's Astronomy Technology Center, one of the partners in the Gemini North project in Hawaii, said the image of NGC 520 "sends shivers down my spine" because it reminds him of Earth's ultimate fate.
"Our saving grace is that we have about 5 billion years left before we get swallowed up by Andromeda," he said in a news release from the Particle Physics and Astronomy Research Council. "Nevertheless, it's amazing to see so far in advance how planet Earth and our own galaxy will ultimately end. Glad to say I won't be around when the fireball happens."
The other picture shows the nebula NGC 6559 — a backlit cloud of dust that snakes through the constellation Sagittarius, 5,000 light-years from Earth.
"I coordinated observations in Chile when the dragon-like images of NGC 6559 were obtained," Gemini South astronomer Rodrigo Carrasco said. "I could tell this was going to make a fantastic color image, with lots of details never resolved before in this cloud of dust."
We've already included the NGC 520 galactic crack-up in our "Month in Space Pictures" slide show for August. Check out our slide show archive for still more gems from outer space.
• Aug. 26, 2005 | Weekend field trips on the World Wide Web:
• 'Nova' on PBS: 'Origins' (plus the MSNBC rerun)
• The Economist: The self-driving car comes closer• NASA: Watch for the sunset planets• BBC: Are men cleverer than women?
• Aug. 25, 2005 | Still battling over science: The tumult over science and politics continues this week over a wide spectrum: For example, more states are thinking about breaking away from the Bush administration's policy on climate change, and there's yet another warning about warming in the Arctic.
A review of research on whether and when fetuses feel pain is stirring up a firestorm among abortion opponents — and the latest scientific findings on cell reprogramming have prompted a conservative campaign to call off a vote to widen federal funding for human embryonic stem cell research, even though that's exactly the opposite of what the researchers behind the new findings have urged.
And on the intelligent-design front, a series of New York Times articles has sparked an outcry from Darwinism's defenders, including an extended give-and-take between Times science reporter Kenneth Chang and the habitues of the Pharyngula Web log. (You might also want to check out this Seattle Times column on the subject.)
Earlier this week, we took a quick look at the current state of political science, and a few folks sent in their own observations — not complimentary of our president, by the way. Here are a couple of the e-mails:
Martin Cobern: "There is absolutely no doubt that the Bush administration is hostile to science on every front: global warming, the environment in general, energy policy, stem cell research, AIDS prevention, sex education ... the list goes on.  This hostility manifests itself in many forms, most grievously in the politicization of all of the government's science agencies, where managers are rated on how many 'faith-based initiatives' they have authorized, scientific reports are arbitrarily censored to meet the administrations political outlook, budgets are slashed, etc."Early in 2001, I spoke to the head of the laboratory in which I did my Ph.D, Prof. D. Allan Bromley, who had served as George H.W. Bush's science adviser.  I asked him whether he was headed back to Washington, and he dismissed the suggestion with a sneer.  A few months years later, he took the truly amazing step of writing an op-ed piece for The New York Times denouncing George W. Bush's science policy. The fact that a (politically) conservative scientist, former science adviser to the president and world-renowned expert in nuclear physics would take this view speaks volumes about the status of science in this administration."Anonymous, Canandaigua, N.Y.: "The Bush administration's current cynical pandering to the religious right and a mostly scientifically illiterate public will prove to be a tremendous handicap to the nation long after Bush is gone."
• Aug. 25, 2005 | This audio's for the birds: Remember that rediscovery of the "extinct" ivory-billed woodpecker in Arkansas? Some ornithologists were unconvinced that the heard birds were actually ivory-bills — until they listened to the tapes themselves. Now The Associated Press is reporting that the audio files are making the rounds this week at a meeting of the American Ornithologists' Union. You can take a listen for yourself at the Cornell Lab of Ornithology's Web site.
• Aug. 25, 2005 | Hail Columbia: NASA's high-altitude balloon facility in Texas has been renamed to honor the seven astronauts who lost their lives in the 2003 Columbia tragedy. The Columbia Scientific Balloon Facility is used to launch balloon-borne experiments — and test the equipment for launches from more exotic locales ranging from Sweden to Antarctica.
• Aug. 25, 2005 | Campaigns and curiosities from the space sphere:
• Planetary Society: Is the space station (or shuttle) necessary?
• NASA: Plastic spaceships• The Guardian: The puzzle of the absent alien• Save the Great Moonbuggy Race!
• Aug. 24, 2005 | See some solar fireworks: A triple storm is sweeping over Earth this week — and you probably aren't even feeling it. But the evidence was written in the night sky last night, and it just might be on view tonight as well.
These storms are geomagnetic disturbances, sparked by a series of outbursts from the sun. The first two broke out from the sun's surface on Monday, sending a blast of electrically charged particles through Earth's magnetic field.
That resulted in enhanced auroral displays as far south as Colorado last night, according to the National Oceanic and Atmospheric Administration's Space Environment Center. Check out the SpaceWeather.com Web site to see the colorful result.

Tonight's space storm isn't expected to be nearly as spectacular, but there's still a chance that residents of the northern-tier U.S. states could see more fireworks, said space weather forecaster Bill Murtagh. The difference has to do with the direction of the third solar outburst, which occurred on Tuesday and has been making its way toward Earth.
"It won't give us a direct hit, as the other ones did," Murtagh explained. "It will be a lesser blow."
Space storms aren't merely light shows: Extreme solar outbursts could potentially fry spacecraft electronics or interfere with high-frequency radio communications. Indeed, some aviation groups reported "moderate to severe impacts" on communication systems when the previous storms reached their peak, Murtagh said.
But chances are that the weather will be settling down: This week's three storms originated from a rumbling region of the sun known as Sunspot 798, and that spot is now on the sun's western limb, getting ready to turn out of sight.
With the rise of satellite communications, monitoring the "weather" we can't see is becoming more and more important: Just in the past couple of weeks, we've heard that researchers are getting better at predicting quiet times in solar activity, and that experts are setting up a new radar system for monitoring space weather.
For still more perspectives on the sun and its weather systems, check out the Space Environment Center's Space Weather Now page, and the Web site for the Solar and Heliospheric Observatory.
• Aug. 24, 2005 | A date with SpaceShipOne: Designer Burt Rutan and financial backer Paul Allen will be among the dignitaries in attendance on Oct. 5 when the historic SpaceShipOne rocket plane takes its place in the Milestones of Flight gallery at the National Air and Space Museum in Washington. The museum says Rutan, Allen and museum director Jack Dailey will appear at a brief noon ceremony to mark the unveiling.
That will make for a tight schedule if you're also aiming to go to the inaugural X Prize Cup exposition in New Mexico, which takes place during the same week. The day before the unveiling, Oct. 4, marks a double anniversary as well: It will be 48 years since the Sputnik launch that kicked off the first space race, and one year since SpaceShipOne's prize-winning launch in the second space race.
As a matter of fact, at the same time that SpaceShipOne is to be unveiled, space history curator Cathleen Lewis is due to give a talk at the museum titled "Sputnik: The Beeps Heard Round the World."
• Aug. 24, 2005 | Quick scan of the scientific Web:
• Nature: Brain cells tune in to music
• New Scientist: Space radiation may select right stuff for life• Science Blog: Survey probes out-of-body experiences
• NASA: Study shows water could create gullies on Mars• The Loom: The Kanisza Virus and life's wonderful blur
• Aug. 23, 2005 | Stem cells and political science: Will this week's report about the potential for reprogramming regular cells for regeneration change the political equation over human embryonic stem cell research?
Maybe, maybe not: That seems to be the verdict of the day-after commentators on the cell fusion research from Harvard, which is appearing in this week's issue of Science.
The New York Times' story on the subject (registration required) says that although the findings would likely be welcomed by opponents of embryonic research, they "may have little political impact, since it could be many years, if ever, before the technique becomes applicable to humans." But The Washington Post says the research "may have the unintended consequence" of holding back a loosening of federal limits on stem cell funding.
For now, the political facts appear to be unchanged: Legislation to loosen the limits would likely be approved in the Senate, as it was in the House in May, and President Bush would almost certainly use his veto power for the first time if the bill came to his desk. In fact, like an insider stock-market tip, the newly published findings already were probably known to the main players in the debate — even before Senate Majority Leader Bill Frist broke with the president and said he would support the bill.
Nevertheless, the Harvard study still serves as grist for the political mill, particularly on the conservative side: The Post quotes Sen. Tom Coburn, R-Okla., as saying that "this is confirmation we will see breakthroughs without compromising ethical standards." And on Town Hall's C-Log (the C stands for "Conservative," not "Cosmic"), Tim Chapman noted the Post's headline on Ceci Connolly's story, which said the report "muddles" the stem cell debate:
"If by discovering a way to go forward with potentially beneficial research while at the same time skirting the incredibly significant moral dilemma of destroying human embryos to attain that potential benefit she means 'muddling the debate' then count me in favor of 'muddling.'"
On the other side, Sciencegate's about how opponents of embryonic stem cell research will incorporate the news into their arguments. He notes that the researchers themselves don't want their work used as an excuse for closing off the main avenues of study:
"But unfortunately, this is yet another debate where political opportunism, rather than a balanced assessment of the science, wins the day."
It's no secret that the Bush administration's handling of scientific controversies ranging from stem cells to climate change to reproductive issues to evolution education is ... well, controversial. Mooney himself reviews the controversies in a forthcoming book, "The Republican War on Science." (For the opposing view, you can look into "Junk Science Judo" by Steven Milloy.)
In Mooney's book, as well as in today's Weblog posting, he advocates replacing the red-vs.-blue science debates with a beefed-up capacity for nonpartisan scientific analysis — starting with the revival of the congressional Office of Technology Assessment, which was established in 1972 and disbanded in 1995, after the Republicans took control of the House. (The OTA legacy lives on at a Princeton Web site.)
That sounds like a common-sense first step toward cooling down the flames of political science.
What's at stake? Perhaps nothing less than America's place in the world. On the BBC's Web site, Harold Evans bemoans what he calls the Bush administration's hostility to science, drawing parallels to past scientific stumbles by the British government. And on Australia's ABC news site, there's talk that U.S. stem cell policies may cast a cloud over future trade agreements.
On the other side, some would say that federal policy on scientific issues should reflect societal values as well as the cold, hard facts — and that science is too important to be left to scientists alone.
Last year, in an admittedly unscientific survey, most respondents registered unhappiness with the Bush administration's attitude toward scientific issues. Have sentiments changed over the past year? In the current political climate, what can be done to make things better? I'd love to hear what you think, and I'll use a selection of the feedback in a future log entry.
• Aug. 23, 2005 | Daily dose of science on the World Wide Web:
• Discovery.com: Oil bubbles preserve ancient life
• IEEE Spectrum: Quarreling over the interplanetary Internet• Flight International: SpaceShipThree would go into orbit• The Guardian: The proof is out there ...
• Aug. 22, 2005 | New light on moon masterpiece: The sleuths who tracked down the timing of Van Gogh's "Moonrise" and Edvard Munch's "Scream" say they've solved yet another artistic and astronomical puzzler: the precise time when famed American photographer Ansel Adams captured his "Autumn Moon" on film.
In October's issue of Sky & Telescope magazine, forensic astronomers from Texas State University at San Marcos say the picture of a gibbous moon rising over Yosemite National Park's Clark Range was taken at 7:03 p.m. PT on Sept. 15, 1948.
Their investigation cleared up a decades-old mystery surrounding the black-and-white photograph — and turned up a previously little-known, colorful version of the scene as well.
Adams (1902-1984) was usually pretty good at documenting the circumstances surrounding his pictures, right down to the exposure time and film settings — but sometimes there was conflicting information about the location, date and time of his picture-taking sessions. For example, some sources say "Autumn Moon" was taken in 1944, and others say 1948.
To track down the true time and place, the Texas State researchers consulted lunar tables, topographic maps, weather records and astronomical software. They even visited Yosemite to double-check the findings, determining the spot where Adams set up his tripod on Glacier Point to an accuracy of 10 feet (3 meters).
The team was led by physics professors Donald Olson and Russell Doescher, with students Kara Holsinger, Louie Dean Valencia and Ashley Ralph also participating. Olson and Doescher were involved in the previously mentioned art investigations, as well as similar investigations on the astronomical circumstances for works ranging from Adams' "Moon and Half Dome" to Shakespeare's "Hamlet." Now they're working on yet another Adams mystery surrounding "Monolith, the Face of Half Dome."
While delving into the "Autumn Moon" mystery, Olson happened upon a bonus: a color version of the picture, published in the July 1954 issue of Fortune magazine.
"We checked with several Ansel Adams experts," Olson told Sky & Telescope. "None of the Adams experts we spoke with had seen this photo — all of us had been totally unaware that a color version of 'Autumn Moon' existed."
It turned out that the photo was snapped as part of a beta test for a new type of color film, commissioned by Eastman Kodak. Olson and his colleagues looked at both the black-and-white and color "Autumn Moon," compared the position of the moon in the sky as well as the placement of cloud formations, and concluded that the color version was taken at 7:01 p.m. PT, about two and a half minutes before the black-and-white version. That would be just enough time for Adams to change the film holder and adjust the camera settings, the researchers said.
Because the moon's circuit in the night sky follows a 19-year cycle, on this Sept. 15, the moon should be in exactly the same position it was in for "Autumn Moon" in 1948, with an 11-minute adjustment, Olson said.
"Even the direction of sunlight and shadows will be repeated this year," Olson told Sky & Telescope. "Our group plans to be on Glacier Point when the moon's position will match the Adams photographs at 6:50 p.m. and 6:52 p.m. Pacific Daylight Time on Sept. 15. The balance of light between the rising moon, the setting sun and the shadows in the foreground mountains will last for just a few minutes, and will provide a rare opportunity to share Ansel Adams' experience from half a century ago."
• Aug. 22, 2005 | Scientific smorgasbord on the World Wide Web:
• NASA: Astronaut finds passion for photography in space
• Wired.com: Virtual-reality goggles heal scars of war• The Pain: Science vs. Norse mythology (via Daily Grail)• BBC: First kittens for cloned wildcats
Looking for older items? Check the . Share your perspective on cosmic subjects with . If you link to this page, you can use or as the address. MSNBC is not responsible for the content of Internet links.