/ Source: The Associated Press
Staring into the casket, Joyce Chiles instantly recognized the face she had seen in a magazine photo decades earlier.
The picture, shown to her back then by a classmate at her all-black middle school, showed the mutilated, almost mummy-like face of Emmett Till — the 14-year-old black boy tortured and killed for whistling at a white woman.
Today, Chiles is the local prosecutor overseeing a revived investigation into the case that shocked the nation and helped fuel the nascent civil rights movement.
When Till's body was exhumed from a suburban Chicago cemetery earlier this year, she stood beside his relatives as the backhoe scraped away the earth and removed the mud-caked concrete vault.
In the autopsy room, looking upon that face, now shrunken and discolored with the passage of time, her reaction was the same as when she was 13: "God, how could anybody do this to another human being?"
No one was ever punished for Till's murder. Now, 50 years later, it is Chiles who will decide whether anyone ever will be.
Revisiting the scene of the crime
In homicide cases, Chiles always tries to visit the crime scene while it's still fresh. But time has wiped clean most of the sites connected with the Till slaying, and nowadays the town of Money has the look of a place being punished for something.
Most of the store buildings in the once-bustling farming community are gone. The cotton gin is silent and the old post office has been replaced with a dilapidated blue-and-white trailer with a tattered American flag flying out front.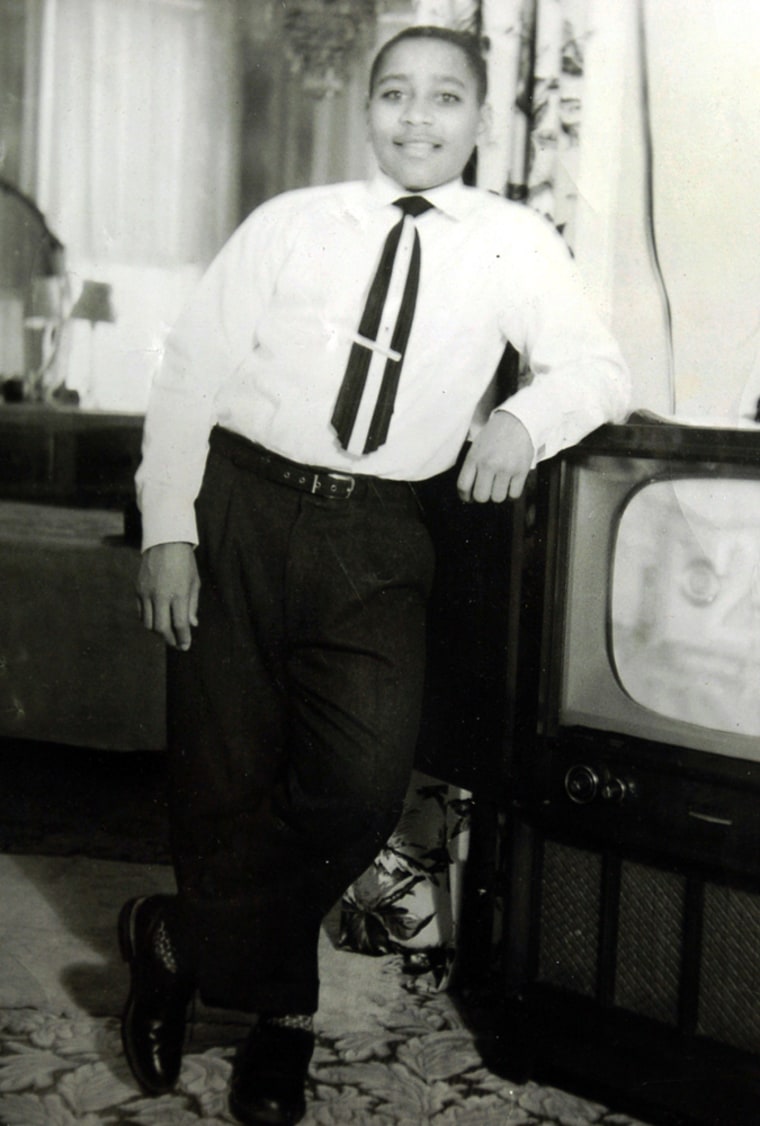 The two-story, whitewashed brick front of Bryant's Grocery & Meat Market still dominates the strip. But what was once a vibrant place where white men played checkers on the porch and black workers bought Coca-Cola and snuff now stands as an overgrown, ruined monument to one of the nation's darkest chapters.
On Aug. 24, 1955, after a hot day of working in the fields, a group of eight kids crammed into a humpback Ford and drove to Bryant's for refreshments. Simeon Wright was there with his cousin, Emmett Till, a fun-loving teenager who had come from Chicago to the Mississippi Delta to visit and help out on his great-uncle Mose Wright's farm. To family, Emmett was simply "Bobo."
A wolf whistle, and a fearful departure
At Bryant's, some of the kids stayed on the porch, watching a game of checkers, while the others filed inside to buy bubble gum and sodas. Carolyn Bryant, the raven-haired, 21-year-old wife of proprietor Roy Bryant, was behind the counter.
Accounts of what happened next differ.
Mrs. Bryant claimed Emmett bragged about dating white women up north. She said he grabbed her and asked her, "How about a date, baby?"
Simeon Wright heard none of this. But there is no doubt about what he heard when they left the store.
Standing on the front porch, Emmett let out a wolf whistle.
"It scared us out of our wits," Wright, now 62, said in a recent telephone interview from his home in Chicago. "Man, we couldn't get into the car fast enough."
Pulled from bed in the middle of the night
Four days later, a car pulled up outside Mose Wright's house around 2:30 a.m. Roy Bryant and his half brother, J.W. Milam, pounded on the door and demanded to see "the boy who had done all the talking," Mose Wright would later testify.
Another of Emmett's cousins, Wheeler Parker Jr., heard the men asking about the "boy from Chicago." Milam entered Parker's bedroom first, a flashlight in one hand, a .45-caliber semiautomatic pistol in the other. Parker was shaking so hard it rattled the bed.
"It was pure terror, man," says Parker, suddenly 16 again.
The men found Emmett in a back bedroom, ordered him to dress, then led him outside. Mose Wright would later say he heard a woman's voice from inside the vehicle say they had the right one.
Unspeakable torture
Three days after Emmett's disappearance, his body was found in the Tallahatchie River, a gin fan tied around his neck. His right eye was hanging down onto his cheek; the left was gone. His nose was crushed, and there was a hole in his right temple. His teeth, which his mother thought were "the prettiest things I'd ever seen in my life," were all gone but two.
Mose Wright identified the body from the ring on Emmett's finger.
Less than a month after the killing, Milam and Bryant went on trial for murder. Key black witnesses, employees of Milam's, mysteriously disappeared amid whispers that they had helped kidnap and restrain Emmett — had even helped kill him.
After five days of testimony and 67 minutes of deliberations, the all-white jury found the men innocent. Both have since died of cancer.
Chiles was just an infant when Till was killed. Even though she grew up just 12 miles from Money, she doesn't remember much talk about the infamous case, other than to hear people point and whisper that this or that person was related to Till's killers.
Decades later, a new investigation
Integration came to Leflore County when Chiles was in high school. She moved away and attended integrated colleges. Though she found herself pursuing a career in justice, the memory of the murder that so shocked her as a child had long since dimmed.
"I always thought that the two culprits ... had been tried and acquitted," Chiles says. "And that kind of like was the end of it."
Chiles rose slowly and steadily through the law-enforcement ranks, from undercover narcotics agent, to probation officer, to assistant prosecutor, and last year to district attorney for Mississippi's Fourth Judicial District.
She was just a month in office when Alvin Sykes, a civil rights leader from Kansas City, asked her to meet with federal officials and members of the Till family. A documentary filmmaker from New York claimed to have uncovered evidence that people who took part in the killing were still alive.
Two months after that meeting, the Justice Department announced it was reopening the case, with Chiles leading any potential prosecution.
Five people eyed
Keith Beauchamp, the filmmaker, believes there are five people who could be charged in the case. Three are white men whose names he would divulge only to authorities; the fourth is Carolyn Bryant herself.
Beauchamp learned that an arrest warrant was issued for her in 1955 but never served. He thinks there is credible evidence that she identified Emmett the night of his abduction.
Now 71 and going by the name Carolyn Donham, the woman described during the trial as "a crossroads Marilyn Monroe" lives in a gray ranch house in a quiet neighborhood in Greenville, about 70 miles west of Money. A sign on the front lawn reads: "This is private property. Any un-invited visitors will be prosecuted!"
She did not return phone calls or respond to a letter from The Associated Press seeking comment.
There is one other person Beauchamp believes could be charged: Henry Lee Loggins, a black man who worked for Milam.
Witnesses at the time placed Loggins holding Emmett down in the back of Bryant's truck, and later washing blood from the truck bed. Loggins was one of the men who disappeared during the trial; he emerged later saying he had been jailed in Tallahatchie County on trumped-up charges.
Loggins, 82 and recovering from a stroke in an Ohio nursing home, has consistently denied any involvement in or knowledge of the murder.
Should a black man be charged?
Some are disturbed at even the remote possibility of a black man being convicted of such an infamous race crime.
Dorothy McAtee grew up in a little white and green house about 20 miles north of Money, just across from the lonely dirt road where Milam — in a magazine interview after his acquittal — admitted dumping Emmett's body.
McAtee knew Loggins. Trying him for Emmett's murder, she says, would not be justice.
"During that time, white people did what they wanted with black people," says McAtee, 62, who runs a tiny country store next to her childhood home. "There wasn't nothing he could do — if he valued his life."
Chiles would not comment on who might be a focus of the investigation. And while she is willing to give "some weight" to the fact that black Mississippians at the time were subservient to whites, she says "we, as individuals, have a moral obligation for right and wrong."
A sacrificial lamb
About 100 feet up the road from the Wright homestead, a weed-choked cemetery sits beside the East Money Church of God in Christ. A grave had been hastily dug here for "Bobo," and the family had already gathered for the church service when orders came from his mother to send his body home to Chicago.
Mamie Till-Mobley, who died in 2003, felt God intended her son as a sacrificial lamb for the sin of segregation, and she wanted the casket at the funeral to be opened, for the crowds, the photographers and the world to see.
Chiles marvels at how history might have been altered had Emmett been laid to rest with his kin in this lonely patch of sandy earth.
She doesn't know yet if there is anyone out there capable of being prosecuted. But if there is, it won't matter how old they are or what color their skin.
"That's as straightforward and as simple as it gets."