• |
Tonight on Nightly News (Rob Merrill, Daily Nightly editor)
The broadcast will have the very latest on the death of Chief Justice William Rehnquist as well as the ongoing rescue and recovery operations in the southeastern U.S.  Throughout the day, check Katrina.MSNBC.com and High Court at a Crossroads for developments in both of these stories. The next posting to this blog will be on Tuesday, Sept. 6.
• |
DHS defends its response to Katrina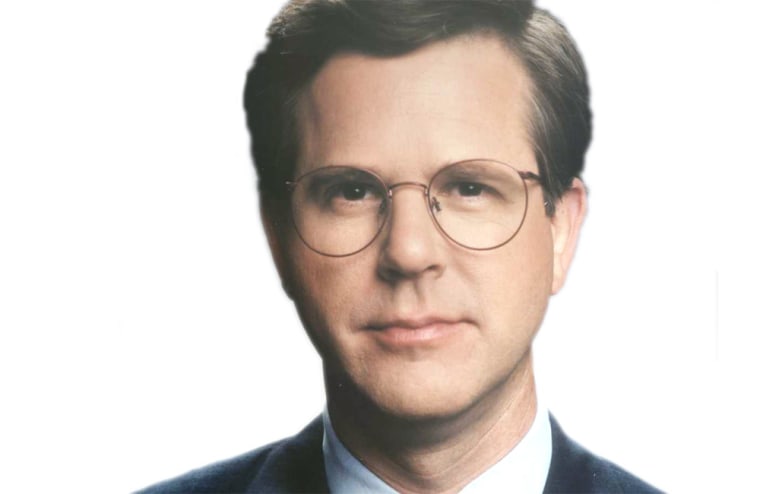 Homeland Security officials today defended the size and speed of the federal response to Hurricane Katrina in a telephone conference call this afternoon with reporters. Here are the points they make in response to questions about why it took so long.
First, they say they believe their search-and-rescue performance has been extraordinary, with more than 7,000 people rescued from rooftops, trees, and rivers, some hanging on for life.
As for why it took so long for the members of the National Guard to get into New Orleans in large numbers, Maj. Gen. Ron Young of the National Guard said no forces could be moved Monday because the storm was hitting. Besides, he said, the huge size of the guard force ultimately needed couldn't all be ready to deploy, because they were coming from 35 states. And each state would have to pay to mobilize guard members. The numbers ready to go in just Louisiana and Mississippi, he said, weren't enough.
Asked why the public should have confidence in Homeland's ability to respond to a terror attack, when the reaction to this hurricane seems so insufficient, Homeland officials say this was a catastrophe spread over 90,000 square miles.
"It would take a lot of very large firepower to inflict that type of destruction over that swath of territory," one official said.
On the overall response, FEMA's Acting Deputy Director Patrick Rhode sounded a theme that's been coming from Homeland the past few days — that responders were thrown off stride by the failure of the levees and the resulting flooding. Despite planning, he said, "all of a sudden, you're looking at a flooding situation."
Asked how anyone could be surprised by a flood, when the levees were not built to withstand a Category Five hurricane, Rhode said FEMA mobilized as never before in its history to get supplies and manpower ready to bring in. If it hadn't, he said, none of what we see today would be happening and things would be much worse. What was hard to anticipate, he said, was exactly how widespread the flooding was, spread over two states.
• |
Look for the bright spots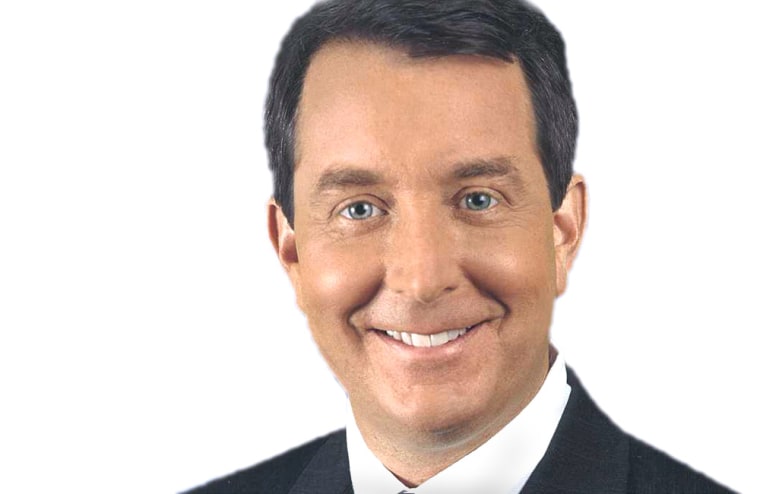 As we remain airborne in a chopper over the hurricane-raped landscape, our battle to stay with this story continues to find fuel.
Today, we landed at Stennis Field in Mississippi. It's a mess. The general aviation area was swamped by the winds and rain. Like so many spots here there is no electricity. The problem with that: There's no way to pump the fuel from the holding tanks to the delivery truck.
A generator delivered by a military chopper solved that problem. But who would man the delivery truck?
Well, his name is Billy and he's 13-years-old. This was his second day on the job. In a fuel truck, windows shattered by Katrina, the skinny teenager drives from chopper to chopper fueling them up.
His father usually runs the fuel farm here, but he had to leave. Their house was destroyed. They have little food. Billy has slept in a partially destroyed hangar since Katrina wrecked his home.
I gave Billy some cold drinks from our cooler and $20. He was thrilled. Not by the drink but by the tip. He held the cash up in front of the "rat jack" dog perched on the fuel truck's front seat. He held it in front of his pet's face for a few moments.
When we left, I saw a teenager's smile like one I have not seen since the hurricane hit.
Here amid this disaster, for just one moment, a young boy, who's taken on the job of a man, reminded us all: Look for the bright spots. It will help us all get through this.
• |
Sympathy and sensitivity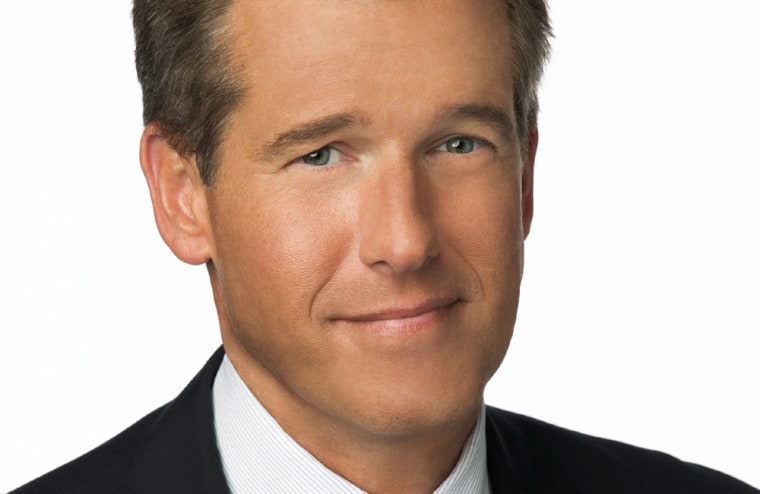 My Blackberry works for the first time since the wind started blowing.
Let me offer some disparate images to our readers today: We are now outside FEMA headquarters in Baton Rouge, after an incredible moonscape ride here in places. In the backseat of the rental car (with water and frame damage) is a case of Vienna sausages we had to give away in case we were stopped on the streets at night — emergency collateral. We all just used a bathroom for the first time in about a week, and yet I don't think it had any impact on us. We've become used to seeing our fellow Americans living in a state less than human — there is a certain sympathy to be able to look back at a pair of desperate eyes — knowing in your heart that rough living conditions are part of covering this massive human sadness.
A local radio station this morning refused to air the President's remarks apparently because they didn't think they would learn anything applicable to their immediate crisis. People were still dying in downtown New Orleans today... the living are urinating and moving their bowels where they stand or sit. A New Orleans cop called into the radio show to say he resented President Bush for the shower he took this morning at the White House. Reverend Jesse Jackson just told me he was stunned at the answer of the FEMA director on Nightly News last night to my question about the convention center. (Watch Brian's interview with FEMA Director Michael Brown here.)
The anger here is palpable.
The issue of race, which we always like to tell ourselves is "behind us" as a country, is in our face now, because of the images of people who seem to have been assigned a lesser value in society after a storm left them with nothing.
People are moving all around us and on the radio now a man is weeping. He's been trapped at Mercy Hospital all week and the sound of a fan boat (and the possible rescue it may mean) made him burst into tears. He's been separated from his family. The radio hosts are praying with him live on the air. It's remarkable.
It is ever more apparent — and remember, we've been seeing only limited media coverage of this — that before this is over (perhaps when my own children become parents themselves), this hurricane and the response will involve issues as wide-ranging as Iraq, the environment, politics, race, infrastructure, fossil fuels, the global economy, class and our social connectedness.
The media coverage is being watched closely. We're told by the people back in our home offices that viewership is at very high levels on the broadcast platforms and on cable. Americans are united in their grief and are sharing a sense of exasperation at what's happening here. There is also, of course, great scrutiny of WHAT we decide to broadcast — the words we choose, the images we present. One particular e-mail has made the rounds and arrived in our offices yesterday — and it raises questions about editorial decisions and possible racism. The e-mail contained the two photographs below and the accompanying captions.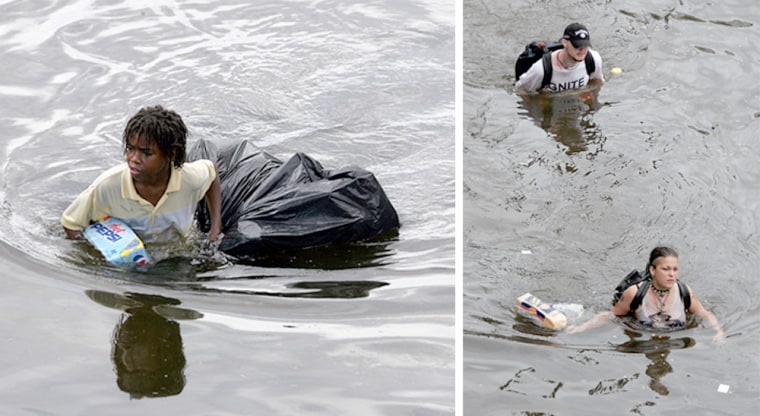 I will let you draw your own conclusions.
Tonight again we are doing a special hour-long edition. Again tonight I cannot promise technical or editorial perfection (any rough running last night was attributable to my own empty tank and not the military-quality NBC staff we have here), but we do hope you will join us. It's one way (trust me on this) of joining with these good people down here.
Editor's note: Use the mailbag below to communicate with NBC Nightly News or .
• |
A story that keeps getting bigger (Rob Merrill, Daily Nightly editor)
In many markets around the country, the broadcast will once again be a full hour tonight, as NBC News devotes its reporting resources to a story that worsens by the day. Four days after Katrina made landfall, survivors are still stranded, food and water are scarce and tensions are at the breaking point. This, as President Bush tours the disaster area and victims ask why the federal government isn't acting faster to provide relief.  We'll have complete coverage tonight on Nightly News.
• |
Congress cuts short its R&R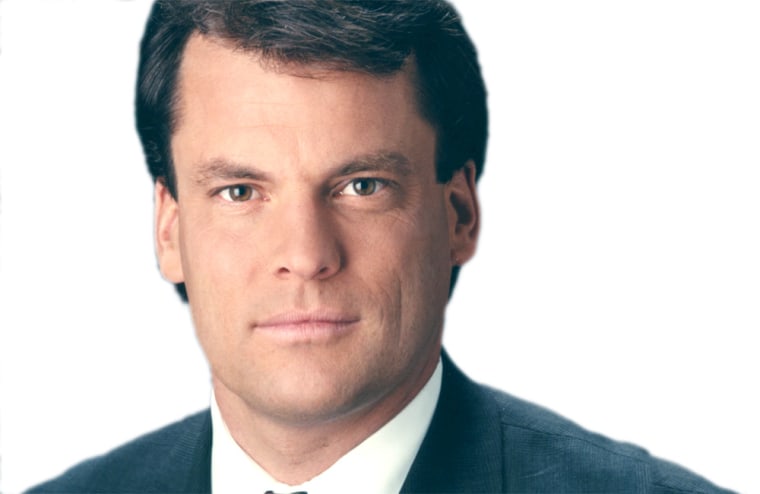 What does it take to get Congress to cut short its treasured summer recess? A lot. It takes something like Katrina, and the jaw-dropping horrors we've all been watching on TV. Instead of waiting until next week, when Congress is scheduled to return from a five-week recess, congressional leaders have decided to act immediately.
In reality, most members of Congress won't be coming back early — they'll stick to their original plans, returning to D.C. after Labor Day. Only a handful of members from each party will need to be present. They'll use a procedure called "unanimous consent," which can be invoked only when no one objects (and who in their right mind would object to this?). In a matter of minutes (barring speeches, we hope) they'll approve $10 billion in emergency funding, which will surely be only the first installment.
Hill aides say say FEMA has only about $2.5 billion available for immediate assistance — for shelter, food, medical care, etc. — and they're spending about half a billion a day, which means it's essential to get this $10 billion moving to the disaster zone as quickly as possible.
The fast action by Congress will avoid what could have turned into some ugly politics. Some Democrats were already questioning the Republican leadership for its original plan to wait until next week to take action. Maybe Republicans were wrong for being a little slow out of the starting blocks; and maybe some Democrats were wrong for, arguably, using Katrina as a political issue. But thankfully, for now at least, everyone appears to have taken a deep breath and decided that at a time like this the last thing we need is partisanship.
• |
Houston is not home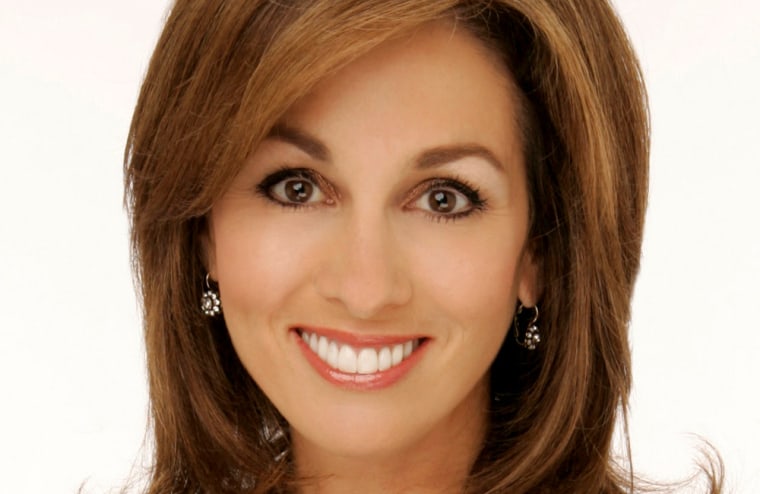 HOUSTON — Thousands of hurricane refugees are arriving here at the Astrodome. They are hungry and tired and most have lost all they own. What awaits them isn't much, but it's better than what they had. Air conditioning, a hot meal and a shower are luxuries to those who are without the basics.
The Astrodome has been an unemployed laborer the past few years, replaced by state-of-the-art baseball and football stadiums. What was once called "the eighth wonder of the world" is on overtime now, expected to house as many as 24,000 people. Some could call the dome their home for the rest of the year. But it's not really home and you can see that on the faces of these refugees.
The children will start attending Houston schools, as early as next week. One thousand phones are being set up in an effort to allow these temporary Texans to reach family. And televisions will be set up to monitor news coverage of New Orleans. For some, it's the lack of information from "home" that is most frightening.
• |
Expanding the newscast (Rob Merrill, Daily Nightly editor)
The broadcast will expand to one hour tonight with Brian continuing to anchor coverage from New Orleans. NBC correspondents remain at locations throughout the Gulf, covering what is now one of the biggest natural disasters in U.S. history. Among the stories you'll see in the show: Where will the homeless go? Half a million people were displaced by Katrina. Can they ever return? Plus, the battle to save New Orleans as the levees continue to let in water from Lake Ponchatrain.
• |
Who pays?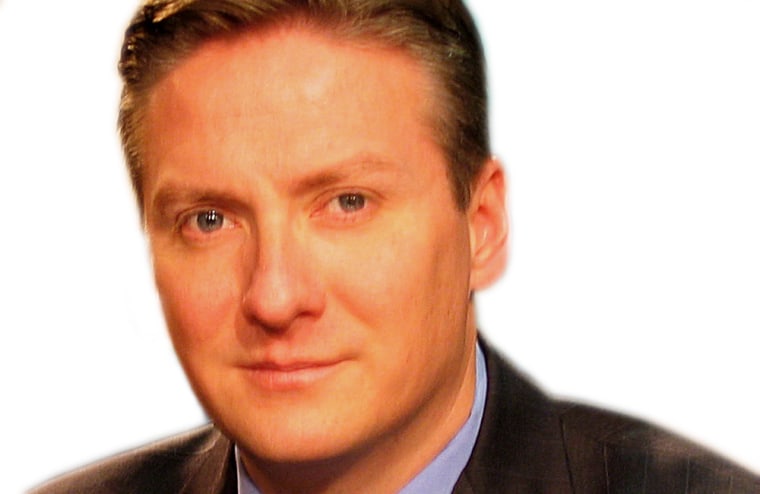 For most of us, the most important investment we ever make is our home. It's now clear that hundreds of thousands of people have lost theirs in Hurricane Katrina.
The Mortgage Bankers Association (MBA) tells me more than 360,000 mortgaged homes are in the affected areas. The MBA estimates $48 billion in mortgages could be affected — either because the property is under water, destroyed, or the homeowner has lost his or her income.
Fannie Mae and Freddie Mac, the agencies that insure mortgages, are both offering Mortgage Relief Provisions to the banks that carry the loans. Those provisions include allowing homeowners to suspend their payments for up to three months, reduced payments for up to 18 months, or in more severe cases, longer loan payback plans. Homeowners must work out the details with their own lender.
And the lenders are also now required to temporarily discontinue reporting delinquencies to credit bureaus, if the lenders are aware that the borrower's delinquency is attributed to the hardships of the hurricane.
For those who had insurance, thousands of claims adjustors are preparing to move in and write checks on the spot, once it's safe.
Nearly every homeowner should have hurricane coverage.
And most of the victims in New Orleans and across much of the Gulf Coast were required to hold flood insurance by their mortgage lenders. But if the mortgage was paid off, the flood insurance was optional. And many people usually decide to go without.
The insurers say there is a very big distinction between the damage from a hurricane, and the flood damage from a broken levee.
"It's like playing Russian roulette with your home if you decided not to buy the flood insurance," says Bob Hartwig of the Insurance Information Institute.
Those who don't have flood insurance will likely lose everything.
As for the renters, many of whom lived near the poverty line, it's likely many opted to go without renter's insurance. Without it, they too probably lost everything.
• |
Thankful amid the tragedy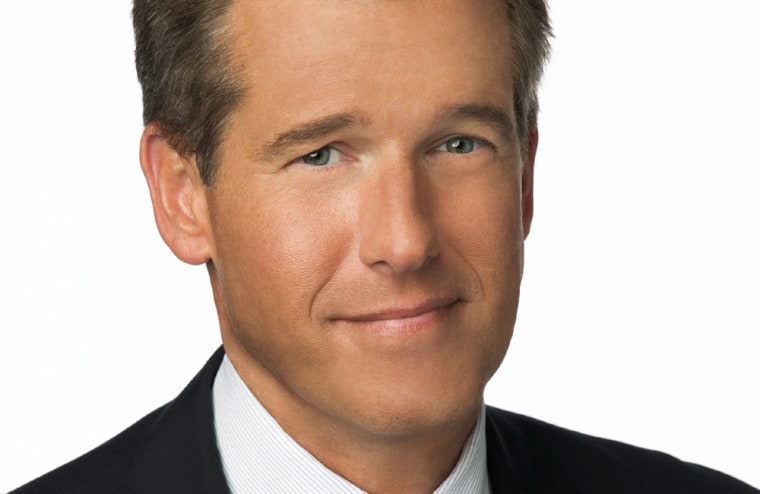 From what seems like the modern-day center of all human suffering, I continue to be immensely proud of the broadcast team we have here in New Orleans and stretched across this region.  I am very reluctant to discuss our existence or any hardships... for reasons I hope are painfully obvious. We are thankful for what we have by way of shelter, food and liquids... and even after covering the tsunami in Banda Aceh, Indonesia, I struggle daily, with everyone else, to describe the deep hold this crisis has on all of us. We really have seen the degradation of civil behavior, and the reasons are so clear: So many here have nothing. And so we prepare for another workday in our makeshift compound in the French Quarter, under guard (made necessary by the desperation here) and thankful that we have homes and families to go home to. Our company has taken good care of us... though this story has a corrosive effect on the psyche. It has transformed this region of our country and is now the biggest single event in the lives of millions. We hope you will continue to follow our coverage from here. It is the work of brave and tireless colleagues of mine.
• |
View from the air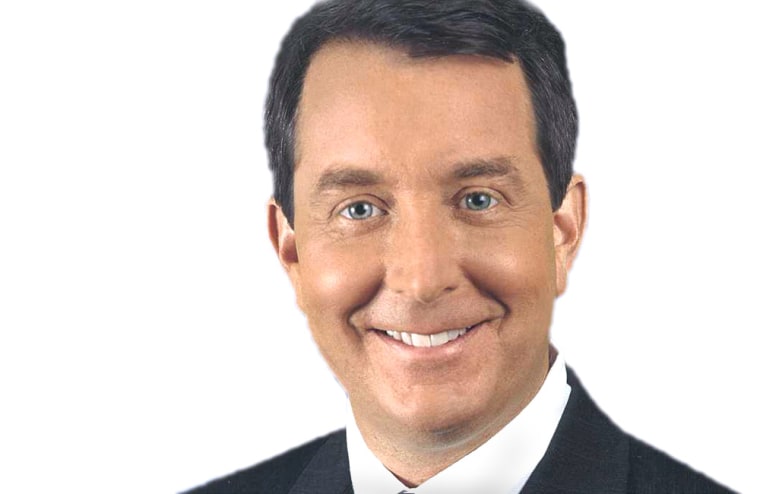 It only gets uglier.
As you watch at home, the video shots from the helicopter may begin to blur....but what you can't take in from the small screen is what I see from up here in the chopper: it is the vastness of the destruction.
This is not an isolated area. As I look 360 degrees around at 700 feet above, all I see is loss.
It is a heartbreak.
I landed today on the beach in Biloxi. I hiked through the debris about five blocks. Yes, in this debris field, it is a hike.
If you wondered how we get you the pictures, it requires some creativity. We would like to give you live coverage, but the microwave signal from the chopper needs to go to a receiver on the ground. Typically we use the receive dish on a local TV station's transmitter.  But WDSU's transmitter is under water. There is no power. So we record the videotape and when I see an NBC uplink truck we land and I run over to feed it in. It is not organized. The trucks are constantly moving and there is difficult coordination with our news desk in New Jersey because the satellite phones are not always working.
Our biggest problem up here is fuel. We have fueled in Houston, Lafayette, Houma, Gulfport and Trent Lott airports.  Some have no power so the only fuel we can get is what's in the truck and that's running out quickly. I am amazed that fuel truck operators who have lost their homes and their cars are still able to slog into the messed up airports to provide the vital juice that makes this all happen. 
We are at the back of the growing "filler up" line'; emergency choppers are rightly the first to get fuel.
We were able to go live Tuesday morning for about 15 minutes from New Orleans on the Today show thanks to a very creative and fearless engineering team from NBC down below.
Engineers "JK" and Bob Lapp took a dish on the ground and aimed it to our chopper overhead. They literally caught the signal and then wired it to a satellite truck and sent it to NBC headquarters in New York.
Hooray for ingenuity.
• |
An impromptu rescue mission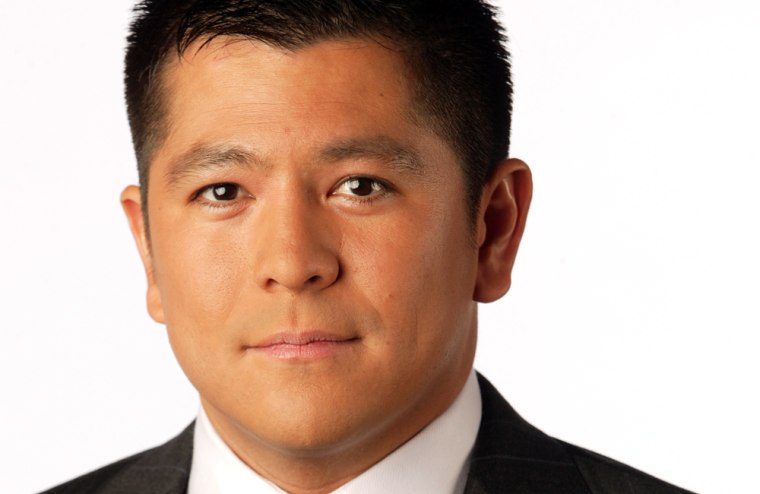 NEW ORLEANS — Napoleon Avenue... a neighborhood of stately homes flooded to the front door. As choppers fly overhead, our crew drives until we have to walk or canoe. The water gets deeper and deeper. We're told Memorial Medical Center is six blocks away and we're trying to get there.
Each encounter we have is more and more profound. An airboat offers to take us to the hospital, but the boat sinks in the maze of tight corners. We dig the boat out, and continue on with driver Stanley Bordelon, a volunteer who's brought four of his airboats to New Orleans.
But just as we reach the front door, we meet Terrance and Victoria Tunson, a young married couple who are literally swimming to find their father, who they think is stranded at home. Slowly, we reach their street and it's suddenly clear this neighborhood is packed with people who never left. 
Finally, we see him. He has built a raft out of the back door and uses it to get to our boat. So does the dog, Scoops.
As we head back, we learn the hospital has no patients. They've all been airlifted. But there are 1,000 employees and family members inside, waving down at us in the street. Across Orleans parish, 2,500 patients have been evacuated from hospitals.
Finally on dry ground, Victoria and her father are lucky. They'll try to get to family in Houston. 
But the hard part is all too clear. Missions like this are going to have to happen again and again and again. 
Editor's note:
• |
What about the levee?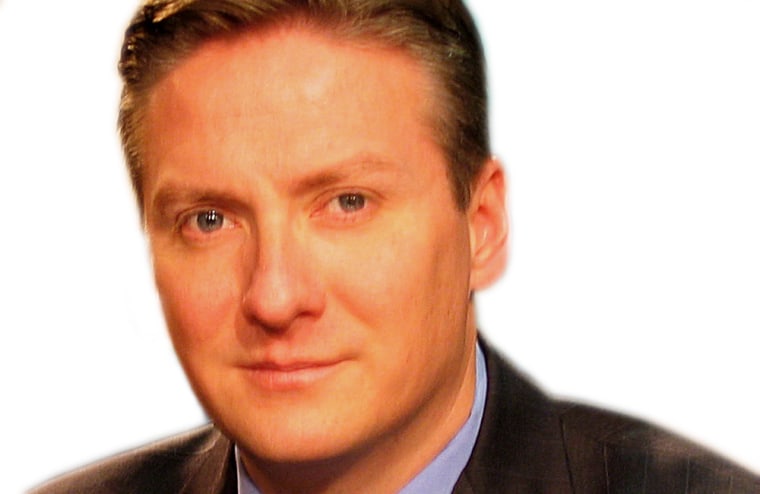 WASHINGTON — Just got off a phone briefing with the Army Corps of Engineers. What they said was sobering. Never before have they had to close a hole in a levee like the one in New Orleans. And they're not sure they know how to do it.
The 17th Street Canal breach is 300 feet wide, allowing water to pour out of Lake Pontchartrain and into the city. The water flow has slowed, but that's only because so much of it has flowed out of the lake and into the city. Water levels in the city and the lake are almost equal.
The plan tonight is to use a helicopter to drop 15,000 pound bags of gravel and sand into the breach. It's never been done before. They're not sure it will work. But they have no other options.
If they get the breach closed, they can eventually start to pump water out of New Orleans. But at the moment, none of New Orleans' massive water pumps is working.
Once the pumping effort does begin, it will take weeks to pump all the water out and back into the lake.
The demands on the Army Corps of Engineers have never been greater for a domestic emergency. An entire city is underwater. One senior engineer said they're not panicked, but "this will probably be the highest priority emergency we will ever face in our lifetimes."
• |
'Neither snow nor rain nor heat...' but what about a hurricane?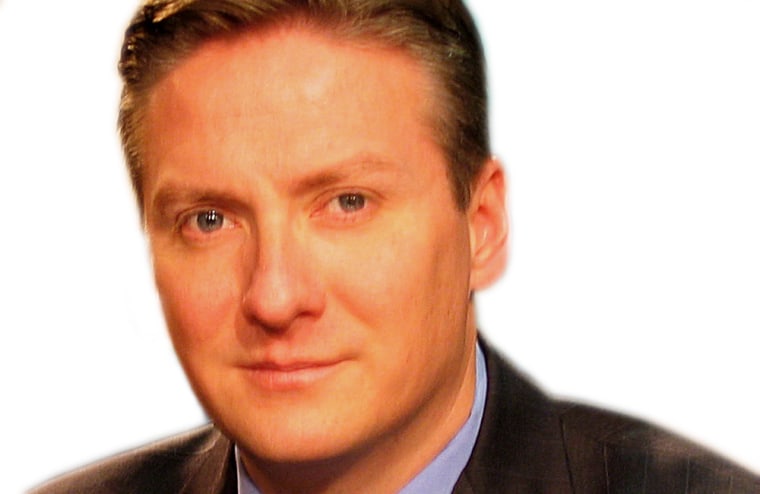 WASHINGTON — The U.S. Postal Service (USPS) tells me that residents in 704 different zip codes are currently not receiving mail in the hurricane zone. That includes every code that begins with 395--. The main mail processing center in New Orleans is closed. Houston and Baton Rouge, La. are handling all mail for the city, which will be distributed at a later date. Mail centers in Memphis, Tenn. and Dallas are also holding mail for the affected areas. In Mississippi, 200 post offices are without electricity.
The USPS is working with FEMA to identify the best locations for mobile units or mail distribution centers. So far, those locations have not been identified or set up. They do not yet have an estimate on how much mail may have been lost or damaged in the storm.
The government checks that retirees and low-income residents rely on getting the first of the month will be held at the nearest distribution point until USPS/FEMA determine how to get it to the correct neighborhoods.
• |
Editor's note: NBC Correspondent Kerry Sanders flew over New Orleans and Bay St. Louis, Miss. in a helicopter on Tuesday. . He typed this blog entry during the flight but because of communication difficulties, we are just now able to post it.
Heartbreak from 500 feet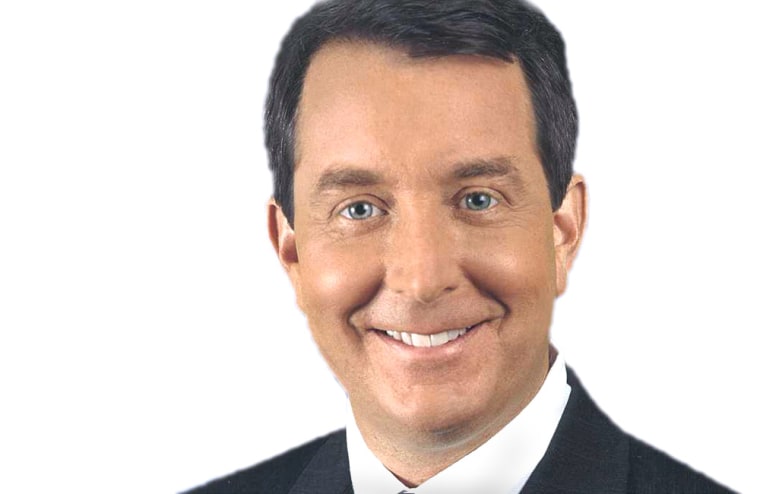 In some cases all I can see is the roof peaking through the water. That's deep.
I saw an amazing Coast Guard rescue... the survivors had punched through the roof of a flooded home. The rescue diver was on the roof, loading the survivors one by one into a basket. I gasped as they made the terrifying trip from the roof to the chopper. Terrifying, but also thrilling, as each person could celebrate survival.
I am struck by the difference between Katrina and the biggest storm in the last two decades: Hurricane Andrew. The problem in Homestead, Fla. was sheer wind destruction. Here it is flooding.
This morning, just before the sun appeared, a lone man who survived the storm heard our chopper blades and began to flash his flashlight on and off — a sort of Morse code that said, "I am alive. Help me."
• |
It sends shivers (Jeff Gralnick, NBC News special consultant)
Editor's note: From 1963 through 1965 Jeff Gralnick was a CBS News reporter covering the South and New Orleans Bureau Manager.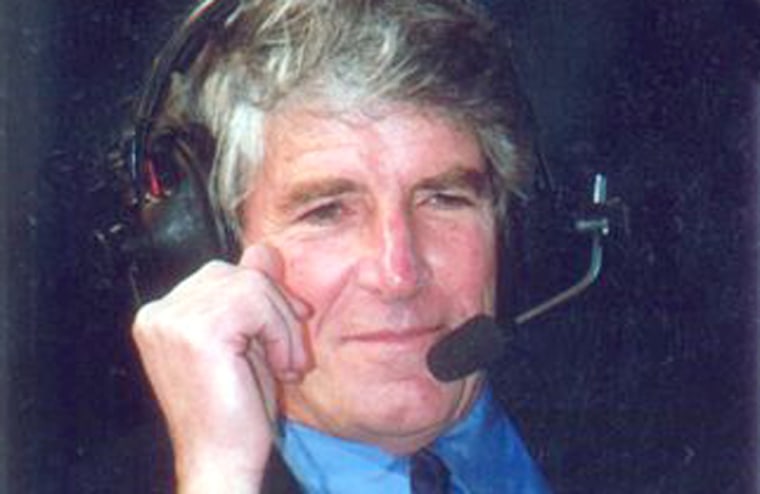 I lived there. Sure it was four decades ago, but many memories of a great city never die. It's damned hard, putting your head around the fact that what you knew and where you experienced it are just gone.  "Gone" is such a tough concept to grasp.
I lived in the Garden District out toward Tulane for a year. Wonderful apartment complex. Probably condos now. Ground floor. That area is totally under water now. Think about what it must be like for the people who live there, in that unit now. It sends shivers.
Up St. Charles on the trolley line was Tulane and the stadium. Watched some Green Wave football back then. A glorious campus. What happens to all those students? What happens to all those lives? Interrupted. To be resumed when?  That sends shivers too.
Further up St. Charles is — now I guess it really has to be thought of as was — the zoo. In those days a lovely little zoo. Kids rides. A great place to just go chill and catch a breeze on a kind of August day this has to be in New Orleans. Hot and steamy but you always knew you were a trolley ride away from air conditioning and a cold beer. Air conditioning and a cold beer.  When will anyone in New Orleans have those again? And the animals. What ever happened to the animals? To think about what they experienced as the water rose is chilling.
Lived in Metairie out toward the airport for two years. That part of the area was reported to be 10 feet under water before the levees went. Think about what it must be like for the people who live there, in that townhouse complex now. It sends shivers.
Weathered Hurricane Betsy in that town house in 1965. Scariest night I can remember short of some long ones in Vietnam several years later. Came out the next morning — it wasn't "woke up" because no one slept — to see the capricious nature of the storm. My unit had a roof.  The one adjacent had none.The one at right angles had no second floor but at least the ground we stood on was dry and the power was back within days.
Spent so many hours in The Quarter. So many great meals and great times. All those wonderful restaurants like Brennan's and Galatoires underwater. Will anything ever be the same again? Will they ever play jazz again in Preservation Hall?
And all of this, as hard as it is to grasp, is the small stuff. That was then and this is now and such an awful now. There was a lady as the storm approached who became THE sound bite and THE headline grab. "Pray for Us" she said, and we should. We really should.
• | 8:15 p.m. EDT
A brief posting from New Orleans (Brian Williams)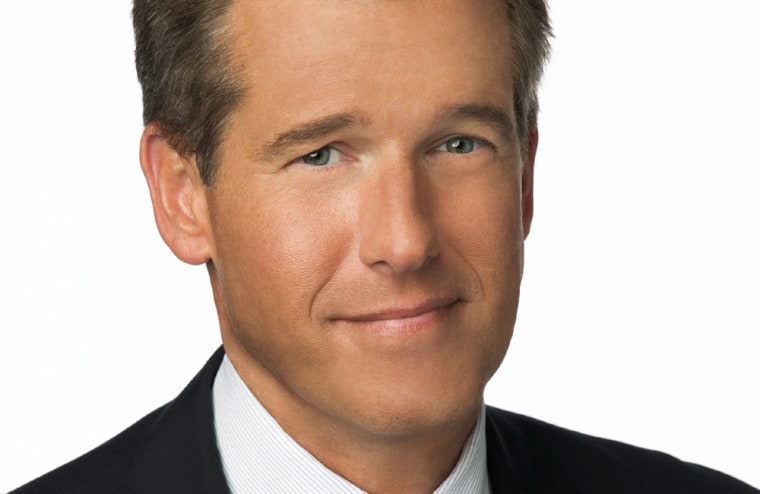 NEW ORLEANS — Forgive my lack of postings...we have very limited ability here. No one in New Orleans has a source of power or food or water or gasoline. At least we have the very best equipment and crews...but satellite telephone time is expensive and my online work has had to suffer as a result. We will do our very best to continue covering this story, while we may never be able to express the full magnitude of the suffering or loss...  We hope you'll join us again for Nightly News Wednesday night from New Orleans.
• |
Martial law in Louisiana? (Pete Williams)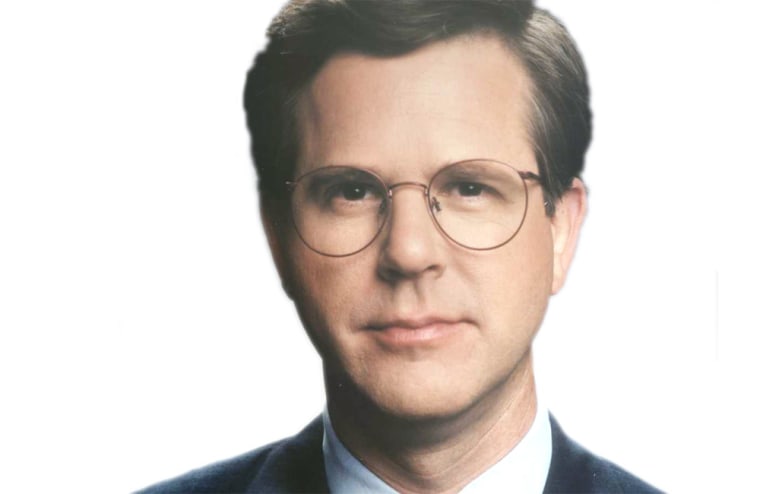 Louisiana officials tell NBC News that martial law has not been declared —not by the governor and not by county, or parish, officials.
Under Louisiana law, parish presidents, the ranking county officials, have broad powers to declare local emergencies, and many have now done so.  They can, for example, take control of private property if needed to cope with local disaster conditions. They can also direct evacuations.
But they cannot, on their own, summon the National Guard. They must, instead, request the guard through the governor — the only state official with the power to mobilize the Guard in its state role. Once the governor does that, as she has in Louisiana, then Guard members have the same arrest powers as police. But under this emergency system, the guard members supplement normal law enforcement. They don't replace it, as would be the case under martial law. And anyone arrested by a Guardsman goes through the normal civilian court system.
State officials concede that there's some confusion and some overlap between this system and what martial law might afford. But they emphasize that martial law has not been declared.
• August 30, 2005 |
Gulfport from the air (Rob Merrill, Daily Nightly editor)
NBC Correspondent Janet Shamlian is on the scene in Gulfport, Miss., where the world is getting an aerial look at the destruction caused by Hurricane Katrina. You can watch a nearly 27-minute video shot and narrated by WLBT-TV helicopter pilot Coyt Bailey here. Janet also answered questions about what she's seeing in this Q&A. Tonight on the broadcast, we'll share with you a remarkable tale of survival amid all the devastation.
• |
FEMA mobilizes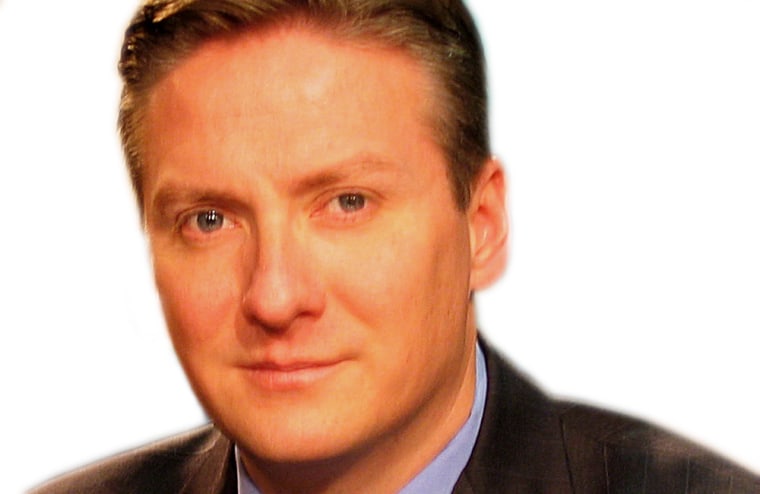 WASHINGTON — The Federal Emergency Management Agency (FEMA) has deployed 18 Urban Search and Rescue Teams from across the country to the hurricane disaster areas. In addition, eight Swift River Rescue teams from California have also been activated and ordered to deploy to the Gulf States.
This morning, search & rescue teams from Virginia, Maryland and Nebraska were deployed. They are driving, not flying. That way they can carry more equipment. They are not driving with emergency lights or sirens on, but I'm told they are moving quickly.
The Va. and Md. teams will likely rendezvous with FEMA contacts in the early morning hours Wednesday in Hattiesburg, Miss.
Editor's note: NBC Correspondent Jim Cummins is traveling from Texas to Louisiana with one of the FEMA teams and will report tonight or later in the week on the broadcast.
• |
Search & rescue in the Big Easy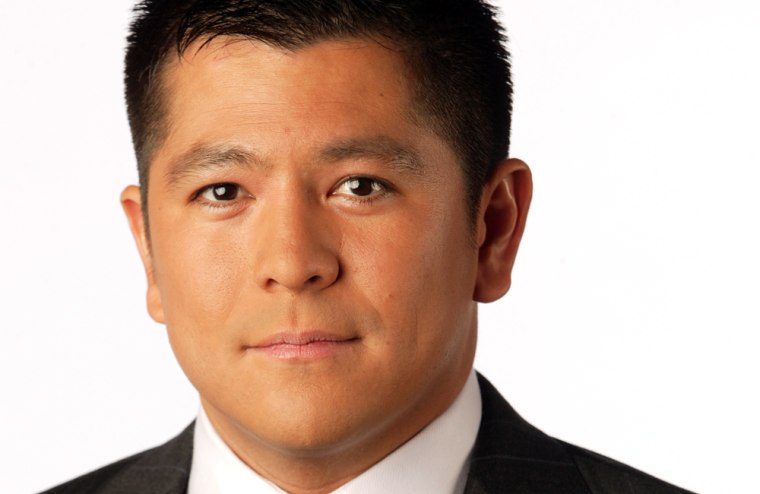 NEW ORLEANS — Just in the past few minutes there have been helicopters and a C-130 airplane flying overhead to the Superdome. Not sure if they're delivering supplies or coming to evacuate some of the sick people, but looks as though they're bringing supplies.
Along the highway there's a convoy of 50 or so ambulances. EMS have been brought in from various nearby states. They're looking for any survivors. They'll take them to Baton Rouge, which is the closest place with electricity.
Big issue is flooding... there's water coming in from several sides. New Orleans is shaped like a bowl and it's going to be very hard to get out.
• |
More bad news for NASA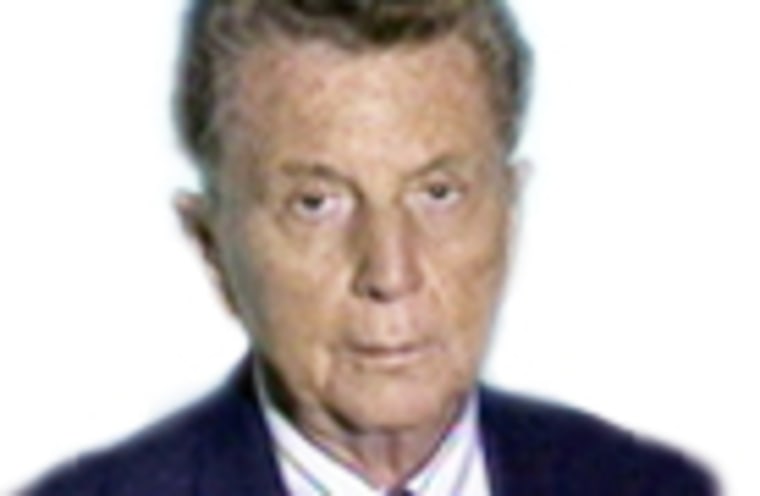 CAPE CANAVERAL, Fla. — When Hurricane Katrina roared ashore it blasted the assembly plant for space shuttle external fuel tanks with 125-mile-per-hour winds, dealing yet another setback to America's troubled space program. The plant, called the Michoud Assembly Facility, is located 15 miles from New Orleans' French Quarter. Those who work there lost their homes as well and today it is being suggested that the tanks be repaired and assembled here at Cape Canaveral, the shuttle's launch site.
Shuttle flights were already on hold until at least March 2006 while NASA tries to figure out why potentially dangerous chunks of foam insulation keep falling off the fuel tanks during launch. It was a chunk of this foam that doomed Columbia, killing its crew of seven on Feb. 1, 2003.
If the New Orleans plant is indeed down for weeks, and the tanks cannot be repaired elsewhere, the space shuttle fleet could be grounded for more than a year.
• | 9:54 a.m. EDT
Coming up tonight on Nightly News (Rob Merrill, Daily Nightly editor)
Hurricane Katrina: The Day After... the broadcast will feature practically wall-to-wall coverage again tonight with Brian Williams live in flooded New Orleans and correspondents throughout the Gulf states answering these questions: Who got hit the hardest? When can people return home? And what will they find when they get there? A reminder that you can find the latest Katrina coverage on this site at www.Katrina.MSNBC.com.
• |
Editor's note: These are Brian's closing words from Monday's broadcast, reprinted here because so many of you asked for it.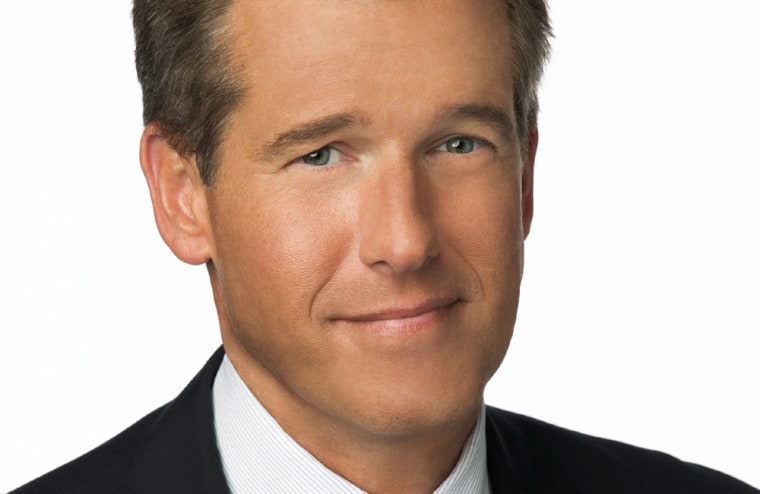 Before we go, an update on a story we brought you Sunday night. It was about Donna Lowry, her 3-year-old daughter Demee and her boyfriend. They live in Houma, Louisiana, southwest of New Orleans in the bayou. They decided to ride out the storm on a 78-foot shrimp boat, having lost a house in Hurricane Lilly a few years ago. (Click to watch the video report from NBC's Don Teague.)
After the story aired we were flooded with calls from viewers expressing concern, mostly over the little girl's well being.
We checked in today and they're fine. They said the boat rocked about ten times and they "didn't feel a thing." Their main concern today: they fear they might have lost their house again, but because the water's high and the roads are out, they can't get home to be sure.
•|
A broadcast worth watching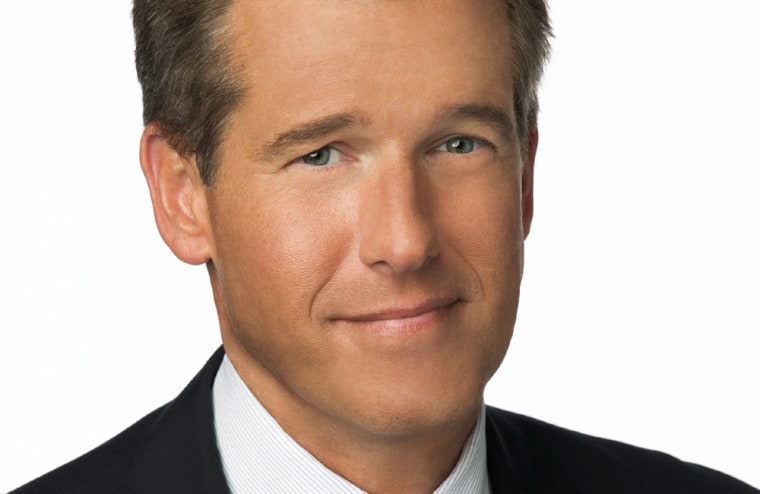 Tonight's broadcast may be one of those forays into seat-of-the-pants television news that we attempt on occasion. We're in the cement catacombs of the Superdome, which is sopping wet throughout, the roof long since having yielded to Katrina's persistent advances. We have no power, no working computers and one satellite path, which may mean that while we'll go through the motions of writing the whole half hour... we may just wing it and hope it all comes together as a cogent narrative and times out right. Picture 9,000 people in a massive shelter for 24+ hours with no information and just military rations (MREs) to eat... add persistent INDOOR rainfall... and that about sums up the not-so-Superdome at this hour. We should add that for all the destruction in this city (none of us expect to have windows in our hotel rooms), the flooding, and the homes that are water-covered or no longer standing: the people have been wonderful and resilient... and New Orleans actually escaped the worst. Tonight's broadcast ought to be interesting, and we hope you'll join us for it.
•|
Katrina coverage on MSNBC.com (Rob Merrill, Daily Nightly editor)
We are compiling brief dispatches from the NBC correspondents and producers covering the hurricane. While not all of their stories will be featured in the broadcast tonight, some will and you can read them here. Katrina is also the most-heavily blogged hurricane in history. MSNBC.com blogger Will Femia is watching the Web. Read his blog here. And if you haven't had it drummed into your head yet while watching MSNBC-TV, complete coverage of the hurricane, including a storm tracker, slide show and eyewitess accounts, can be found at Katrina.MSNBC.com.
• |
Wet but safe inside the dome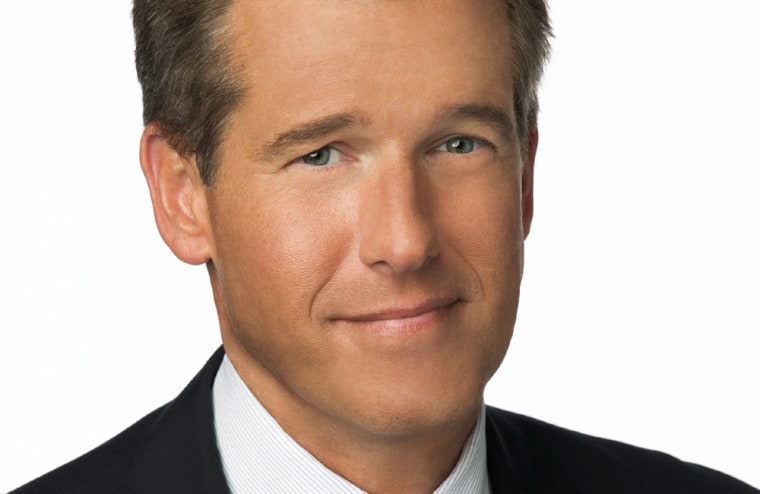 NEW ORLEANS — It is precipitating inside the New Orleans Superdome. One official tells me there are at least 60 different leaks. The artificial turf is wet and soggy, even flooded in some points. Three vents blew out, bringing torrents of rain. In some spots it is like standing underneath a common garden hose. You could get absolutely soaked on the 50-yard line.
State officials have been making a point to say the structural integrity of this dome was never in doubt. While that is true, the general manager of the Superdome told me they are testing it right now. This is the greatest test this structure has had since it was erected in 1976. We found out today we have some roof issues.
What happened? The GM indicated it was the metal sheeting. It was just an incredible noise at first, like a subway train. The first aerial pictures will be something to see... problem is, it's still so windy, making it impossible to raise a mast and beam video back to New York. The minute we can safely do that, you can watch it on MSNBC. All we've been allowed to do so far is go out the back door a couple of feet. It's simply still too dangerous outside. The Superdome is surrounded by a moat and it's impossibly windy. We're still getting whipped by this storm and wish its forward progress would speed up a bit.
But the important thing is that 8-9,000 people found emergency shelter here. They have food and drink. The National Guard commander is taking his orders from the county managers and civil affairs folks. People won't be released from here until power and flooding issues are resolved in their neighborhoods. Everyone who came here as a last resort signed an invisible contract, signing their safety over to the city.
People can tell by looking up at the roof that the worst is over, but they're still going on yesterday's dire predictions for this city. There is no PA system, no effort to disseminate information, and very few radios and televisions. Although people can sense that the storm is dying out, they don't know that New Orleans dodged a major bullet. 
• |
Big Easy damage report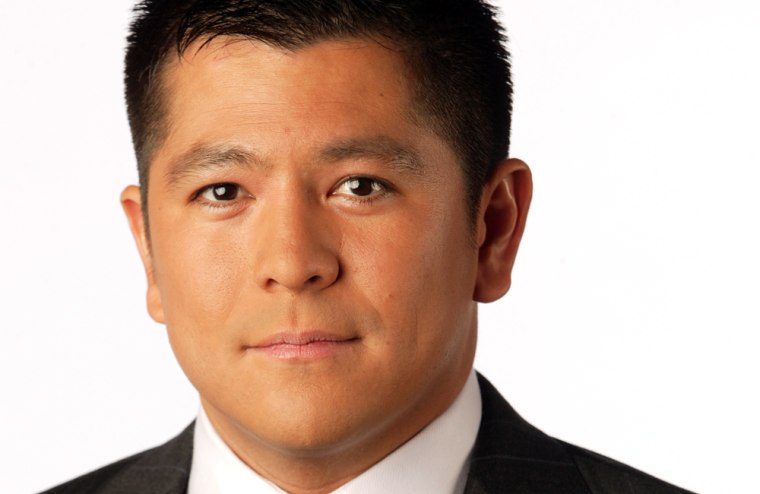 NEW ORLEANS — There is quite a bit of damage here... windows blown out, insulation peeling off like cotton candy... but it feels like the winds are subsiding a bit. Tonight's story is going to be debris -- along with the insulation, glass litters the streets. Flooding is not as severe as suspected. Most roads look passable in an SUV. Does not appear to be the complete washout everyone warned about. As for damage, not many of the buildings in the French Quarter were boarded up. They are extremely old, so it will be interesting to see how they fared.
• August 29, 2005 | 9:08 a.m. EDT
Waiting in New Orleans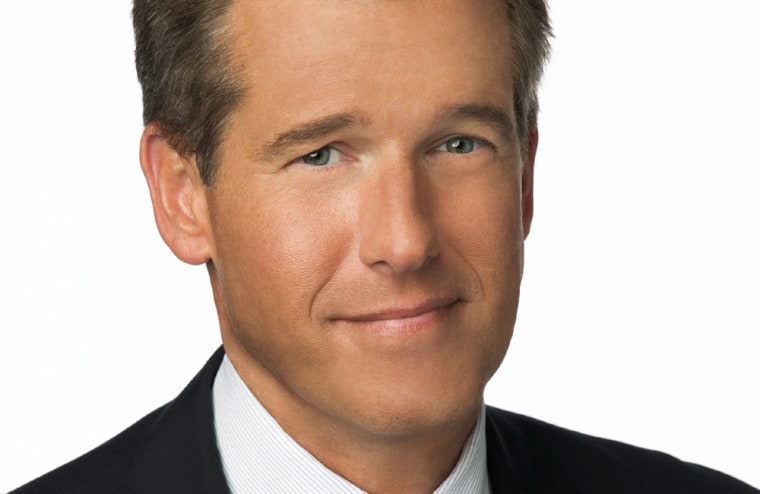 NEW ORLEANS — Since we're not able to predict the state of our communications, this posting, written at Midnight Sunday, will have to do until I'm able to file a more substantial update. We're about to attempt to get a few hours sleep from our 10th floor hotel rooms. Our wake-up calls will come insanely early, and the few "down" hours we'll have can't really be called sleep. New Orleans is ready and worried. Bourbon Street is desolate — the first time in my memory. This great, different world of a city is transformed by this approaching monster with a 32-mile-wide eye. We'll technically have to violate the curfew and take temporary leave of our senses to make the two-mile drive to our satellite truck. Weather permitting, we'll report for the Today show every hour on the hour. But for now we're in a rain band, the wind is starting, there's brilliant lightning and we're under both a hurricane warning and a tornado warning. I will, like everyone else, have a flashlight at my side all night. The power will go out... it always does. We'll see what Katrina does to this sunken city, and we'll do it safely. See you on the air.