Floodwaters continued to pour into New Orleans unabated Wednesday, hindering attempts to repair damaged levees that surround the below-sea-level city. And an Army Corps of Engineers spokesman warned that the repair work could actually make the situation worse.
So great was the chaos created by the watery disaster that it was impossible to get official information on the extent of the damage to the levees or the state of efforts to patch them. (A 3 p.m. ET news conference could shed more light on repair work.)
But all sources agreed that the post-Hurricane Katrina nightmare was worsening, with the water continuing to rise in many places and little, if anything, had been accomplished to fix the breaches.
"You know, we've got an unprecedented situation here," U.S. Army Corps of Engineers spokesman John Hall told MSNBC.com via cell phone from New Orleans.
Hall said his own attempts to round up current information were being stymied because "I'm on the phone every minute" with reporters from around the globe. But he could say that the biggest problem remained a breach in the eastern wall of the 17th Street Canal.
"Last I heard," the breach was 300 feet long, from 4 feet to 20 feet deep, "all under water," Hall said. Other reports, including one on the Web site of the New Orleans Times-Picayune, have estimated the breach to be as long as "500 yards and growing."
Millions of gallons
The gap was allowing millions of gallons of water from Lake Pontchartrain, normally about sea level, but now several feet higher than that in the aftermath of Hurricane Katrina, to flood scores of New Orleans neighborhoods.
To the east, levees were also breached on the Industrial Canal, dumping water into the city's famed French Quarter.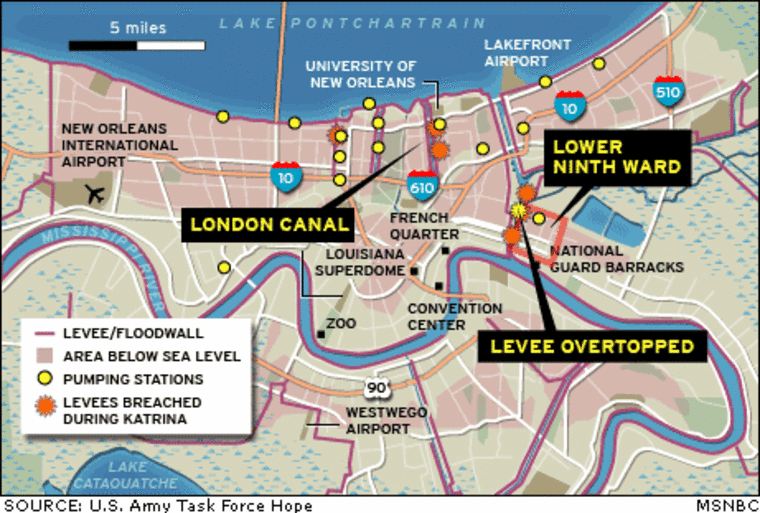 Repair efforts were focused on the 17th Street Canal rupture, but nobody contacted by MSNBC.com could say how they were proceeding Wednesday. Initial efforts to drop 3,000-pound sandbags via helicopter failed, the city's mayor, Ray Nagin, said Tuesday night. While the weight of the bags may sound impressive, at a cubic yard apiece they are only the size of large refrigerator.
Mark Lambert of the Louisiana Department of Transportation and Development  on Tuesday night told the Times-Picayune that an attempt to drop 15,000-pound concrete highway barriers into the breach was being  planned. But by noon ET on Wednesday, Lambert could not say if that plan had been carried out.
"They're going to try everything they can," the Corps' Hall said. But he pointed out that the 17th Street site has "no land side access and no navigational access. … This is a drainage canal."  So engineers can't drive heavy equipment to the breach and they can't get barges close enough to work on it. A nearby railroad line might prove helpful, Hall said.
Confounding access issues are engineers' fears that their own efforts might worsen some aspects of the flooding.
"As we narrow the gap, we're going to face greater water velocity coming in," Hall said. "We have to evaluate as we go. How long that takes, I don't know. .. You must test. You must place material in there and then watch the impact."
Mounting frustration over the inability to use conventional methods to fix the gaps have led to calls from some quarters to try bolder methods.
Throw barges at it?
"Move several barges into position ahead of the breech, in parallel fashion, fill them with water and sink them in place," said Michael W. Holcomb, a senior environmental specialist with Dallas-based refiner Alon USA. "Stabilize somehow and then begin placing concrete around the gaps, and slowly then fill in the spaces with increasingly smaller and smaller fill material and effectively seal the breach well enough to allow repairs to the levee itself."
A similar idea was being broached Wednesday the Corp's own  Maj. Gen. Don Riley, who pointed out once again that staunching the floodwaters is only a first step. After that, it could take close to a month to get the water out of the city, Riley said.
Maybe longer, said flood expert Gary Guhl of the engineering firm PBS&J.
"That's a tremendous amount of water, that will take quite a while" said Guhl, who works on flood maps for the Federal Emergency Management Agency and spent four years with the Corps in the New Orleans area.