Clean-up crews on Wednesday were trying to reach two sites on the Mississippi River where officials have spotted slicks and fear large oil spills.
One suspected spill in Chalmette, a town just a few miles southeast of New Orleans, was only recently detected and an oil storage tank there could have spilled some 10,000 barrels.
"Oil got into the neighborhoods," Jean Kelly, a spokeswoman for the Louisiana Department of Environmental Quality told MSNBC.com on Wednesday.
Just how much is unknown because "nobody's been in there" yet, Kelly said. Getting crews to the site has been difficult given the hurricane damage and the fact that some of the workers' lives have themselves been turned upside down.
"It's an unbelievable nightmare down here," Kelly said. "They're doing the best they can to get in."
Barge heading to second site
Officials last Thursday detected a slick farther south on the Mississippi River, and just north of the devastated town of Venice.
Two oil storage tanks are thought to be leaking there. How much is also unknown, but Kelly said a working estimate right now is 78,000 barrels might have spilled. A barrel of oil is 42 gallons.
"There's no way to get in by road," she said, adding that a barge with a clean-up crew was making its way to the site.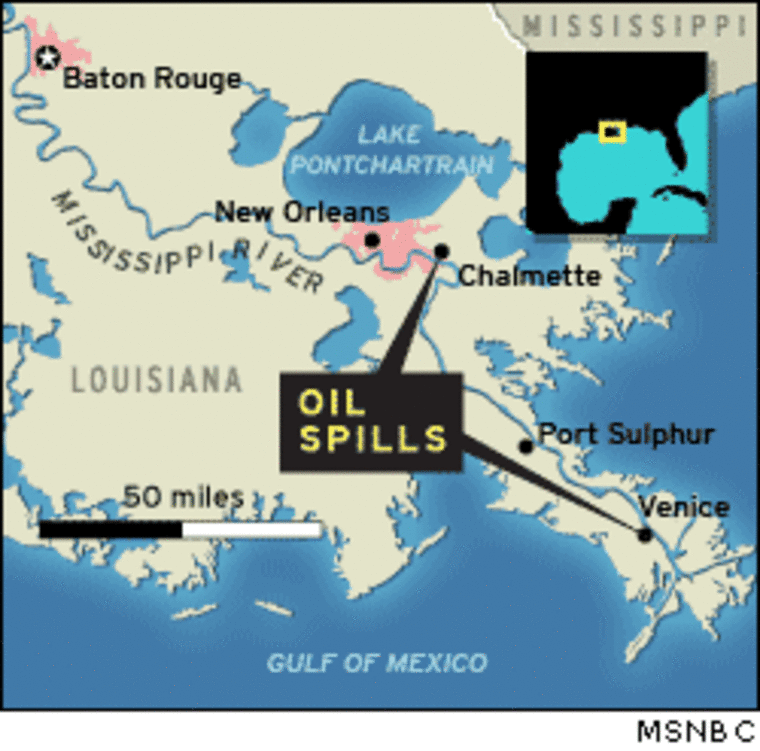 If the two spills are confirmed and in the thousands of barrels they would be considered significant. In contrast, the Exxon Valdez spill in Alaska in 1989 involved about 250,000 barrels of oil.
In a statement late Friday, the department said that "the slick is visible and is leaking into the river from an area near two storage tanks. Because the area is not accessible at the moment, there is no way to verify that the tanks are the cause of the leak. Also, there is no confirmation on how much of the product, which appears to petroleum based, has leaked."
Venice, a town in the Mississippi River Delta, is 65 miles southeast of New Orleans. Most of it was flattened by Hurricane Katrina.
'Only seen it from a plane'
Rodney Mallett, a responder at the state's oil spill task force, told MSNBC.com that little is known about the Venice slick so far.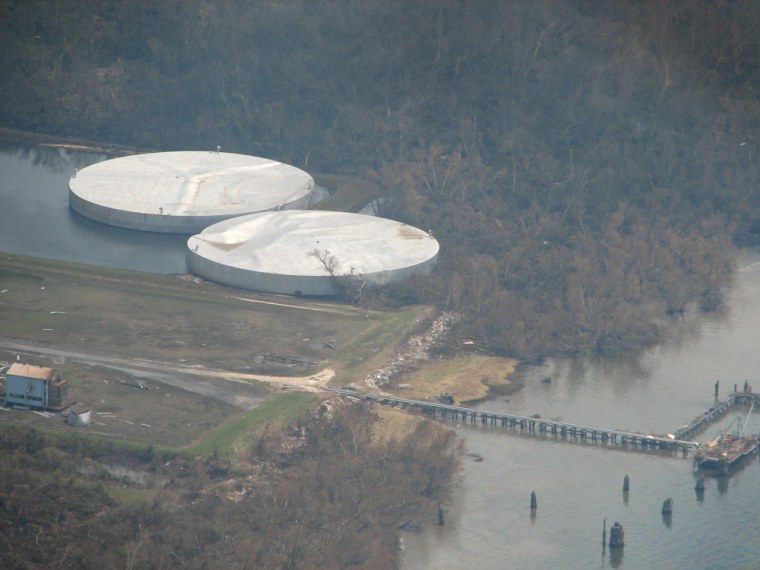 "We have only seen it from a plane," he said Friday afternoon. "It looks like it is coming from those tanks, but we need more evidence before being 100 percent sure. It could be coming from nearby and just running out from under all those trees."
The spill was first spotted Thursday during a flyover, Kelly said.
Each tank is estimated to be 20 feet tall and 280 feet in diameter, Kelly said. The department initially estimated that total capacity could be 1 million barrels each but later reduced that to 80,000 each.
Kelly said the state agency had notified the state oil spill response task force, the U.S. Coast Guard and the Environmental Protection Agency so that they can begin clean-up.