/ Source: The Associated Press
Bill Howell hung up the phone and minced no words. "It's pretty brutal out there," he said with a blend of candor and calm.
Howell is running the show at one of Entergy Corp.'s three Hurricane Katrina command centers established to help restore electricity in Louisiana and Mississippi, where more than 1 million customers lost power.
The priority is to restore service to areas of public safety such as hospitals, police stations and fire and rescue buildings. But power is also needed to run the pumps that will drain New Orleans, get the hobbled oil refining business back on its feet and enable telephone equipment to function.
It could take Entergy and other utilities months to restore service to some areas, especially those still underwater. Howell's room handles the tactical side of the restoration effort, guiding crews to the next job throughout Mississippi and Lousiana. They use technology, but still reach for the tradional medium — a road atlas.
There are 10,000 workers in the field, including thousands of workers from 20 states and several Canadian provinces, with whom the command center touches base regularly.
"This is a real nervy deal here," said Howell, who has worked 32 years for Entergy. "Things change instantly. Imagine trying to find clean drinking water for these people in some places or finding a place to sleep for these people."
John Fitzgerald, 40, and his crew from McDonough Electric Construction Corp., of Bedford, Mass. worked Tuesday in the blazing midday heat to restore power to homes along Old Pass Road in Gulfport, Miss.
"The hardest part is you've got houses you can restore but it just seems like you've always got one house in the middle that just can't get up because it's so damaged," said John Rubeski, 37, working with Fitzgerald. "It's pretty hard telling people that their neighbors can have light but they can't have power yet. But everybody's pretty understanding."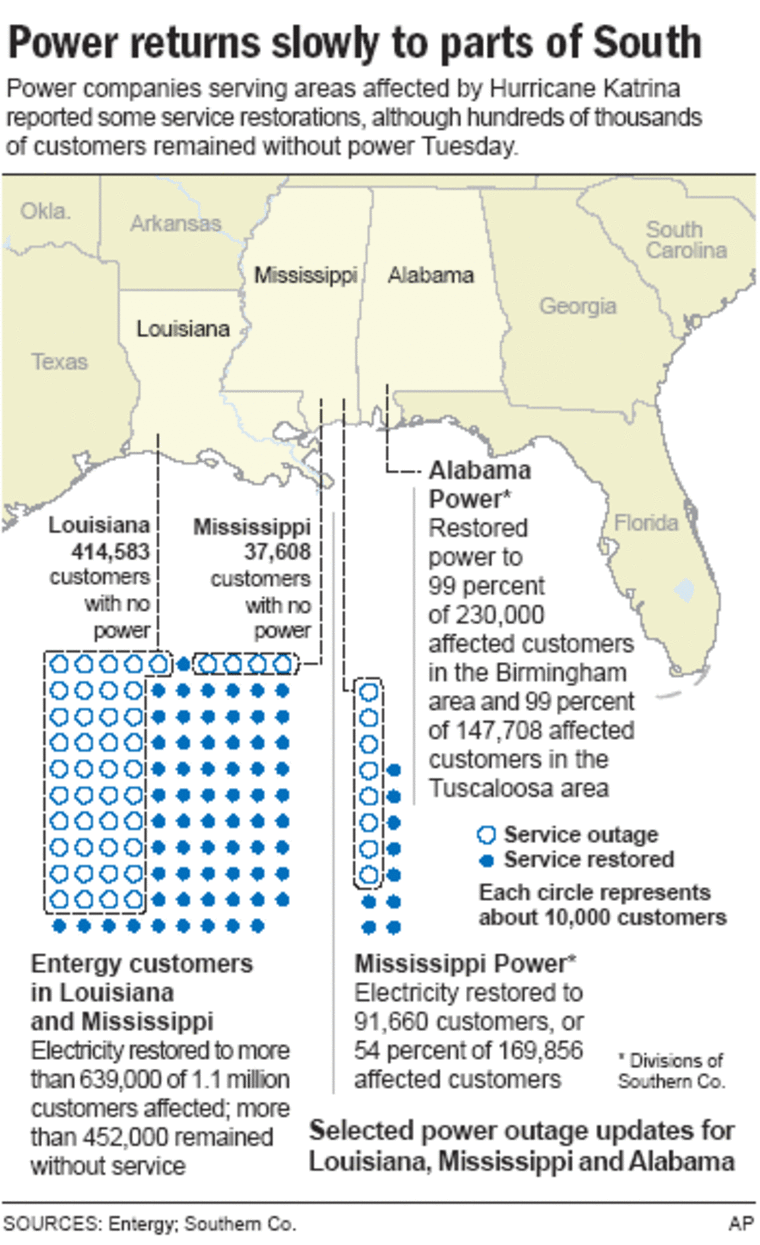 Rubeski said they'll likely stay for at least a month, fanning out across town, helping to bring it back to life. "The wind just knocked all these poles down. Sometimes, we just have to wait for poles to be set. That's frustrating," he said.
"But the best part is when you put that power back on and you see that smile on that little kid's face. That makes it all worthwhile," he added, wiping sweat from his cheek with the back of his dirty hand. "Back home, we have a supervisor with us all the time. Here, there so much damage, they're saying 'Just go out there and get it up and running.' ... It's just satisfying to help people. I wouldn't do it just for the money."
Service restored for thousands
By late Tuesday morning, Entergy had restored power to about 639,000 of 1.1 million customers who lost service after Katrina and its power demand load was at 77 percent of normal, Leo Denault, Entergy's chief financial officer, said during a conference call with analysts.
Mississippi Power Co., which lost electric service to all of its 195,000 customers during Katrina, said power had been restored to more than half by Tuesday and the rest would have power back by Sunday. Alabama Power Co. said service had been restored to 99 percent of customers affected by the hurricane.
Entergy's command center building sits safely ensconced in a wooded, campus-style business park whose beauty is a stark contrast to the carnage Katrina left behind.
Once a training facility nicknamed "The Powerhouse," the three first-floor rooms work in sync, one for logistics, one for transmission reports and a third melding the two missions.
The rooms' walls feature maps of utility grids and post-its with updates on the repairs. Tables of different sizes are lined with laptops and desktop computers.
The employees — many of whose shifts last 15 to 18 hours — work with a sense of urgency, but not haste or panic. Howell likens it to a swan on a lake.
"It looks real calm and pretty sitting on the top, but its feet are moving real fast," he said. "Well, don't think we aren't paddling along."
While Howell's team is working out details, another group monitors repair progress and receives regular updates, then posts them on grid maps. Red means the circuits are still out and green means a successful repair.
But even as green has overtaked red, the hard part is far from over. There are still sections of New Orleans that remain underwater and inaccessible to repair crews. Here, the company's patience soon could be tested.
"The real things that will drag this out is the access, that's what's different about this job," said Jim Raleigh, who has worked 25 years for Entergy. "We have so many customers who are out and we have to use all of our forces, plus help from others, but we also know how important it is to stay calm."
Entergy also has high profile assignments like the Gulf Coast refineries and the Louisiana Offshore Oil Port, the nation's largest oil import terminal.
There are even spots where power once served homes and businesses no longer standing. Some of those homes belong to Entergy employees.
"Everybody knows somebody or has family — why, my boss has six brothers who live on the Mississippi River — who are affected by this," Howell said.
The damage has touched all facets of Entergy's production: energy generation, transmission, distribution, plus its natural gas division.
Restoration requires striking a balance making sure one component can support the other.
No one is prepared to place a price tag the project, for there will most certainly be surprises and unforeseen costs. Denault said Entergy's financial reserves for storm damage have been depleted by previous storms and are currently at a deficit of $80 million.
Most speak of the future in terms of weeks and months and the present in days.
"All I know is that I'm on Day 9, and I'll be here until every last switch is on," Howell said. "We have to work smart because this is a marathon not a sprint.
"Hey, I just found it out it was already September. I don't know what the date is, just that it's Day 9 or 10 or 11, something like that."