/ Source: The Associated Press
Dr. Jessica Lee fought the urge to panic.
All week long, women stranded by Hurricane Katrina had been giving birth in primitive conditions at New Orleans' University Hospital, their only after-effect a colorful story to tell their children someday.
Now one was in trouble.
She was 24 and scared. She had given birth once before by Caesarean section because the baby's head was too big, and doctors believed one would be needed again. With no power or running water, the doctors couldn't safely operate, so for days they had given her drugs to delay labor.
But by Friday morning they could fool nature no longer. Labor was progressing and no rescuers were in sight.
This one isn't going to have a happy ending, Lee began to fear. Where were the helicopters?
Disasters always spawn heroes.
On Sept. 11, 2001, many of them wore dark blue uniforms that said FDNY.
On Sept. 1, 2005, many wore hospital scrubs that said MD, RN and EMT. Thousands of health care workers stayed with patients in devastated hospitals after the storm struck. Thousands more rushed in to help.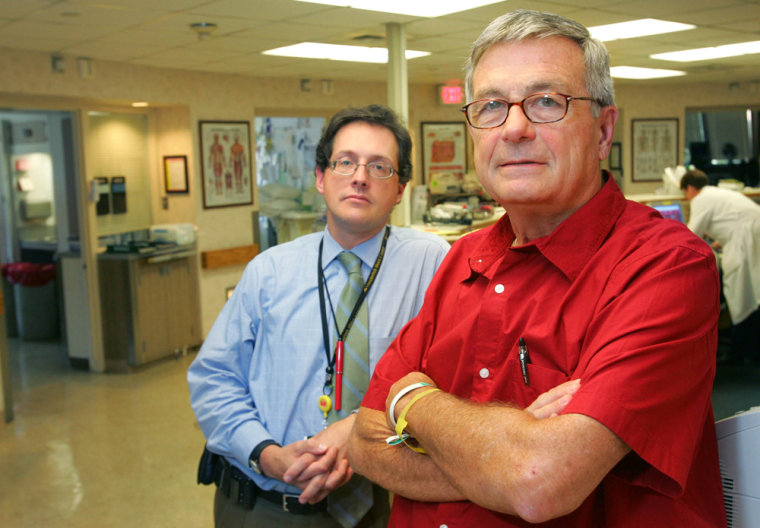 They are people like Dr. Norman McSwain, a legendary, 68-year-old Tulane University trauma surgeon who on Sept. 1 waded through fetid floodwaters to get out word that thousands of people were trapped in hospitals running out of food and water.
And Dr. Rich Tabor, a 38-year-old Bethlehem, Pa., emergency medicine physician who got partners to cover his shifts and paid $520 out of his own pocket for a plane ticket to Louisiana, where he climbed into an airboat and went door-to-door with rescue workers.
And Barry Albertson Jr., 42, a paramedic from Easton, Pa., who missed his 7-year-old son's first peewee football game to join a caravan of ambulances making the 30-hour trip to New Orleans.
And Dr. Lee Garvey, 48, an emergency room doctor at Carolinas Medical Center who dropped everything to staff a state-of-the-art mobile hospital that provided the only trauma care for seven devastated counties in rural Mississippi.
"We're here because this is what we live to do," Garvey said, "trying to offer something to these people."
Lee's ordeal began at 6 a.m. Sunday, Aug. 28, as the hurricane approached. The 31-year-old resident in obstetrics and gynecology wasn't summoned to work but took duty for a colleague who had a young baby and wanted to evacuate.
By 2 a.m., with the storm in full force, half a dozen women at University had given birth, two by C-section. Things went OK until Tuesday night, when the main generator on the first floor flooded. A couple of smaller ones on upper floors were used to power a few lights and fans, but it was dark even in daytime. The temperature inside was over 100 degrees, Lee said.
'The smell was overwhelming'
Medical student Susan Seo scrounged food and batteries and helped carry patients down four flights of stairs to an intensive-care unit. Work once stopped for three hours as security officers ordered staff to sit on the floor while they investigated a reported hostage situation. Attempts to evacuate patients from the parking garage roof were foiled by gunfire.
"There were people shooting at the helicopters. The whole time I was like, 'How come the military's not here,"' she said.
The choppers that made it through could only take two patients at a time. Sometimes they just dropped off supplies.
"At one point a helicopter dropped four boxes of Krispy Kreme doughnuts and left," Seo said.
Conditions grew steadily worse. Shots rang out in the hospital at night, and patients were moved to higher floors to escape looters.
Wednesday night, with toilets overflowing and basic sanitation a concern, administrators ordered the staff to urinate and defecate into red biohazard bags, tie them up and throw them out the window into the murky floodwaters.
"The entire time, I was afraid of being raped. It was so violent, it was so dark, people had guns and nothing to lose," Seo said. "There's no food left, no water, everything was contaminated ... The smell was overwhelming."
No lab tests or X-rays
Ten blocks away, the privately owned Tulane University Hospital and Clinic was getting help from its parent company, HCA. Private helicopters were evacuating patients, and doctors worried about what was going on at the two public hospitals — University and "Big Charity" — which they could no longer contact because phones were out.
On Wednesday afternoon, Dr. L. Lee Hamm, chairman of medicine at Tulane, and Dr. Tyler Curiel, a cancer department chief, went in a third staffer's canoe to visit the other two hospitals. On the way, at least a dozen people tried to get to their boat, seeking rescue.
"I remember a man and a woman with a child in some sort of container," like a laundry bin to keep the child out of the water, Hamm said.
The doctors went first to "Big Charity," where Curiel's wife, Dr. Ruth Berggren, worked as an infectious disease specialist, then to University. At both, "patients were being treated with not even what you'd have in a field hospital," Hamm said.
There were no lab tests or X-rays — critically important tools. Doctors were counting drips in intravenous lines to make sure patients got the right dose. Bystanders squeezed oxygen bags every 5 seconds to keep patients alive.
"You ask anybody and everybody that's willing to pitch in, and they wanted to," Hamm said. "There were lots of very young physicians doing a lot of heroic things."
Doctors managed to move about 150 patients and families on boats to the freeway where there were ambulances waiting. None of Tulane's patients died for storm-related reasons, but two of Charity's did. One was a cancer patient who couldn't survive the extra stress; another died in a helicopter as rescuers tried to administer CPR.
"One patient from Charity was being hand-ventilated. That patient was almost dead when he left here," McSwain said.
Back at University, Lee, the obstetrics resident, was at the emergency room dock as a boat headed toward her with supplies. Desperate evacuees reached it before it reached her. By the time it did, only one case of bottled water remained.
"Everybody was tired, hungry, thirsty and frustrated. Tulane was getting out and we weren't," Lee said. "We felt that we were being abandoned. Every day it just kept going on and on and on, and nobody came."
Women in labor were nearly hysterical. There were no fetal monitors, no power for pumps to give epidural anesthesia, and no running water for doctors to scrub their hands if they had to do an emergency Caesarean.
"We spent a lot of time calming them down," Lee said.
Four floors up, colleagues told her that patients and at least one evacuee with a gun had turned against a police officer, demanding information on when they'd get out. At least seven family members were forced out of the hospital by security guards because they were deemed a threat, Lee said.
"There wasn't a lot of logic going on," she said. "The patients were getting hostile. Under dire conditions, you don't know how people are going to act."
At Lee's hospital, University, one former nursing home patient died. Another death illustrated the violent backdrop against which the doctors worked — a gunshot victim from the community who was brought in but couldn't be saved.
Yet another birth
Around midnight Wednesday at University, Dr. Stacey Holman, a 27-year-old resident, assisted in yet another birth.
"I held up a flashlight and one of my colleagues did the delivery," she said.
All the time she wondered, "What if we have to do a C-section? Can we do it without endangering the mom's life?"
By Thursday morning, McSwain had seen enough. From one of the few working phones at Tulane, he sought help from the media, telling The Associated Press: "We have been trying to call the mayor's office, we have been trying to call the governor's office ... we have tried to use any inside pressure we can. We are turning to you. Please help us."
As he was making his plea, Curiel was trying to rescue patients by boat at Charity, where his wife, Berggren, worked.
"I came down with my patients all the way from the ninth floor including people with spinal fractures," Berggren told CNN that night. "We actually loaded them on to boats, and we just saw a boat come back with some of our patients" because no helicopters were waiting to take them.
At dawn on Friday, Lee's fears were confirmed: Her 24-year-old patient's cervix was dilated and labor was progressing. With no functioning ultrasound equipment, doctors couldn't tell if this baby's head was too big, as the woman's previous child's had been. With no fetal monitors, they couldn't tell if the baby was in immediate danger.
They knew this: Women who have had C-sections are at great risk of a ruptured uterus in later pregnancies, especially if labor is difficult or long.
While she pondered the risks, the clouds finally parted. The military arrived in force and Chinook helicopters swooped in, rescuing the roughly 350 patients who remained at Charity and University plus thousands of staff, family and refugees there and at Tulane.
As for the doctors: "They were the last to come out of the doors. They would not leave until all the patients were out," said Sgt. Billy Gomillion, a rescue boat driver for the Louisiana Department of Wildlife and Fisheries Enforcement.
Lee and her pregnant patient were airlifted to Slidell Memorial Hospital about 70 miles east near the Mississippi border. The woman gave birth to a healthy 7 pound 10.5-ounce boy at 12:53 p.m. Friday, Sept. 2, after an emergency C-section that Lee and another doctor performed.
McSwain finally escaped the Tulane hospital Friday night. One of the last to leave, he would have turned out the lights. But the hospital already was a dark, waterlogged corpse. As was the city he left behind.