/ Source: msnbc.com news services
Delta Air Lines Inc. and Northwest Airlines, the nation's No. 3 and No. 4 air carriers, both declared bankruptcy Wednesday as the industry's struggle with soaring oil prices and low-cost competition came to a dramatic head.
With the twin filings in Manhattan's federal bankruptcy court, four of the nation's seven largest airlines are now operating under Chapter 11 bankruptcy protection.
Little immediate impact is expected for travelers, and both carriers are expected to continue offering mileage credits and redemptions under their frequent flier programs. But in the long run the move by the two carriers could lead to a reduction in air service to some cities and higher prices, analysts said.
"We are operating our full schedule of flights, honoring tickets and reservations as usual, and making normal refunds and exchanges," Delta chief executive Gerald Grinstein said in a letter to customers.
Both airlines likely will use bankruptcy to slash labor and pension costs, following in the footsteps of No. 2 carrier United Airlines, which has been operating under bankruptcy protection for nearly three years. Together, Delta and Northwest employ nearly 100,000 people.
The latest bankruptcies, which had been widely anticipated, could put added pressure on other carriers including industry leader AMR Corp., parent of American Airlines, by putting them at a competitive disadvantage as their bankrupt rivals shed costs and ditch pensions, analysts said.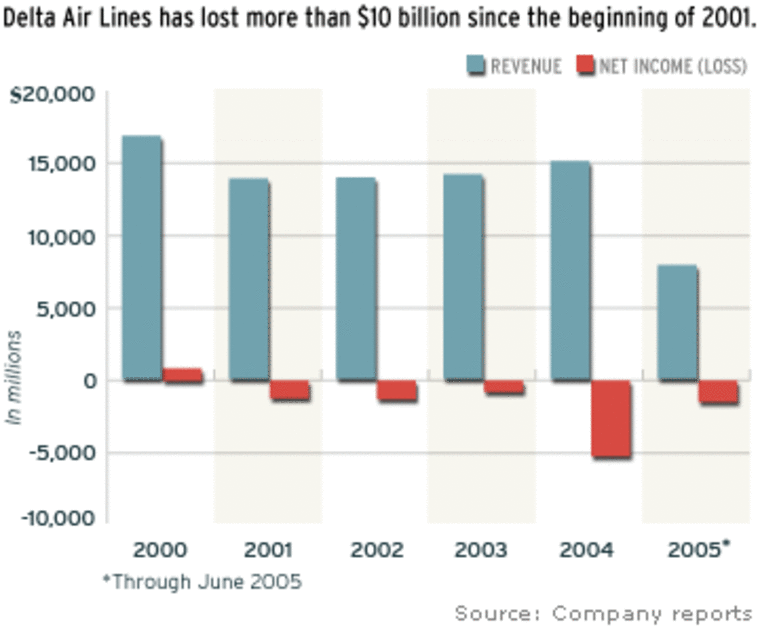 On the other hand, other airlines could benefit if Delta and Northwest cut back on domestic routes, getting rid of overcapacity that has turned the U.S. airline sector into a financially struggling giant.
Northwest CEO Doug Steenland told reporters the carrier expects to shrink capacity by returning planes to lessors. But he also said the carrier hopes to avoid the kind of wholesale pension plan terminations that happened at rivals such as UAL Corp.'s United Airlines.
"Northwest must significantly lower its costs to compete with other carriers," Steenland said in a statement.
The airline industry went from bad to worse this month as refinery outages caused by Hurricane Katrina sent jet fuel prices soaring. U.S. airlines are expected to post some $10 billion in losses this year.
Atlanta-based Delta's problems were compounded by a crushing debt load of more than $20 billion and one of the industry's biggest underfunded pension burdens.
"The action we have taken is a necessary and responsible step to preserve Delta's value for our creditors, customers, employees, business partners and other stakeholders," Delta's Grinstein said in a release.
Founded in 1928, Delta became a top international player by taking over many routes from defunct Pan Am in 1991. It has faced an uphill battle to recovery after getting hammered by the attacks of Sept. 11, 2001, and the slowdown in flying that followed.
"Delta is overleveraged, and they weren't going to stay out of bankruptcy, no way," said Ray Neidl, an analyst at Calyon Securities.
Labor costs
Northwest's woes center on high labor costs, which it is trying to slash by $1.1 billion.
Analysts said Northwest, which hired replacement workers to substitute for mechanics and cleaners who struck last month, could be using bankruptcy to get concessions that unions have been unwilling to grant at the bargaining table.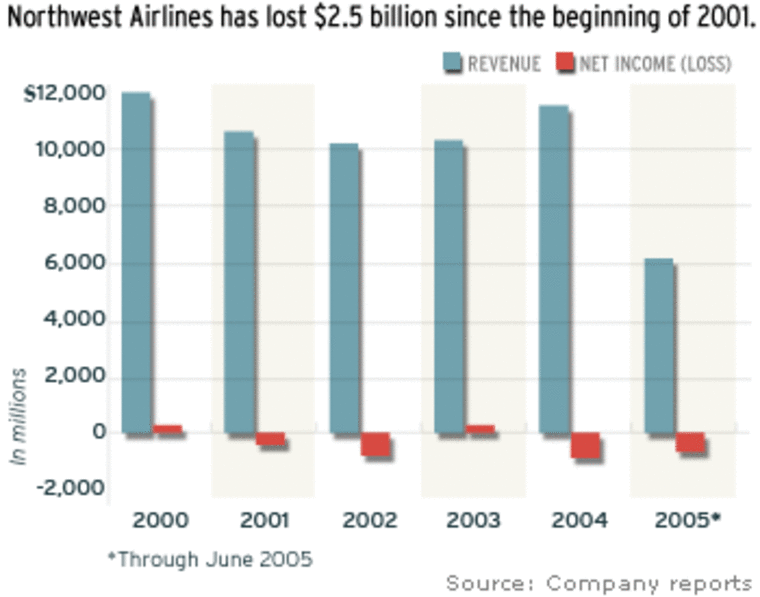 "We had developed a plan to restructure Northwest outside of Chapter 11 and have been implementing that plan," Steenland said. "Unfortunately, in addition to an uncompetitive cost structure, our efforts have been overtaken by skyrocketing fuel costs."
Northwest failed to make $42 million in debt payments Tuesday.
Northwest, the country's fourth-largest airline, had been in better financial shape than some of its competitors, with an extensive Asian network and cargo business both thought to be profitable. But that changed after 9/11, the rise in fuel prices and the epidemic of SARS, a virus that spread through several Asian countries, which cut into a core Northwest business.
The recession and slow economic recovery in the early part of the decade also eroded business, and the rise of low-cost carriers such as JetBlue Airways Corp. further stymied the big carriers' rebound.
Some smaller carriers, including Honolulu-based Hawaiian Airlines and Indianapolis-based ATA Airlines Inc., also have filed for bankruptcy in recent years. Hawaiian emerged from bankruptcy in June.
Wednesday's filings could pave the way for additional mergers in the sector, Merrill Lynch analyst Michael Linenberg said in a report.
Northwest's stock has plunged 86 percent far this year, while Delta has lost 90 percent of its value.