/ Source: The Associated Press
On a day when President Bush declared "there is recovery on the way" in New Orleans, officials made a ghastly discovery of more than 40 bodies inside an evacuated hospital.
It was not immediately clear how the patients died. One hospital official said at least a few of the patients were dead before the storm, while another said the rising temperature in the hospital afterward likely contributed to some of the deaths.
The discovery of the corpses, which raised Louisiana's official death toll to nearly 280, came as Bush got his first up-close look at the destruction in New Orleans and the embattled director of the Federal Emergency Management Agency resigned.
"My impression of New Orleans is this: That there is a recovery on the way," Bush said after riding through New Orleans in a truck with the governor and mayor.
Encouraging signs
The recovery was visible in spots Monday. Nearly two-thirds of southeastern Louisiana's water treatment plants were up and running, and 41 of New Orleans' 174 permanent pumps were operational. Officials expect the still half-flooded city to be completely drained by Oct. 8.
Another sign of encouragement could come with the arrival Tuesday morning of the first commercial flight at Louis Armstrong New Orleans International Airport since Katrina hit. "We'll see how this week goes and we'll take it from there," said airport spokeswoman Michelle Duffarc.
The exact number of bodies recovered Sunday from the 317-bed Memorial Medical Center was unclear. A state official said there were 45 patients found; a hospital administrator said there were 44, plus three on the grounds.
Steven Campanini, a spokesman for hospital owner Tenet Healthcare Corp., said some of the patients died before Katrina arrived, and none of the deaths resulted from lack of food, water or electricity to power medical equipment.
Dave Goodson, an assistant administrator at Memorial Medical Center, said patients died while waiting to be evacuated after Katrina struck, as temperatures inside the hospital reached 106 degrees.
Family members and nurses were "literally standing over the patients, fanning them," he said. "These patients were not abandoned."
Meanwhile in Washington, who was vilified for the slow federal response to Katrina, stepped down. Brown was quickly replaced by R. David Paulison, a top agency official with firefighting experience.
Returning to New Orleans
Business owners were let back into New Orleans on Monday to assess the damage and retrieve vital records and equipment.
John Baus, a lawyer and construction manager, filled his SUV with computer servers, monitors, fax machines and crates of files. He said he planned to make the best of the disaster, starting a new company to help residents handle disaster claims and rebuilding projects.
"Everybody's been scattered to the four winds," said Baus, who evacuated to Baton Rouge. "How are they going to take care of insurance claims? Meet contractors? Get their houses restored the way they were?"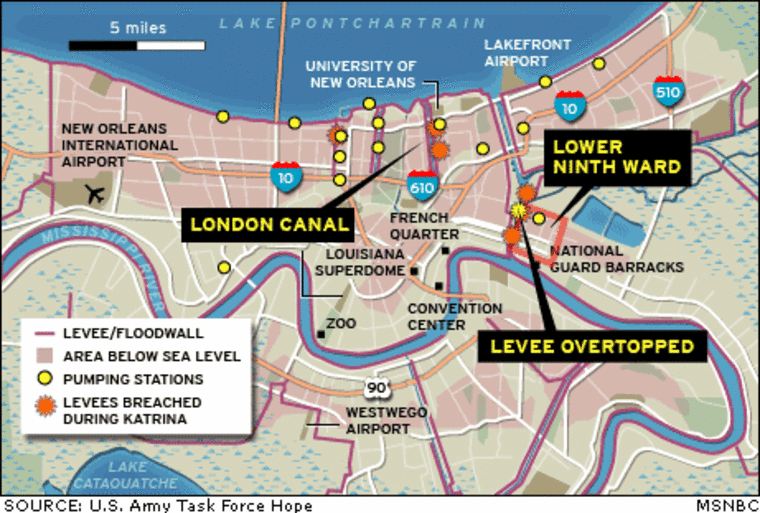 Some homes will require rebuilding. St. Bernard Parish President Henry Rodriguez told displaced residents there isn't a structure left standing in Hopedale, southeast of New Orleans. Parish Councilman Craig Taffaro said no one should expect to live in the parish again before next summer; before Katrina, its population was 66,000.
Sgt. John Zeller, a California National Guard engineer, said it will be at least three months before the New Orleans' public water system is fully operational. Some homes have running water now, but it's mostly untreated Mississippi River water — for anyone wanting a bath, "It's like jumping in the river right now," he said.
Some of those displaced may end up in temporary housing provided by FEMA, which expects to use trailer homes to create "temporary cities," where some 200,000 hurricane victims — most of them in Louisiana — could live for up to five years.
"This may not be quite on the scale of building the pyramids, but it's close," said Brad Fair, head of the FEMA housing effort.
In other developments:
Insurance experts doubled to at least $40 billion their estimate of insured losses caused by Katrina. Risk Management Solutions Inc. of Newark, Calif., put the total economic damage at more than $125 billion.
Lawmakers in Washington proposed some tax changes Monday to help storm victims, such as letting them tap retirement accounts without penalty and encouraging donations of cash, food and school books.
Former New Orleans Mayor Marc Morial called for a compensation fund for the hurricane victims similar to the fund created for victims of the terrorist attacks of Sept. 11, 2001.