Sawyer Real Estate in Gulfport, Miss. was founded by Lenny Sawyer's great grandfather in 1901. But when Katrina hit, it seemed most of that legacy would be wiped out. The firm's office, which had been 200 feet from the beach, was devastated. Wind ripped the structure to pieces, and a storm surge left 6 feet of standing water on everything inside. The firm's 14 critical computers lay somewhere under a pile of rubble.
Sawyer thought all his company's critical electronic business records — contracts, tenant records, e-mail — were gone.
"I'm sitting in front of the building, and it looked like a war zone. ... There wasn't a wall left. Everything was in shambles," Sawyer said. "But in the back of my mind, I remembered reading an article about [data recovery], and I said, 'It's probably worth us digging through the rubble to get to the hard drives.'"
The computers were a mess.  Many were not only wet, but packed with sand, seaweed, and even seashells.
But Sawyer's instincts were right — digging out the hard drives was worth it.  While the computers are damaged beyond repair, much of the firm's data has been saved.
While electronics are incredibly fragile, and usually wither in the presence of water, the data stored magnetically on computer hard drives can be incredibly resilient, experts say. And as Katrina survivors return home to pick through the rubble, the possibility of recovering their digital memories may offer some a ray of hope.
Recovery isn't cheap
Sawyer turned his hard drives over to data recovery experts from the firm Kroll OnTrack, Inc. Working in "clean rooms," they are carefully removing the disk-shaped platters inside. After bathing them in cleaning solvents or blowing them dry with air, they then piece together the 1s and 0s of Sawyer's livelihood. So far, they've retrieved 100 percent of the data from several of the drives.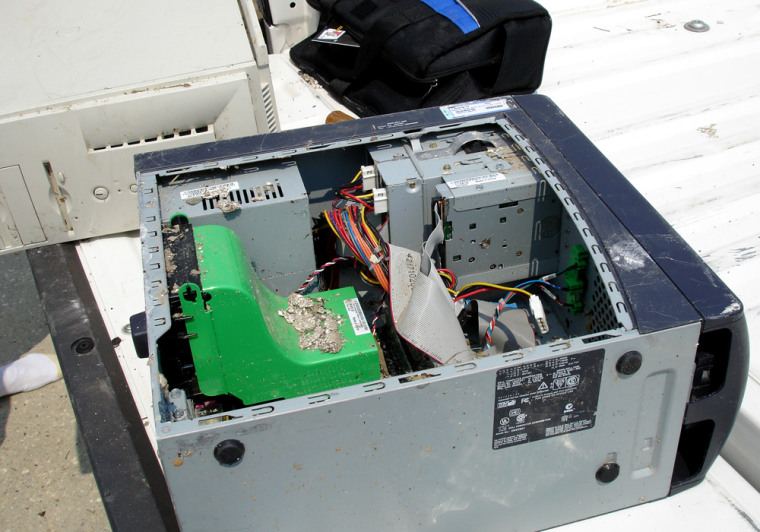 Such restorations are often possible, say experts, but they aren't cheap. It costs about $1,000 per hard drive to reconstruct data from damaged computers.
That might seem like a steep price for a home user, and it's probably more than the computer cost. But the digital age has made the PC the sole repository of everything from entire music collections to family photo albums. For irreplaceable family photos, that might be $1,000 worth spending.
"For home users it comes down to the value of their data, digital pictures, finances, music collection, hobbies, whatever they have on their computer," said OnTrack spokesman Jeff Faust.
"In many cases the cost of recovery is well worth the alternative of time, effort, and cost of rebuilding all their files from scratch. In some cases it's not possible to re-create their lost data; [that's] especially true for digital photos."
But even in a seemingly hopeless scenario, such as a fully-submerged computer, there is hope. 
"There is always a chance," said OnTrack vice president Todd Johnson. "Don't assume your data is gone."
Water isn't the problem
Specialists can recover data from flooded PCs 85 to 90 percent of the time, said Bill Margeson, CEO of CBL Data Recovery Technologies.
The reason for the high success rates: Water itself isn't damaging to data. Instead, it's the residue left behind after the water evaporates that makes the hard drives inoperable, Margeson said. As such, seawater is particularly troublesome because of the all the dirt and other elements it carries.
"Inside a hard drive, things are measured in microns. Debris can get pinned between the read/write head of the hard drive and the platter, and that's big trouble," he said. Such residue causes scraping on the platter when the platter spins, similar to a head crash, when the read/write head of a hard drive lands on the platter, and scrapes it like a plough turning a field. That's the one thing data can't withstand.
That's why the first step returning Katrina victims take is key, Johnson said. Any chance to recover data can be ruined if the computer is restarted when it's wet or jammed with gunk, Johnson said. People shouldn't just hope for the best because the machine they see appears to be dry, he said. With water damage, there's usually clear signs the computer was wet at some point, such as high water marks in the building or grit on the machine. Ignoring such signals could be fatal for the data inside the computer.
The mistake of turning on a damaged hard drive should be obvious immediately, Johnson said.
"Usually, you will  hear something right away when you power up: A grinding noise," he said. The best step then is to turn the computer off immediately. "The more a device is running with damage the more data loss there will be."
Put it in a damp drawer
Margeson's firm cleans the platters by bathing them in a chemical solution. In some cases, Johnson's firm uses concentrated air — he compared the process to cleaning dirty clothing, which sometimes requires a sturdy machine water-washing, and sometimes delicate dry cleaning.
Then, once the platter can be safely spun near a read/write head, the data is extracted. Finally, it's returned to the owner on a new CD or hard drive.
Hundreds of firms perform such cleanings, but Margeson acknowledged that the high cost might be beyond what many families could spend while dealing with other Katrina expenses. If it's too much, Margeson said he recommended taking the hard drive out and sticking it in a drawer for a few months.
"That's not going to make things any worse," he said. Corrosion is generally not a problem for the platters, which are usually made from aluminum and coated with a metal oxide. Rather than simply giving up hope and throwing PCs away, people can stash the damaged hard drives for now, and take them out later to decide what to do with them.
"Firms like ours can take a crack at it then," Margeson said. 
For consumers who want to deal with the problem in a month or two,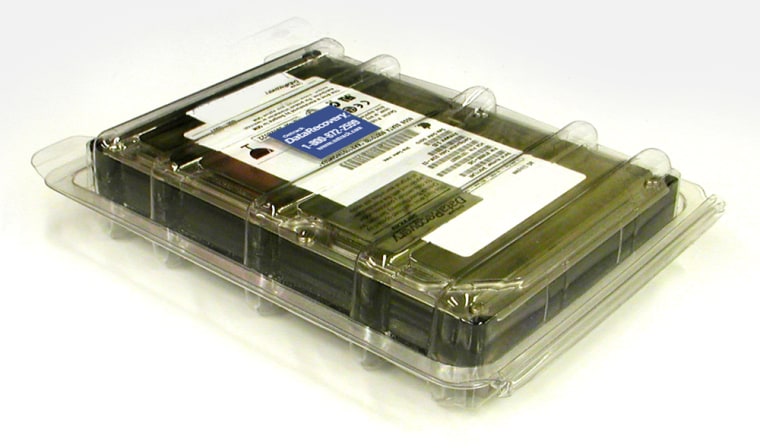 Johnson recommended storing the drive in a Ziplock sandwich bag, in order to keep the unit from drying out completely. The more it dries, the harder it will be to remove the residue left behind, he said. In some cases, the firm recommends shipping damaged computers in a bag with a damp sponge to preserve the humidity of the device and prevent a total dry-out.
Most data recovery firms will analyze a drive for free to see if it's a candidate for recovery. And Johnson said some home insurance companies will pay for data recovery expenses.
A good time for a new backup plan
Meanwhile, if a computer survived the storm unscathed, now is a time to consider a plan to implement the simplest of recovery procedures: regular data backups. Vincent Weafer, a security expert at Symantec Inc., said that while many consumers are familiar with the idea of backing up critical data on CDs or backup drives, the lessons of Katrina suggest additional steps are probably worthwhile.
Tapes, CDs, and other data backups stored in victims' homes face the same kind of storm destruction as the original data on a PC, Weafer said. Other disasters, such as house fires, can also destroy both the original data and the backup, if they are stored near each other.
With precious memories like wedding photos, it's worth making a second copy and storing it in another location, such as a safe-deposit box. Another idea, Weafer said, is to "bring a copy and leave it at a relative's house, like a cousin in another city."
Sawyer did have some of his company's data backed up, but the reality for home users and small businesses is that no backup system is perfect, and some files and e-mail are always going to be at risk. When a disaster strikes, more extreme measures for data recovery might be necessary. Sawyer said he feels lucky that these measures have given his information a second change.
"All our paper documents were literally shredded by water. And the digital versions, like scanned copies of leases, they were on those hard drives. This is going to save us a lot of time and money," he said.