Unprecedented numbers of people are flocking to the Internet in the wake of Hurricane Katrina and the emergence of Hurricane Rita, but visitors to the government's online gateway for weather news may have to do some hunting to find what they're looking for.
Despite seeing a four-fold increase in traffic in the weeks since Katrina slammed the Gulf Coast and with Rita threatening the region with fresh calamity, the top story Thursday on the National Oceanic and Atmospheric Administration's Web site was the rescue of four dolphins washed into the Mississippi River by Hurricane Katrina.
The storm topping NOAA's National Hurricane Center Web site? Tropical Storm Philippe, a small system forecast to bypass the United States by more than 1,000 miles.
Flash back three weeks ago: As Katrina strengthened into a Category 5 monster and local and federal officials pleaded with Gulf Coast residents to take evacuation orders seriously, NOAA's home page led with the story of how the agency's historians had debunked a 142-year-old Civil War legend involving a cannon and a cat.
Sites serving whom?
"You have to ask the question, 'What's the purpose of these sites?'" said Howard Finberg, director of interactive learning at the Poynter Institute, a journalism think tank based in St. Petersburg, Fla. "Were they developed for use by consumers or simply as internal government agency sites?"
A little of both, says Greg Hernandez, spokesman and editorial manager for noaa.gov. In addition to housing the latest weather advisories, storm projections and photos of hurricane damage, NOAA's site functions as a bulletin board for the agency's 12,500 employees.
NOAA was created under the Nixon administration in 1970 with the purpose of providing "for better protection of life and property from natural hazards ... for a better understanding of the total environment ... (and) for exploration and development leading to the intelligent use of our marine resources." The agency oversees the National Hurricane Center and National Weather Service and operates under the aegis of the U.S. Department of Commerce.
With the increase in Atlantic hurricane activity during the past two years, the public is increasingly looking to NOAA's Web site for storm information. According to Hernandez, noaa.gov had 3.9 million unique users during the height of Katrina and registered more than a billion hits in 2004.
By Friday, NOAA had replaced the dolphin report as its top story with information on how it is monitoring Rita, and the National Hurricane Center had updated its site with links to information about the storm in more prominent spots.
On Thursday, in addition to the dolphin story, noaa.gov provided a link to other governmental agencies' Katrina recovery information. Lower down the page, visitors could read about hurricane hunter pilots and access 7,100 digital photos of Katrina's aftermath.
"We provide mini portals," Hernandez said of the Web site's interface. "As we found out with Katrina, people come to our site and use our photos to see property damage and find people."
Uncovering a bounty of information
With some Web savvy and a little bit of trolling, visitors to noaa.gov can also uncover a wealth of information about Hurricane Rita and other developing storms on NOAA's National Hurricane Center and National Weather Service Web pages. Content includes weather advisories, hurricane tracking and projection information and thousands of aerial photos of storm-ravaged neighborhoods. Links to tracking information about Rita, Philippe and other storms are located on the left side of NOAA home page or by scrolling further down. To access the NWS page, which contains a prominent link to the latest advisories on Rita, a user must scroll down to an image of a sun and clouds labeled "weather" and then click another nondescript link before arriving at the weather service's home page.
Given all the attention Rita is receiving in the wake of Katrina's devastation, why not make it the "top story" on NOAA's home page?
Hernandez said the difficulty of constantly updating a moving story and the risk of presenting outdated material led the agency last year to stop producing a running hurricane story on NOAA's home page. "This year we decided to let (visitors) go to the hurricane center's page.
"We'll pump out stories after Rita hits," Hernandez added. "It will be imagery of the storm's effects, data on flooding and more. We don't want to confuse people by putting out-of-date material out there. In a situation like this, even being one or two hours old is too old."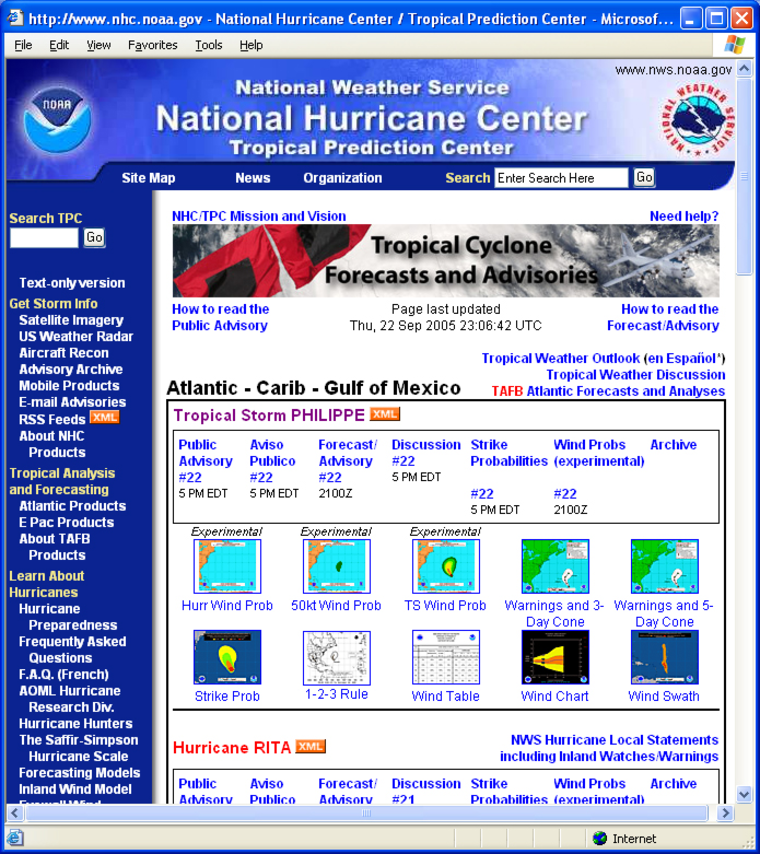 For the latest information about Rita, visitors must scroll down the page to find information on the storm.
The officials responsible for maintaining the National Hurricane Center's Web site didn't respond to an interview request Thursday.
In contrast to NOAA, the Federal Emergency Management Agency and the Department of Homeland Security, the two agencies that bore the brunt of criticism over the federal government's response to Katrina, have prominent links to Hurricane Rita information on their home pages.
Hernandez defends NOAA's Web presentation and says there's plenty of information available to those willing to seek it out.
"People don't like to read, they like to be spoon-fed information," he said. "We try to serve many, many people in many ways. I think we succeed, but you can't satisfy everybody. Some people may be looking for information on our site that is the responsibility of other agencies."
Eliminating the intermediary
Finberg said he thinks the agency can do a better job making its information available to a general audience.
"It's clear that they're not making this informational easily accessible, but they are making it available for others to make more understandable," Finberg said. "But I would hope they'd be more sophisticated and recognize the need to make this information more accessible to consumers."
Finberg was hesitant to criticize the approach NOAA takes with its Web site because he sees the agency as a provider of complex information and raw data that is usually disseminated by specialists, be they meteorologists, other scientists or local and national media outlets.
"If a consumer only goes (to the NOAA site), I think they're really missing the boat," Finberg said. "There are more accessible sites out there."
Among the best clearinghouses for hurricane information is hurricanecity.com, according to Finberg. "It's not the best layout, but there's a lot of information in there."
Keeping pace in cyberspace
Web sites big and small — whether maintained by government agencies, major media outlets or bloggers — are a natural place for the public to turn for information on disasters, Finberg said. The Web can match the immediacy of a fast-moving storm in ways that newspapers, other printed publications and bureaucracies cannot.
"The hierarchy of information has changed," Finberg said, with weather forecasts and evacuation information increasingly being sought out directly by the general public rather than passed down through bureaucratic channels. And already the lessons learned after Hurricane Katrina are manifesting themselves in Web coverage of Rita.
"A lot of (media) sites have jumped onto this a lot earlier than before," Finberg said. "That seems to be the lesson from Katrina: Get information out sooner and organize it in a way that's useful."