On Sunday, in the aftermath of Hurricane Rita, survivors are still being rescued from flooded towns, while others returned to homes battered but still standing.
And even though Rita was less powerful than expected, her path of destruction took many by surprise.
One man headed from his home and fled 90 miles inland to Tyler county, Texas, where he received the shock of his life: he had driven right into the storm.
People here thought they'd be safe, but as Rita ripped through the inland area, they realized how wrong they were. No one knew that better than Sheriff Jessie "Tiny" Wolf.
"I spent the entire night here," says Wolf. "The phones never quit ringing from people asking questions, to people who needed the help." 
Because his county is so far away from the Gulf, Sheriff Wolf never expected to be hit so hard."I figured it would be bad, but nothing like this."
Hurricane Rita toppled trees and trapped people in their homes. Calls for help flooded the sheriff's office in Woodville, and at the height of the storm, "Tiny" stepped outside.
"I opened my back door and it almost jerked me right out of here on top of my truck," says Wolf. "I knew then I couldn't send my people out to do anything." The wind was so strong, it almost knocked the 400-lbs. sheriff.
"It just hurts your heart when you can't get out and help these people the way you want to help them," he says.
His dispatchers had no help to offer those desperate callers, like a woman stranded alone with a dying husband, or families whose homes had their roofs ripped off.
After waiting hours for the winds to die down, Wolf told his team to hit the streets.  The first assignment for Deputy James "Rooster" Smith was to make his way through the storm battered county to an elderly woman and her husband with a heart condition. Normally, this trip would take 15 minutes, but because of debris left behind by Rita's winds, it took nearly an hour.
The sheriff and his deputies were up against trees, power lines, and bad weather. With the help of a chain saw, they cut a path.  They got one tree out of the way, but down the road, there were more. And if the trees weren't enough, they hit flooded roads too. 
As frustrating as it is for police who can't respond fast enough, imagine how frightening it was for people in neighborhoods where trees were crashing down one after the other.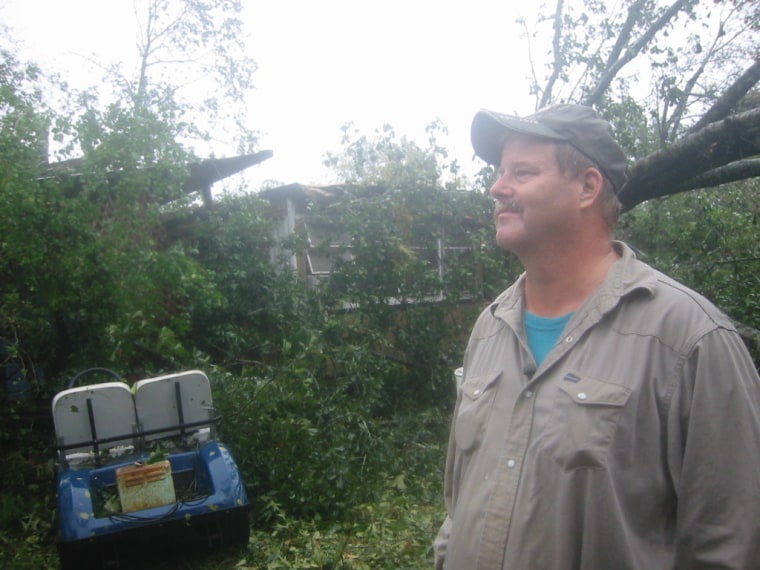 Terrie Toney's home was destroyed. "This is everything we had in the world," she says. "It wasn't much to other people, but this is everything we own."
Today, as tens of thousands return to see what's left of their homes and their lives, Randy and Terrie Toney wonder how to tell their sons— who slept through the ordeal at their grandparents' home next door— that they are now homeless.
In the end, she lost everything but her family... which in the darkest hours of the storm was her greatest fear.
Stafford: At one point, you look over at your kids… Terrie: I honestly considered tying my kids to me.Stafford: Roping them to you? Terrie:  I thought of  literally tying my kids to me because of all the horror stories of people from New Orleans and Mississippi who lost their children and were separated from them. I'd know where they were.
Smith did reach the the man with the heart condition that he was racing to check on. "Rooster" finally got through and found Joyce and Charles Shanks on the front porch of their severely damaged weekend getaway. They were safe but rattled. They had Charles' medicines with them.
Seeing "Rooster" and the other deputy calmed their nerves, and Joyce called her daughter to reassure her and her family, too.
Stafford: You've survived five heart attacks and two strokes… and now you've survived a hurricane. Which was the scariest of all the things you've faced? Charles: The scariest was not know which one of those trees was coming into the trailer next.Stafford: Glad you made it.
Wolf says with patience and time the good people of Tyler county, Texas will bounce back.
"Everything's going to be all right," he says. "As long as you've got health, life and your strength, other things can be replaced."