The wireless industry's autumn expo officially opened today, with people still talking about the announcement yesterday by Palm and Microsoft of a jointly developed smart phone.
It won't be the last smart phone announced at CTIA's Wireless I.T. and Entertainment 2005 show, but wireless these days encompasses far more than just phones: smart laptops, high-speed networks, online games, mobile video and network infrastructure. If it could be classified as wireless, it's probably here this week in the City by the Bay.
One of the best features of the new Treo phone announced by Palm and Microsoft is its ability to use Verizon's high-speed EV-DO wireless broadband network. Verizon's network is attracting a lot of attention beyond cell phones, as well.
In the past week, Hewlett-Packard and Dell have both announced they'll be including built-in EV-DO modems in future laptop offerings beginning next year. But you don't have to wait until then.
The ThinkPad Z series laptops from Lenovo (formerly IBM) are now available with built-in EV-DO modems. I have been trying out a new Z60t model and brought it with me here to CTIA. It's pretty terrific even without the built-in modem. With it, it's pretty much unbeatable.
This is a big, small computer.  It has a 16:9 widescreen display (14-inches diagonally), a built-in optical drive (CD/RW + DVD-ROM), a 1.8 GHz Intel Pentium M processor, 512 MB of memory, a fingerprint security system, WiFi and EV-DO connectivity and so much more.  All this is crammed into an enclosure that's 1.1 inches thick and weighs 4.4 pounds. Optional batteries extend battery life up to 5 1/2 hours.
Not a fan of the black ThinkPad styling? No problem. Lenovo's offering a new titanium special edition cover. Z60t prices start at $1,099.
I'll have a lot more to say about life with a constantly-connected, full-featured laptop in the near future.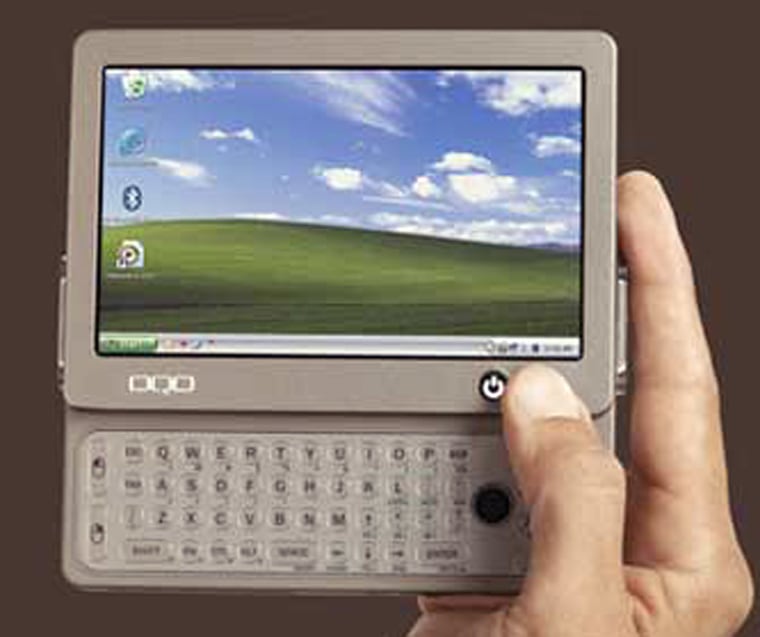 My favorite ultra-portable, ultra-personal computer was unveiled one year ago at last year's CTIA confab. This year, the people at OQO unveiled an updated version of their pocket-ready computer.
The new model 01+ has more memory (now 512 MB), more storage (30GB hard drive), better connectivity (USB 2.0 port), an improved pen-based digitizer, a universal power supply with a car/auto adapter, and most important of all, a built-in speaker. There are even a number of case design options, such as metal or leather.
OQO is still the only pocket-sized laptop on the market, it's still only 14 ounces and it's still very cool to use. It's still not cheap, either: The new model will sell for $1,899.
Palm isn't the only company to announce a Windows Mobile smart phone. Motorola has announced the i930 — the first smart phone to work on Nextel's iDEN wireless network.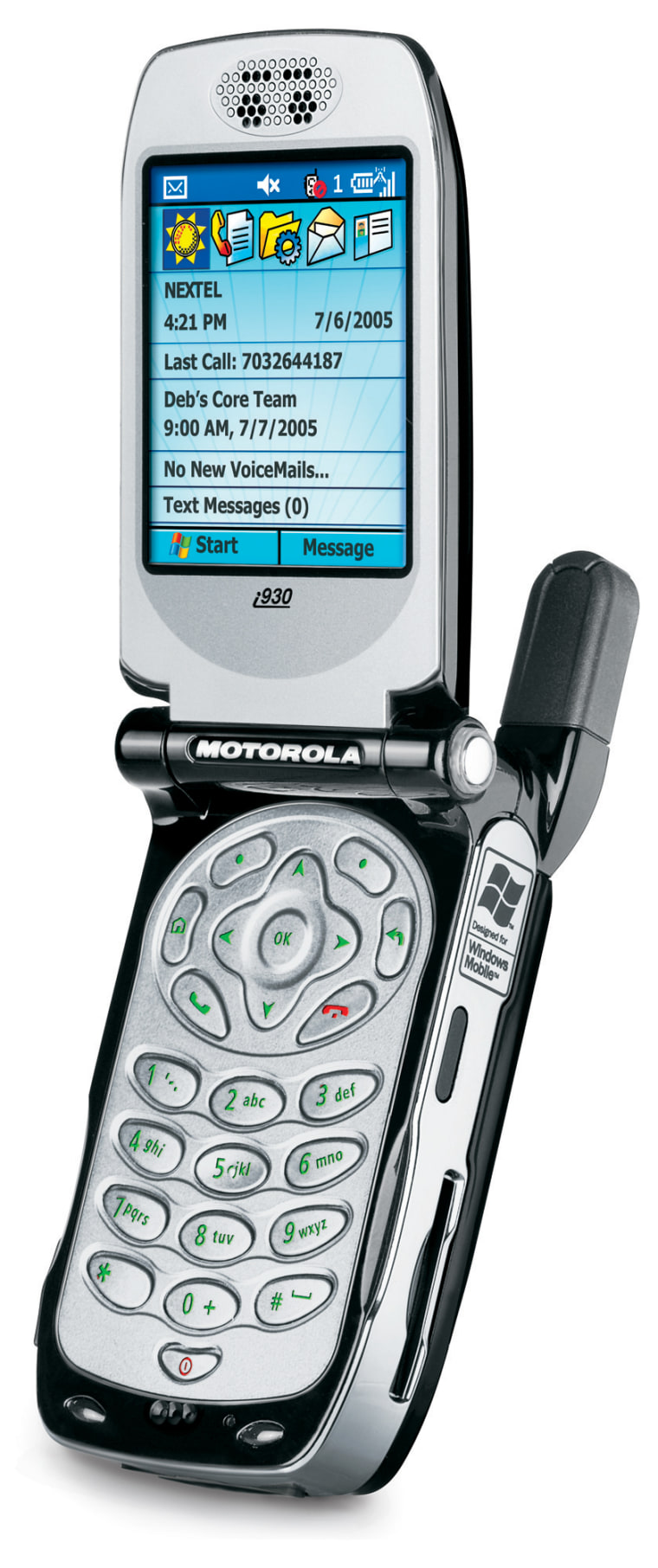 The i930 is not only a phone and a PDA combined but it also has Nextel's push-to-talk walkie-talkie feature. Most interesting of all is that the i930 is a world phone that provides voice and data services on the 900, 1800 and 1900 MHz GSM bands in addition to working on Nextel's iDEN 800 and 900 MHz frequencies.
The i930 will have a suggested retail price of $499.99 and should be available next month.
The television via cell phone experts at MobiTV made two announcements today. First, they've passed the 500,000 subscriber mark. According to their spin doctors, that makes MobiTV the nation's 13th largest TV vendor, behind names such as Comcast and DirecTV.
They have also launched version 2.0 of their multimedia software platform, which combines live TV broadcasts with 50 channels of ad-free music and gives subscribers the ability to view premium and per-per-view channels just like standard cable operators. There are also TV Guide-style programming listings. Don't forget, this is still all over a cell phone.
Finally, for those moments when you don't understand a word your teenager is saying: The Hip Hoptionary is here for you. It's a living mobile dictionary that mobile data subscribers can use to instantly find the meaning of the latest hip-hop slang. If you don't know what 'fo-shizzle' or 'holla' really means or the difference between phat and fat or def and deaf then UIEvolution's application is destined for your cell phone.