Gisele "Gigi" Brown, 73, of St. Bernard Parish, La. Owner of an uninsured mobile home worth approximately $20,000.
Gisele Brown has had more than her fair share of tragedy and heartbreak in her 74 years, but no hint of bitterness or despair is evident as she talks about reassembling the pieces of her life at an age when most Americans are well into retirement.
"I'm not bitter or mad or mean," she says in a soft French accent that many people take as Cajun but is actually a remnant from her childhood in Morocco. "I'll try to get what's coming to me. If it is coming to me, I'll be glad to take it. Of course you know I'm going to need help. There is no other way. I've got no one else."
We met Brown — "Gigi" to her many friends — in an American Red Cross shelter in the Forrest County Multi-Purpose Center in Hattiesburg, Miss., four days after Hurricane Katrina walloped the Gulf Coast. She already had spent five days camped on the oval floor of what is usually an equestrian arena, where she and a close friend, Janet Kaufman, had done as much as possible to make a pair of cots feel like home with the addition of comforters, a small folding table, coolers and books.
Brown said she had no idea whether the two-bedroom mobile home she bought four years earlier in the St. Bernard Parish community of Poydras, (population 3,886, according to the 2000 Census), southeast of New Orleans, had survived the storm. But she was fearing the worst, already talking about it in the past tense.
"It was the first trailer I ever owned," she said. "And I have no insurance because I'm on Social Security."
Immigrated in 1955
Brown has lived and worked in the United States since 1955, when she immigrated with her husband, John Miller Brown, a U.S. serviceman whom she met in Morocco. 
They moved to New Orleans 10 years later, "right after Betsy" — a reference not to a friend but to Hurricane Betsy, which socked the Crescent City in 1965 with winds of at least 125 mph and also flooded large parts of the city.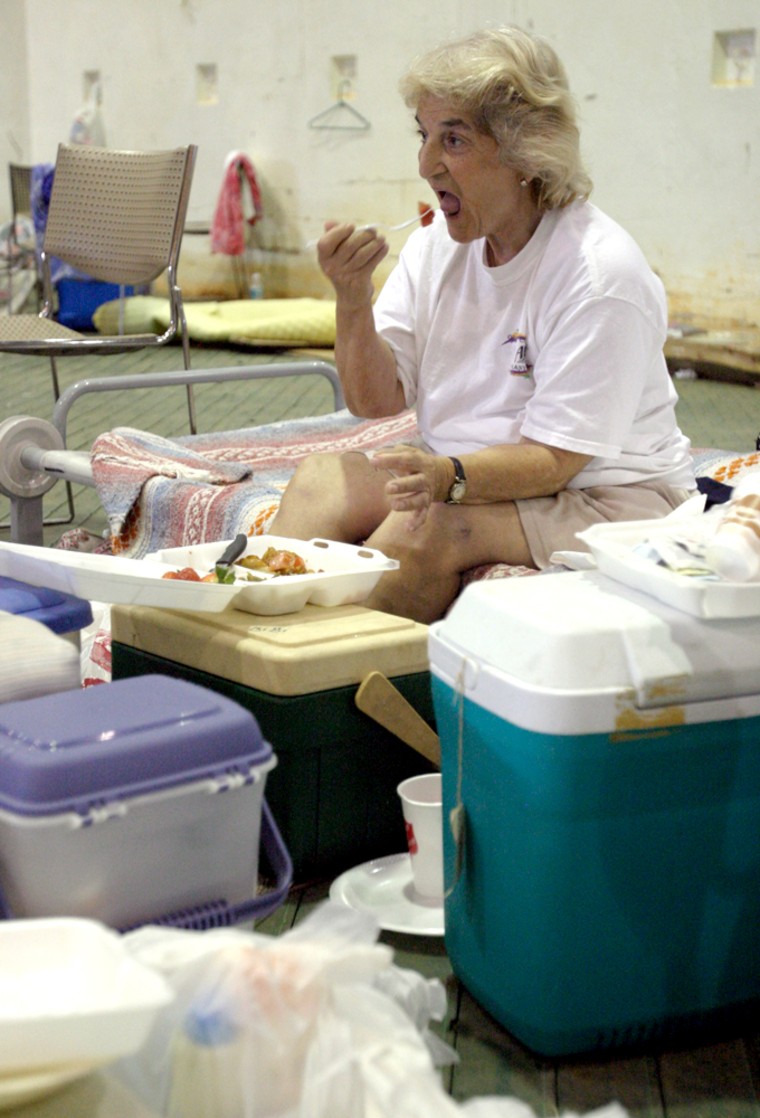 "It's funny, you know, coming to a place after Betsy and now I'm running into another one," she said with a wry smile.
If she was inclined to believe in fate, Brown might look back on her arrival in the immediate aftermath of a disaster as an omen of terrible things to come.
Her husband, who retired from the Air Force as a staff sergeant, took a bad fall in the early 1970s and died soon afterward in a VA hospital.
That loss was compounded in the years that followed as her sons, George and Marlin, were killed in a car crash and her daughter, Diane, died suddenly after falling ill.
"I lost my husband. I lost my children and I am left all to myself right now," she says in a matter-of-fact tone, her slightly moist eyes the only indication of the emotional scar left by the loss.
Where is 'Gigi'?
While Brown agreed to be profiled in MSNBC.com's series on storm victims rebuilding their lives, she has temporarily vanished from our radar. Officials at the shelter said she had left, but could not say where she had gone. And the phone numbers of a half-dozen friends she provided still are not working.
It appears likely that she is either staying with friends or has found temporary shelter through FEMA. We hope to re-establish contact before the next update in the series.
Though the fate of her home remains unclear, it appears her first instincts were right.
"That entire area had about 15 feet of water," Steve Cannizaro, a St. Bernard Parish government spokesman, said this week when asked about the situation in Poydras. He held out little hope that the mobile home would be inhabitable even if it was intact.
But Brown left no doubt when we spoke with her that she intends to return.
"I just as soon stay around where I belong," she said. "I've got no other reason to go anywhere else. I don't know anywhere else, that's the thing."