Day two at the CTIA Wireless I.T. and Entertainment exposition and the introduction of new products continues at a brisk pace.
Nokia just announced the availability of their 9300 smart phone here in the United States. The 9300 is an elongated clamshell handset with a nice color screen and keypad on the outside and a longer color display plus full QWERTY keyboard inside.  It is a direct descendant of the similarly shaped 9000 series (the size, shape and weight of your foot) and the 9500 (less than half the size of a 9000).
The 9300 is a GSM/GPRS/EDGE tri-band world phone that can handle all sorts of phone calls, messaging (instant and otherwise)along with data. And it's the smallest 9000 series device ever: 5.2 by 2 by 0.8 inches and weighing in at less than 6 ounces. Battery life is said to be as much as 7 hours for talking and up to 8 days on standby.
The phone runs on the Symbian 7.0 (series 80) operating platform, itself a descendant of the former Psion PDA OS, and gives you several options for handling e-mail, most notably RIM's popular BlackBerry software. Other software included are a Real Audio/Video player, voice recording, organizer (calendar, contacts and tasks) along with office applications (Microsoft Office compatible documents, spread sheets and presentations). There's even more stuffed inside this well-thought-out package that I'll be telling you about in the near future. For now, know that the Nokia 9300 is being distributed by Cingular in the U.S., with a suggested retail price of $299.
PDAs & a wireless printer
Remember PDAs? Hewlett-Packard was showing off a couple new ones at the show. The iPAQ rx1950 series weighs only 4.4 ounces and sports integrated Wi-Fi, up to 33MB of usable memory and a Secure Digital memory slot. It runs on Microsoft's brand new Windows Mobile 5.0 operating system. The slightly larger iPAQ hx2000 series has been updated to run on Windows Mobile 5.0, and sports both Wi-Fi and Bluetooth as well as Compact Flash and Secure Digital memory dual expansion slots.
But it's not only cellular phones and computers that are being highlighted at the show. How about a wireless, portable printer?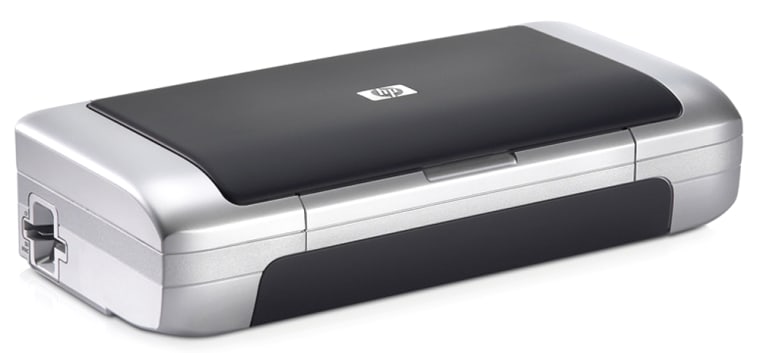 H-P announced their new Deskjet 460 mobile printer, which it says is the first portable printer to feature Wi-Fi technology for wireless printing. The printer can run on AC power or rechargeable batteries.
For $250 you get the basic printer. The rechargeable battery is extra. So are the plug-in Wi-Fi or Bluetooth wireless cards. I saw the Deskjet 460 in action, printing documents from an iPAQ PDA. All I can say is, WOW! The 460 looks like a must for first adopter road warriors.
The fall CTIA show is called Wireless I.T. and Entertainment 2005 so, as you might expect, there were a lot of announcements concerning downloading music, video and games into wireless devices. One of the more interesting schemes comes from the memory people at SanDisk. They're not talking about wireless, but secure distribution onto cell phones and laptops.
Getting gruvi
SanDisk has introduced what they call 'gruvi' — the first removable flash memory card of its type to be sold with premium music content.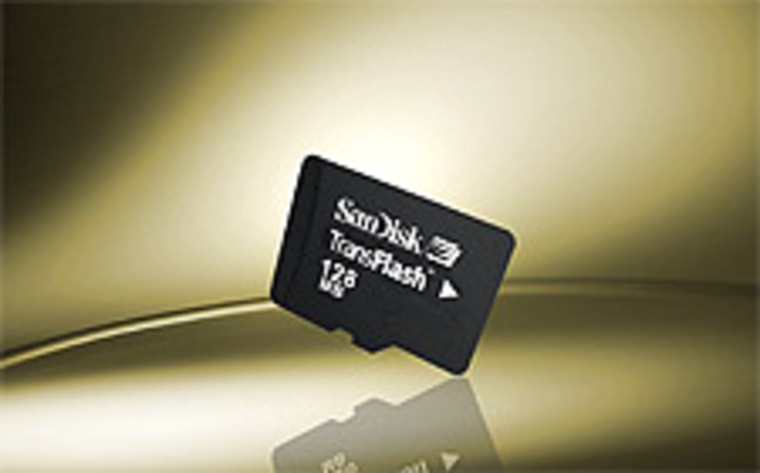 In November, the first gruvi card will be released. It will offer a compressed version of the Rolling Stones' new album, "A Bigger Bang." The media involved here is a TransFlash (soon to be called microSD) memory card the size of your smallest fingernail. It plays in any device with a TransFlash memory slot and comes with an SD card-sized adapter for others.
It's the first music release to use SanDisk's new TrustedFlash technology which allows content providers to lock the content to the card. That means consumers will be allowed to play the card on any device they own that can use the card. According to SanDisk that's in contrast to closed, proprietary systems that restrict content to a single device.
The gruvi music card includes the album in the WMA format along with bonus content offered exclusively in this format. This new version of "A Bigger Bang" will have a suggested retail price of $39.95 at select retailers, which compares with around $13-$14 for the CD on its own and $30 for a blank 128MB TransFlash card.