/ Source: The Associated Press
Less than a month after they hit the picket lines, Machinists at Boeing Co. approved a new contract and ended a strike that shut down the company's commercial airplane assembly plants.
About 80 percent of members who cast ballots approved the three-year pact, Mark Blondin, president of Machinists District Lodge 751, told a cheering crowd of several dozen union members after ballots were counted Thursday night.
"You stood up and said no to corporate greed," Dick Schneider, the Machinists' aerospace coordinator, shouted after the vote. "We hope this is a wake-up call to corporate America!"
Approval cleared the way for workers to return to their jobs as early as Thursday night. It was not immediately clear how much production work would resume right away, since the settlement doesn't require employees to return to work until Oct. 12.
A simple majority was needed to accept the offer. Union leaders had recommended that membership vote for the deal, saying it addressed key issues — pensions and health care benefits.
The average Machinist represented by the contract is 49 years old and makes about $59,000 a year. The strike by about 18,400 Machinists began Sept. 2.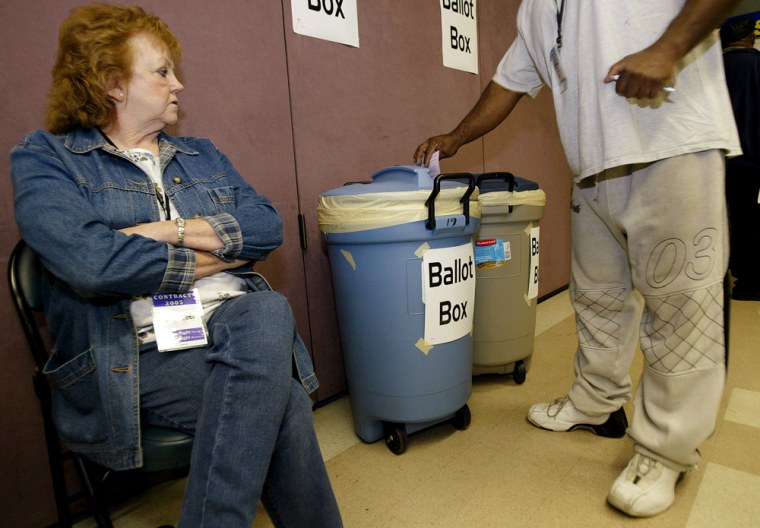 Under the new contract, workers will see no changes to current health care premiums. Pension payouts will increase by nearly 17 percent, to $70 per month for every year worked — up from $60 per month in the just-expired contract.
The offer workers rejected Sept. 1 called for increasing pension payouts to $66 per month, a proposal the union blasted as "insulting."
Boeing backed away from a proposal to eliminate retiree medical benefits for new hires, and dropped a plan to give workers incentive pay based on corporate financial targets.
Boeing also agreed to give workers in Wichita, Kan., the same deal as those in the Puget Sound area and Gresham, Ore., after previously offering Wichita workers less.
Instead of any general wage increase, the revised offer gives Machinists cash payouts of about $11,000 over the three years.
"To me, this is a win," said Kent Sprague, 51, a Boeing machine repairman in Auburn who voted for the contract. "I'm a little disappointed that Boeing didn't offer this initially."
The Chicago-based company said the total cost of the new offer was similar to the proposal rejected by Machinists at the start of the strike.
"Our focus now shifts to ensuring a smooth restart of our production system and a return to a steady flow of airplane deliveries to our customers," Alan Mulally, president and CEO of Boeing Commercial Airplanes, said in a statement. "Boeing Commercial Airplanes is healthy and competitive."
Boeing Chief Financial Officer James Bell said earlier that more than two dozen airplanes wouldn't be delivered in September because of the strike.
Still, analysts expect the company to be able to make up for any lost airplane production relatively quickly.
Richard Aboulafia, an industry analyst with the Teal Group, said both sides can claim victory. "It's a relatively inconsequential cost increase from the corporate perspective," he said. "From the union side, they got better than Boeing's best offer."
Analysts hadn't expected the strike to immediately push customers to dump Boeing in favor of rival Airbus SAS. But many said it was still important for Boeing to get workers back on the job quickly.
Boeing saw a sharp downturn in commercial airplane business following the Sept. 11 terrorist attacks and was forced to lay off thousands of employees, but business has been improving in recent months.