/ Source: The Associated Press
As black New Orleanians regroup and put down roots elsewhere — some temporary, some not — many wonder: What will become of one of the nation's most complex African-American cultures?
Pre-Katrina New Orleans was a majority black city. It also was a poor one, and most of the people hardest hit by the storm were both, as early images showed.
But broad descriptions miss the subtleties of race and economics in a place where French, Spanish, Indians and West Africans mixed as far back as the 18th century. This resulted in a rich cultural heritage — think jazz, for starters — and a multiracial, sometimes inequitable society organized along lines of color and class.
Now the city's native sons and daughters, spread nationwide, are speculating on how that culture will change in the wake of the flooding wrought by Katrina and Rita. Some even question whether it will survive at all.
"Once you scatter the people, I don't know that you're going to be able to capture the past," said Arnold Hirsch, a historian at the University of New Orleans. "You may come up with something new, you might be able to help the poverty and the problems that became so manifest during the hurricane, and that might be to the good. But it wouldn't be the historical New Orleans."
Ethnic gumbo's history
Explaining the city means a trip back hundreds of years and a realization: What's "black" in other parts of the country hasn't necessarily been black in New Orleans.
First claimed by the Spanish but settled by the French in the early 1700s, the port town quickly developed a large West African slave population. For generations during colonial times there were few white women, and much of the population mixed racially — to a degree nearly unheard of elsewhere in what would become the United States.
Gradually, an ethnically mixed community rooted in Africa with heavy European and Native American influences developed. Its members were often called Creoles, a murky term whose definition has shifted over time, but which is frequently used to refer to mixed-race New Orleanians of African descent.
It was commonly accepted for enslaved Creole women to partner with European men and negotiate freedom for themselves and their children. Many Creole men were allowed to contract out their labor to purchase their freedom.
Filling civil-service jobs and developing middle-class enclaves and social institutions, Creoles had more legal rights than other blacks, but fewer social freedoms than whites, said Carl A. Brasseaux, director of the Center for Louisiana Studies at the University of Louisiana at Lafayette.
"The unique culture of south Louisiana derives from black Creole culture," said historian Gwendolyn Midlo Hall, author of "Africans in Colonial Louisiana: The Development of Afro-Creole Culture in the Eighteenth Century."
"It was a cultural accident," added Hirsch. "Not conscious process."
The Creole club
After the Civil War, amid Jim Crow laws that restricted freedoms for all people with African ancestry, Creoles maintained exclusive social clubs, schools, neighborhoods and Roman Catholic churches in which whites and darker-skinned blacks were not always welcomed.
Historically, Xavier and Dillard universities, St. Augustine Catholic Church and High School and the Seventh Ward neighborhood were Creole bastions. Many Creole musicians were involved in the early jazz scene, including such pioneers as Jelly Roll Morton.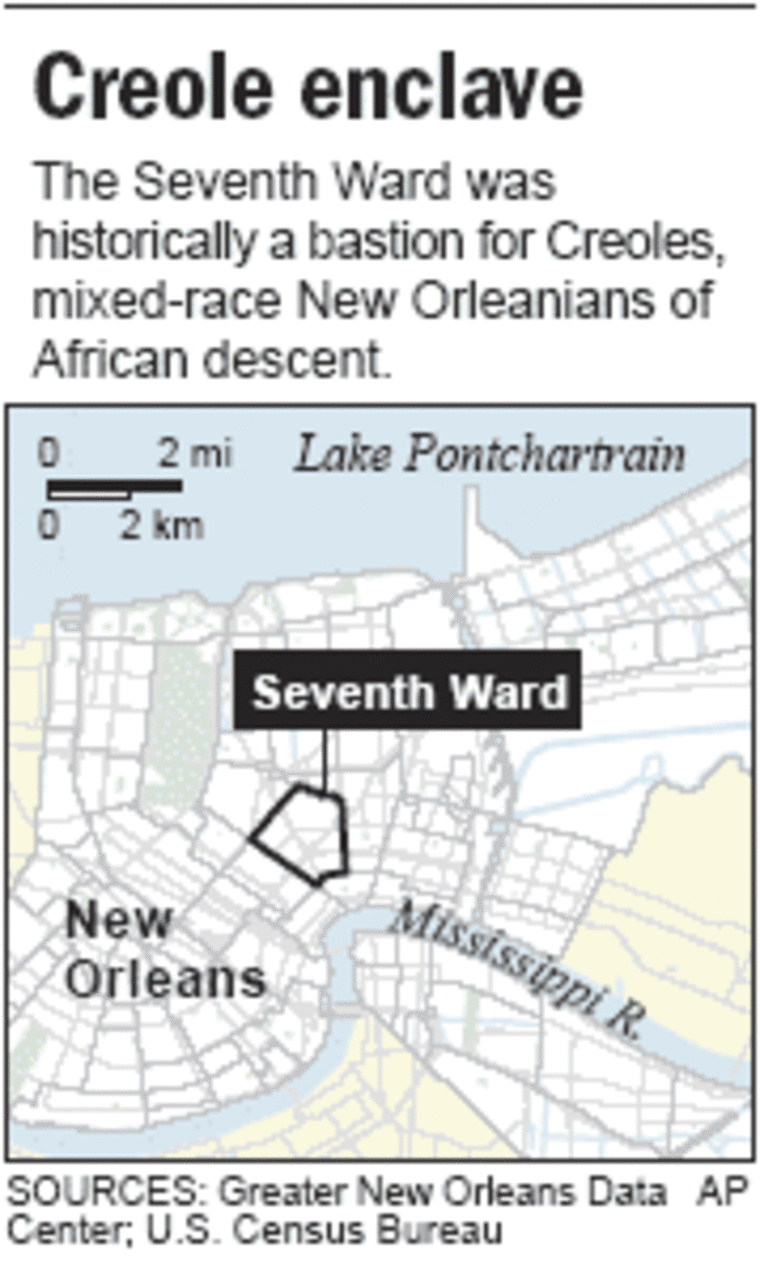 For many black New Orleanians who were not Creole, life was tougher — and sometimes still is. Without historic connection to parochial grade schools and universities, they often faced barriers to middle-class jobs. Before the hurricane, many of the poorest lived in tough neighborhoods such as the Lower Ninth Ward, where poverty rates are among the city's highest.
"There has always been a separation in terms of classes of people," said Ortez Taylor, a New Orleans native who now lives in Harlem.
In practices that have long played out within black American communities, some class divisions have been maintained through emphasis on family lineage, along with preferences for lighter skin color and straighter hair texture. Members of New Orleans' Autocrat Social and Pleasure Club, a historical Creole group that until the hurricane still had weekly fried fish cookouts and dances, once barred from social gatherings anyone whose skin was darker than a brown paper bag.
"There is an elite in Louisiana which generally prides itself with being not entirely black, which prides itself upon its wealth and education," Hall said.
Racial issues still a raw nerve
For some, the topic is a touchy one. One New Orleans native, when questioned via e-mail about the city's black Creole community, wrote, "We're not all black anymore. Didn't you get the memo?" Declining to be interviewed, he added that it was inappropriate to discuss skin color and class divisions in a news article.
Such sentiments reflect a long-standing reluctance among many blacks, including those in New Orleans, to publicly debate tensions within their community, said Leonce Gaiter, a writer who was born in the city and now lives in California. "Black Americans don't want to admit that we were so poisoned by the toxic atmosphere that we were forced to bear for so long that we divided ourselves by a color line," he said. "It's hard to admit that that line exists."
Nationally, the civil rights movement, which emphasized unity and pride in black culture, began to change many of these old ideas, especially in younger generations.
Today, New Orleans' black middle class spans the spectrum of skin color and religion, residents said, and there have been signs of the old divisions breaking down.
Mayor C. Ray Nagin, a former cable company executive, is not closely aligned with the Creole power structure — a fact that would have prevented his rise to power in generations past, Hirsch said. Meanwhile, Creole influence has been waning slowly as some residents have moved away from historic neighborhoods like the Seventh Ward to settle elsewhere, particularly in and around Los Angeles.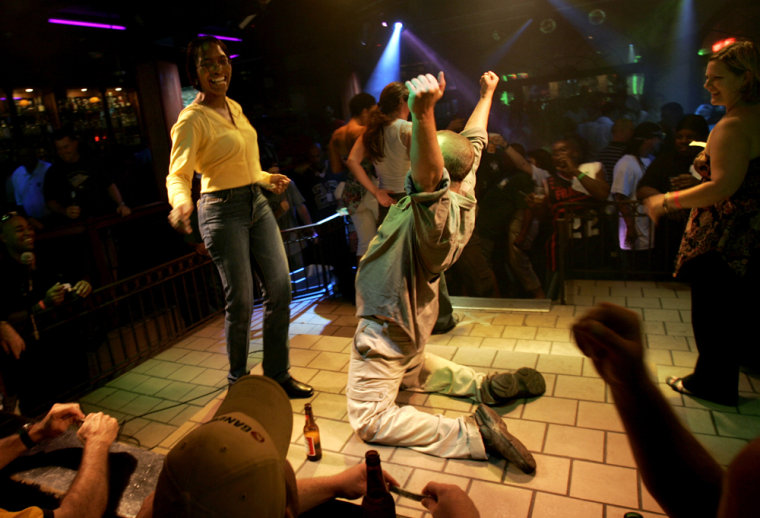 Fault lines of the past
But the city's old cultural fault lines — and entrenched power cliques — have not entirely disappeared.
Kalamu ya Salaam, an educator and writer who lives in the Algiers neighborhood on New Orleans' west bank, pointed to a string of elected officials — such as former mayors Ernest N. "Dutch" Morial, Sidney J. Barthelemy, and Marc H. Morial — business leaders and other influential residents who were overwhelmingly Creole.
"Look at the black power structure. It's there," he said.
S.M.B. Miller, a sociologist at Xavier University, noted in an e-mail that "the sheer lack of so-called light-skinned blacks who were seen having to ax their way out of their roofs" reflects the persistent economic divide in the community. Overwhelmingly, middle-class black New Orleanians, including many Creoles, evacuated by car and plane before the storm hit.
Now as New Orleans begins a tough rebuilding process, many are closely waiting to see who will return — and how that will affect the city's black culture.
Some doubt old dynamics will return
Charles Hamilton, president of the Zulu Social Aid and Pleasure Club, a historic non-Creole black group with about 500 members whose popular floats are the stars of a parade Mardi Gras morning, said his club's headquarters were flooded and his members fled but most tell him they plan to return.
Salaam has strong doubts. He believes few black people will have the resources to return, and that the city is likely to become majority white. The long-standing class dynamics within black New Orleans, he said, are "historical. It's no longer relevant."
Assuming most do return, however, few believe that a rebuilt New Orleans will be one without color and class barriers.
"If there is power and money in maintaining the status quo, people will maintain the status quo," Gaiter said. "The black people left behind did not have power, did not have money. They're not in a position to initiate change, though they're the ones most in need of change."