She taught pro boxer Evander Holyfield some fancy footwork for the TV show "Dancing with the Stars" and on a recent Saturday afternoon professional dancer Edyta Sliwinska demonstrated various moves to a group of women and men taking a dance workshop at The SportsClub/LA.
Among them was Mimi Yazdi, 42, a real estate broker in Santa Monica, Calif. She'd taken ballroom classes a couple times before and wanted to perfect some of her moves.
"I always loved dance and I wanted to advance myself," she says.
So she and a girlfriend took the two-hour workshop that covered the cha-cha, samba and other dance moves.
Keeping up with Sliwinska wasn't always easy, but "it was fun," says Yazdi, who's looking forward to taking more dance classes in the future.
Fun isn't a word that everyone uses to describe an afternoon at the gym. And that's why dancing can be a great way for people to get their exercise, fitness experts say. They don't feel the pain.
More dance classes at health clubs
"People are looking for alternative fun ways to work out," says Helen Vanderburg, a spokesperson for the San Diego-based IDEA Health and Fitness Association, and owner of Heavens Fitness, a gym in Calgary, Canada.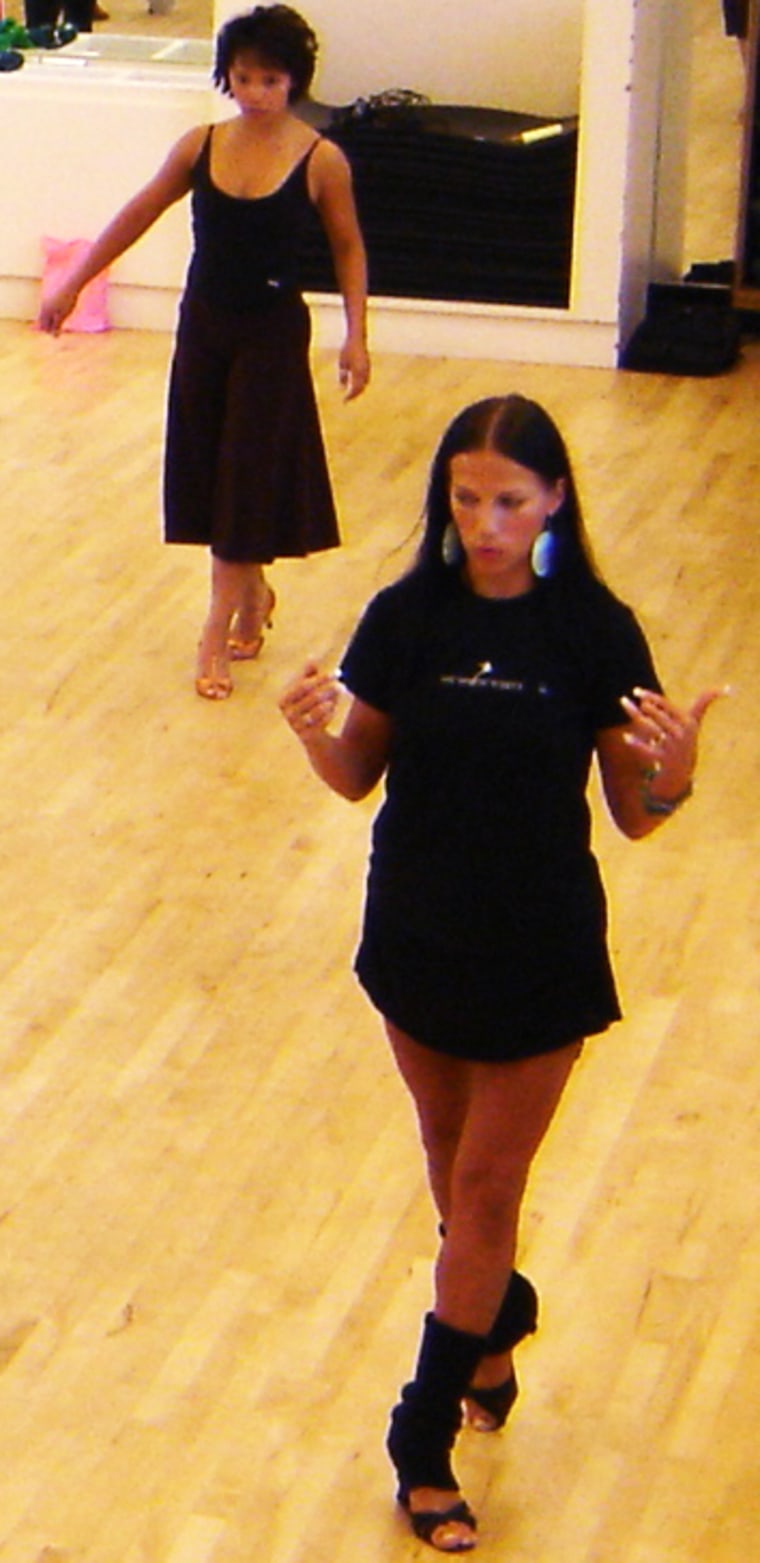 "More and more people [at the gym] are interested in doing dance-based classes," she says. "In the last six months, dance classes are starting to pop up in more clubs."
Vanderburg attributes much of the recent interest to TV shows like ABC's "Dancing with the Stars" and FOX's "So You Think You Can Dance."
While hip-hop has been popular for several years now and incorporated into traditional aerobics classes, the new offerings are dance-only classes that include ballroom as well as African and other dances, Vanderburg says.
Statistics from the International Health, Racquet and Sportsclub Association, a Boston-based group that represents clubs across the United States, show that half of all gyms offer some type of dance-based class including dance aerobics.
That number might even be greater now because of the popularity of dance, says spokesperson Brooke MacInnis Correia. "I wouldn't be surprised if the number is higher because as popular social trends go, often so do exercise classes," she says.
At Vanderburg's club, she has brought in musicians to play live music for a Latin-based dance class. And in September, she introduced a one-hour class called Groove that includes 15 minutes each of four different dances, which vary from week to week and include disco, African dance, hip-hop, swing and Latin dance.
"People love it," she says, noting that men take the classes too and are especially fond of the less choreographed, freestyle African dance.
And it gets their hearts pumping. "It's a great workout," says Vanderburg.
But of course you don't have to go to a gym to kick up your heels and boogie down. Classes are available across the country at dance studios and community colleges and centers, and they're filling up, says Ken Richards, a spokesperson for USA Dance, a ballroom dance organization in Cape Coral, Fla.
While there are no solid statistics of how many people are taking dance classes recreationally, he says, it appears to be "extremely popular as a social activity."
Becoming 'cool'
Richards agrees the TV shows are fueling interest, along with movies like "Shall We Dance?" and "Chicago" that glamorize formal dancing and "make it cool."
Men, in particular, have been loath to reveal their secret passions for the dance floor. But "it's becoming OK as water cooler conversation," Richards says. "It's becoming its time."
Richard Gere, who starred in both of these movies, is helping to pave the way, he says, and in earlier years, John Travolta in "Saturday Night Fever" and "Pulp Fiction" and Patrick Swayze in "Dirty Dancing" helped break down some of the barriers to recreational dance.
Ballroom dancing is particularly popular among aging baby boomers who didn't grow up with many opportunities for formal dancing, says Richards. Typically, their dancing history consisted of freestyle moves "with a beer in one hand and a cigarette in the other," he says. Now, however, they find themselves at charity balls, cruises and other settings where ballroom dancing takes place and they want to learn about it so they sign up for classes.
Among the most popular classes are swing, tango and salsa, he says. And instructors who used to offer just packaged classes with a mix of dances — often swing, rumba, waltz and foxtrot — have responded to participants who just want to focus on one type of dance.
The benefits of dance are emotional and physical, says Richards. Dancing can be a great social activity but it also helps improve balance and stamina and burn calories. Actor John O'Hurley, one of the dancers in "Dancing with the Stars," said he lost 20 pounds on the dance floor.
"It's a lot more fun than a treadmill," Richards says.
Smart Fitness now appears every other Tuesday.