Chip Pickering was ticking off the ways Congress had stepped up to the plate to help after Hurricane Katrina:
"Initially, [there was] the quick passage of emergency appropriation bills with $10 billion and the $60 billion package," he said. And that's only the beginning. "There'll be energy packages, agriculture-, infrastructure-, education-, Medicare- and Medicaid-related legislation" — all possibly by Thanksgiving.
Charles W. Pickering Jr. represents heavily damaged Mississippi counties in Congress. He is a Republican who is proud to call himself a fiscal conservative.
Pickering is grateful for the federal largesse, even as many of his Republican colleagues raise alarms about the government's exploding deficit spending. "The breadth of the destruction" from Katrina reminded everyone — conservatives and liberals alike — that the first duty of government is to protect its people.
"It's not just the pictures of New Orleans or the Mississippi Gulf Coast where you had the destruction and the devastation," Pickering said. "You had hurricane-force winds of 90 to 120 miles [per hour] that caused severe damage to the largest parts of our economy — forestry and poultry and agriculture."
Conservative choices from the poor
Like most of the congressmen representing the parishes and counties of Louisiana and Mississippi flattened by Katrina, Chip Pickering is strongly conservative. New Orleans, a traditional Democratic urban powerhouse, is an obvious exception, but otherwise, most of the congressmen in the region — although they represent some of the poorest people in America — have consistently taken positions considered more favorable to business interests and the wealthy and have opposed those backed by labor activists and advocates for the poor.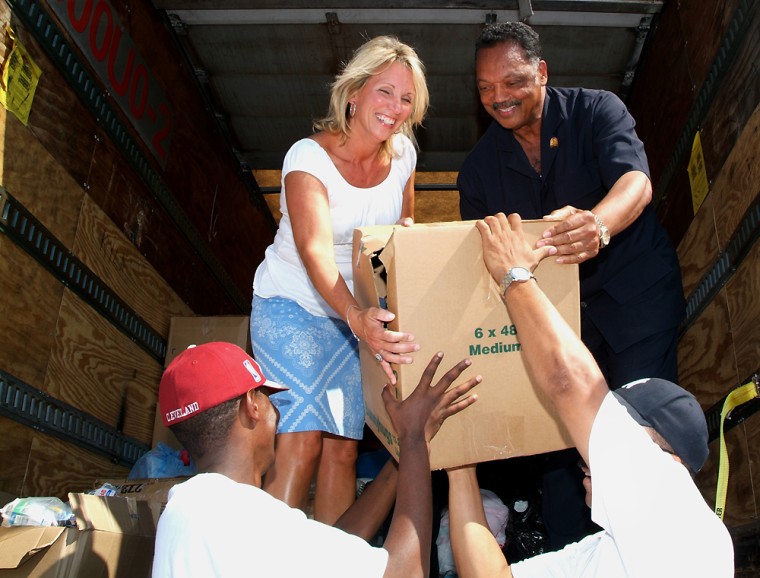 Pickering is a leading advocate for lower taxes, less government spending and less regulation of business. His ratings from pro-business groups such as Americans for Tax Reform, the American Conservative Union and the U.S. Chamber of Commerce are consistently in the 90s. His ratings from pro-consumer and anti-poverty groups such as Public Citizen, the National Association of Social Workers and the Catholic Social Justice Lobby hover near 0.
Pickering voted against raising the federal minimum wage, which has stood at $5.15 an hour since 1997. He voted to permanently repeal the estate tax on wealthy Americans and to make it more difficult for individuals to shelter their assets when seeking personal bankruptcy protection.
It's a similar story in western Louisiana, where Republican Jim McCrery represents the 4th District. The 4th District includes Beauregard Parish, where no Interstate highway goes through and where a fifth of the population lives below the poverty line.
McCrery also scores nearly perfect on the pro-business lobby's scale. In addition to opposing a higher minimum wage and backing repeal of the estate tax, McCrery voted against employer subsidies to prevent millions of retirees from losing their prescription drug benefits. This year, he voted to cut spending in non-defense, non-homeland security programs rather than jeopardize $182.6 billion in federal tax cuts.
Vanishing breed: conservative Democrats
Katrina could not have targeted a more vulnerable population if it had tried: Louisiana is the 49th-poorest state. Mississippi is dead last. So why would voters in poor counties choose conservative lawmakers over liberals who presumably would crusade for anti-poverty programs and other government measures for the poor?
They don't, said Charles S. Bullock, a specialist in Southern politics at the University of Georgia. The key to the conservative ascendancy in the poor rural South is that "the voters who elect the Republicans are not among the poor."
Although there are fewer of them, "the more affluent vote at higher rates and therefore can offset the preferences of the poor Democrats," Bullock said by e-mail from England, where he is a senior fellow at the Rothermere American Institute at Oxford University.
Electorally, at least, poverty works to the benefit of conservative, pro-business candidates in the Deep South, where the Democratic Party carved out a disproportionately liberal identification with the civil rights movement.
The dichotomy can best be seen in Mississippi's 4th District, which is represented by Democrat Gene Taylor. Taylor is among the last of a dying breed, Bullock said: the old-fashioned conservative Southern Democrat in the mold of former Sen. Zell Miller of Georgia.
The South used to send many Gene Taylors to Congress: hard-core conservatives on economic and defense policy who voted moderate to liberal on social issues like racial justice and poverty.
But "the conservative Southern Democrat in Congress has become extinct," Bullock said. Nowadays, candidates like that must cast their lot with the Republicans if they hope to win.
"With the Democratic Party seen in some quarters as the 'black' party, it becomes harder for a Democratic candidate to weave together a biracial or multiracial coalition that would be essential to win, since most whites have been voting Republican for a number of years," Bullock said.
Follow the money
That's why it only seems to be a disconnect. By and large, the folks who were hit hardest by Katrina were poor and white and largely represented by Republicans. (Five of Louisiana's seven congressmen are Republican. One of its senators is a Democrat and the other is a Republican. Mississippi is represented by two Republican senators. Its four congressmen are evenly split between both parties.)
It has been asserted that racial discrimination played a role in New Orleans, where two-thirds of the population is black but where the city's wealth is concentrated among the minority of white families who largely live on higher ground. But New Orleans is not representative of the counties and parishes that were badly damaged. Almost uniformly, they are significantly whiter than the rest of Louisiana and Mississippi.
For example, Cameron Parish, in southwest Louisiana on the Gulf Coast, is only 4 percent black, compared with 32 percent of the state as a whole. In Mississippi, the population of Hancock County is 7 percent black, while in George County, it is 9 percent; overall, the state is 36 percent black.
These are voters who, even though they would likely benefit from anti-poverty initiatives, identify more strongly with conservatives on social questions of cultural, the role of religion in society and national defense, Bullock said.
Many of them "would be Democrats elsewhere," he said — just not in the rural South.
A liberal or conservative response?
Which is how Jim McCrery and Chip Pickering ended up in Congress.
McCrery's Louisiana district wasn't badly hurt by Katrina — Hurricane Rita, in fact, did more damage, especially in Beauregard Parish — but it took in tens of thousands of evacuees from farther south. Like Pickering, he said there was a real human need that called for "extraordinary measures to give the state a chance to recover."
McCrery personally managed floor passage of some of the more generous aid bills in the House. "Being from Louisiana and witnessing the impact, I understand it's going to take an extraordinary effort on the part of the government," he said in an interview.
It's a legitimate point when "those on the left are concerned that we under-invested in the infrastructure," he said. At the same time, "those on the right are also concerned about not needlessly frittering away the taxpayers' hard-earned dollars."
McCrery asked: "Are people concerned about throwing money down a rathole? Absolutely. They don't want to just throw money into a deep pit ... and I agree with them. I don't want to do that, either."
Pickering said that, as vital as the mammoth spending was in the days right after Katrina hit, in the end, the story of the Gulf Coast's recovery would be a monument to conservatism.
Appropriating tens of billions of dollars in emergency aid immediately after the storm was neither a liberal nor a conservative response — it was a human response. It's in what happens next that conservatives will find a challenge, he said, and an opportunity.
"How do we say to our fiscal conservative friends that this has a purpose from their perspective?" Pickering asked. "This gives us a chance to reform the ways we respond to disasters as well as how our government interacts with the private sector and local and state communities on a whole range of issues," from public housing and health care to education.
"That same dynamic form of compassion should be the model as we try to reform the institutions of how we help people in need, whether it is after a disaster or whether it is during normal times as we try to tackle poverty in our communities and the stresses and crises that occur in communities every day," he said. "And bureaucratic models are failures in each of those responses."