/ Source: The Associated Press
A 50-year-old replica of the fort where the Lewis and Clark expedition spent the soggy winter of 1805-1806 was destroyed by a suspicious fire, authorities said Tuesday.
Volunteer firefighters worked for hours to try to save Fort Clatsop at the Lewis and Clark National Historic Park after the fire broke out Monday night, park superintendent Chip Jenkins said. But "half of the fort was burned up, and the other half is essentially a loss," he said.
The site was being treated as a crime scene, and investigators said they were looking for a truck seen leaving the area as the firefighters arrived.
State police and agents from the federal Bureau of Alcohol, Tobacco, Firearms and Explosives were sending in dogs trained to sniff out the presence of any flammable liquids.
Jenkins said the fort had no electricity or gas source.
The fire happened less than six weeks before a Lewis and Clark Bicentennial event was scheduled to be held at the fort, the culmination of a two-year national celebration of the explorers' journey west. The expedition had wintered at Fort Clatsop after reaching the Pacific Ocean in November 1805.
Tourist events will still be held
"We will rebuild," Jenkins said. "The Lewis and Clark Bicentennial events will go on through the winter."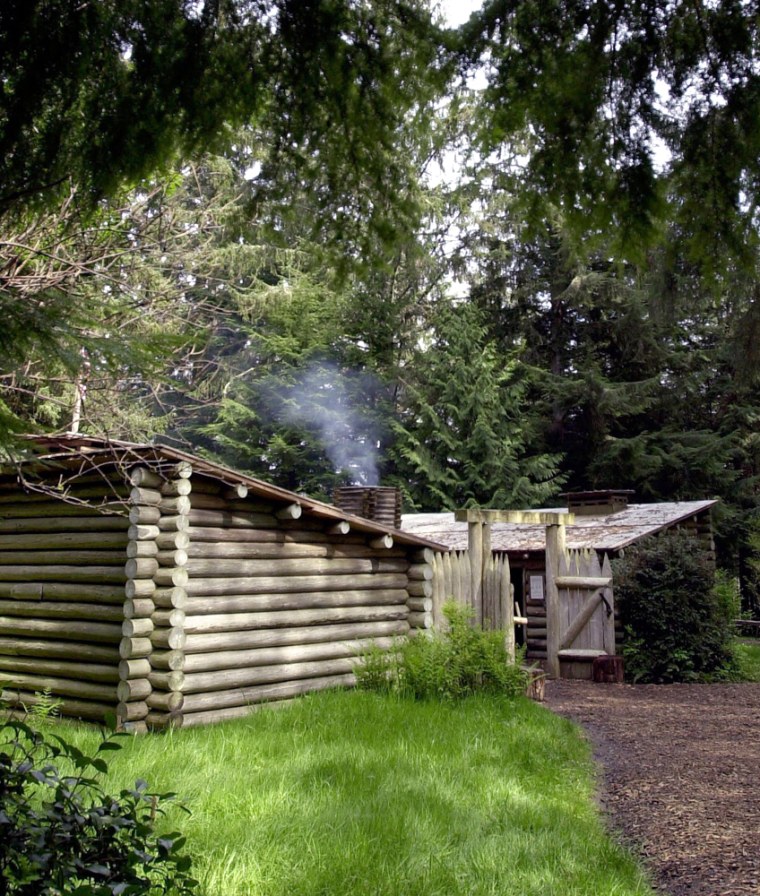 The fort, a popular tourist attraction, is the centerpiece of the Lewis and Clark National Historical Park, which is among the newest of the nation's 388 national parks.
The 10,000-acre park is made up of several sites in Oregon and Washington linked to the westward end of the Lewis and Clark expedition of 1804-1806.
The 50-by-50-foot replica fort was built in 1955 to mark the sesquicentennial of the Lewis and Clark expedition.
It was built near the site where experts believe the original stood, its design based on drawings and descriptions in the journals of William Clark and Meriwether Lewis.
Five years after the Lewis and Clark expedition left Fort Clatsop and started for home, fur traders sent by New York financier John Jacob Astor arrived on the coast and built their own fort. The site of that fort became the city of Astoria.