• October 14, 2005 |
Survivor and singer Melissa Etheridge speaks out on medicinal marijuana (Stone Phillips)
October is Breast Cancer Awareness Month, and we here at "Dateline" thought it a perfect time to check in with a survivor who was diagnosed a year ago this month: multi-platinum, multi-Grammy winner, Melissa Etheridge. Eight months ago, she talked about her battle against breast cancer for the first time on Dateline.
In an interview to be broadcast Sunday night, Etheridge reveals new details about her struggle, including her decision to use a controversial drug to help her get through chemotherapy— marijuana.
"Instead of taking five or six of the prescriptions, I decided to go a natural route and smoke marijuana," she says. When asked if her doctors recommend this drug, Etheridge says that from the surgeons to the oncologists, everyone told her it was the best thing for the side effects of chemotherapy. Etheridge admits she used it everyday for her pain and symptoms but that "the minute I didn't feel it, I stopped."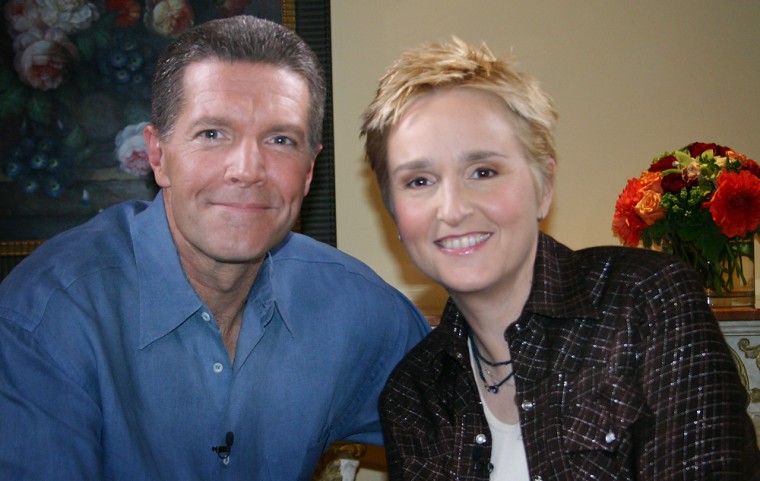 The medical community remains divided on medicinal marijuana, and although California is one of the 10 states that allows seriously ill people to use marijuana with a doctor's recommendation, federal law prohibits the drug under any circumstance. She says she wasn't worried about the risk of federal prosecution. "It was worth it," she adds.
Etheridge, who is now cancer-free and feeling better than ever, told "Dateline" that it took cancer for her to stop putting her career before her family. "Cancer's like the ultimate excuse. Who's gonna say, 'Oh, no, you have to show up for this one?' It's the ultimate eraser,"  says Etheridge.
In the face of possible death, she says, her life "became simple and cleared up."
The interview airs on Dateline this Sunday, 7 p.m./ 6 C. Click here to watch Etheridge play an excerpt of her new song, "This is Not Goodbye," which she wrote while she was in chemotherapy to acknowledge the difficulties cancer patients' loved ones face.
• |
When one person can make a difference (Ann Curry)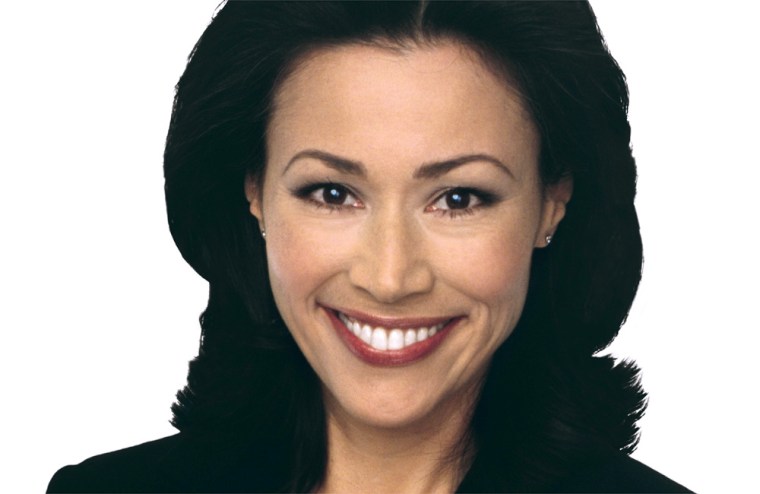 We sometimes wonder whether one person can really make a difference. Well, Nancy Brinker is proof that you can. As Nancy watched her older sister Susan lose her battle with breast cancer at 36 years old, Nancy made a promise to do everything possible to vanquish the disease.
So she founded the Susan G. Komen foundation 23 years ago, named after her sister. The foundation changed the lives of thousands of women.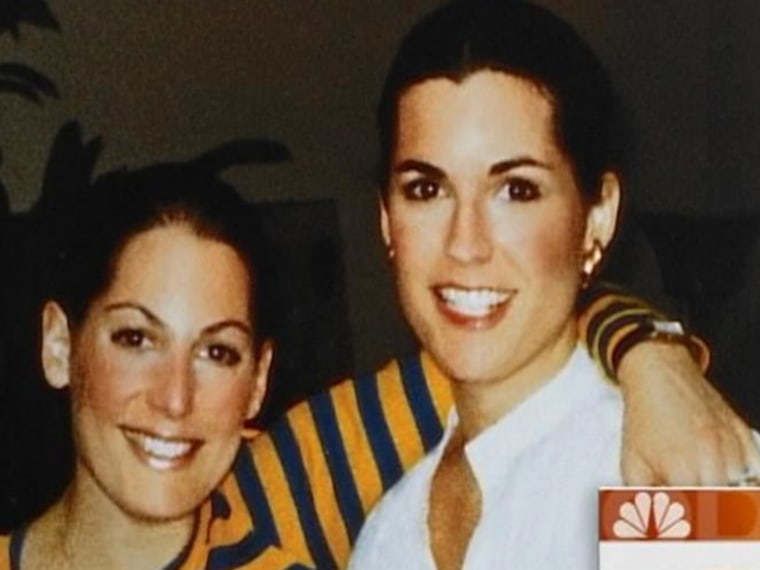 As Nancy herself proudly yet tearfully said when she appeared on the Today Show this week, "There's hardly an advance in the fight that hasn't been touched by a Komen grant." 
Ann Curry volunteers for the Susan G. Komen Breast Cancer Foundation. The foundation is the global leader in the fight against breast cancer.
. .
E-mail us at Dateline@MSNBC.com.
• October 10, 2005 |
The effects of Hurricanes Katrina and Rita don't occupy 24/7 news coverage like it used to. And as NBC's Brian Williams wrote in his blog, "The worry here is when the cameras pan off the region, the attention goes away." Michael Mountain, president of , writes below that the work to reunite pets with their owners is far from over. (The organization was featured in a Dateline report on pet rescues).
Still reuniting pets and owners long after the hurricanes (Guest blog entry from Michael Mountain, president and one of the founders of )
For too many of those in the Gulf region who had lost their homes, their jobs, and all their possessions, the final blow was watching the family pet sitting at the roadside as the bus pulled away from the pick-up point. But seeing the plight of these pets and their people on TV has prompted people everywhere to say that those kinds of rules are totally counter-productive.
The day that Dateline correspondent Rob Stafford joined us on a rescue mission in St. Bernard Parish, the floodwaters had just begun to recede. Instead of paddling around in boats, we were wading through a sea of mud to get from house to house, looking for the dogs and cats of families who had been forced by the authorities to leave them behind when they evacuated.
New Orleans flooded once more when Hurricane Rita came in, but once again the waters have receded. Our rescue teams still go into town each day and bring more animals out to the Best Friends relief center, and there are several reunions each day.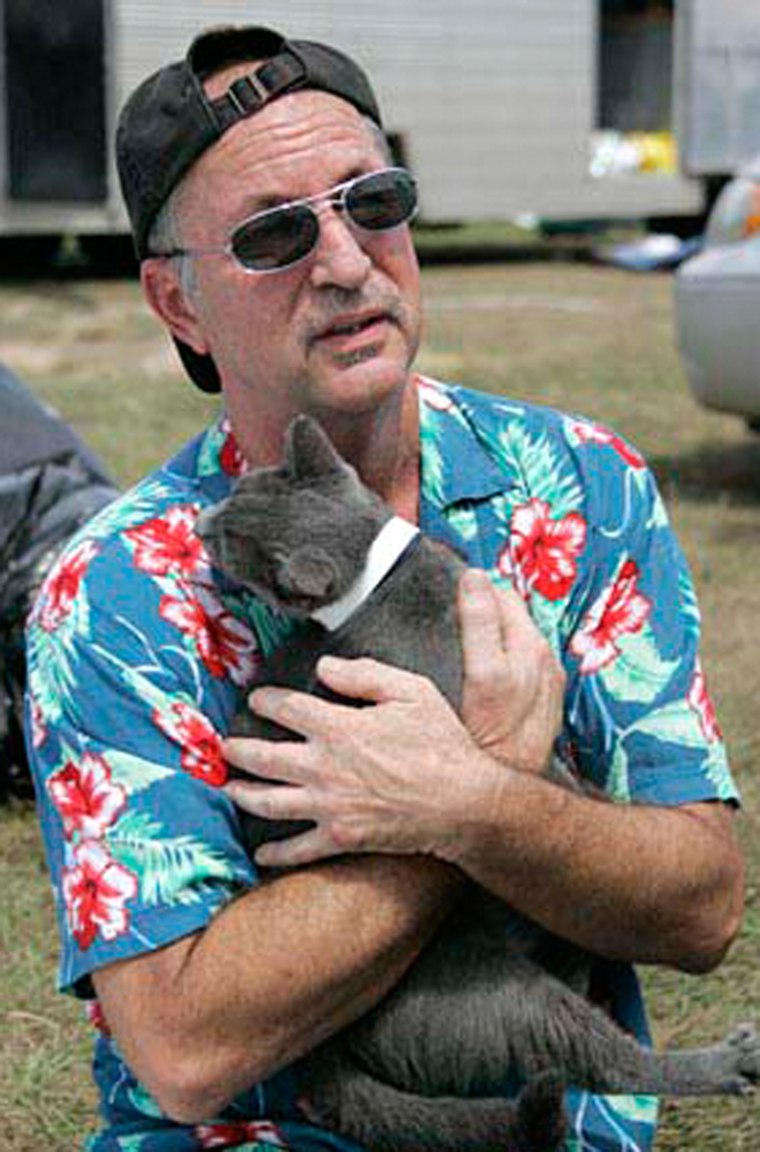 One of those reunions was made possible by Rob and the Dateline crew, who contacted Bart Siegal in Dallas by tracking the rabies tag around Romeo the cat. Each day brings more of these emotional comings together.
One of the best reunions last week was on Tuesday in Miami, Florida, where disabled veteran William Morgan was reunited with his apricot standard poodle. William, a double amputee, had had to swim from his flooded house and hang on to a tree. It took three hours for him and the dog, Morgan La Faye, to climb from the waters onto the roof of his house. William was rescued from there, but was told to leave Morgan the dog behind.
Morgan La Faye was taken to the Jefferson Parish shelter, and we brought her to our relief center from there.  At first she was listed as a gray dog— only when she was shampooed did she turn out to be a beautiful apricot color.
When William was well enough to greet her, two volunteers from Best Friends took her down to Miami, where her reunion with William was captured by a local TV station.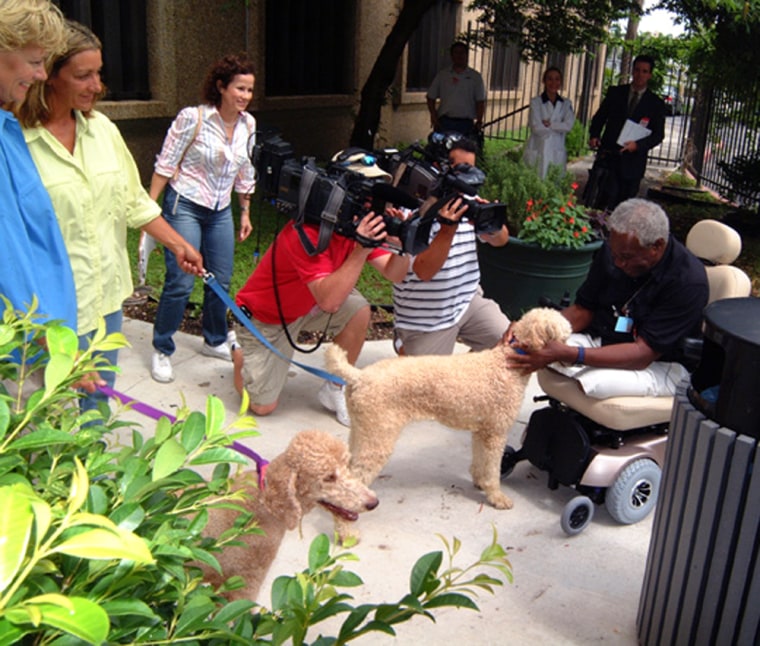 (We took two poodles, in fact, if you look closely at the photo. They looked quite similar, so we wanted to be sure we had the right one. Morgan La Faye went running straight up to William. And the other one will be in a good foster home until she, too, finds her family.)
Back in New Orleans, the three main parishes are working closely with three of the national organizations to get animals back to their families or out to foster homes. Jefferson Parish works primarily with Best Friends, and St. Bernard and Orleans parishes are getting support from other national groups.
Our own work over the next few weeks will be focusing on continuing our own rescue work, taking animals with special medical needs back to the Best Friends sanctuary that we established at Tylertown, 100 miles north of the city, organizing transport for hundreds of dogs and cats to foster homes and other humane groups, and providing support for the many grassroots groups who are still saving animals around the city.
In the past few weeks, we've also seen an amazing outpouring of support from people around the country.  A new bill has been introduced into Congress to require the government to include pets in future evacuation plans.
And people all over America have opened their hearts and homes to the homeless animals until we can bring them back together with their families.
One of those who's fostering a pet is Rob Stafford, the Dateline correspondent, who went home to Chicago with a beagle-mix puppy. He and Olive Talley, the producer, worked tirelessly to produce a report that captured (better than anything else we've seen on TV) the work of rescue and reunion of these helpless, innocent family pets.
Our thanks to all of you at Dateline.
• October 10, 2005 |
Update on transgender teen murder case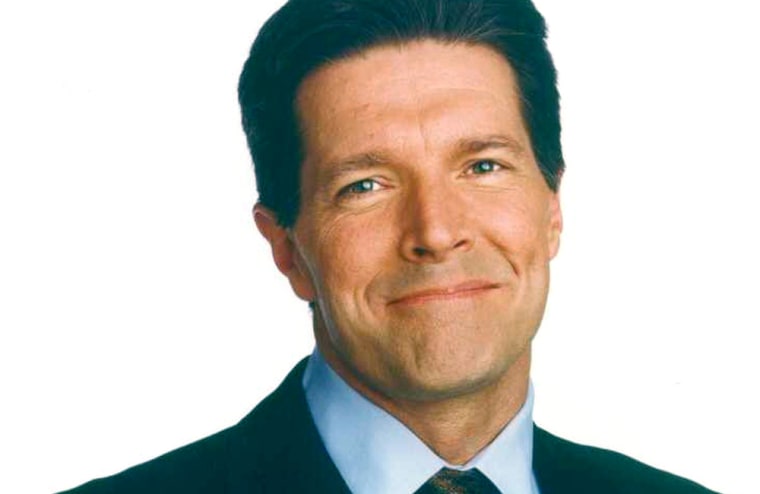 Last year Dateline brought you the story of a transgender teenager brutally murdered in California. Born Eddie Araujo Jr, he decided to live as Gwen. To his mom, it didn't matter what sex her child decided to live as. "Eddie, Gwen—didn't matter to me. I love my child," she said.
Though Gwen's family was worried that her secret could lead to trouble.
When Gwen's secret was finally discovered one night at a party, police say the 17-year old was beaten, strangled, and then, buried in a remote campground.
Four men were charged with murder. One pleaded guilty to voluntary manslaughter. The first trial of the others ended in a hung jury.
This September, another jury found two of the men guilty of second-degree murder. Jurors said they were deadlocked on charges against the third defendant. Click here to read more on this trial.
• October 7, 2005 |
Dateline Sunday: Three stories of people lost and found
She was smart, sophisticated, beautiful and only 17 years old. Taylor Behl had just started life on her own, away at her first semester of college in Virginia. This week, investigators learned, that life came to a violent, tragic end.
Exactly what happened to Taylor in her final hours is a mystery police are still working to solve. For weeks, they've been piecing together clues— some found online, in the intimate secrets she shared on her blog. For investigators, it's been a web of intrigue. Edie Magnus takes us inside the case.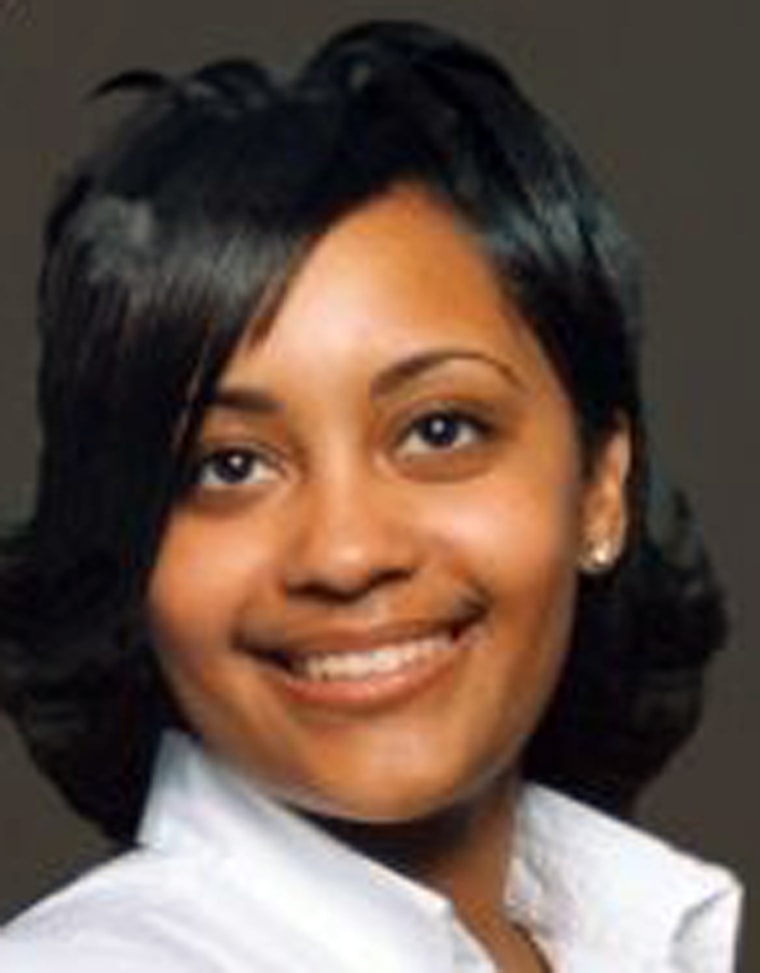 Also, when a young woman mysteriously disappears, it usually becomes front page news. But And, as you'll see, there may be a reason for that.
Her name is Tamika Huston and she disappeared in May 2004. Her aunt said she wasn't the type to run off. Turns out, she was right. Josh Mankiewicz will have the latest.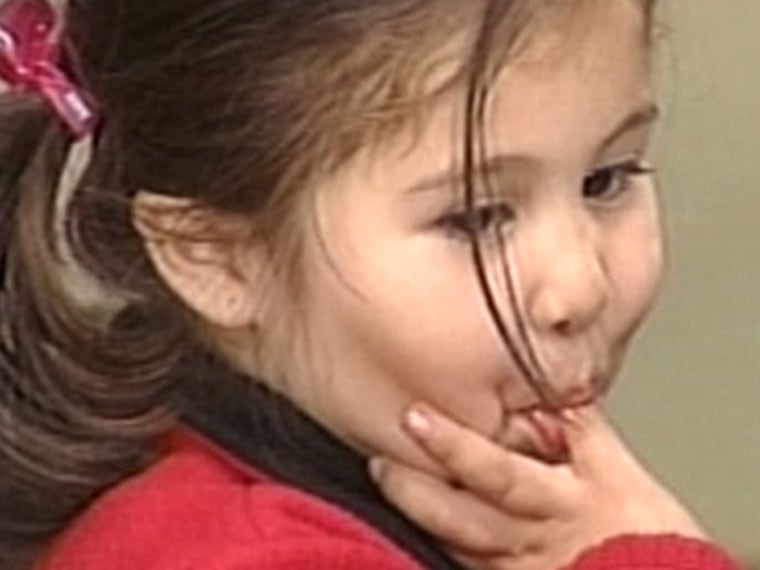 Plus, she's the little girl who captivated the country when she appeared alone and barefoot at night on the streets of New York last month. Where was her family? Who left her there?
the abandoned girl entered foster care and then, waited.
Chris Hansen asks, will this "little girl lost" get lost again— this time in the system?
Join us on Dateline Sunday, 7 p.m./6 C.
• October 4, 2005 |
Update on Dylan and Shasta Groene's alleged kidnapper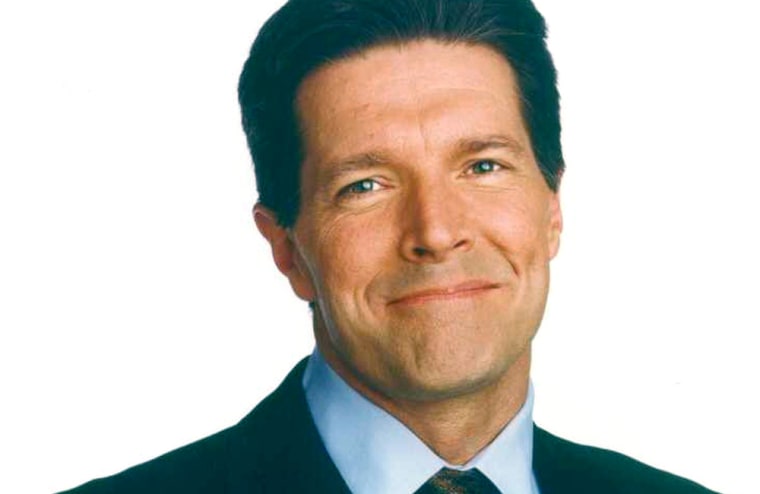 Back in July, "Dateline" brought you the story of Shasta and Dylan Groene, two young children kidnapped in Idaho. Their brother, their mother, and her boyfriend had all been tied up and killed, police say, in a scheme to abduct the children and sexually abuse them.
Shasta was later found alive. Dylan did not survive.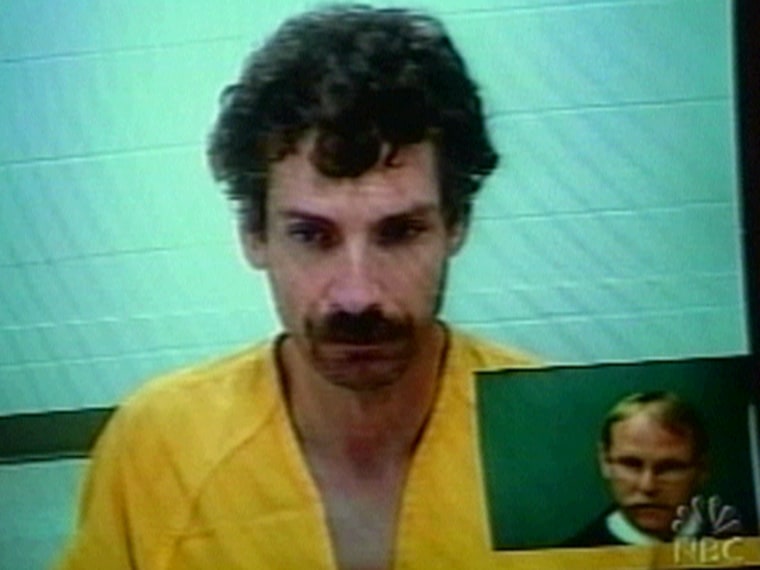 Now, the man accused of the crimes, convicted sex offender Joseph Edward Duncan may be linked to other child killings.
Police in California say he's the prime suspect in the death of 10-year-old Anthony Martinez. And police in Washington say he may be involved in the death of 7-year-old Deborah Palmer, who disappeared on her way to school.  Both killings happened 8 years ago. Authorities in Seattle are also investigating whether Duncan may be linked to two deaths in that area.
Duncan has pleaded not guilty in the Groene case.
Prosecutors say they will seek the death penalty against him.