/ Source: The Associated Press
Workers may have accidentally cut or crushed the section of foam that broke off Discovery's fuel tank during its launch two months ago — a mishap that threatened the safety of the astronauts and grounded the shuttle fleet.
That is the leading theory for the cause behind the disturbing loss of foam insulation that cast a cloud over NASA's return to space, said Wayne Hale, the newly appointed manager of the space shuttle program.
In a wide-ranging interview with The Associated Press on Tuesday, Hale said the shuttle will not fly again until the foam insulation problem is resolved — no sooner than spring.
He also said repair work has been set back because of hurricanes Katrina and Rita. The storms dealt "a severe blow" to resuming shuttle flights and caused NASA to lose three months of work, he said.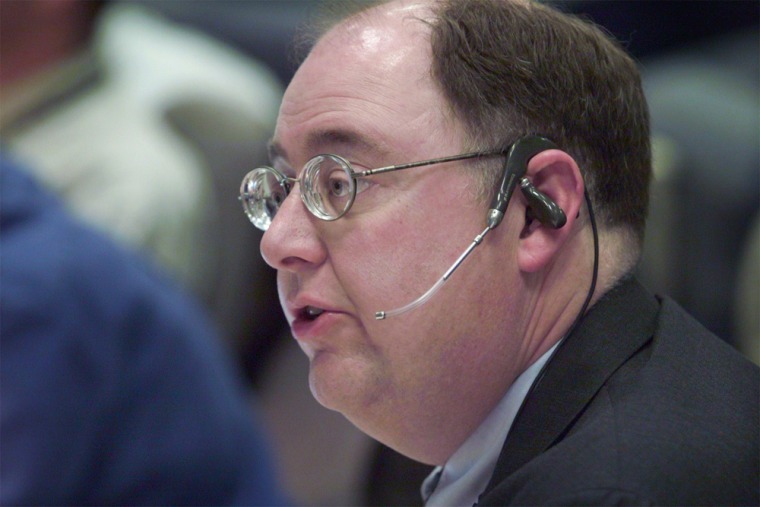 In a memo soon after Katrina slammed two shuttle facilities on the Gulf Coast, Hale speculated that the space shuttles might be grounded until fall 2006. He has since backed off that pessimistic view and noted that progress has been made in understanding the foam problem and getting the Michoud Assembly Facility in New Orleans — which manufactures the tanks — back into limited operation.
"We're working a spring kind of launch date, but we haven't established one," he said. May is the earliest, most likely target.
Figuring out the foam problem
To NASA's horror, a 1-pound, 3-foot (450-gram, 1-meter) chunk of insulating foam peeled away from Discovery's external fuel tank during liftoff in late July. It was the same kind of problem that doomed Columbia in 2003, and occurred despite 2½ years of improvements and assurances that this was the safest tank ever built.
What probably happened is that during modifications to the tank at Michoud, technicians inadvertently damaged the section that ended up coming off, while working on nearby areas, Hale said. "This foam, which normally is not touched after it's applied, clearly was touched," he said.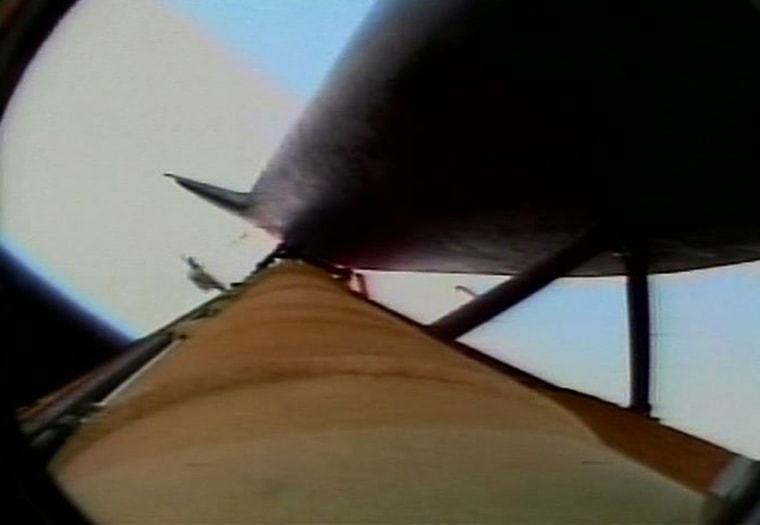 Workers using plastic knives to remove nearby foam may have made small cuts in the section that tore away, allowing air to condense in the crevices against the tank, full of super-cold fuel, Hale said. Another possibility, he said, is that workers leaned against the piece of foam that broke off, and fractured it. Yet another theory is that the foam cracked because of normal thermal stresses.
A spokesman for Lockheed Martin Corp., which builds the tanks at Michoud, said inadvertent worker damage is one of the potential causes being investigated. "We're committed to supporting NASA and the space shuttle program," spokesman Harry Wadsworth said.
Engineers have more work to do before confirming any of this, the shuttle manager said. A fuel tank that finally arrived at Michoud this week from Cape Canaveral — a trip delayed by the hurricanes — will be dissected for evidence of damage. The earliest that a modified tank could be returned to Cape Canaveral is February, making a spring launch a possibility, Hale said.
Two other problems
NASA has zeroed in on two other problems during Discovery's flight that posed safety concerns for re-entry:
A faulty gluing process caused a couple of fabric strips to come loose and protrude from the shuttle's belly. Astronaut Stephen Robinson removed them in a dramatic spacewalk, marking the first time anyone had ever ventured beneath the shuttle's underside in orbit. The installation method is being improved, and stronger testing is planned, said Steve Poulos, manager of the orbiter project office.
A rip in a thermal blanket hanging beneath a cockpit window was traced to poor stitching; thankfully, no repairs were required in orbit. NASA is inspecting all 480 blankets on each shuttle to make sure the stitches go all the way through the material.
As for the fuel tanks, NASA will remove the foam section in question and, at least for the next few flights, apply fresh foam using new and improved techniques.
This section of foam, the so-called PAL ramp, is essentially a wind deflector, protecting cable trays and pressurization lines running the length of the tank. Until Discovery's launch, NASA did not think that area needed to be fixed.
Safety culture still needs work
Hale acknowledged the space agency also still needs to improve its safety culture, a systemic problem that contributed to the Columbia disaster and which persists in the minds of some members of an oversight panel.
Hale, who served as deputy shuttle program manager before being promoted two weeks ago, said he has taken the scathing criticism from Discovery's problems to heart.
"I am committed ... to making sure that we go into it eyes-wide-open with a good understanding of what the risks are and not just brushing things aside," he said.