/ Source: Sport Diver Magazine
Kauai and Oahu, two of the most remote islands on Earth, exist in a deeply primitive part of our diver brains where our understanding of paradise and obsession meet.
Right now, my buddy Jeff and I are flying over the enchanting Na Pali coast of Kauai, Hawaii's garden isle. The helicopter guide's travelogue has been muted by the astonishingly breathtaking coastline of green-tinged spires and silky threads of thousand-foot waterfalls that sit perched atop a base of red volcanic rock lit afire by the early-morning light. We're hopelessly mired in the grip of the scene. I'd seen images of this renowned natural wonder a million times on television and on film — from Hawaii Five-O to Baywatch Hawaii to Blue Hawaii. But nothing prepares you for the real thing. It's simply overwhelming.
As the tour continues, we head inland, up impossibly green valleys, and hover over one waterfall after another, all fed by the wettest spot on Earth, Mount Waialeale, which receives an average of 460 inches of rain per year. Soon, we're skirting the misty edge of yet another ineffable garden valley, when below the helo a perfectly circular rainbow forms that frames a meandering river. As the helicopter slips over a ridge, we descend into the red world of Waimea Canyon, the Grand Canyon of the Pacific, and wend our way through its steep cliffs until we reach the famous falls from the opening scene of Jurassic Park. At about this time, the pilot's voice returns to our consciousness and we ease down, hardly able to feel the Earth beneath our feet. But it soon wouldn't matter, because the volcanic worlds upon which these islands have thrived have made the seas around Hawaii a wonderland of endemic fish and undersea playgrounds.
The Guarantee Gauntlet
"You're guaranteed to see sea turtles, lots of them. Big ones, too. Sheraton Caverns is crawling with them, and they know they're protected, so expect eyeball-to-eyeball encounters," the divemaster for PADI Dive Center Seasport Divers says.
Seldom does a dive briefing include the word guaranteed, but there it is, dangling out over the dive deck, daring anyone to defeat it or prove it wrong. Three turtles poke their heads out of the surface, as if on cue, take a breath and descend. There was no lingering after that. Everyone was in the water.
Besides turtles, I tell Jeff that we need to keep a sharp eye out for the humuhumu- nukunuku apua'a, which is the short name for Hawaii's state fish, a wildly decorated reef triggerfish, endemic only to Hawaii. Endemism has gone wild in these isolated island outposts. Some scientists estimate that up to 40 percent of all Hawaii's colorful undersea denizens are found only here. And while evolving, they've spent extra energy and attention on ornamentation. When we see hoards of lau-wiliwili (milletseed butterflyfish) roam over the reef, it's like an invasion of yellow confetti. Likewise, the pinktail triggerfish, the anela-I'a (Potter's angelfish) and the kapuhili (redfin butterflyfish) aren't difficult to spot framed up against the dark volcanic substrate. Turtles must love the tie-dyed company, since they're, as promised, everywhere.
Even before Jeff and I enter the maze of lava tubes that make up Sheraton Caverns, we've got green sea turtles for company. They're sleeping on ledges, rising up out of the light-shaft gloom to sneak a breath at the surface then descending again to tuck their heads into favorite dark corner to rest. With so many landing and taking off, it's like a busy airport. Several times, one (or two) appears right over my shoulder, inches away. We're a full 30 minutes into the dive before we start to notice the site's other inhabitants. Whitemouth morays wait in the shadowy swim-throughs, along with lobster and heaps of nudibranchs that, when out in full force, make this site a spectacular night dive, too.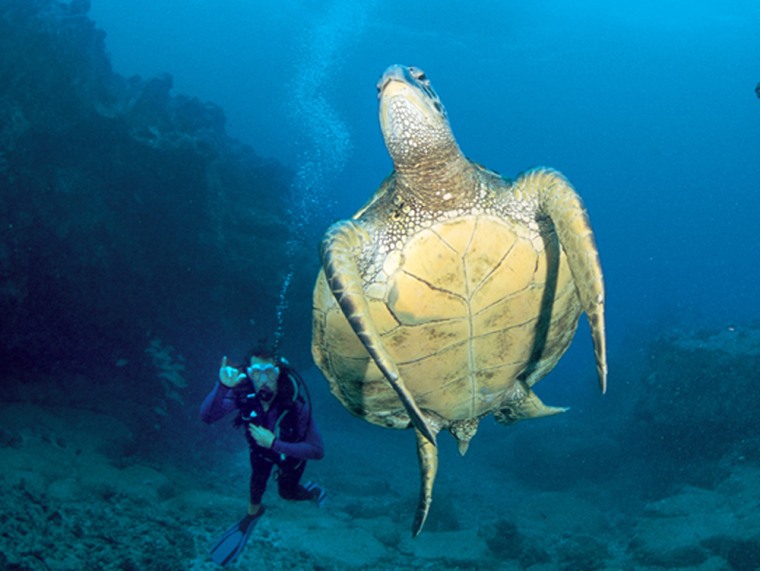 With most of the diving centered on the south side of Kauai, especially around Poipu, we experienced a good helping of the island's top dives with Seasport Divers without having to move around or wait, since most dive sites are within 15 minutes or less of the harbor. These include places like Ice Box, Fast Lanes and General Store. Besides even more sea turtles, when exploring those sites we see a fair number of whitetip reef sharks, Spanish dancers, several kinds of butterflyfish, yellow-eyed surgeonfish and parrotfish, all in colors, shapes and designs you won't see anywhere else. Most of the sites are near the shore and feature some kind of lava tubes or lava formation with overhangs hiding creatures great and small. You should definitely bring a dive light and expect the unexpected.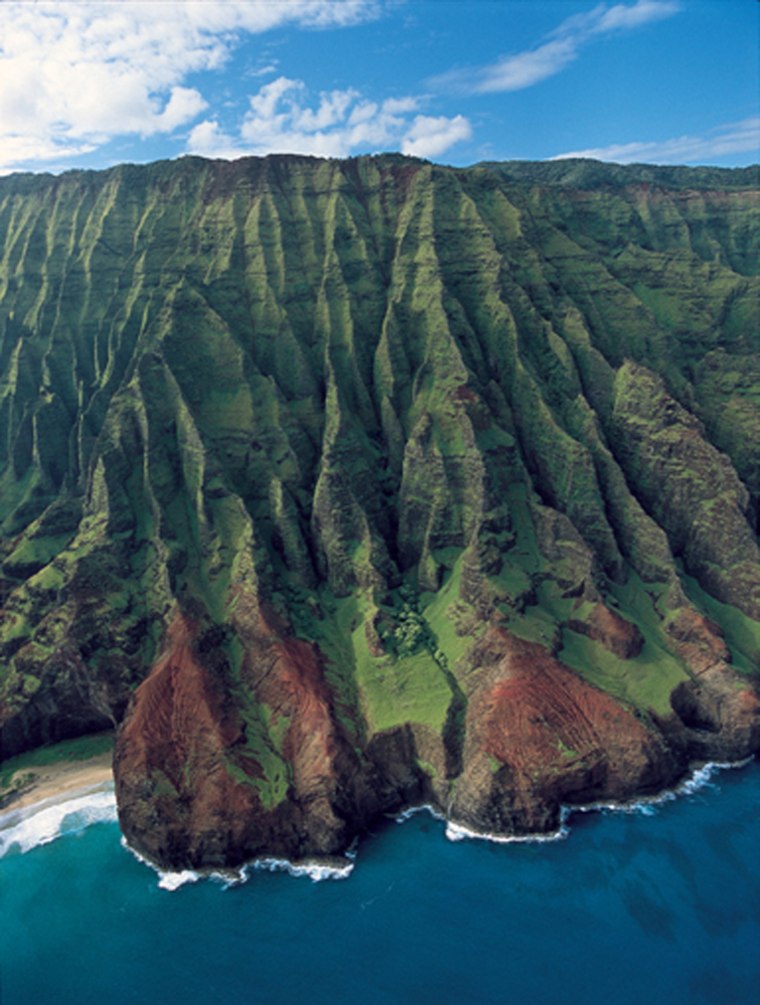 One of the most wonderful things about diving off Kauai from January to April is the presence of humpback whales. During every one of our dives, the waters reverberate with a continual soundtrack of haunting whale song. If strapping on a tank and descending into a world less known than the moon doesn't ignite the inner explorer in you, then experiencing whale song will absolutely drive home just how remarkable it is to spend time in the sea as a diver. On some dives, even with sea turtles bumping us for attention, we just hovered over the reef and let the humpback's melodic family conversation wrap itself around us like a fleeting dream.
Soft Core
Since the adventures topside are just as thrilling as the diving, Kauai ranks among the top soft-core dive destinations in the world. Generally, divers make two dives in the morning then spend the afternoon, well, generally besieged with one awe-inspiring sight or activity after another, which is the game plan we're on. But we want a local's insight, so we hook up with Navy pilot Cmdr. Mark McDonald and his wife, Fran, whose family calls Kauai home. With my own Navy background, it is all I can do to not salute Mark when he and Fran show up at the Sheraton Kauai Resort to pick us up.
They immediately take us to nearby Shipwreck Beach, popular among local body-boarders, for a hike along the ragged and picturesque cliffs nearby. But on the way back, I spot a young couple getting married on the beach and ask if I may take a photo. The preacher replies, "Yes, but only if you'll witness the marriage."
I thought he was joking, but this couple had packed up her white dress and his black jacket and bow tie and slipped off to this idyllic spot, complete with a cliff-side diving spot appropriately called Jump-Off Point in the background, and arrived on the beach without a witness. So as I happened to be passing by, I witnessed the wedding fully cognizant that this could only happen here, in Hawaii, on Shipwreck Beach, which is this couple's perfect vision of paradise.
Fran, Mark, Jeff and I repair to Lappert's Ice Cream shop to celebrate the nuptials with some macadamia-nut flavor in a waffle cone. Then we're off to Hanapepe, and to another beach, called Glass Beach. Years ago this was a dump, and over the years the glass bottles have been churned, tumbled and beaten by the sea into tiny glass granules that now make up the majority of the sand here. There are also old bicycles and other discarded items that have been embedded into the soft volcanic rock cliffs by passing storms, which gives the beach a Mad Max feel. The biggest surprise of this corner of Kauai is the Japanese graveyard that overlooks Glass Beach. Here, volcanic red-rock, Japanese-designed tombstones rest in a field of bright-yellow, daisylike flowers.
That night, as we dine at Beach House, a rare Hawaiian monk seal, one of only 1,200 in the world, pulls itself up on shore to rest. Because these animals are protected, they immediately cordon off the beach with yellow police tape, and crowds of people gather. It was a sight that, sadly, few people are privileged to see. But the monk seal has chosen a perfect night to pull out, with a sunset that looks as if it was stolen from the scales of the lovely lau hau, the rainbow butterflyfish.
The Gathering Place
We bid farewell to Mark and Fran, then head off to the bright lights and big-city world of the Hawaiian island of Oahu, "The Gathering Place" (the island's nickname), and the famous Waikiki Beach.
When we arrive in Waikiki, they close the streets down. And locals and tourists alike begin to congregate along the curbs.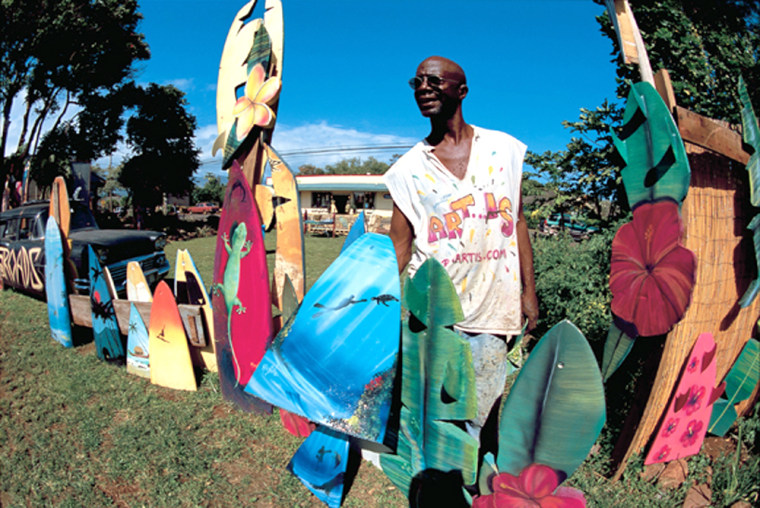 A local tells us we'd arrived during parade season (who knew!?). Every now and then, he says, they just close the streets and, in a while, on that ephemeral notion of aloha time, someone or something would parade past. Our inquiries on when this famous procession would pass are met with shrugs, as are our questions about the focus of the coming spectacle. So, we settle in and watch surfers and body-boarders rip white ribbons in Waikiki's famously perfect blue waves … until we hear a distant drumbeat.
It's a call to action. We arch our heads to see down Kalakaua Avenue. Two surfers cross the road — a couple of Japanese tourists.
Then the distinct sound that could only be the flourish of a high-school marching-band horn section kicks in, and it's game on for parade season. We squeeze in for a good viewing position, and two marching bands (the size of small towns) from snow-locked Michigan, several hot rods, a motorized picnic table and an unlabeled woman waving from an unlabeled convertible drive past. And like the evening showers, just like that, it's over.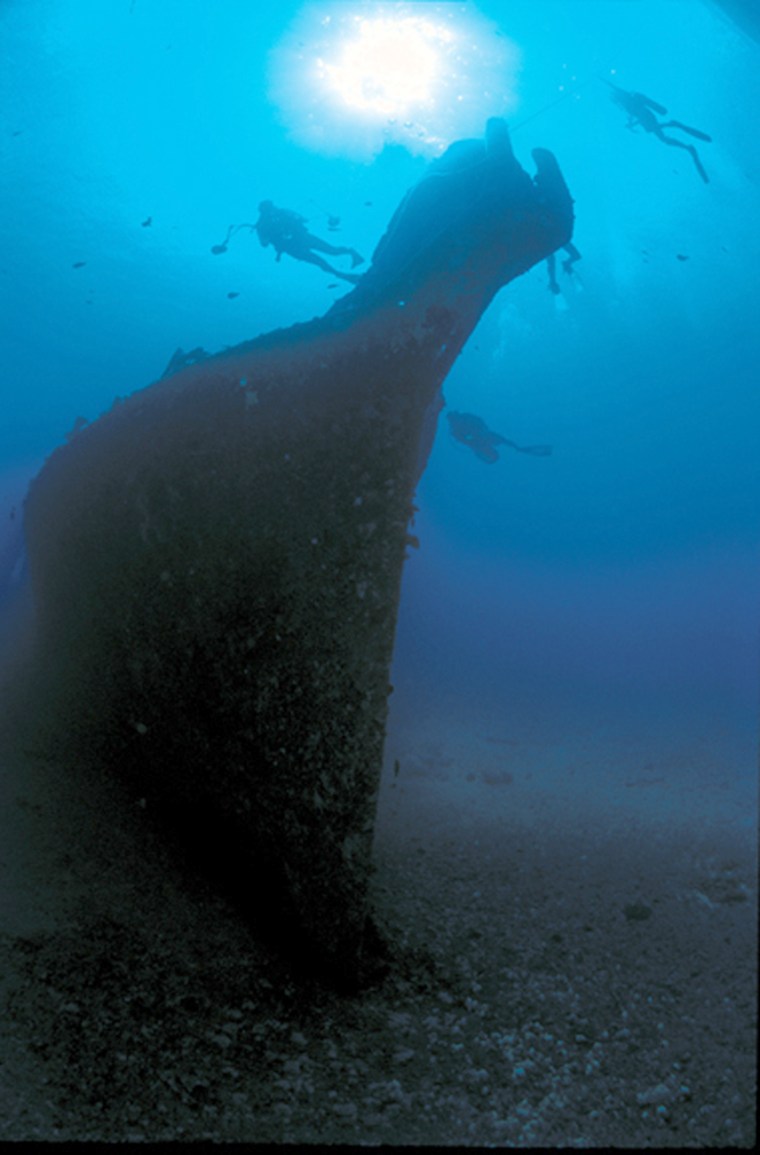 Hawaii once again flirts with our imagination of paradise, as we were flung from the garden of Eden that was Kauai to the cosmopolitan international shop, sun and surf (and if you're in a high-school band, midwinter marching) Mecca of the Pacific.
"Looks like about 600 teenagers are going to let loose in town tonight," Jeff muses as the last band passes. With that, we turn in for the night for safety's sake.
Caged Like a Felon
The notion of The Gathering Place does not end at the shoreline and does not preclude sharks — lots of them. After making arrangements through Aqua Zone, the next morning, I'm bobbing in a cage in open water three miles off the North Shore town of Haleiwa surrounded by many manu, sand, Galapagos sharks, and even here in blue water, reef sharks.
Even with your eyes firmly peeled on the blue, the sharks seem to appear right in front of you, wrapped in shafts of light that  extend all the way to the unseen seafloor. And the sharks come from all sides and directly below. To experience such a show of stealth will leave you in awe of these apex predators. It's one of Oahu's most unforgettable experiences and, since it's done with just snorkel and mask, could even be scheduled on the same morning you fly out.
Smoky Jazz
While I'm spinning around in the cage, making sure that my toes don't stick out too far, Jeff roams Hale'iwa Town and comes across a North Shore cultural nirvana called Crossroads. You can't miss it. There are dozens of surfboards-turned-art, all along the side of the main road through town.
It's a gem of a throwback-era to an old-fashioned North Shore state of mind. An artist named Ron Artis gets old broken surfboards from the local surf community and turns them into art. While we were there painted two surfboards depicting Hawaii's diving. The "banger" here, though, is that he is one heck of a jazz musician, too. His trio, Crossroads (Ron, his son, Ron Artis II, and drummer Travis Talamo)  give Jeff and me an impromptu concert. The sounds are pure Paris in the 1930s. Smoky, sexy, smooth, unpredictable and exciting jazz. On many evenings, Ron's group gives free concerts. In a world where authentic experiences are as rare as the Hawaiian monk seal, this North Shore haven is deeply rooted in the mana of aloha.
The OC
Early the next day, we're picked up by PADI 5-Star Ocean Concepts Scuba at our hotel and whisked away to the West Side and Waianae Boat Harbor, about a 45-minute drive. The big dog on the West Side is the wreck of the Mahi. This 165-foot-long research ship has been gathering a plethora of marine life since 1982. It sits upright on the sand in about 95 feet of water. Because it's an exposed site, you can expect a little current on most dives, but on our dive, it was ripping.
As a result, a squadron of several spotted eagle rays, some with tails 10 feet long, hover over the deck and around the mast at about 50 feet, while another group of younger and smaller rays circle over the sandy bottom. The center of the ship has now collapsed, but all the life gathers around the outside anyway, including a giant ogre of a pufferfish, orange-spined tang, a lovely blue boxfish and on the deck, a constant flutter of raccoon butterflyfish. In addition to the rays, I've seen tiger sharks, swarms of blue-striped snapper and flittery wiliwili butterflyfish so thick, there was little of the wreck to be seen. Along the deck rail, we spot a well-camouflaged frogfish. And, of course, no dive on the Mahi would be quite complete without a visit with the several friendly resident yellowmargin moray eels that inhabit the wreck, especially the alpha eel that has taken up residence in the room with the ultimate oceanic view, in the cable-laying machinery on the tip of the bow. It stares back at us with the nonchalance of a creature that has seen it all. As we're hanging on the ascent line, flapping like a flag in the current, we're both thinking that this is one of Hawaii's best dives, and for good reason.
Most dives to the Mahi are followed up with a tour of Makaha Caverns. The shoreline of every Hawaiian island is pockmarked with sunbeam-lit volcanic caverns that evoke the mystery, turmoil and awe upon which these most remote islands on the planet have thrived. Makaha, like the island of Oahu, has become a gathering place. Here, we have to look hard for the Hawaiian scorpionfish, one of the ocean's ugliest creatures, but we aren't able to miss the sleepy turtles that use Makaha as a rest stop. We also find bright-red blackbar soldierfish and squirrelfish packed densely into the shadowy corners. And slow observation reveals a busy urban center for the smaller members of the marine world.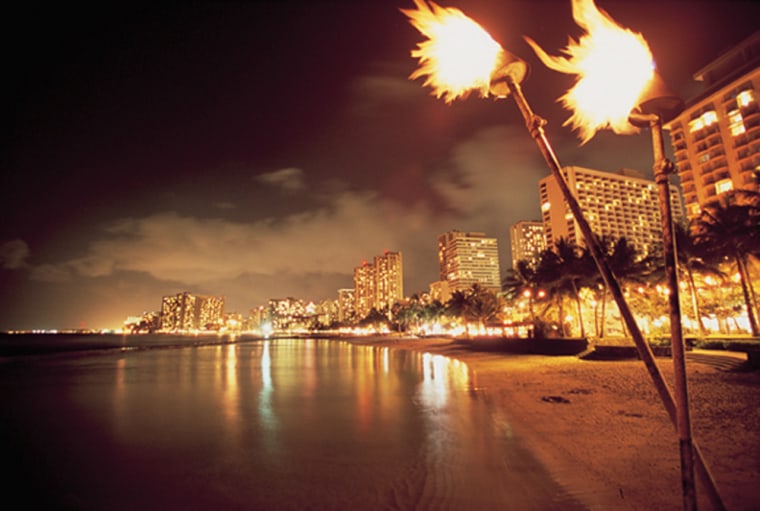 I must also say that the divemasters who work for Ocean Concepts Scuba have to be one of the greatest groups of professionals in the dive world. They all seem like they were genuinely born on the crest of a wave and raised in the cradle of the deep. Their enthusiasm for the marine world is infectious and seems to stem from co-owner Jim Byrem. During our time with the OC, we explore the cavernous volcanic room that is Black Rock, the Land of Oz, a rugged lava reef that was named after an Australian who lived on the nearby shore and used to swim out and greet the divers, and then a dive that embodies my religious convictions, the rife-with-marine-life Pray for Sex Beach.
In the Zone
If you're staying in Waikiki, there's a hidden and diverse blue world just off the busy streets and just below the busy waves. Not to be missed are the wrecks of the YO-257, the Sea Tiger and the Corsair wreck. An ex-Navy 110-foot oiler, the YO-257 is both a marine life and tourist submarine magnet covered with hydroids and sponges. Because of this, the wreck is part of the Atlantis submarine tour. So, I wasn't surprised to turn around to find I'm part of the undersea attraction. Nearby, the Sea Tiger once plied the sea as a Korean fishing vessel. It now serves a higher purpose as an artificial reef and has loads of sea turtles and colorful tropicals. You won't want to miss the photo op of sitting in the cockpit of a World War II-era Corsair, which ran out of fuel in 1946 and now sits on the sand at 107 feet.
Island Obsessions
The Hawaiian Islands don't really exist in a solid state. Their spirit flits about the ether of our collective imaginations of what we dream an island paradise to be, and then manifests in so many different ways for so many different people that's it's impossible to pinpoint a single essence, and equally impossible to not fall victim to the islands' overwhelming magical allure.
By the time Jeff and I are set to leave Hawaii, we've seen a thousand versions of paradise. There are parading teenagers in search of a tropical party and shopaholic, pink-skinned Midwesterners and Asians; surfers awaiting the natural purity of a perfect wave; lovers and romantics; and adventurers in search of primal and timeless worlds that seem forgotten by time. And in between, there are divers, all serenaded by whales and eyeballed by turtles, on a quest of discovery on the most remote and unique islands on earth.
Special thanks to the Kauai Visitors Bureau, Seasport Divers, Sheraton Kauai Resort, Aston at Poipu Kai, Ocean Concepts Scuba, AquaZone, Ron Artis of Crossroads (www.ronartis.com) and Fran, Mark and Kyle McDonald.
Hawaii: Kauai Visitors Bureau
Oahu Dive Centers
Ocean Concepts Scuba, 800-808-DIVE
Kauai Dive Centers
Seasport Divers, 800-685-5889
Resorts
Aston at Poipu Kai, 877- 997-6667
As the official publication of the is the magazine divers turn to each month to find out what's going on in their world. Sport Diver is the ultimate source for up to date information on dive culture, equipment, travel, training and PADI Diving Society activities.