Desert golf comes with its own set of connotations, a reputation with more debate than some Supreme Court confirmation hearings. It is just unnatural, some cry about playing amongst the cacti. It is just too hard, other golfers moan, no doubt remembering a round spent searching for golf balls in gullies, wishing they made one of those car key locators for Pro V1s.
"There are golfers who are just intimidated by it,'' said Joe Grimm, an average hacker convert to Arizona desert golf. "No question. But if you give it a chance, I think you'll find some of the best golf around. Most of my better golf experiences have come in the desert.
"It makes for some dramatic days."
The stark surroundings of the desert, the mountains in the background and the multi-colored sunsets are more over-the-top than anything you'll find on a fall network TV schedule. All desert golf is not created equal, though. Here's a guide to some of the top desert golf courses in America.
First rule, to be considered a desert course, the track must actually feature the desert, rather than trying to recreate a Midwest or Irish green course in the dry heat. Second rule, bring plenty of extra golf balls.
We-Ko-Pa Golf Club, Fountain Hills, Ariz.
This Yavapai Tribe-operated course is creating some of the loudest buzz in the Phoenix-Scottsdale resort corridor and there's no great mystery why. We-Ko-Pa is surrounded by four mountain ranges and with it being Native American land, there are no hulking housing developments to spoil any of the views from tee to green. Course designer Scott Miller challenges hackers to a 7,225-yard test of target golf.
Every shot must be measured, every decision calculated as you negotiate tight areas of natural desert landscape, including century old saguaros (a towering form of cacti).
For more information, including booking, call (800) 426-6148.
Grayhawk Golf Club, Scottsdale, Ariz.
There are two 18-hole courses at this pricey club but go with the Tom Fazio-designed Raptor to really get that desert bite. Miss the fairway and you're in the rocks, trying to pick out your ball as lizards scamper by. The greens can look like a freeze-motion ocean wave with all their Fazio dips and raises and you can find yourself back in the desert by hitting a putt wrong, too.
All in all, it's about as forgiving as Hitler's heart and fun as an amusement park ride.
For more information, including booking, call (800) 470-4622.
Raven at Verrado, Buckeye, Ariz.
This is the definite underdog in a list of established-rep powers but sometimes the underdog steals the show. The Raven at Verrado offers much more score cushion than many top desert courses but it gives up nothing in scenery with its setting on the foothills of the White Tank Mountains. If this course stood closer to the Phoenix-Scottsdale resort haven, it would be much more well known.
"It plays kind of like (nationally recognized) Troon North," said Scott Bowles of Las Vegas Golf Travel, a golf travel packaging company. "But you have to drive 45 minutes away (from Phoenix-Scottsdale). Of course, you're also going to pay about $130 less to play it."
For more information, including booking, call (800) 939-7998.
Boulders Club, Carefree, Ariz.
It's been 20 years since golf architect Jay Morrish completed his vision at Boulders Resort and still the two Boulder courses are drawing some of the hottest word of mouth in the Phoenix-Scottsdale resort corridor. In an area where courses come and go out of fashion as quickly as some people change jean brands, this is no small feat.
Some desert views are timeless - which doesn't mean they're priceless. A round here will set you back $200-plus in the winter high season.
For more information, including booking, call (800) 939-7998.
Las Sendas Golf Club, Mesa, Ariz.
If you already think desert golf is too hard, this Robert Trent Jones design will only reinforce your nightmares. Sometimes it's fun to be scared, though.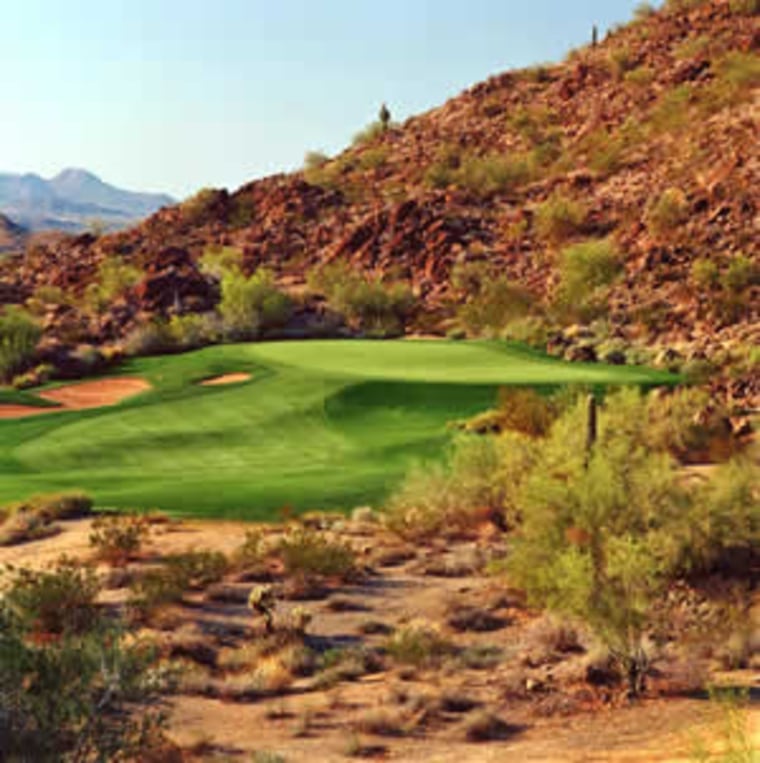 At Las Sendas, it's all about playing the angles and picking the proper approach to the green. Start blasting away recklessly with that driver, playing John Daly, and you'll really feel the pain of the 145 slope rating.
For more information, including booking, call (800) 426-6148.
PGA West Stadium Course, La Quinta, Calif.
Legendary golf architect Pete Dye was asked to build the hardest golf course in the world here and many of the PGA players think he succeeded too well. Lost in the hype over the Stadium Course as a ruthless, punishing monster is the pure visual wonder. These are some of the starkest surroundings you'll ever play in. It makes you feel like you're a whole lot farther than 25 minutes from the bustle of Palm Springs.
Before playing the Stadium Course, it's wise to practice your bunker chips again and again and again. You need almost perfect contact to produce anything close to a satisfying sand save here. That 150 slope rating is no false hype.
For more information, including booking, call (800) 598-3828.
Desert Willow Golf Resort, Palm Desert, Calif.
Scenic enough to be featured in National Geographic Traveler Magazine, the Firecliff course at Desert Willow uses plenty of the natural desert and some unnatural water. The wet stuff comes into play on eight of the holes, giving you an extra obstacle without losing sight of its true natural locale star.
For more information, including booking, call (888) 333-6078.
Tournament Players Club at the Canyons, Las Vegas, Nev.
Move over Bellagio shooting fountains and Mirage exploding volcanoes. TPC Canyons is a showy a spectacle as you'll find in Sin City.
Hackers tend to love this course for the performance or hate it for its first-play shallowness. The par 3 second hole features a desert island green that almost seems to float in the air over a canyon. Staff members joke that they should put a camera stand at the hole for all the photo-clicking golfers.
What really sets TPC Canyons apart is its service. Just because you're getting beaten up in a barren desert surrounding, doesn't mean everyone cannot be nice to you.
For more information, including booking, call (800) 826-0353.
The Falls Golf Club, Lake Las Vegas, Nev.
Desert does not mean flat. The Falls shows you just how high you can go in desert golf with a back nine that scales up a mountain. Looking down from the 13th tee boxes is a risk for anyone who suffers from even a slight case of vertigo. There are only jagged rocks on a steep drop below and a fairway that starts a daunting 200 yards farther ahead in the valley floor.
At one point on this Tom Weiskopf design you are on top of a tall plateau, staring the Las Vegas Strip eye to eye on the horizon. It's roller coaster golf. Even the climbs up and swooshes down the steep cart paths become part of the fun.
"It's almost like playing in a picture," Falls first-timer Randy Shuck said. "You start taking all these mental postcards and then you suddenly realize, 'Heck, I've got to get my golf ball down there somehow.'"
For more information, including booking, call (866) 514-4653.
Paiute Resort, Las Vegas, Nev.
There are three Pete Dye courses at this complex, all making use of the natural surroundings. The Wolf Course, the newest and toughest of the three, usually gets all the attention. But don't count out Snow Mountain. Local Las Vegas packagers report that many golfers have told them they enjoy Snow more than Wolf and it can be as much as $40 cheaper to play.
For more information, including booking, call (800) 426-6148.
Wolf Creek Golf Club, Mesquite, Nev.
For golfers who want real desert, making the 80-minute drive from Sin City's high-tech neon to Mesquite's low-tech neon is a road to travel. For in Mesquite, there's not just old ladies at old-time slot machines. There's Wolf Creek, an exceeding tough golf course where you might just run into a real-life road runner. This course features true desert canyons and all the wildlife that scampers across them.
For more information, including booking, call (866) 252-4653.
Pinon Hills Golf Course, Farmington, N.M.
Forgetting about New Mexico in desert golf would be huge mistake. Here you can find courses with little civilization around and bare-bottom green fees. Pinon Hills stands out even on that scale. You have to want to get here to get here and with the chance to play a 7,249 yard track with tons of natural desert brush and wildlife for $33, you probably will.
This is a municipal course in name only with course conditions and traffic jam tees not a concern.
For more information, including booking, call (800) 470-4622.
Our spend a great deal of time traveling from course to course (what a life!). Here's a selection of their top tips for travelers - where to stay, great restaurants, over-rated destinations, and more!
This article provided through Golf Publisher Syndications.