/ Source: The Associated Press
Late speculation ahead of the Nobel Peace Prize to be announced Friday swung heavily toward an award recognizing anti-nuclear efforts on the 60th anniversary of the Hiroshima and Nagasaki atomic bombs.
Favorites among a record 199 nominees included International Atomic Energy Agency chief Mohamed ElBaradei, and anti-nuclear campaigners such as Sen. Richard Lugar and former Sen. Sam Nunn, and Japan's Nihon Hidankyo, the international confederation of Atomic and Hydrogen Bomb Sufferers.
Finnish peace mediator Martti Ahtisaari also ranked high, while the buzz surrounding Bono of Irish rock band U2 and Boomtown Rats singer Bob Geldof faded.
The Norwegian awards committee, which does not say who was nominated, announces its decision in Oslo at about 5 a.m. ET. Committee secretary Geir Lundestad said the committee is more secretive than ever, after two previous leaks minutes before the announcement.
In both cases, the committee called the winner, then word got out to the media ahead of the official announcement. "We've sealed the hatches," Lundestad said.
With no hints to go on, Nobel watchers make educated and often incorrect guesses. The winner, such as last year's laureate Wangari Maathai, a Kenyan environmentalist, can come as a complete surprise.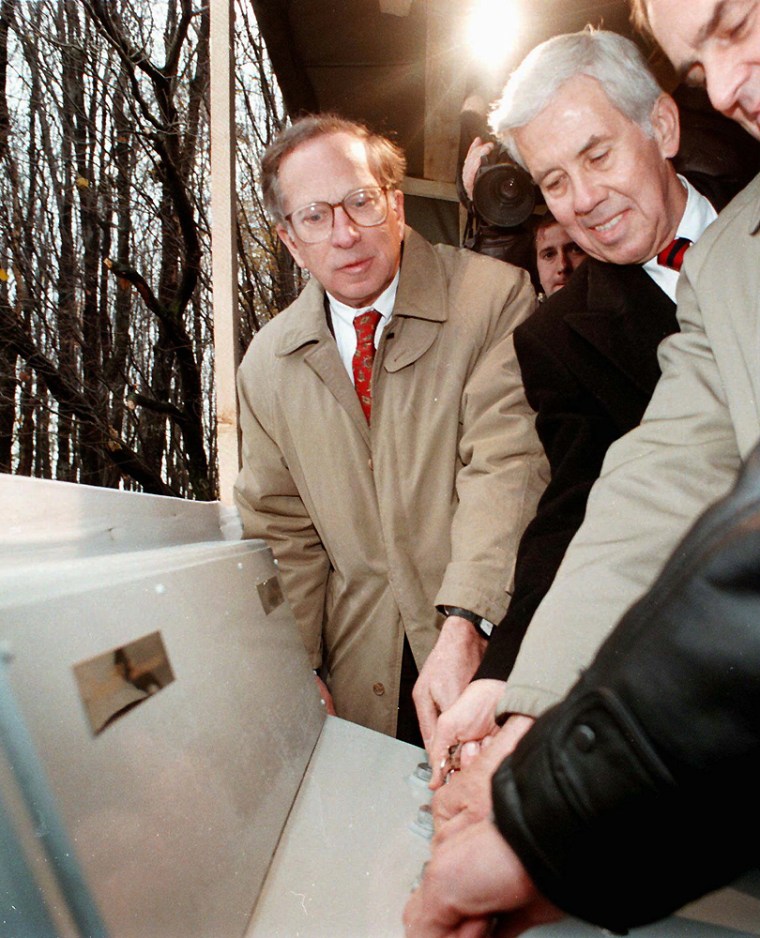 Australian betting company Centrebet's odds for the favorites (followed by odds from British bookmaker Ladbrokes) on Thursday were 2-1 (7-1) for the IAEA or ElBaradei, 4-1 (6-1) for Nihon Hidankyo or its representative Senji Yamaguchi, who was badly burned in the Nagasaki bombing, and 11-4 (3-1) for Ahtisaari, who brokered a peace deal for Indonesia's Aceh province.
Stein Toennesson, director of the Peace Research Institute — Oslo, said his favorites are Lugar and Nunn for their program to rid the former Soviet Union of nuclear weapons, but that the Japanese anti-nuclear campaigners also have a good chance.
A key time in nuclear history
A nuclear-related prize would recall the 1945 bombings of Japan, and come at a time of world concern about Iran's nuclear program.
The 1995 prize, on the 50th anniversary of the bombings, had a similar double message, recognizing the anti-nuclear efforts of Joseph Rotblat and his Pughwash group and criticizing France for resuming nuclear weapons testing.
Toennesson has begun to doubt his own No. 3 guess, Ahtisaari, because the Indonesian peace deal was only signed in August, six months after the strictly enforced Feb. 1 nomination deadline.
The early nomination deadline can lead to a year's delay in what seems like an obvious prize.
For example, in August 1993, a historic Israeli-Palestinian peace accord was announced two months before the Nobel Peace Prize was awarded. The prize came the next year, with the 1994 award Israeli leaders Yitzhak Rabin and Shimon Peres shared with Palestinian leader Yasser Arafat.
The peace prize is the fourth Nobel announced this week. The economics prize is to be announced Monday, while no date has been set for the literature award.
Each prize includes a medal, diploma and a cash award of $1.3 million.