/ Source: The Associated Press
The death toll soared to 79,000 Wednesday from South Asia's mammoth earthquake, following a survey of one of the two hardest-hit Pakistani regions — making it one of the deadliest quakes in modern times.
More aftershocks rattled the region, sending up huge clouds of dust from steep-sided mountain valleys where villages lie in pieces. During a helicopter tour of the ruins, the president promised new, quake-ready houses for the homeless.
In remote mountains, a steady flow of injured villagers continued to seek medical attention. Many had infected wounds, untreated since the Oct. 8 temblor, and had to rely on relatives to carry them for hours on foot to makeshift clinics.
More than 60 helicopters were dropping relief supplies, and mule trains were pushing into areas where no helicopters can land.
"Many people out there, we are not going to get to in time," said Rob Holden, the U.N. disaster coordinator in Pakistan's part of Kashmir. "Some people who have injuries don't have a chance of survival."
Annan pleads for global aid At the United Nations, Secretary-General Kofi Annan warned that with winter approaching a second "massive wave of death" in Pakistan's quake areas unless the international community immediately increases the relief effort.
"This is a huge, huge disaster," Annan said. "It is a race against time to save the lives of these people."
"I would hope that the international community will respond and those with capacity will do everything possible to work with us and work with the Pakistani government," he said.
Full scale of damage now apparent
Eleven days after the 7.6-magnitude quake, the full scale of the disaster is becoming apparent. A helicopter trip through the badly hit Neelum and Kaghan Valleys showed flattened homes on mountainsides and roads blocked by boulders, trees and earth. Moving only on foot, people were fashioning new pathways over landslides.
The central government updated its death toll to 47,700, but regional authorities gave much higher figures, based on information trickling in from outlying areas and as more bodies were pulled from the rubble of collapsed buildings.
Since the early days of the disaster, the central government death tally has lagged behind that of local authorities, although federal officials have said privately they expect the toll to rise dramatically.
Citing reports from local authorities and hospital officials, the government of North West Frontier Province said 37,958 people had died there and the toll was likely to rise. The prime minister in Pakistani-held Kashmir said at least 40,000 people died in that neighboring region. India has reported 1,360 deaths in the part of Kashmir that it controls.
Those tallies would push the death toll from the quake to 79,318.
That figure was in line with an estimate Wednesday from a senior army official that 75,000 to 80,000 people had died across Pakistan. The official did not want to be identified because he was not authorized to comment on the death toll.
Not enough food, shelter, or health care
Aid workers fear casualties could rise even further as communities without adequate food, shelter or health care will soon face the harsh Himalayan winter. Snow has already begun to fall in high mountains, and some villages face subfreezing temperatures at night.
However, the death toll in Pakistan is unlikely to come close to December's magnitude 9.0 quake and tsunami that killed more than 176,000 people — most of them in Indonesia — or a magnitude 8.2 temblor that killed at least 240,000 in Tangshan, China, in 1976.
Hundreds of aftershocks are still rattling the South Asian quake zone, frightening the many homeless who are camping by ruined homes. A 5.8-magnitude tremor struck on Wednesday morning, near the epicenter of the main quake. Less than an hour later, a second was felt that registered 5.6.
There were no reports of injury, but the aftershocks caused new landslides that briefly blocked at least one road and sent rubble coursing down eroded mountainsides.
On a tour near the quake-hit town of Balakot, President Gen. Pervez Musharraf promised to build quake-proof homes for the homeless — drawing applause from about 200 villagers at a tented settlement.
Diplomatic efforts in Kashmir
Carrying a swagger stick and wearing a baseball cap, Musharraf also said he would be willing to let Kashmiri civilians drive across the militarized border from India to help their brethren on the Pakistan side rebuild.
"If they want to assist in the reconstruction effort and in (distributing) relief goods, yes, I will allow it. ... We would like to encourage it," he said.
There's been no formal Indian response to the offer. It appears at least in part a diplomatic parry to India's previous offer of military helicopters for relief efforts. The nations have fought two wars over Kashmir, and Pakistan refuses to let Indian military personnel onto its side of the disputed frontier.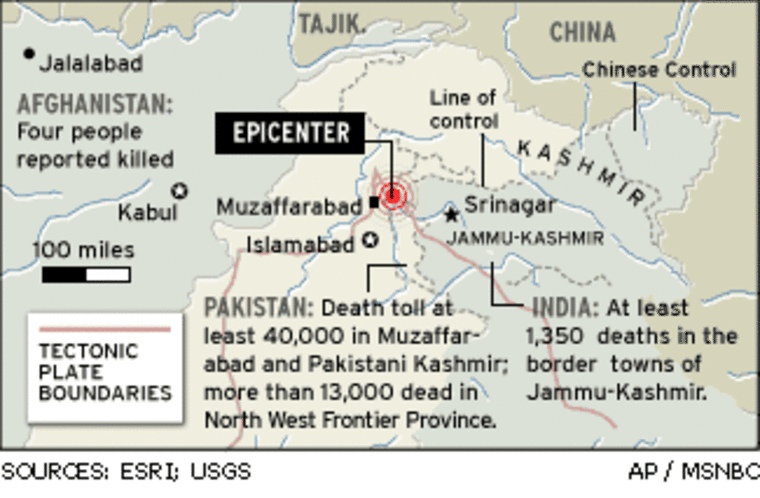 At Nanseri, a village four miles from the Line of Control in Kashmir, injured people were still emerging from their communities — making arduous journeys across towering mountains, with relatives carrying their loved ones on their backs or in wooden-and-twine beds.
Dr. Amjad Sarij Memon said his eight-man team of volunteer doctors from the southern city of Karachi had performed more than 500 operations in the past six days in tents in the village. He said they have had to carry out "numerous amputations" because of infected wounds.
Despite the growing influx of aid, the U.N. World Food Program has estimated a half-million survivors have yet to receive any. Pakistan's military, however, says all but about 5 percent of communities have been reached — although it does appear that many villages have received little aid.
In Beijing, top U.N. relief coordinator Jan Egeland urged China, which borders Pakistan, to contribute winterized tents. Pakistan says it urgently needs 150,000-200,000 tents. It now has about 30,000.