Pakistani President Gen. Pervez Musharraf appealed for international aid Sunday in response to the earthquake that devastated the country's mountainous northeast, calling especially for cargo helicopters to bypass roads blocked by mudslides.
Musharraf said Pakistan needed medicine, tents, cargo helicopters and financial assistance to help survivors, the news agency Associated Press of Pakistan reported.
"We have enough manpower, but we need financial support," Musharraf said.
President Bush said the United States would send an unspecified amount of cash and eight helicopters. He suggested the U.S. might send resources already based in the region, perhaps in bordering Afghanistan.
U.S. 'wants to help'
"Thousands of people have died, thousands are wounded, and the United States of America wants to help," Bush said from the Oval Office.
Asian Development Bank president Haruhiko Kuroda said the bank would reallocate $10 million for immediate emergency assistance in the worst-affected areas of Pakistan.
The European Union on Sunday committed $4.4 million in emergency relief.
"We have a duty to get help as quickly as possible to the people whose lives have been turned upside down," EU Humanitarian Aid Commissioner Louis Michel said.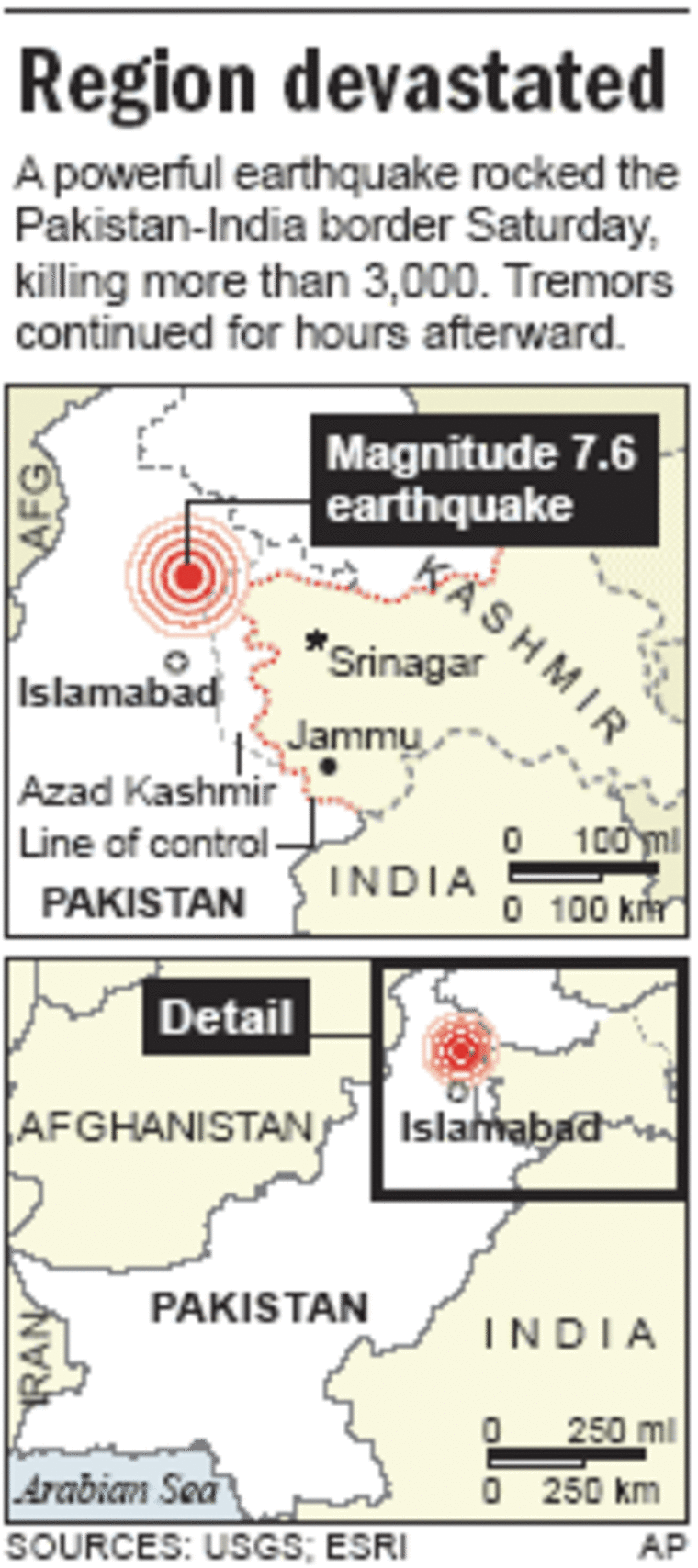 The governments of Japan, Thailand, Germany, Britain, the Czech Republic, the Netherlands, Azerbaijan on Sunday combined pledged several million dollars in aid. China has promised $6.2 million, according to Islamabad, and Australia has promised $4.2 million.
Many countries quickly assembled aid and readied it for transport to the mountainous region, where landslides are reported to be making access extremely difficult.
Some teams had already reached Pakistan on Sunday, including a Russian rescue team, the first contingent of a British emergency rescue team and a U.N team of disaster coordination officials who set up three emergency centers.
"We have to be quick," said U.N. spokeswoman Elisabeth Byrs.
The World Health Organization said it has provided Pakistan with two emergency health kits, which will provide essential medical supplies to care for a total of 20,000 people for three months.
It said it would send five more kits as well as packages to cover 1,000 surgical operations in coming days. The kits will help Pakistan cope with injuries even though hospitals have been destroyed and health workers are among the casualties, WHO said.
The Pakistani military said planes from France, the United Arab Emirates, Turkey and China had also landed Sunday, bringing rescuers, sniffer dogs, earth moving equipment, medicine, food and relief goods.
A Spanish group, United Firefighters without Frontiers, said its rescue team had already arrived in Islamabad with two field hospitals and two tons of emergency equipment. Japanese, South Korean, Afghan and an additional Russian team of rescue workers and medical aid were expected late Sunday and Monday.