With hands, picks and shovels, desperate parents struggled on Sunday to reach more than 850 children trapped in the rubble of two schools flattened by the weekend's massive earthquake in northern Pakistan.
The voices of trapped children and the anguished wails of their parents accompanied the frantic work in the Balakot valley in the mountains of Northwest Frontier Province, one of the areas worst hit by Saturday morning's devastating quake.
"Save me, call my mother, call my father," came the faint voice of a boy, again and again, from the rubble of a government school in which local people said about 200 children were trapped.
"Bring out my child, bring out my child," his mother wailed, beating her chest as other parents and relatives pulled out the bodies of four children, bringing the Sunday morning's toll to eight.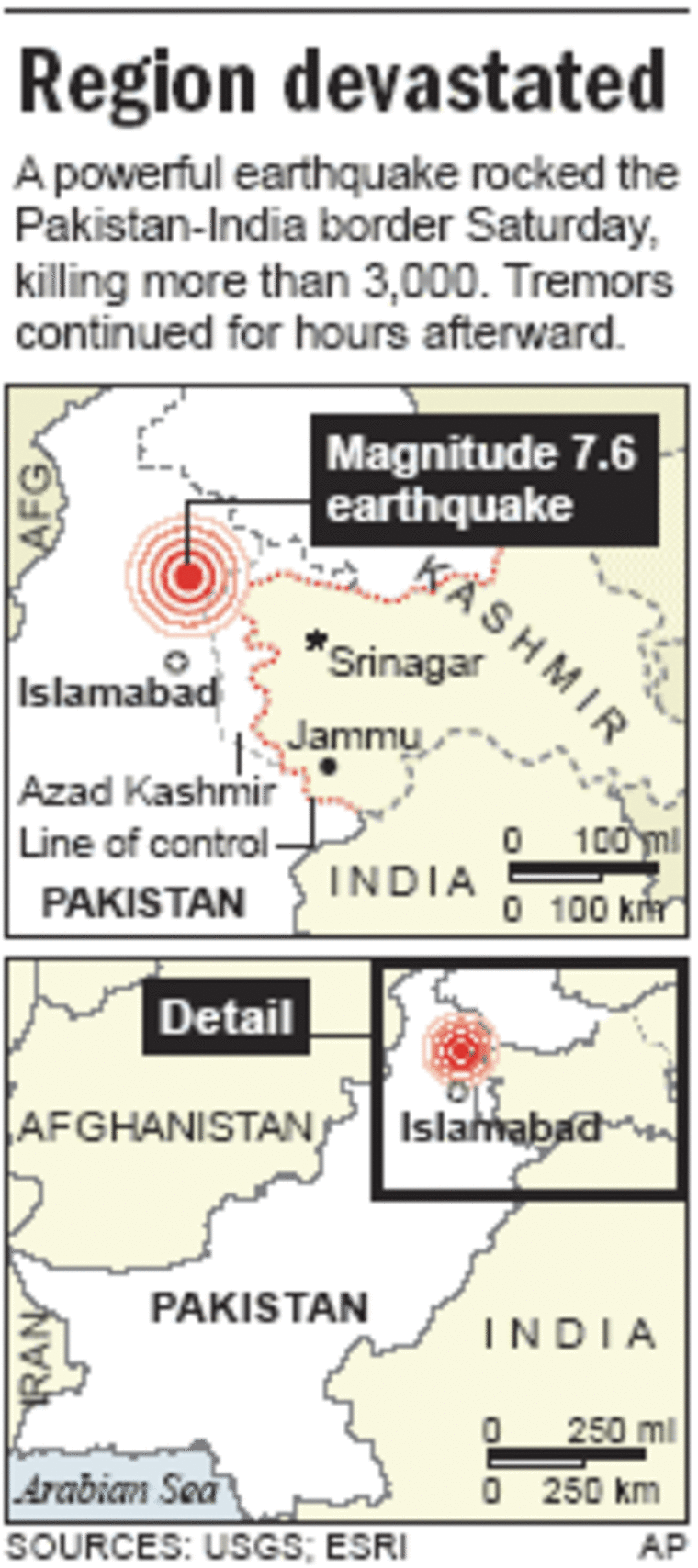 A day on, police and emergency services were nowhere in sight, but residents of the town of about 20,000 people estimated 2,500 people may have been killed there and in seven surrounding mountain villages.
Thousands were injured, mostly women and children who were in their homes at the time of the disaster while their men worked in the open. Almost every second woman or child bore an injury.
A spokesman for President Pervez Musharraf said 18,000 people had been killed in the north as a result of Saturday's quake.
At the private Shaheen School, another 650 children were trapped inside the four-story building that collapsed as the children sat in class Saturday morning.
Parents scrambling through the rubble said they had brought out the bodies of six dead children and 19 injured. The bodies of four children could be seen on the school roof.
Cries of children
Parents said they could hear the cries of children, but were helpless until they managed to get makeshift rescue equipment, including iron bars they used to lever away rubble.
A teenage girl named Busra was pulled out covered in dust and with leg injuries on Sunday morning.
"We were sitting down when it happened. We tried to get up and run, but everything just caved in," she said. "I've was lying buried up to my neck. There are many others in there."
The Balakot region is a scene of massive devastation. Perhaps half of the concrete houses have collapsed and dozens of bodies lay in the open.
Residents complained about the lack of help. The road into town has been blocked by landslides, and it is only possible to reach the town on foot.
A Reuters reporter counted 105 bodies on the five-mile trek into town. Some were laid out by the roadside by relatives hoping for help with their burial. Others were carried on charpoys, or traditional rope beds.
A small boy carried a younger sister of perhaps four or five, her skin stripped off her face and the side of her body by a rock that flattened their house. He did not know what to do.
"There are no bandages or anything at all," he said. "There are no doctors, no nothing -- where should we go?"
A German woman doctor running a leprosy center in Balakot said they were doing what they could to help. She said six of their patients died when the center's roof collapsed and 20 were hurt.
"I've been involved in helping refugees for the last 17 years, but I am in shock because I have never seen such devastation," said the doctor, Chris Schmoter.
Villager Haji Nawaz lost his wife, his mother and four children when his house collapsed.
"It hardly took a minute," he said. "The whole place shook and the boulders came down from the mountain. In less then a minute, I saw half the town destroyed," he said. "I have seen women going mad with shock.
"The government sends troops and doctors to foreign countries -- why is it taking them so long to come here?" he said referring to help sent by Pakistan for last year's Asian tsunami victims and other disasters.