Rescuers pulled two survivors from the ruins of an apartment complex in the Pakistani capital on Sunday after a major earthquake brought two blocks crashing down on residents.
At least two other people were believed to be clinging to life in the ruins of the Margala Towers blocks where expatriate workers and middle-class Pakistanis lived, rescue workers said.
In all, 35 bodies had been recovered while some 80 people had been rescued, President Pervez Musharraf said. About 150 people were trapped, he said.
The tower blocks were the only buildings to collapse in Islamabad, about 60 miles southwest of the epicenter of the 7.6 magnitude quake that hit at about 8:50 a.m. on Saturday.
A boy and a woman were bought out alive some 24 hours after the quake hit, prompting cheers from rescue workers who said others were still alive under the rubble.
At least two badly mutilated bodies were recovered as rescuers tried to tunnel into a huge mound of debris in their search for survivors, one worker said.
"We heard screams of people last night but we haven't heard anything today," said rescue worker Liquat Ali Khan, who used to work as a plumber at the apartments.
Earlier, rescue workers said two people had been located alive in the rubble but several hours later there was no further word on them.
Heavy diggers tugged huge chunks of rubble off a mound of collapsed, compacted apartment floors. Officials said the two blocks that collapsed had contained 75 apartments.
But shortly before 2 p.m. the heavy machinery was stopped and silence descended over the site as a British rescue team undertook a so-called sound search, to listen for cries for help.
More than 18,000 people were killed in Pakistan, the government said. The quake also battered Indian Kashmir, killing more than 550 people there.
'Waiting for a miracle'
Distraught relatives and friends of the missing waited nearby as rescuers scoured the debris.
"It's terrible. I'm waiting for a miracle. My brother and his whole family are in there," said Brigadier Adul Jahsor.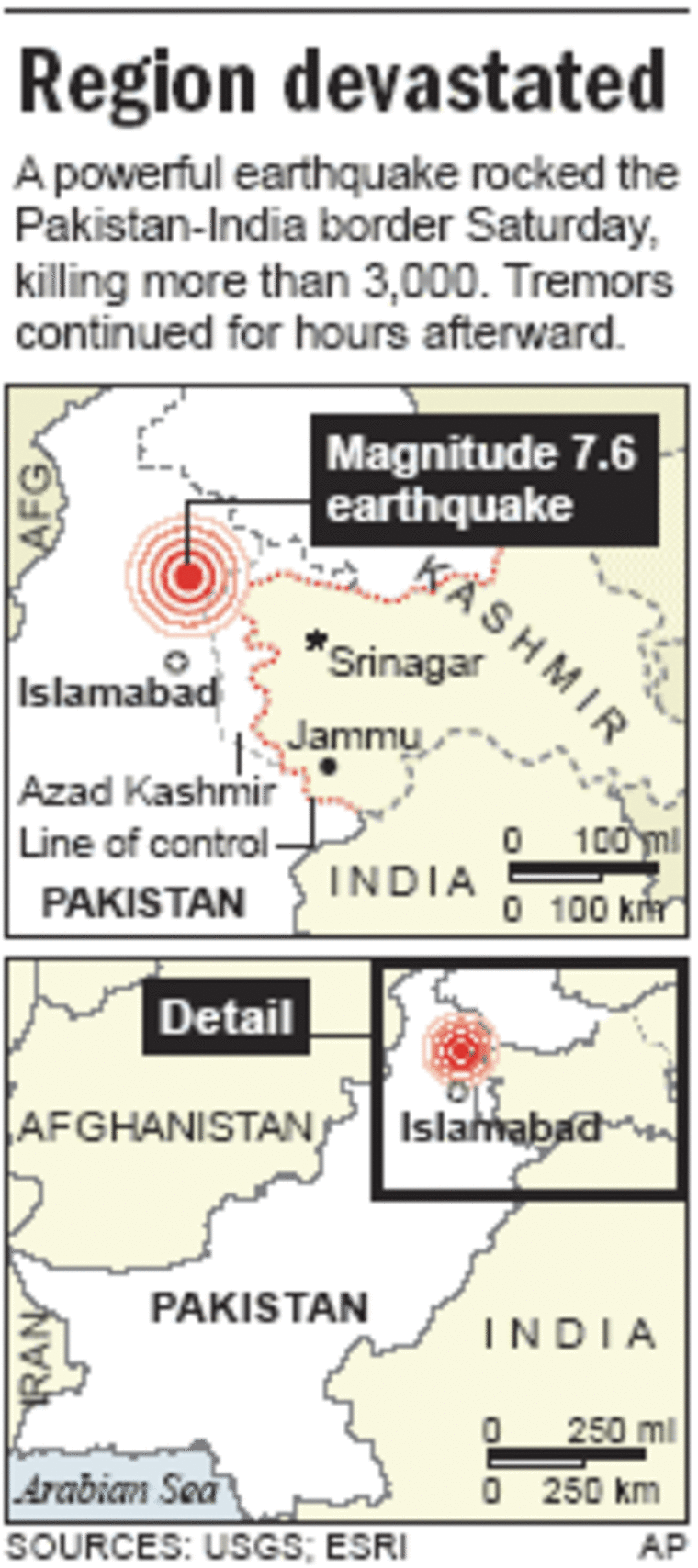 A woman was rescued overnight but her hand had to be amputated to pull her free while a Pakistani man who was saved had his leg amputated, a military official involved in the rescue effort said.
The quake, the biggest in Pakistan in memory, was centered in forested mountains of Pakistani Kashmir, near the Indian border, and violently jolted large parts of northern Pakistan, as well as parts of neighboring Afghanistan and India.
Witnesses said a powerful after-shock brought the Margala Towers blocks down moments after the first tremor, as people were still racing to get out.
Two Japanese, a man and a child, were killed and one Japanese woman was injured, a hospital official said. One Egyptian was killed and one wounded. Two Bosnians and two Sudanese were also injured, the official said.
The final toll from the collapsed flats would only be known when all the debris was cleared, and that was expected to take many more hours, a rescue official said.
A British rescue worker said the consistency of the ruins was cause for optimism. "This building is good to survive in because it's big chunks, not small stuff," said the worker, Anthony Thomas.