Thousands of spectators swarmed around Las Cruces' airport on Sunday to watch today's private-sector rockets show their fiery stuff, while both private and public space leaders charted a course for tomorrow's million-dollar ventures.
The rocket show was the climax to the Countdown to the X Prize Cup exposition, presented here by the X Prize Foundation. The event follows up on last year's big finish to a $10 million competition for suborbital spaceflight.
On Sunday, one rocket soared — not just once, but twice. Another blew up. Yet another spaceship lifted off, hovered for a few seconds, then fell over when it landed. Several companies showed off mockups of several future spaceships, and NASA took advantage of the occasion to announce yet more contests for private-enterprise rocketeers.
Even as the gates were opened for Sunday's festival, NASA announced it was partnering with the X Prize Foundation on contests that could result in multimillion-dollar payoffs. "We're ready to undertake two new prize competitions in the arena of suborbital rocket flights," said Brant Sponberg, program manager for NASA's Centennial Challenges effort.
One contest would encourage the development of a reusable suborbital rocket that could carry payloads to altitudes high enough to yield significant advances in space research. The other would be aimed at vertical-launch suborbital rockets that could be adapted for future lunar landers.
"If you can take off and land vertically, and if you reach a certain velocity during flight, you are demonstrating the basic capabilities and rocket energies necessary to land and launch from the moon," Sponberg explained.
Rules and rewards to be determined
He said the rules for the contests — including the required altitudes, payloads and maximum speeds — still have to be worked out over the next couple of months. However, he told MSNBC.com that the altitude for the research-rocket challenge would likely be in the range of 300 to 1,000 kilometers (188 to 625 miles), with payloads of "tens to hundreds of kilograms."
The lunar-lander challenge vehicles, meanwhile, would likely have to reach speeds of Mach 6 to Mach 8, he said.
John Carmack, who makes his money as a video-game developer and spends some of it as the leader of Texas-based Armadillo Aerospace, said the lunar-lander challenge "certainly sounds like something up our alley." Armadillo is developing a vertical-takeoff-and-landing rocket capable of bringing passengers to the edge of outer space.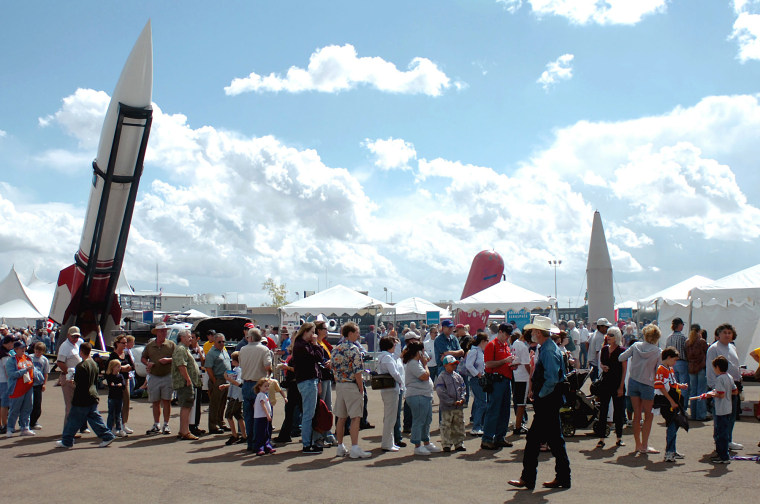 California-based Masten Space Systems is also working on a vertical-launch craft, and Michael Mealling, vice president of business development, said Masten was interested in both challenges. "It just so happens that the flight plan [for the competitions] matches our development cycle exactly," he told MSNBC.com.
One big unknown relates to the size of the purses offered. Sponberg said he hoped the prizes could be set at $1 million or more, but that would depend on congressional approval. He noted that the legislation governing NASA's funding for the coming year was still being considered.
"That's really the long pole in the tent," Sponberg told MSNBC.com.
Looking to the future
Peter Diamandis, founder and chairman of the X Prize Foundation, said he also was hoping for prizes in the $1 million range, and hoped that competitors would go after the prizes during flights featured at the annual X Prize Cup competition in New Mexico. He told reporters that such collaboration between NASA and the emerging field of space entrepreneurs was "so important to the future of space exploration and space travel."
As is usually the case with the Centennial Challenges, NASA would put up the prize money, but the X Prize Foundation would be responsible for funding the contest operation.
NASA has announced several Centennial Challenges over the past six months or so, and the program's first two contests, for beamed-power systems and super-strong tethers that could be used in future space missions, is due to begin Oct. 21 at NASA's Ames Research Center in Mountain View, Calif. The purses for those contests are legislatively limited to no more than $250,000 each.
Diamandis told MSNBC.com that NASA has given the X Prize Foundation a contract to study the possibilities for far more ambitious prizes, including private-sector orbital flight. Las Vegas hotel magnate Robert Bigelow has already said he would fund a $50 million orbital contest known as America's Space Prize, but it was far too early for Diamandis to say how future projects by NASA or the X Prize Foundation might mesh with Bigelow's contest.
Daylong celebration
NASA's announcement served as the kickoff for a daylong celebration of private-sector spaceflight — which the X Prize Foundation intends to turn into an annual rocket extravaganza attracting hundreds of thousands of spectators.
"This is an event that I've been personally dreaming about for years, and it's meant for the public," Diamandis told reporters. Attendance was estimated in the range of 7,500 to 10,000 by late afternoon — a turnout that pleased the event's organizers.
California-based XCOR Aerospace demonstrated its rocket-powered EZ-Rocket plane, which is to serve as the prototype for the nascent Rocket Racing League's first generation of racers. The league plans to conduct head-to-head aerial races at the X Prize Cup starting next year.
Former NASA astronaut Rick Searfoss piloted the EZ-Rocket perfectly through an ear-splitting launch, several turns and a gliding landing. Afterward, Searfoss told MSNBC.com that the flight went completely "as planned" — almost boringly so.
"Boring is good when you're in the cockpit," he said.
Three hours after the first flight, Searfoss took to the air again for a crowd-pleasing encore. Afterward, he told MSNBC.com that the second flight was as boringly smooth as the first, but saw an exciting message behind the day's rocket celebration.
"One of the great things is that we're showing the public that this doesn't have to be a multi-multibillion-dollar project," he said.
Rocket takes a tumble
Between the E-Z Rocket's two outings, Armadillo Aerospace conducted a brief but hardly boring launch of a vertical-launch test rocket. The cone-shaped vehicle blasted off with orange flame, then went to a height of about 15 or 20 feet, as planned. But when the craft eased back down for a landing, it tipped off its landing legs, and the rocket tumbled on its side in the dirt.
"Ohhhhh," the crowd said collectively. Then there was a buzz of laughter and side comments.
"It needs more power," said 11-year-old Ivan Valdez of El Paso, Texas.
Armadillo's Carmack said that the craft went off balance because three of its four legs sank into the mud surrounding the intended landing pad. The tumble damaged a pressurized hose on the test vehicle, killing chances for another try on Sunday.
"I'm disappointed that we didn't get to do the other two flights on that, but at least we got to put something up in the air," Carmack said.
Fiery 'grand finale'
The exposition's last event was a test firing of Starchaser Industries' Churchill rocket engine. At the end of the countdown, orange flames blasted horizontally out of the engine — and then, with a muffled boom, the engine itself blew up, setting the surrounding grass on fire.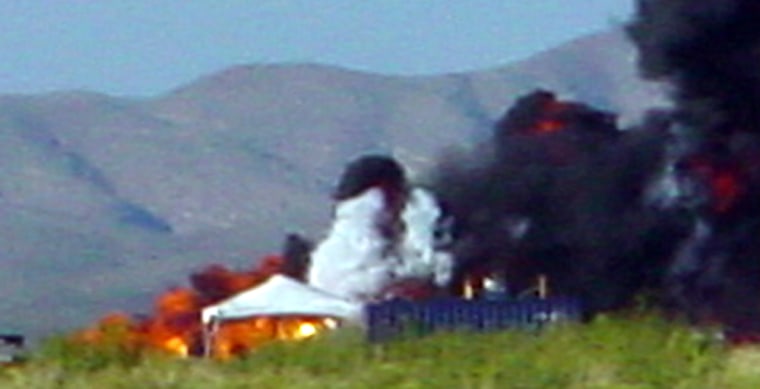 The crowd was never in danger: Starchaser's rocket firing, like the day's other potentially hazardous events, was staged hundreds of yards away from the viewing area, with fire engines at the ready. Firefighters quickly put out the flames — allowing Steve Bennett, Starchaser's chief executive officer, to joke about the turn of events.
"We wanted to do a grand finale for the X Prize Cup," he told the crowd, "so we thought we'd blow our engine up."
Wind gusts grounded some of the day's other scheduled activities, including launches planned by the Tripoli Rocketry Association. But spectators lined up to see a fairground's worth of exhibits — including a NASA presentation on its moon-and-Mars vision, a mockup of the X Prize-winning SpaceShipOne rocket plane, and replicas of future spaceships being developed by Rocketplane, the Da Vinci Project, Canadian Arrow, Transformational Space and Starchaser.
Diamandis paid high tribute to Sunday's exhibitors: "They're the Wright brothers and the Lindberghs of the 21st century," he said.