/ Source: The Associated Press
Hurricane Katrina thrust racial disparities onto the nation's political agenda and top civil rights leaders, fueled by outrage over the disaster, are heading to Washington. The occasion is the 10th anniversary of Louis Farrakhan's Million Man March, a long-planned event that now is shaping up as a stage for black America to respond to the devastation in New Orleans.
"Because Katrina put it out there, no one can play the pretend game any more that there isn't poverty and inequality in this country," said Marc Morial, president of the National Urban League. "The Millions More Movement — Katrina gives it added significance."
Though Farrakhan has long stirred controversy — and lately he has speculated that New Orleans' levees were bombed to destroy black neighborhoods — his event will unite a wide array of prominent social justice advocates. The guest list for Saturday's event includes members of Congress, hip hop artists, civil rights activists, media pundits, academics and business leaders. Muslim and Christian religious figures will also participate.
"The need to save our people — it's so much bigger than the personality or the baggage that has been heaped on Louis Farrakhan or others," Farrakhan said. "Katrina has focused this agenda."
At the 1995 rally, Farrakhan was "a facilitator," said Ronald Walters, a political scientist at the University of Maryland. Most people had "a range of other reasons why they came, and I would venture to say that's pretty much his role this time around."
Building on 1995
The daylong gathering is scheduled to begin at dawn with a public memorial service for those who died in the hurricane, followed by music, prayer, dancing and dozens of speeches.
Event spokeswoman Linda Boyd said the goal is to build on the themes of 1995, which focused on urging black men to take responsibility for improving their families and communities, creating a movement that gets people to act for change locally and nationally.
Many who advocate for disadvantaged groups said the rally at the National Mall comes at a pivotal time.
Images of chaos and death as Katrina's flood waters engulfed black neighborhoods shocked many Americans: poor New Orleans residents, many black, begging for rescue; corpses on the street. Prominent opinion-makers from the president on down suddenly talked about poverty and racial inequality.
Race issues front and center
Dianne Pinderhughes, a political scientist who focuses on race issues at the University of Illinois, said that in recent years the nation's generally conservative political climate has sidelined many of those discussions.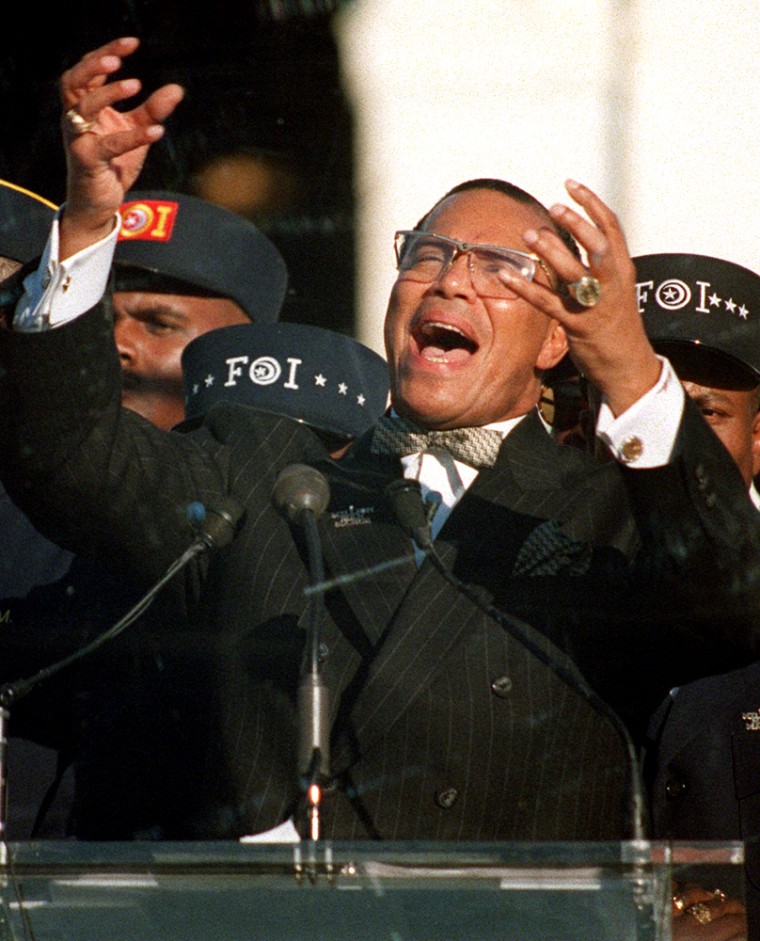 "This is very much an opportunity to change the tendency that has been the case in the last 20 years to dismiss issues of economic standing, equality, all of those things that suddenly became very prominent in the wake of Katrina," Pinderhughes said.
Civil rights leader Jesse Jackson agreed. "The poor and the working poor have been locked out of the nation's consciousness, even by the media and by many ministers," he said. "Katrina washed away the debris that was covering the locked out and left behind."
Days after the hurricane hit, Morial testified before Congress, urging officials to set up a victims' compensation fund similar to that created after the Sept. 11 terrorist attacks. Bruce Gordon, president of the NAACP, toured affected areas and his group has collected more than $1.2 million to respond to Katrina and future natural disasters.
Hispanic, Asian groups weigh in
Officials with the National Council of La Raza, a Hispanic civil rights group, are battling the deportation of some undocumented hurricane survivors and they — along with the Asian American Justice Center — are pushing disaster relief organizations to create permanent bilingual resources.
The hurricane "is changing the way we're going to be doing business for quite some time," said Lisa Navarrete, a La Raza vice president. As of last week, no one from La Raza had been invited to Farrakhan's event, Navarrete said, but Millions More organizers have said all ethnic and religious groups — as well as women — are welcome, unlike at the 1995 event which was for black men.
Still, not everyone is supportive. For months, the Anti-Defamation League has been urging black leaders to boycott, calling Farrakhan and another organizer, Malik Zulu Shabazz, "unrepentant racists and anti-Semites."
Despite anti-gay statements made by Farrakhan, some black gay and lesbian leaders have requested time to speak at the event to no avail. Instead, gay advocates will stage a "We Are Family United Weekend," a parallel gathering near the Mall, said Ray Daniels of the National Black Justice Coalition.
Farrakhan's customary incendiary comments
In recent weeks, Farrakhan has raised eyebrows by speculating that New Orleans' levees did not collapse beneath the rising waters of Lake Pontchartrain, but that they were bombed.
"Is this a means of getting rid of the poor? The black?" Farrakhan asked in a telephone interview with The Associated Press. "Is this a means of ensuring that in the elections there will never again be a black or Creole mayor of that city?"
Russell Simmons, chairman of the Hip Hop Action Summit, who has helped pull in a long list of entertainers to participate, said he doesn't know what happened to the levees.
"I don't agree with every single thing anybody says," he said, "but what he (Farrakhan) says about poor people and spiritual practice and being responsible for your family ... that speaks to me."