/ Source: The Associated Press
A retired elementary teacher who was repeatedly punched in the head by police in an incident caught on videotape said Monday he was not drunk, put up no resistance and was baffled by what happened.
Robert Davis said he had returned to New Orleans to check on property his family owns in the storm-ravaged city and was out looking to buy cigarettes when he was beaten and arrested Saturday night in the French Quarter.
Police have alleged that the 64-year-old Davis was publicly intoxicated, a charge he strongly denied as he stood on the street corner where the incident played out Saturday.
"I haven't had a drink in 25 years," Davis said. He had stitches beneath his left eye, a bandage on his left hand and complained of soreness in his back and aches in his left shoulder.
A federal civil rights investigation was begin in the case. Davis is black. The three city police officers seen on the tape are white. Police spokesman Marlon Defillo said race was not an issue.
Two city officers accused in the beating, and a third officer accused of grabbing and shoving an Associated Press Television News producer who helped document the confrontation, pleaded not guilty Monday to battery charges.
Trial was set at a hearing Monday for Jan. 11. Afterward, officers Lance Schilling, Robert Evangelist and S.M. Smith were released on bond. They left without commenting.
Top cop calls actions 'unacceptable'
Police Superintendent Warren Riley said any misconduct would be dealt with swiftly. He noted the video showed "a portion of that incident."
"The actions that were observed on this video are certainly unacceptable by this department," Riley said.
Two other officials in the video appeared to be federal officers, according to police. Numerous agencies have sent officers to help with patrols in the aftermath of Katrina.
Stephen Kodak, an FBI spokesman in Washington, said none of its agents had been disciplined. He said the FBI was taking part in the Justice Department's civil rights probe.
Davis said he had been walking in the French Quarter and approached a mounted police officer to ask about the curfew in the city when another officer interrupted.
"This other guy interfered, and I said he shouldn't," Davis said. "I started to cross the street and — bam — I got it. ... All I know is this guy attacked me and said, 'I will kick your ass,' and they proceeded to do it."
He said he did not know why the punches were thrown.
Life after Katrina
The confrontation came as the New Orleans Police Department — long plagued by allegations of brutality and corruption — struggles with the aftermath of Katrina.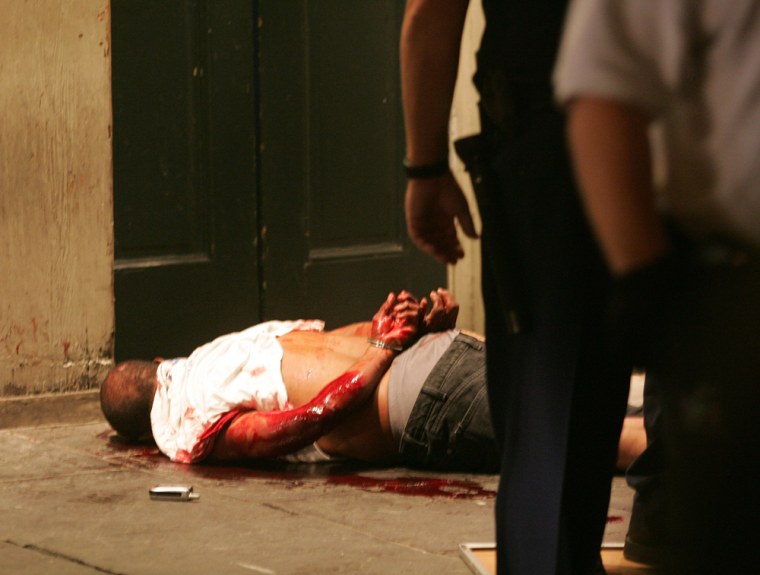 The APTN tape shows an officer hitting Davis at least four times in the head outside a bar. Davis twisted and flailed as he was dragged to the ground by several officers. Davis's lawyer said his client did not resist.
"I don't think that when a person is getting beat up there's a whole lot of thought. It's survival. You don't have a whole lot of time to think when you're being pummeled," lawyer Joseph Bruno said.
Davis was kneed and pushed to the sidewalk with blood streaming down his arm and into the gutter. The officers accused of striking Davis were identified as Schilling and Evangelist.
Mayor Ray Nagin said, "I don't know what the gentleman did, but whatever he did, he didn't deserve what I saw on tape."
AP producer roughed up
During the arrest, another officer, identified as Smith, ordered APTN producer Rich Matthews and a cameraman to stop recording. When Matthews held up his credentials, the officer grabbed the producer, leaned him backward over a car, jabbed him in the stomach and unleashed a profanity-laced tirade.
Police said Davis was booked on public intoxication, resisting arrest, battery on a police officer and public intimidation.
The head of the New Orleans police union said the officers told him they had acted appropriately.
"They feel they were justified in their actions and they were using the amount of force necessary to overcome the situation," Lt. David Benelli told WDSU in New Orleans.
Mike Silverman, AP's managing editor, said that "the incidents taped by our cameraman are extremely troubling. We are heartened that the police department is taking them seriously and promising a thorough investigation."