/ Source: The Associated Press
Eight American helicopters that will carry supplies and rescue teams to remote areas hit by a weekend earthquake landed here Monday as the United States pledged $50 million for relief in a gesture that officials hope will show sometimes skeptical Pakistanis that Washington is a true ally.
Two days after the disaster, rescue teams and supplies had arrived from at least 10 countries with everything from jerry cans and tarpaulins to Black Hawk choppers for heavy lifting and high-tech cameras for finding buried survivors.
Pakistani authorities, usually sticklers for immigration formalities, issued seven-day visas on entry for relief workers, who flew into military and civilian airstrips around Rawalpindi, near the capital Islamabad, before heading to devastated northern regions.
Death toll estimates ranged from 20,000 to more than 30,000, with more than 2.5 million homeless, in what officials are describing as the worst disaster to face this Islamic nation since it was founded 58 years ago.
Still far from getting rescued
Despite the efforts, many victims remain beyond help's reach in extremely remote mountain villages, or in areas that can't seek assistance because communications are out.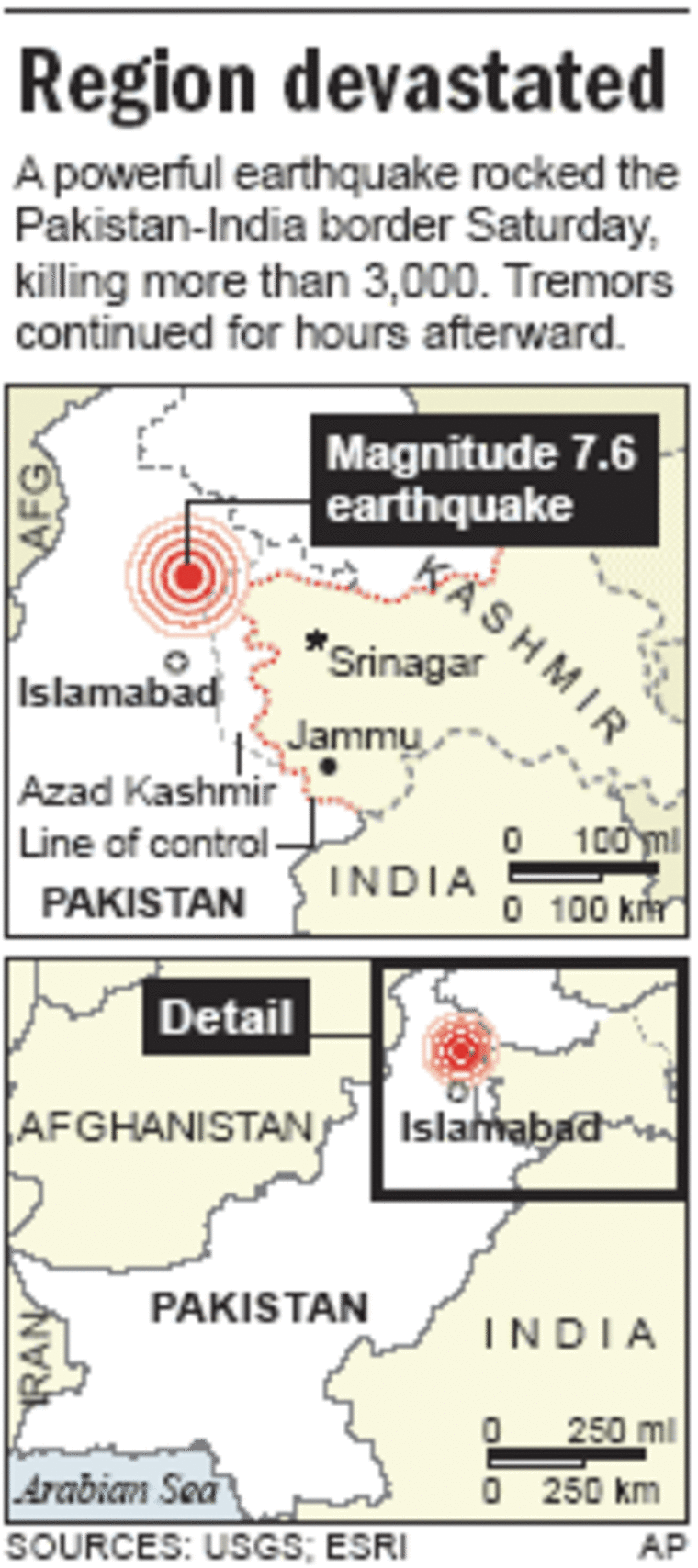 "The magnitude of this disaster is utterly overwhelming," Ambassador Ryan Crocker said as he received a U.S. transport plane full of blankets, plastic sheets and jerry cans. "We have under way the beginning of a very major relief effort."
U.S. military helicopters — five Chinooks and three Black Hawks — touched down with a whoosh of dust from coalition bases from neighboring Afghanistan, diverted from action in the war on terror. The choppers will help ferry supplies and rescue teams to areas inaccessible by road because of landslides.
"There is a great need here with the damage and the destruction that has been done by this earthquake, and it's very important for the U.S. government and the U.S. military in Afghanistan to provide assistance to them," said U.S. military spokesman Col. James Yonts.
Coalition commander Lt. Gen. Karl Eikenberry also held talks with Pakistan military officials Monday to see what further assistance they might need.
Window of opportunity
In the past two days, aid missions have arrived from numerous countries in a race against time as rescue experts face a closing window of opportunity to locate survivors.
On Monday, Malaysia donated $1 million, Italy said it was sending a field hospital and Singapore a search-and-rescue team. Indonesia and France planned to fly in medics, and Australia increased its aid pledge tenfold to $4.2 million.
Asian Development Bank President Haruhiko Kuroda said the bank would reallocate $10 million for immediate emergency assistance in the worst-affected areas of Pakistan, and the European Union on Sunday committed $4.4 million in emergency relief.
Also on Sunday, Japan, Thailand, Germany, Britain, the Czech Republic, the Netherlands and Azerbaijan together pledged several million dollars in aid. China has promised $6.2 million, according to Islamabad.
Many countries quickly assembled aid and readied it for transport to the mountainous region, where landslides are reported to be making access extremely difficult.
Some teams had already reached Pakistan on Sunday, including a Russian rescue team, the first contingent of a British emergency rescue team and a U.N team of disaster coordination officials who set up three emergency centers.
"We have to be quick," said U.N. spokeswoman Elisabeth Byrs.
Essential medical supplies provided
The World Health Organization said it had provided Pakistan with two emergency health kits, which will provide essential medical supplies to care for a total of 20,000 people for three months.
It said it would send five more kits as well as packages to cover 1,000 surgical operations in coming days. The kits will help Pakistan cope with injuries even though hospitals have been destroyed and health workers are among the casualties, WHO said.
The Pakistani military said planes from France, the United Arab Emirates, Turkey and China had also landed Sunday, bringing rescuers, sniffer dogs, earth moving equipment, medicine, food and relief goods.
A Spanish group, United Firefighters without Frontiers, said its rescue team had already arrived in Islamabad with two field hospitals and two tons of emergency equipment. Japanese, South Korean, Afghan and an additional Russian team of rescue workers and medical aid were expected late Sunday and Monday.
Sensitive situation
Although Pakistan has for the past four years allowed the use of its bases for logistical support of the U.S. military operations against Taliban and al-Qaida rebels in Afghanistan, it's unusual for American aircraft to fly in Pakistan.
The government, faced with strong domestic opposition to the U.S.-led war on terrorism, does not allow U.S. forces to operate on its soil.
Pakistani political analyst Rusul Bakhsh Rais said that despite the sensitivities, the sight of American helicopters helping with the relief effort and flying quake victims would probably have a more lasting, positive impact on Pakistanis than contributions of money and aid.
The U.S. ambassador said America's swift response and grant of $50 million in emergency aid — by far the largest single contribution to the international aid effort so far — reflected its "long-term strategic relationship" with Pakistan.
"That means when crisis hits an ally, we step forward to help," Crocker said.
But Rais, a professor at the Lahore University of Management Sciences, said the United States had spoiled the impact by initially offering just $100,000 in aid, which was mocked by some Pakistanis as inadequate.
"The initial announcement was a joke," said Rais. "Every move of the United States is judged here on political grounds. It was a rare opportunity for the United States to show that it's a true friend of Pakistan."
Deep resentment
Many Pakistanis harbor deep resentment over the invasion of Afghanistan, the Iraq war and scandals over alleged abuse of Islam's holy book, the Quran, at the U.S. detention center for terror suspects at Guantanamo Bay, Cuba.
Crocker hinted that the American aid could help improve perceptions of the United States in this Islamic nation of 150 million.
"Certainly that was true with the tsunami relief effort," Crocker said, referring to the warm reception given to the U.S. military by victims of the deadly waves that ravaged Indonesia, the world's most populous Muslim nation, in December.
In Kabul, a U.S. military spokeswoman, put it more bluntly.
"The terrorists make us out as the infidels, but this is not true, and we hope this mission will show that," Sgt. Marina Evans told The Associated Press.