/ Source: The Associated Press
U.S. millionaire scientist Gregory Olsen and a two-man, Russian-American crew returned from the international space station to Earth early Tuesday in a swift, bone-jarring descent.
The touchdown of the Russian Soyuz space capsule on the cold, wind-swept steppes of northern Kazakhstan, where Russia's manned-space facilities are based, ended the third trip by a private citizen to the orbiting laboratory. The descent from the station orbiting approximately 250 miles above the Earth took about 3 1/2 hours.
Four search planes and 17 helicopters scrambled to meet the spacecraft, and search-and-rescue crew members helped the men out of the capsule, sat them in chairs and draped fur-lined sleeping bags over their shoulders to ward off the early dawn chill.
Rescuers reported that the crew's condition was "good," according to Russian Mission Control at Korolyov outside Moscow.
Olsen, 60, appeared unaffected by the gut-wrenching trip home. He grinned ebulliently, ate a green pear and drank water with gusto as he chatted with ground personnel. "I feel great," he said in both English and Russian.
"I want to have a good steak, a red wine and, of course, a hot shower," he told reporters after the crew was whisked by a helicopter to the nearby town of Kustanai from where they were flown to an air base just outside Moscow.
"This shows us how to fight for your dreams. He fought, he won, he passed the entire flight, all the preparations to become an astronaut, superbly," Anatoly Perminov, chief of the Russian space agency, told reporters at Russian Mission Control.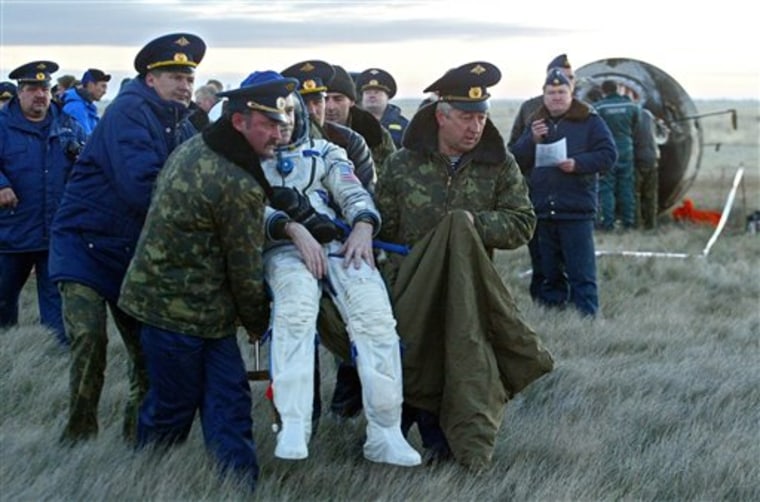 American astronaut John Phillips appeared to be slipping in and out of consciousness, and rescuers repeatedly waved a small bottle of smelling salts under his nose, causing him to jerk back his head. Mission Control officials said it was normal for returning astronauts and cosmonauts to slip in and out of consciousness after the rough ride through space.
Phillips' wife Laura, watching the landing at Russian Mission Control, said her husband was launched into space on his birthday and was returning on hers.
"I guess it's the best present a person could ask for," she said.
Olsen traveled to the space station with American astronaut William McArthur and Russian cosmonaut Valery Tokarev earlier this month. McArthur and Tokarev are to stay aboard for a six-month mission, while Olsen returned with Phillips and Russian Sergei Krikalev, who had been on the ISS since April.
During the mission, Krikalev passed the mark of 800 cumulative days in space — breaking the previous record of 748 days set in the late 1990s by cosmonaut Sergei Avdeyev over three missions.
Krikalev spent two long stints aboard Russia's Mir station and flew twice on NASA's space shuttles. He was also part of the international space station's first crew nearly five years ago.
McArthur and Tokarev are to conduct two spacewalks during their time aboard the space station, as well as an array of scientific experiments, medical tests and routine maintenance.
Olsen made his fortune with Sensors Unlimited Inc. of Princeton, N.J., a company that makes devices for fiber-optic communications and infrared imaging. He is chairman of the board of directors and a co-founder.
He spent two years in training and paid $20 million for his trip. While aloft, he conducted experiments, including one to determine how microbes that have built up on the space station are affected by flight, particularly if their rate of mutation has been impacted.
A Russian Space Agency official said that Japanese businessman Daisuke Enomoto was in line to be the world's fourth space tourist, following Olsen, American Dennis Tito and South African Mark Shuttleworth. Alexei Krasnov, the head of manned programs, said the next space tourist probably would not travel to the ISS until autumn 2006.