/ Source: The Associated Press
Morocco began deporting would-be immigrants Monday, with a flight carrying 140 Senegalese back home after hundreds of Africans stormed razor-wire border fences in recent weeks in two Spanish enclaves.
The Royal Air Maroc flight took off from Oujda, in northeast Morocco, and landed in Dakar, the Senegalese capital. Moroccan police also were aboard, although the passengers were not handcuffed. Some had slight injuries, such as cuts on their arms.
The Africans were picked up around Morocco, including near the Spanish enclaves of Ceuta and Melilla on the northern coast that have been rushed by waves of migrants.
Morocco is the gateway to Europe for many sub-Saharan Africans fleeing poverty and has been at the center of the immigration crisis, with at least a dozen Africans killed as they charged the border fences.
A second flight carrying another 140 Senegalese was to take off for Dakar later Monday. Moroccan authorities also were looking to charter Boeing 747s to fly home some 600 Malians on Tuesday, as well as more Senegalese in the coming days.
At least a little relief
One Senegalese, who gave his name as Abdoulaye, said he had managed to make his way three times to Spain but was sent back each time. The 26-year-old said he was relieved to be returning to Senegal.
"We are happy to be going home, because here there are many problems," Abdoulaye said before he and the others boarded the flight.
Aside from 1,000 Nigerians who were repatriated in 2003, Moroccan authorities have in the past dropped off illegal immigrants at its desert border with Algeria — a practice criticized by humanitarian groups.
The aid group Medecins Sans Frontieres reported last week that Moroccan authorities abandoned between 600 and 700 Africans in a desert area near the border with Algeria, where there is no food or water.
Moroccan authorities drove the migrants there in trucks and buses after Spain expelled them from Melilla and Ceuta, said the Paris-based group, known in English as Doctors Without Borders. The group said it treated at least 50 migrants for injuries, including some apparently caused by rubber bullets and beatings.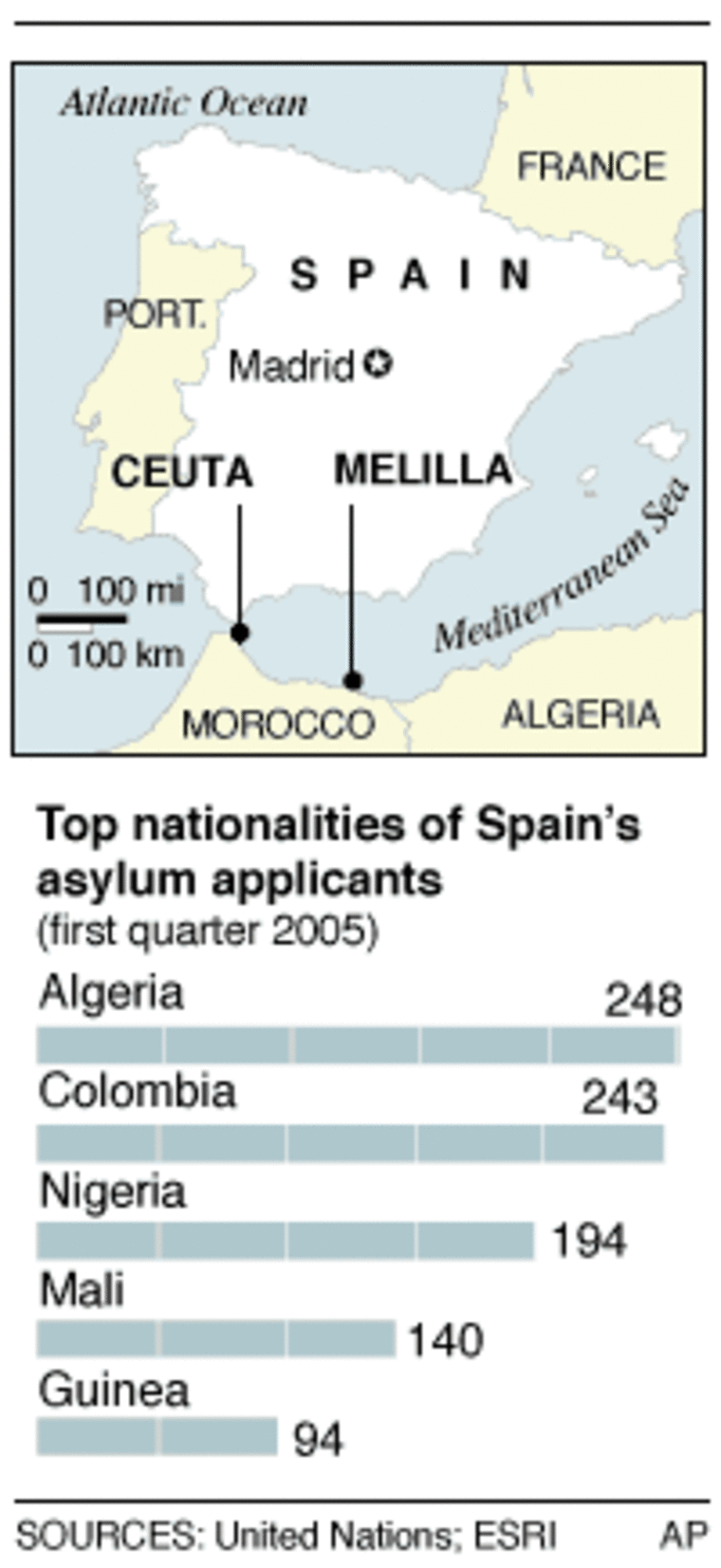 Following an outcry in Spain, Moroccan authorities rounded up about 1,500 migrants and put them on buses over the weekend, said Doctors Without Borders spokesman Carlos Ugarte. He said he did not know where they were being taken, although some of the buses appeared to be headed toward the disputed Western Sahara territory, controlled by Morocco. Spanish TV showed that many of the Africans were handcuffed to each other.
Need to address the bigger problems driving migration
U.N. Secretary-General Kofi Annan urged the international community Monday to do more to resolve problems driving migration.
"What is important is that we don't make a futile attempt to prevent people from crossing borders," Annan said in Geneva in response to questions about the crisis along the Spanish-Moroccan border. "The moving of people will continue,"
Mohammed Ibrahimi, a top government official for the Oujda region, said the crisis requires an international response.
"The problem of sub-Saharan immigration surpasses Morocco," he said. "What is happening today should worry the international community, starting with the European Union. This is a universal problem, a phenomenon that will grow."
Neighboring Algeria's Foreign Ministry made a similar point, saying in a statement carried by the official APS news agency Sunday that police action, though needed to curb illegal immigration, was "insufficient in such a sensitive and complex situation."
Even as some Africans are sent back, others are still trying to get to Europe.
About 1,500-2,000 Africans have set up camp on the Algerian side of the border with Morocco, waiting to cross the frontier and make their way to Melilla, said Algerian reporters who have visited the camp and a camp resident. The Spanish newspaper El Pais, citing Spanish police reports, put the camp's population at around 3,000.
A 29-year-old Malian who gave his name as Bernard, reached by telephone at the camp, said the migrants live in makeshift shelters, and get food, blankets and clothes from local residents. Most are men, but some are women, he said.
The camp is well-organized, with its own market and strict ban on alcohol and drugs, El Pais said. Among the most popular commodities are cellular telephones the migrants use to coordinate movements and charges on the Spanish enclaves.