Hasan Zaidi, an NBC News producer based in Karachi, Pakistan, on Monday visited the devastated cities of Muzaffarabad and Balakot, which lay near the epicenter of the Pakistan earthquake. He describes how people are grappling with the tragedy, maintaining hope in the face of despair and the strains of covering a story that has hit so close to home.
The aftermath of the earthquake that hit Pakistan and parts of India is on such a huge scale. Has there been a particular story that has highlighted the human side of the tragedy for you?  
There are so many stories. Every single person has a horrible tale.
I met one man who came crying to me, simply because he had no one else to go to. He told me he was searching for his brother who had been in a hotel that had collapsed. But there was nobody there to even help him look for him.
There was another man in his fifties who was standing with a walking cane in front of a collapsed school. Two of his friends had died and he managed to pull out the body of one of them who was 70 years old. The other one was still stuck somewhere in the rubble.
It is just very, very difficult because there were just so many stories, and everyone has a story to tell.
As a Pakistani, it must be very difficult for you to see this kind of tragedy in your country.
Yes, it's very difficult. Even in Karachi (which is at the opposite end of the country), I know at least five people from the worst affected area who were trying for the first day to get in touch with their families back home. They couldn't manage to get a hold of anyone. In the evening, they received word from somewhere that the entire village had been wiped out. We put them on a plane and they took off to see for themselves.
I was thinking of them when I was in Muzaffarabad, and that I would have liked to try to call them. But, the communication links are completely down — the mobile phones don't work and there is no way to communicate with them, to find out what happened to them.
These were people who lived in Karachi and worked as drivers and domestic cooks, but their wives and children lived back home in the villages. And, we really don't know what's become of them. There are entire villages that have been completely wiped off the map.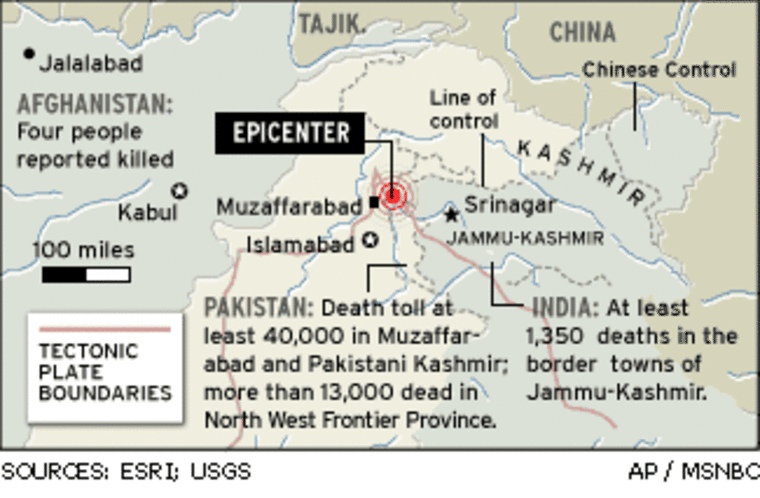 The relief effort in the wake of the quake has been described as chaotic. What is the latest with the relief effort? How is it going?
Well basically, the problem with the chaos with the relief effort earlier was that people were expecting that the relief effort would arrive immediately. But, in Kashmir and the other remote parts of Pakistan, the relief effort had not arrived, simply because of logistics.
One thing to understand is that almost every one of these people has lost someone. Some people have lost entire families, their houses are destroyed, they are out in the open and are completely exposed to the elements. Today we had rain in Islamabad (the capital of Pakistan, about 80 miles from the epicenter) and a hail storm. People are out in the open and they have no place to go, no tents, no toilet facilities, no water, no food.
So, one can understand that on top of the trauma, there is all sorts of frustration which is now boiling over because of the delay. Because of the frustration and resentment, people are making accusations against the government and against the local administration which has more or less collapsed, at least in parts of Kashmir.
The problem is that even the relief organizations that are there are completely stretched to their limits. So it is completely understandable the kind of frustration that is happening, the resentment that is happening.
How effective do Pakistanis think the international response has been? How effective do they think their own government has been?
Basically, on the one hand they are extremely thankful to the international community for all of the help that is coming in.
There are a lot of people who think that the government is doing the best it can. But, there has also been a lot of criticism about the lack of preparedness and the lack of any sort of crisis management or disaster relief plan.
I spoke to one woman here today who has lost her nephew in the collapsed apartment in Islamabad. She was saying that in the first day they were going about things so haphazardly, and that she was relieved to see the British relief workers work much more systematically.
This is a trying time for everyone and there has been just a complete outpouring of support and efforts to help in anyway they can. People have been collecting food and blankets and whatever they think may help. It has really affected everyone very strongly.
So, the blame element might pick up later, but it might take a while. At the moment it is just one of complete solidarity, support and overwhelming emotion.
You flew over the worst hit area of Muzaffarabad on Monday. Can you describe what you saw?
We went to two places. One was called Balakot, in the north of Pakistan. It was a rather touristy resort town, high in the hills, with a population, we are told, of about 250,000 people.

What we saw was completely mind-boggling. Almost ever single building in Balakot seemed to have been damaged or flattened. Government officials described it as though Balakot had been wiped off the map or razed, because it seemed like there was nothing standing there.
We couldn't actually land the helicopter in Balakot because the army aviation people who were with us said that because of the lack of supplies and relief operations, if we landed people might completely swamp the chopper and try to get on it to get relief.  
Then we went to Muzaffarabad, the capital of the Pakistani-administered Kashmir. There we did land and we walked around for about three hours and we saw the relief efforts there. The town itself had a population of about 500,000, but about 70-80 percent of the buildings there had been completely damaged.
Almost all of the schools had collapsed. There was a large university there — it was completely demolished. The main military hospital was completely in ruins and many doctors and patients had died. The worst part was that there were people trapped inside who could not be accessed because they did not have the right equipment.
There was a stench in the air, there were bodies on the side of the road. Basically, it was a very, very grim picture. There was no electricity, no running water, no food.
The response to the earthquake is still in a search-and-recovery mode. Now that it is four days after the initial quake, is there any hope left for those who are still trapped?
Well, there is always hope. It was bolstered by the fact that here in Islamabad, an apartment building collapsed, and they pulled three people out alive yesterday.
Today they managed to pull out two women early this morning.
One of the U.K. rescue teams had been systematically searching the wreckage and they made contact with two women. Janila Begun, 67, and another woman who is 75 years old, were both recovered from the debris.
These things immediately give hope to all the other people that they might still be able to recover their loved ones. 
With the rain, and as time passes by, that hope will be diminished. But, at the moment, there is no one who has given up hope, yet.