• |
Wacky video Wednesday (Keith Olbermann)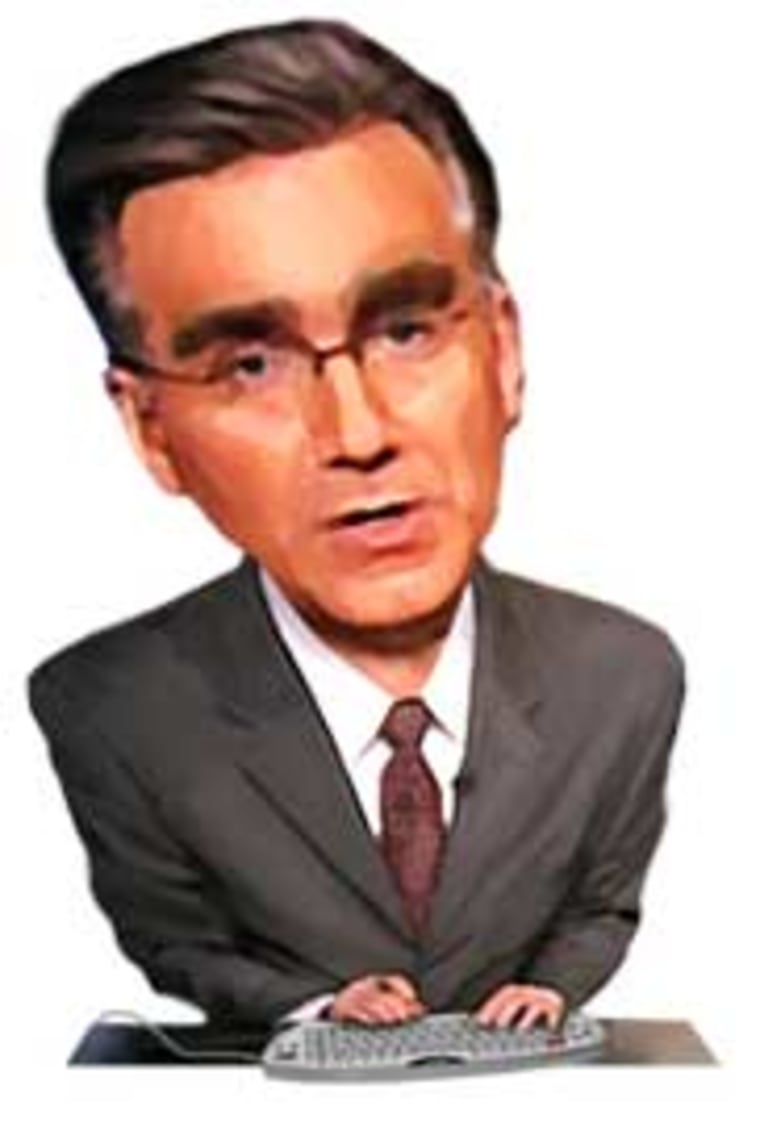 NEW YORK - Wednesday is a big night for all of us here at MSNBC, but for the cast and crew of Countdown it's going to be Extra Special.  Why?  Because I get to put my feet up for the last eight minutes of the show and watch along with you as we take our nightly "Oddball" feature and pump it full of steroids.
It's The Year in Weird. Everything you love about , now in a "family size" serving. All the strangest video, craziest stunts, dumbest criminals, strangest video, weirdest animals, drunkest idiots and strangest video!
If it was weird, and caught on tape in 2005, you'll see it at 8 p.m. ET in a very special expanded edition of Oddball.  Want a little preview?  Check out this gem.
Comments? Email KOlbermann@msnbc.com
Watch Countdown with Keith Olbermann each weeknight @ 8 p.m. ET
• |
Here's the situation: Overturned on the topsy-turvy tree (Monica Novotny)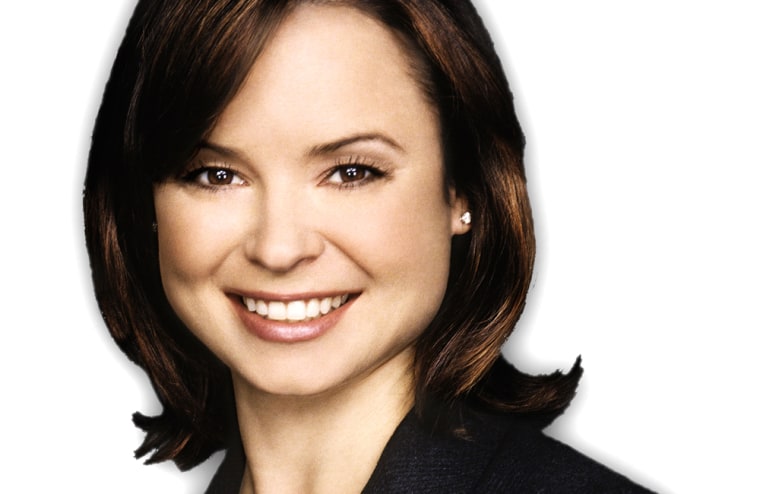 Tonight, we're being scooped by our own primetime partners, the good folks at Tucker Carlson's show.
The story - Christmas trees. Not the debate over what we should call them. That's already been discussed ad nauseum this holiday season. No, we're talking about Christmas trees that cost hundreds of dollars yet do not stand upright. On purpose.
About a month ago (November 10th, according to my email records) I heard about the "hot" new tree this year. The upside-down tree. An artificial tree intentionally assembled bottoms up. Made to fit in a stand or hang from the ceiling. Some said it harkened back to a 12th-century tradition in Central Europe. Others simply called it a way to fit more gifts underneath. Either way, I didn't get it, but it sounded perfect for Countdown.
I contacted the folks at Hammacher Schlemmer to see if they could lend us one of theirs. I was hoping to show up in Rockefeller Plaza with my producer and a camera crew and set it up for a few hours next to The Tree. We wanted to show it to passers-by, compare it to the king of all traditional trees, and ask them if this could be true. Could this  inverted fake greenery actually be the hottest selling decorative item this holiday season? Why? And would people really pay hundreds of dollars to have one of these in their homes?
Apparently they do, or they did. Because before we could ask anybody anything, my contact at the store informed me they were completely sold out. Of course.
But after a couple weeks - yes, weeks - they were finally able to find one and deliver one to our studios here in Secaucus, New Jersey. Then we started the ball rolling with our contacts in New York who handle all things that relate to The Tree. Turns out they didn't think our little upside-down number should get too close to The Tree. (And who can blame them? I don't think they get it any more than I do.)
So intense negotiations began as to where, exactly, on the island of Manhattan, we could assemble this thing. Emails flying back and forth. Until it all came to a crashing halt today. My producer, Judy Chung, was putting in a request for a camera crew for another one of  our shoots when she saw it. The crew request for a segment titled "Upside-Down Christmas Trees." Not for Countdown. For Tucker.
Scooped by our own primetime partners.  Overturned on the topsy-turvy tree. 
But we're not bitter. Not at all. Rest assured we'll be watching tonight. Hoping they'll be able to answer the question that lingers... where does the star go?

Comments?  E-mail: mnovotny@msnbc.com
• |
Buns and puns (Monica Novotny)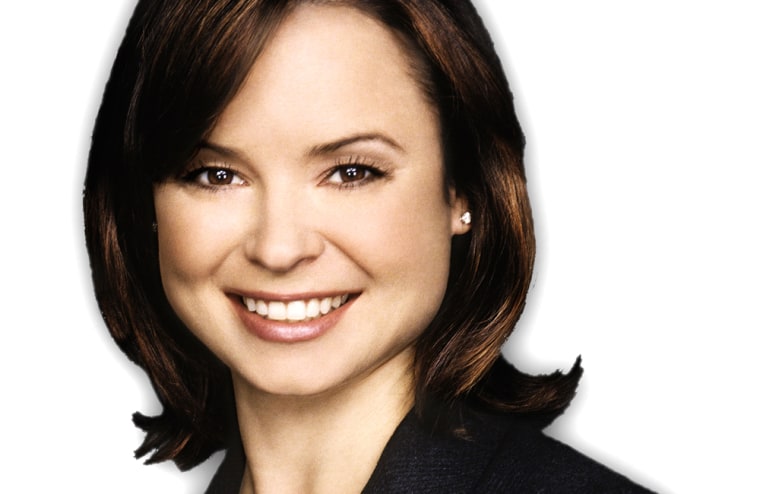 I'm often asked what my job is like. I usually point out that every day is different, and that while we plan out many of our stories, the truth is I never really know what each day will bring. Case in point — today. As I walked into our newsroom, our executive producer, Izzy Povich, breezed by with her all-too-familiar mischievous grin. "I think I have something for you," she said quietly as she passed by. Sounds innocuous. Maybe a follow-up on yesterday's ? Perhaps. Something on the Supreme Court hearing its first abortion case in five years? Maybe. But having worked for Izzy for years, I know when there's something extra special behind the smile. And today was one of those days. Turns out, I was right. There was something behind it. Literally. Behinds. As in bums, buttocks, rumps, derrieres.
      
You get the idea. And you've probably heard people talking about my assignment... "the big butts need big needles" story. According to a study presented this week in Chicago at the annual meeting of the Radiological Society of North America,  women with rounder rumps aren't getting the medication they need because standard-sized needles are no longer long enough to cut through the cushion. Painful but true.  In order to be most effective, drugs like painkillers and vaccines must be injected into muscle, where far more blood vessels are found. This allows for better distribution of the medication throughout the body.
But when doctors in Ireland administered shots which each included an air bubble into 25 women, a CT scan revealed the bubble, and thus the meds, only reached the buttock muscle in two of the them. The other twenty-three faced the potential of infection and irritation. Bummer.
The larger problem behind all this, of course, is obesity. Sadly, the only solution for the well-endowed backside — a longer needle.  So if you're like me and you hate needles already, when it's time for dessert it may be time to turn the other cheek.
In case you're wondering — I'll freely admit this is not my favorite assignment. Though we did chuckle all day about it. But when it comes to my executive producer — and I'll say this to her to directly — Izzy, I've got your back... side.
Comments?  E-mail: mnovotny@msnbc.com
• |
Bartering for healthcare (Monica Novotny)
A modern-day use for an old-fashioned practice is changing the way one neighborhood thinks about healthcare.
The idea is a simple one. At New York's , artists are being offered the chance to barter their talents in exchange for medical treatment.
It's a natural for Woodhull, a public hospital located in Williamsburg, a part of Brooklyn with a strong artist population.
The hospital's medical director, Dr. Edward Fishkin came up the idea after conducting field research in the neighborhood. When he asked area residents what they did for insurance or their healthcare in general, he was saddened to hear that most of the artists didn't — couldn't — do much. They often don't have a choice. Much of the time artists' work on a freelance basis, and the cost of individual healthcare (ranging from a few to several thousand dollars annually) is prohibitive.
So Dr. Fishkin, an innovative and energetic leader who redefines the cliché of "thinking  out of the box" came up with a plan. He decided to offer artists the chance to earn their healthcare by using their talents in the hospital. Today, the program is called Artist Access. So, for example,  a painter now paints once a week with children in the pediatric ward. (We profiled muralist and illustrator .) Dancers dance. Singers sing. Actors act. And according to Dr. Fishkin, all of this helps patients heal.
Artists earn forty credits for each hour of work. Each credit is worth one dollar toward paying their medical expenses. And because the artists are also enrolled in a subsidized healthcare program, those credits go a long way. They pay for everything from lab tests to x-rays to doctor visits.
And now, the artists and patients aren't the only beneficiaries. Dr. Fishkin told us they're now using actors to help train their interns. The actors are given scripts and symptoms, and play sick patients. The interns interact with their "patients" and are later evaluated on their bedside manner and ability to diagnose.
After just a few months, the program is already a tremendous success. About 250 artists are currently enrolled at Woodhull, and the plan is to extend ArtistAccess to all of the city's public hospitals.
Comments?  E-mail: mnovotny@msnbc.com
• |
At least they're not fighting at The Pierre (Keith Olbermann)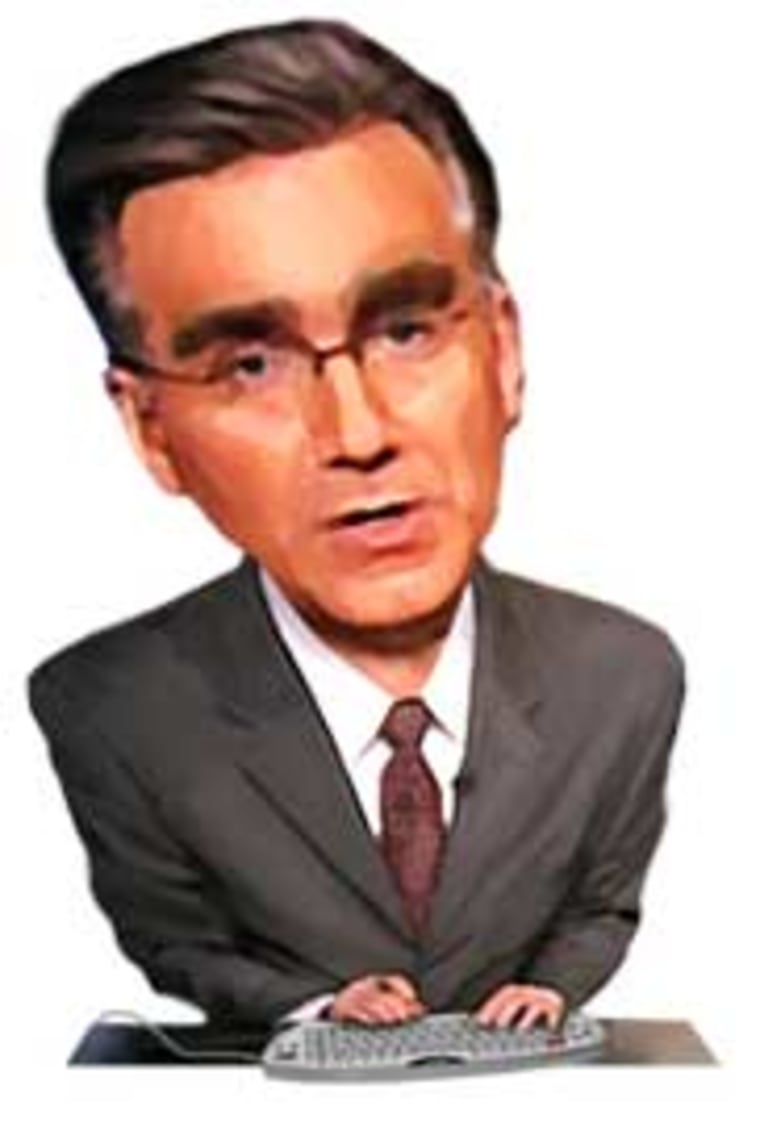 NEW YORK - Jean Schmidt of Ohio, the least grammatically-inclined member of the United States Congress, was happily calling Jack Murtha a "coward," before the chair gaveled her into silence and the House mics were shut off.
Hours earlier, Colonel James Brown, head of the 56th Brigade Combat Team, was talking to the media from a base north of Baghdad, talking about the "beautiful day in the free nation of Iraq" (90 dead in bombings), and refuting Murtha's call by saying "here on the ground, our job is not done" - kind of strange given that his is - it was two days before he was due to be rotated back to Texas.
Where was Bill O'Reilly during all this? Spending the night with me!
It was the annual fundraiser at New York's Hotel Pierre for Joe Torre's Safe At Home Foundation, combating domestic violence, filled with athletes and broadcasters of every imaginable stripe. No barbs or punches were thrown (instincts of some sort are shared here - we never got closer to each other than ten feet), John Mellencamp performed an extraordinary acoustical set, and just to round-out the small-world department, one of the dozens of other table hosts was our old MSNBC pal Deborah Norville, another was an eminent Yankees fan named Ari Fleischer, and the emcee was Bob Costas, whom I believe is now dabbling in cable news his ownself.
To my knowledge, not a word of politics was spoken among the principals. There is a time and a place for this stuff (evidently, any time on the floor of the House, at the top of your lungs, making sure you debate not the issue but the assumption that criticism at home is somehow more dangerous to our soldiers than the bullets and bombs of Iraqi insurgents).
And by the time of my return from one of the truly consciousness-raising events on the charity gala circuit, I had a stack of inquiries about the "big announcement" Dan Patrick and I teased on our ESPN radio hour Friday afternoon. I should give you a quick warning: Dan and I hype everything. This one, which will be made in the 2 PM ET hour of Dan's show Monday, we described as something that "will change your world."
If I'm using a different set of headphones than usual, we'll call that a "major development."
I'm not going to steal my own thunder here - we're going to announce this Monday and that's that. But I just wanted to clarify the relevant part: contrary to a lot of guesswork, this announcement won't impact MSNBC or Countdown.
Comments?  E-mail:
• |
'Deep Throat Junior' no blockbuster for Libby (Keith Olbermann)
SECAUCUS -- We finally find out who "Deep Throat" is, and five months later, we're back trying to figure out who is Bob Woodward's latest secret source in a White House scandal.
There are many implications to Woodward's belated revelations of his firsthand knowledge of the CIA Leak Case, but the exculpatory "blockbuster" portrayed by Scooter Libby's attorney Ted Wells, is not one of them.
Wells released a beautiful hunk of "chaff" - the stuff submarine captains expel to try to throw off enemy torpedoes - in his claim about Woodward's announcement that someone at the White House told him about Valerie Plame in June, 2003. Wells made it seem as if Woodward had just proved that Libby was not the first to leak Plame's name and/or job to a reporter, and that in so doing, Special Prosecutor Patrick Fitzgerald's case had just tumbled to the ground.
But he did it only by altering the truth.
Wells issued a statement at midday, the key passage of which concludes that Woodward's "disclosure shows that Mr. Fitzgerald's statement at his press conference of October 28, 2005 that Mr. Libby was the first government official to tell a reporter about Mr. Wilson's wife was totally inaccurate."
But Fitzgerald didn't say just that.
The transcript of Fitzgerald's news conference is not disputed - nobody from his office has called up trying to get it altered after the fact. On October 28, in his opening statement Fitzgerald actually said: "Mr. Libby was the first government official known to have told a reporter" about Ambassador Joe Wilson's wife.
That word "known" is a significant qualifier. And although much later, in the question-and-answer portion of his news conference, Fitzgerald described Libby as "at the beginning of the chain of phone calls, the first official to disclose this information outside the government to a reporter," the second statement cannot simply be used in preference to the first. Either the qualifier - expressed virtually at the outset - is considered still in force, or both versions ("first official" and "first government official known") have to be included.
Even if the idea that somebody else in the administration might've beaten Libby to the leaking punch is relevant to a trial on five counts of lying, the cornerstone of the Wells statement is erroneous - at best, a serious misinterpretation. Fitzgerald was clearly and meticulously leaving his case open in case an earlier leaker later turned up - as evidently he just did.
This is no one-word parsing nonsense. Not only does that meaning of "known" change entirely the meaning of Fitzgerald's statement, but its related root words (know, knowing, knowingly etc) have been the keys to whether or not anybody was indicted for revealing Plame's covert status at the CIA.
The problem, of course, is that such subtlety can shoot right past those who either want to miss it, or are in too much of a hurry to check the transcript. I read Wells' quote and thought 'that doesn't sound right.' The producers of ABC's World News Tonight read Wells' quote and evidently didn't hear any such alarm bells. The transcript is not yet out, but at 6:30 EST last night, Elizabeth Vargas stated - and I am paraphrasing - that the Woodward revelations were important because they contradicted Patrick Fitzgerald's statement that Libby was the first to leak.
Something deeply symbolic had happened just minutes before ABC's gaffe. Libby and Wells - a former attorney for Philip Morris in the "big tobacco" lawsuits, by the way - emerged from a district courthouse, having spent the afternoon reviewing documents in the case. Wells made a big thing of "thanking" Woodward and asking other reporters to come forward - it's a clever, albeit transparent spin-job. He and Libby then walked a couple of blocks down the street - in pouring rain. Wells couldn't even provide Libby the protection of an umbrella today. He is not going to be able to shield him with Woodward's fascinating - but, from the Libby point of view, irrelevant - disclosure.
The question now becomes, of course, is who told Woodward and what kind of hay Fitzgerald can make out of that. From among Woodward's statement in The Washington Post today, and Jim VandeHei's first article, and Howard Kurtz's midday follow-up, we have these simple facts in front of us:
Woodward had conversations with three current or former Bush Administration officials in June, 2003, that he thought relevant to Fitzgerald's investigation.

He identified one of those three - Scooter Libby - in his piece in the Post Wednesday.

Woodward said he prepared a list of questions for Vice President Cheney that included a reference to "yellowcake," that he was sending to Libby in June of '03.

Karl Rove's legal spokesman told

During the day, Woodward said he'd been authorized by White House Chief of Staff Andy Card to reveal that Card was one of the three White House conversants, but that they did not talk about Plame.

Don't be misled by the "current or former" Administration figures - the "former" part could easily be a clever sleight-of-hand from Woodward; he provided reams of them in protecting "Deep Throat."
The deduction would be that Woodward's source was not Card, Cheney, Libby, or Rove - assuming everybody's telling the truth.
E-mail: KOlbermann@msnbc.com
Ten television shows worth watching (Keith Olbermann)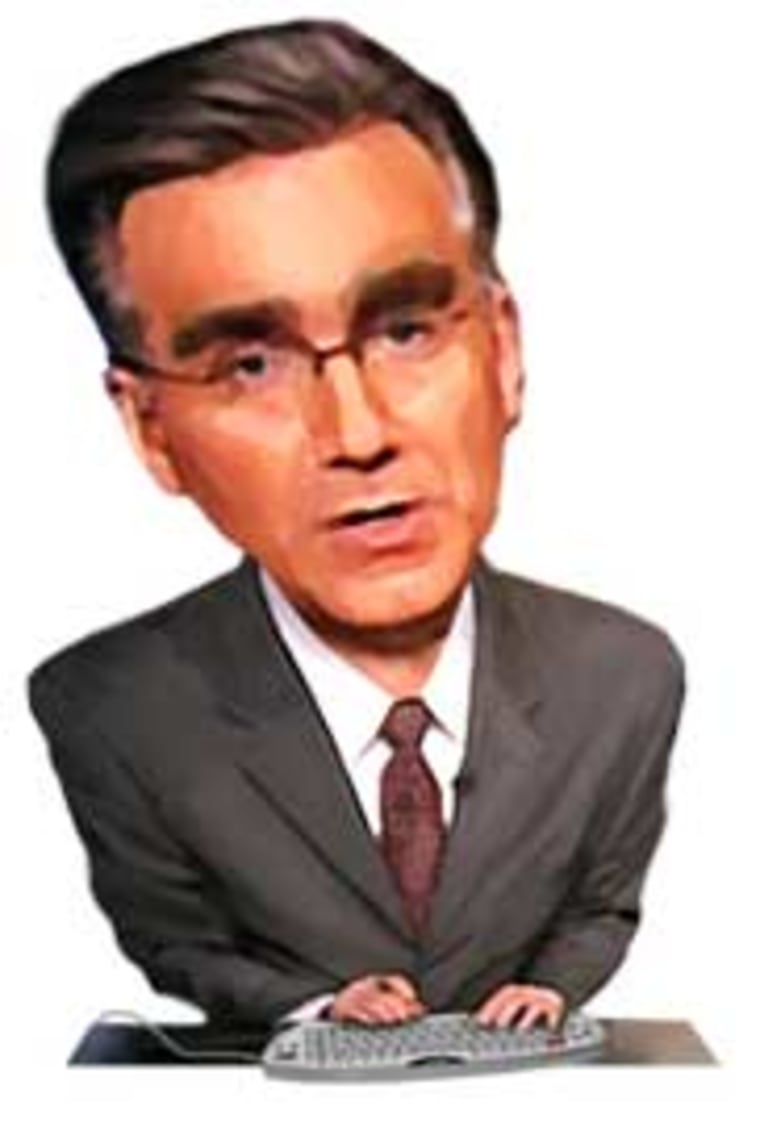 NEW YORK - With the political picture finally focused - oh, I see, Iraq isn't a 21st Century Vietnam War, it's the 21st Century Spanish-American War (national post-traumatic stress disorder, international scapegoats required, most villainous enemy nominated, evidence massaged to make it seem plausible, everything except the title "Operation Remember The Maine!) - let me digress again.
I've been compiling this list for months in my head and finally have it to share with you: ten television shows actually worth watching. The rule is that they must be new (or new to us), thus eliminating two shows that would probably still be on anybody's top ten (SCTV, still running on TVLand, and Monty Python, hobbling along with commercial breaks on BBC-America).      
You will notice a decided lack of dramas and sports and not much news. I can only thank the producers for making those topics so easy for me to deal with. You will also notice a lot of obscure shows you may not have heard of - give them a try.      
10. ITV News at 10:30 - If your cable system carries this one, more power to you. We happen to get it at work; it's Britain's leading non-BBC newscast. It's anchored by a former sportscaster (yeah, like that works) and has glitzy animation, non-traditional production techniques, and amid all that fluff, the content is usually as serious as anything you'd find on BBC or PBS. The reportage from New Orleans had all of the anger and human interest of much of America's work, without the cornball self-absorption.      
9. Battlefield Britain, PBS - An over-the-top British newscaster and his over-the-top British son narrate reenactments of the defining military events on U.K. soil. You don't have to care about Britain, history, or armies, to be stopped by the computer-generated living maps, or the attempts to marry Dr. Bronowski's The Ascent of Man with Miami Vice.      
8. Greg The Bunny, IFC - An alarming number of my top ten shows feature no, or few, human characters. I suppose this is because television puppeteers and animation actors are far more believable than their unadorned human counterparts. This bizarre show, featuring gratuitous violence and endless movie satires, is just spectacularly strange, fast-paced, and, for a show with cheap-looking puppets, high on production values.      
7. Fox News Watch, FNC - That's right, I put a show from Fox News on my list. This is apparently the program Roger Ailes created to fulfill some legal requirement that his network actually be at least .0005% "fair and balanced." A weekly roundtable on media coverage in which the conservatives (Jim Pinkerton and the woefully-hair dyed Cal Thomas) often burst out in liberalism, and the liberals (Neal Gabler and Jane Hall) often finger-wag conservatively. How host Eric Burns can maintain such a program of actual value on a network devoted to reinforcing prejudices and stereotypes, is testament to his integrity as a journalist. Skip the last segment - the viewer e-mails are apparently all from mental patients.     
6. Prime Minister's Question Time, C-SPAN - The best political broadcast on television (until somebody picks up the South Korean Parliament, in which fistfights break out weekly). Prime Minister Tony Blair answers questions (pre-scripted softballs from his party, pre-scripted, delightfully venomous sweeping generalities from the opposition) more-or-less extemporaneously, live on Wednesday mornings with a replay Sunday night. It is not only great theater, but underscores the point that if our leaders tried such fluid give-and-take, 98% of them would run screaming into the streets and the others would wind up weeping uncontrollably.     
5. The Simpsons, Fox - Yes, they're nearly out of plots, and the early indications are that this is not going to be a particularly active year for content, politically, but the value of the satirizing of our values still endures. One pet peeve: the show has earned about $77 billion since it went on the air - would it be too much to re-draw the opening sequence so the characters look like they do after the re-design in 1992?     
4. Hopeless Pictures, IFC - Oh, is this strange. Bob Balaban's low-tech animation series about the endless spiral of stupidity in Hollywood. You'll think it's satire until you realize that the films the vapid characters are trying to pitch to each other aren't much removed from what passes, each weekend, for the latest "blockbusters." Michael McKean voices the lead character, the film exec who named his studio after his parents, Hope and Les.     
3. The Family Guy, Fox - Probably shouldn't be rated this high but I'm late to hop on the bandwagon so it's all still new to me (despite this list, I really don't like animation). There seldom seem to be coherent plots - even Simpsons level of coherence - but the A.D.D. effect is part of the charm. Besides, to see Mel Gibson voluntarily walk off a cliff and plummet to his death while someone says the punchline "Christians don't believe in gravity," is by itself worth the price of admission. And the absolute acceptance of an evil genius super baby with a football head, and a talking dog, as ordinary members of society, is almost unparalleled in art.     
2. Mythbusters, Discovery Channel - I've praised this show before and had its two stars, Jamie Hyneman and Adam Savage, on Countdown as guest experts. I'm not mechanical at all, don't understand much of the science they enact, but I've never failed to be hooked and entertained. Ostensibly, the pair - with a trio of "sub-hosts" adding a little pace to what was often a slight stodginess - go about testing urban myths, like the woman supposedly stuck to the airplane toilet due to suction, or the idea that you can save yourself from bullets by staying underwater. But even they would admit that it's really about finding Rube Goldbergian ways to blow or smash stuff up.    
1. Private Life Of A Masterpiece, Ovation - There's a theme in this list. I don't like animation (yet there are three cartoons and a puppet show). I loathe Fox (yet there are two of its programs, and one of its news broadcasts). I'm not a gearhead (yet my runner-up is hosted by two movie Special Effects wizards). And most of all, I don't know much about art, and I'm really not even sure what I like. Yet here at the top is a BBC series, intermittently scheduled on the proudly effete Ovation Network, devoted to hour-long profiles of great paintings and sculpture. Perhaps the premise has become clear to you. If a show overcomes my native disinterest, that's a television broadcast.     
Such it is, here. "Private Life" treats its many subjects - Van Gogh's "Sunflowers"; Rodin's "Kiss" - not as objects for artistic study, but almost as living creatures. The shows are virtually biographies - not of the artists per se, but of their works. And it is somehow fascinating to know that Edward Munch was marketing "The Scream" a century ago, and somehow validating to see the story of "Le Dejeuner Sur L'Herbe" include a parody of the painting by the '80s schlock group Bow Wow Wow.      
Sister Wendy it ain't.
Comments?  E-mail:
• October 27, 2005 |
Of witnesses and White Sox  (Keith Olbermann)
NEW YORK - Well, it's winter, in Houston and Washington alike.
Baseball is over (White Sox sweep - told you so - more later). The season ended with coincidental, but deep symbolism - two nights' worth of camera shots of George Bush the elder and Barbara Bush sitting there right behind home plate in Houston, waiting just as quietly and helplessly for the Astros' demise, as his son and his staff are sitting there right in the bull's eye in Washington waiting for the indictments.
Not enough for you? A) Where did the current President Bush and Karl Rove make their political bones? B) Where was Special Prosecutor Patrick Fitzgerald working before his current appointment?
Answers: A) Texas, like the Astros; B) Chicago, like the White Sox.
That indictments are - or maybe an indictment is - coming, seems almost certain now. Reporting for us last night, David Gregory quoted lawyers tangential to the case as saying they're expecting at least one indictment. Writing in The Washington Post this morning, Jim VandeHei says the White House is expecting the same.
There has been some spinning that if Fitzgerald-as-Grim Reaper claims only one administration staffer, that'll be good news. That line of reasoning suggests that at least one of Mr. Bush's heavy hitters would then be cleared, and, at worst, one would have to get it over with and resign.
But as VandeHei and I discussed on last night's show, that misses the point. The purpose of the Fitzgerald investigation is not indictments, but a trial, and convictions. And inevitably, trials take forever, and require witnesses.
Let's just assume there's a single indictment, and it turns out to be of some part-time White House copy-machine repairman. That would still mean Karl Rove and Scooter Libby - and goodness knows who else - as witnesses. Not just embarrassing depositions, but long weeks of revelations of the political efforts to sell, and then backfill, the President's case for going to war in Iraq.
The candy-coated premise of the revelation of an indictment as some sort of conclusion is false. More over, if VandeHei is right, and Rove "has been engaged in a furious effort to convince the prosecutor that Rove did not commit perjury," that convincing will come at an even higher price. Rove might wind up as the prosecution witness.
Only a legal shutout saves the White House from what VandeHei and Carol Leonnig aptly described yesterday as a "political tsunami." 1600 Pennsylvania Avenue has been waist-high in thinner gruel than this, as Rove's lawyer Robert Luskin can easily remind his client. Just yesterday, Mr. Luskin reminded us that he was a frequent guest analyst on the two shows I hosted for MSNBC during the Clinton-Lewinsky investigations, one of which was creatively named "The White House In Crisis."
Besides which, none of the augurs are right for a political shutout. Today is the birthday of the late H.R. "Bob" Haldeman, Richard Nixon's Chief of Staff. And tomorrow is the 29th Anniversary of the day the late John Ehrlichmann - Haldeman's right-hand man - went to prison in Atlanta after being convicted for conspiracy, obstruction of justice, and perjury during Watergate.
Ultimately, this is a real bad time to be a political figure who made his bones in Texas. The White Sox not only swept the Astros in the World Series, they killed them with irony. The bulwark of the Houston bullpen, Brad Lidge, didn't just lose two of the four games, he lost them on a homer to a guy (Scott Podsednik) who hadn't hit any homers during the regular season, and a pinch-hit single to another guy (Willie Harris) who was only coming to the bat for the third time in a month. The Astros didn't just lose Game Three Tuesday night in 14 innings, they lost it on a homer by another obscure guy (Geoff Blum) who used to be their obscure guy, before they dealt him off two winters ago to get the pitcher (Brendan Backe) whose superb effort they wasted in last night's finale.
So. Baseball ends for another winter, albeit with perhaps the most exciting sweep of all-time, one of its best World Series catches - Jose Uribe's dive into the seats in the 9th last night - and, for yours truly, the most dead-on set of predictions I've made since I called Kirk Gibson's home run.
Instead we now get the winter sport. And the guy scheduled to throw the first pitch of that season, a Mr. Fitzgerald, would appear to be warming up under the stands right now.
Comments?  E-mail:
The Case against Roger Clemens  (Keith Olbermann)
NEW YORK - Roger Clemens is Day-to-Day.
We're all Day-to-Day. Certainly the Astros are.
I apologize - in making my World Series forecast (White Sox, possibly in a sweep, and it seems to me I mentioned how Phil Garner should've used Brad Lidge in the last game against the Cardinals and not waited to see if he'd give up another game-losing homer in his next appearance, in the Series) - I forgot to mention here what I believe I noted on the radio or at least an interview or two, namely the ultimate effect of the Albert Pujols home run - that it would force Roy Oswalt to pitch again in the series against St. Louis and force the Astros to instead open with Clemens in Chicago.
That was particularly relevant because, as I did predict elsewhere, it meant that something would cause Roger Clemens to bail out of Game One.
You protest, in controlled agony. "Roger Clemens is one of the greatest pitchers of all time!" I giggle. "He is 12-and-7 lifetime in the post-season." I laugh. "He is undefeated over the course of six different World Series!" I do a spit-take.
Saturday's "hamstring pull" and the resultant exit after 54 pitches should've been predictable to the degree that the odds among the exotic wagerers of Vegas should not have exceeded 3:1 against.
Here is the nasty truth. After Saturday night, Roger Clemens has now made 33 post-season starts in the last two decades (an admittedly remarkable achievement). His team has lost 17 of them.
In the post-season, he is a sub-.500 starter.
To be fair, Saturday's loss only brought his team's record with him pitching down to .500 (4-4).
But behind the simple numbers, he has an unfortunate resume of either coughing up leads his mates have given him (eight different games so far - in one of which in 2002 he blew three separate leads), or getting out of the game prematurely or controversially, or all of the above. If the Astros live to a Game Five and Clemens is healthy, they should just say "no, thanks."
Let's start by acknowledging that you didn't imagine his occasional brilliance in the post-season. The Rocket pitched a five-hit 3-0 shutout into the 9th in his first short-rest start ever (against the Angels in Game Four of the 1986 ALCS, then he and Calvin Schiraldi blew it). He pitched seven particularly fine post-season games for the Yankees (most notably the 1999 World Series clincher, just two days after a shouting match with a fan outside the players' entrance at Yankee Stadium, and his 15-strikeout and 9-strikeout performances against the Mariners and Mets in 2000). And the relief effort against the Braves in this year's Division Series - though it is of course not considered one of his starts - was an impressive three-inning performance.
On the other hand, though the quick exit, stage right against the White Sox was quick, it was hardly atypical. How many "great" pitchers carry the baggage of six controversies or injuries?
1. 1990 ALCS Game Four at Oakland. The A's have already scored a run off him in the 2nd inning when Clemens puts two men on - the second, by walking Willie Randolph. He then begins to shout loudly. "I thought Roger was swearing at me," said A's batter Mike Gallego. In fact, he's swearing at home plate umpire Terry Cooney - and if his post-game denial that he remembers any of it is correct, he may be doing so in a trance-like state. Cooney ejects Clemens, who makes contact with at least two other umpires during the subsequent argument. The A's score both runners, the Red Sox lose 3-1 and are swept.
2. 1999 ALCS Game Two at Boston. Red Sox fans - mistakenly believing Clemens jilted them to go to Toronto as a free agent when the move was largely the fault of Boston management - serenade the now-Yankee with a sing-song of "Rahh-jer, Rahh-jer." Rahjer gives up five in the 1st (I was there, and I still don't believe I saw Jose Offerman triple off him, and John Valentin homer off him), and lasts only through the first batter of the third inning. The Yankees lose 13-1 (their only post-season loss that year). I was the dugout reporter during that game and none of my Yankee contacts would say a thing about why Clemens came out, until, in the seventh inning, David Cone finally explains: "he said he had bad back." To this point, the record of Clemens' team in his eleven post-season starts is 3-and-8.
3. 2000 World Series Game Two at Yankee Stadium. Clemens is stunning - striking out nine Mets and giving them just two hits over eight innings. But if it had been Terry Cooney umpiring the plate and not Charlie Relaford (or as Clemens would quaintly call him, afterwards, "Umpire Charlie"), Clemens could've easily been ejected again - early. This is the game in which he throws the piece of Mike Piazza's shattered bat more or less in Piazza's general direction. Again I'm the Yankee dugout reporter for this game, and coach Lee Mazzilli offers the following explanation for the incident: "I can't even imagine why he did that."
4. 2001 ALDS Game One at Yankee Stadium. Clemens gives up solo runs to Oakland in the1st and 4th. Pitching to the first hitter in 5th, he begins twitching. Joe Torre comes to the mound. Clemens, it turns out, has pulled a hamstring. Yanks lose 5-3.
5. 2003 ALCS Game Seven at New York. Clemens is battered by the Red Sox for six hits and four runs in three innings, leaves the most important game of the season down 4-0. The crash will be obscured by the unlikely relief pitching of Mike Mussina and the even more-unlikely pennant-winning home run of Bret Boone.
6. 2005 World Series Game One at Chicago. Clemens has no control, is lucky to give up just three runs and four hits in his 54-pitch labor over two innings. He walks easily off the field after the second inning, but when he reaches the dugout steps, he begins to limp spectacularly. He has pulled another hamstring.
And just so you don't think I'm making that stat up - eight blown leads - here they are, too. This is, in short, not Christy Mathewson or Bob Gibson. This is a guy with a post-season record slightly less impressive than that of his journeyman teammate Russ Springer.
1. 1986 World Series Game Six at New York. The Red Sox give him a 2-0 lead, but Clemens gives it back. Boston scores again, and he leaves after seven, leading ahead 3-2. Then Schiraldi, Bob Stanley, and Bill Buckner happen.
2. 1988 ALCS Game Two at Boston. Given another 2-0 lead, Clemens surrenders a two-run homer by Jose Canseco and a Mark McGwire RBI in the 7th, and the Red Sox lose 4-3.
3. 1995 ALDS Game One at Cleveland. Again, it's 2-0 Boston, but the Indians, paced by an Albert Belle double, score three off him in 6th. After Clemens leaves, the Red Sox rally to tie, only to lose on Tony Pena's homer in the 13th.
4. 2000 ALDS Game One at Oakland. Clemens is given another 2-0 lead by Yankees, gives it back in fifth. The A's score their lead run on his wild pitch, and add another in the sixth. The Yanks lose 5-3.
5. 2002 ALDS Game One at New York. Against the Angels, Clemens blows a 1-0 lead, then a 3-1 lead, then a 4-3 lead. They have rallied to tie it again as he leaves after the 7th, and ultimately win without him, 8-5.
6. 2004 NLCS Game Seven at St. Louis. The Astros give Clemens another 2-0 lead. He gives one back in the third, then an RBI double to Pujols and a two-run homer to Scott Rolen in the 6th. The Cardinals eliminate the Astros 5-2.
7. 2005 NLDS Game Two at Atlanta. Clemens is given a 1-0 lead; gives up five earned in five including three-run homer to rookie Brian McCann. Astros lose 7-1.
8. 2005 NLCS Game Three at Houston. Clemens is given yet another 2-0 lead, gives it back. As he is pinch hit for in 6th, the Astros rally for two more and he gets credit for the 4-3 victory over St. Louis. His teams have now managed to win exactly half of his post-season starts - and two of the eight games in which he's coughed up leads.
Comments?  E-mail:
• October 20, 2005 |
Why the White Sox will win  (Keith Olbermann)
NEW YORK - So pink shirts may be the new white shirts, but the Houston Astros are not the new Boston Red Sox.
And Albert Pujols is a footnote to history - like the Mickey Mantle and Yogi Berra RBI.
And instead of a World Series predicated on a history-making comeback instigated by Pujols, it'll be the White Sox, of whom very few can say they ever saw them win a World Series, and the Astros, of whom none can say it.
I admire Phil Garner, I've known Craig Biggio since 1988 and Jeff Bagwell since 1992, Chris Burke quoted one of my old SportsCenter catchphrases back to me when he introduced himself last April, and the Astros deserve a World's Championship - especially considering the 5-1 victory over the Cardinals was the first occasion out of six in franchise history when a win meant a ticket to the World Series, and the Astros didn't lose.
But I still think there's an excellent chance they could get swept by the Chicago White Sox.
The deficiencies in the St. Louis Cardinals - particularly the bullpen, so bad that Tony LaRussa would not go to it with a 2-1 lead in the 7th inning Monday night and the Houston rally fomenting - were predicted here, and came true. But the Astros also got a hatful of breaks that are not likely to be repeated in this match-up of franchises that have combined to complete 130 seasons without winning a World Series.
The White Sox are not going to get four more complete games from their starters, nor the kind of tone set for them by the A.J. Pierzynski third-strike call in Game Two against the Angels. But they didn't need such acrobatic leaps of fate to dispatch Los Angeles, and they won't need to do the same to the deserving Houstons.
Consider: The White Sox are also not likely to have to use their fourth-string third baseman. When Abraham Nunez - already subbing for superstar Scott Rolen - was knocked out in the sixth inning of Game Three, his replacement Hector Luna promptly threw a groundball to the backstop for Houston's final run in what proved to be a 4-3 win. Luna sat down for Game Four in favor of John Mabry, but, in Game Five on Monday, Luna got embarrassingly caught between hops on Craig Biggio's grounder. Two batters latter, the 2-1 St. Louis lead was a 4-2 Houston margin.
Consider: Especially after the controversy over a self-important home plate umpire named Phil Cuzzi actually ejecting a cornerstone of the St. Louis offense, Jim Edmonds, for arguing balls and strikes (not even a third strike), the umps will be warned to keep their egos in their pants. Nobody's going to throw Chicago's Paul Konerko out of a one-run game in the Series.
Consider: one of the Houston wins and the rally that had put them ahead in Game Five were predicated on home runs (Mike Lamb's in Game Three, Lance Berkman's in Game Five) into the so-called "Crawford Boxes" in leftfield. The Astros had the 3rd least potent offense in baseball (they were shutout 17 times this year) and need every advantage they can get. If they simply survive through Game Five of the World Series, they will have done what neither the slugging Red Sox nor the run-creating Angels did - and under those optimum conditions, they will still get only three games at home to shoot at that inviting offensive target.
Consider: the White Sox guys also get to aim for the Crawford Boxes. They include righthanded swatters Konerko and Joe Crede, who combined for four homers in the series against the Angels, to say nothing of Jermaine Dye, Tadahito Iguchi, and Aaron Rowand, and switch-hitter Carl Everett.
Houston's best hope lies not in the vast experience of Roger Clemens nor the resuscitated composure of Brad Lidge (why didn't Garner pitch him last night? Do you want to see him try to get back up on that horse in his first World Series appearance?), but rather in the hope that the White Sox - who will have had a week off and will have played just nine games in the 19 days preceding the Series - will mistakenly assume that the off-season has already begun.
Oh and about Albert Pujols and the comparison to Mickey Mantle and Yogi Berra? They were the Yankees who drove in the clutch runs in the top of the ninth inning against the Pittsburgh Pirates - the ones that tied up Game Seven of the World Series 45 years ago. And while that epic comeback was being digested, Bill Mazeroski promptly led off the bottom of the same inning with the home run that won the Series. So much for momentum.
Comments?  E-mail:
• October 12, 2005 |
The Nexus of Politics and Terror (Keith Olbermann)
Secaucus - Last Thursday on Countdown, I referred to the latest terror threat - the reported bomb plot against the New York City subway system - in terms of its timing. President Bush's speech about the war on terror had come earlier the same day, as had the breaking news of the possible indictment of Karl Rove in the CIA leak investigation.
I suggested that in the last three years there had been about 13 similar coincidences - a political downturn for the administration, followed by a "terror event" - a change in alert status, an arrest, a warning.
We figured we'd better put that list of coincidences on the public record. We did so this evening on the television program, with ten of these examples. The other three are listed at the end of the main list, out of chronological order. The contraction was made purely for the sake of television timing considerations, and permitted us to get the live reaction of the former Undersecretary of Homeland Security, Asa Hutchinson.
We bring you these coincidences, reminding you, and ourselves here, that perhaps the simplest piece of wisdom in the world is called "the logical fallacy." Just because Event "A" occurs, and then Event "B" occurs, that does not automatically mean that Event "A" caused Event "B."
But one set of comments from an informed observer seems particularly relevant as we examine these coincidences.
On May 10th of this year, after his resignation, former Secretary of Homeland Security Ridge looked back on the terror alert level changes, issued on his watch.
Mr. Ridge said: "More often than not we were the least inclined to raise it. Sometimes we disagreed with the intelligence assessment. Sometimes we thought even if the intelligence was good, you don't necessarily put the country on (alert)… there were times when some people were really aggressive about raising it, and we said 'for that?'"
Please, judge for yourself.
Number One:
May 18th, 2002. The first details of the President's Daily Briefing of August 6th, 2001, are revealed, including its title - "Bin Laden Determined To Strike In U.S."  The same day another memo is discovered - revealing the FBI knew of men with links to Al Qaeda training at an Arizona flight school. The memo was never acted upon. Questions about 9/11 Intelligence failures are swirling.
May 20th, 2002. Two days later, FBI Director Mueller declares another terrorist attack "inevitable." The next day, the Department of Homeland Security issues warnings of attacks against railroads nationwide, and against New York City landmarks like the Brooklyn Bridge and the Statue of Liberty.
Number Two:
June 6th, 2002. Colleen Rowley, the FBI agent who tried to alert her superiors to the specialized flight training taken by Zacarias Moussaoui, whose information suggests the government missed a chance to break up the 9/11 plot, testifies before Congress. Senate Intelligence Committee Chair Graham says Rowley's testimony has inspired similar pre-9/11 whistle-blowers.
June 10th, 2002. Four days later, speaking from Russia, Attorney General John Ashcroft reveals that an American named Jose Padilla is under arrest, accused of plotting a radiation bomb attack in this country. Padilla had, by this time, already been detained for more than a month.
Number Three:
February 5th, 2003. Secretary of State Powell tells the United Nations Security Council of Iraq's concealment of weapons, including 18 mobile biological weapons laboratories, justifying a U.N. or U.S. first strike. Many in the UN are doubtful. Months later, much of the information proves untrue.
February 7th, 2003. Two days later, as anti-war demonstrations continue to take place around the globe, Homeland Security Secretary Ridge cites "credible threats" by Al Qaeda, and raises the terror alert level to orange. Three days after that, Fire Administrator David Paulison - who would become the acting head of FEMA after the Hurricane Katrina disaster - advises Americans to stock up on plastic sheeting and duct tape to protect themselves against radiological or biological attack.
Number Four:
July 23rd, 2003: The White House admits the CIA -- months before the President's State of the Union Address -- expressed "strong doubts" about the claim that Iraq had attempted to buy uranium from Niger. On the 24th, the Congressional report on the 9/11 attacks is issued; it criticizes government at all levels; it reveals an FBI informant had been living with two of the future hijackers; and it concludes that Iraq had no link to Al-Qaeda. 28 pages of the report are redacted. On the 26th, American troops are accused of beating Iraqi prisoners.
July 29th, 2003. Three days later, amid all of those negative headlines, Homeland Security issues warnings of further terrorist attempts to use airplanes for suicide attacks.
Number Five:
December 17th, 2003. 9/11 Commission Co-Chair Thomas Kean says the attacks were preventable. The next day, a Federal Appeals Court says the government cannot detain suspected radiation-bomber Jose Padilla indefinitely without charges, and the chief U.S. Weapons inspector in Iraq, Dr. David Kay, who has previously announced he has found no Weapons of Mass Destruction in Iraq, announces he will resign his post.
December 21st, 2003. Three days later, just before Christmas, Homeland Security again raises the threat level to Orange, claiming "credible intelligence" of further plots to crash airliners into U.S. cities. Subsequently, six international flights into this country are cancelled after some passenger names purportedly produce matches on government no-fly lists. The French later identify those matched names: one belongs to an insurance salesman from Wales, another to an elderly Chinese woman, a third to a five-year old boy.
Number Six:
March 30th, 2004. The new chief weapons inspector in Iraq, Charles Duelfer tells Congress we have still not found any WMD there. And, after weeks of refusing to appear before the 9/11 Commission, Condoleezza Rice finally relents and agrees to testify. On the 31st:  Four Blackwater-USA contractors working in Iraq are murdered, their mutilated bodies dragged through the streets and left on public display in Fallujah. The role of civilian contractors in Iraq is widely questioned.
April 2nd, 2004.  Homeland Security issues a bulletin warning that terrorists may try to blow up buses and trains, using fertilizer and fuel bombs - like the one detonated in Oklahoma City - stuffed into satchels or duffel bags.
Number Seven:
May 16th, 2004. Secretary of State Powell appears on "Meet The Press." Moderator Tim Russert closes by asking him about the "enormous personal credibility" Powell had placed before the U.N. in laying out a case against Saddam Hussein. An aide to Powell interrupts the question, saying the interview is over. Powell finishes his answer, admitting that much of the information he had been given about Weapons of Mass Destruction was "inaccurate and wrong, and, in some cases, deliberately misleading."
May 21st, 2004, new photos showing mistreatment of Iraqi prisoners at Abu Ghraib Prison are released. On the 24th - Associated Press video from Iraq confirms U.S. forces mistakenly bombed a wedding party - killing more than 40.
Wednesday the 26th. Two days later, Attorney General Ashcroft and FBI Director Mueller warn that intelligence from multiple sources, in Ashcroft's words, "indicates Al-Qaeda's specific intention to hit the United States hard," and that "90 percent of the arrangements for an attack on the United States were complete." The color-coded warning system is not raised, and Homeland Security Secretary Ridge does not attend the announcement.
Number Eight:
July 6th, 2004. Democratic Presidential candidate John Kerry selects Senator John Edwards as his vice presidential running mate, producing a small bump in the election opinion polls, and a huge swing in media attention towards the Democratic campaign.
July 8th, 2004. Two days later, Homeland Secretary Ridge warns of information about Al-Qaeda attacks during the summer or autumn. Four days after that, the head of the U.S. Election Assistance Commission, DeForest B. Soaries, Junior, confirms he has written to Ridge about the prospect of postponing the upcoming Presidential election in the event it is interrupted by terrorist acts.
Number Nine:
July 29th, 2004. At their party convention in Boston, the Democrats formally nominate John Kerry as their candidate for President. As in the wake of any convention, the Democrats dominate the media attention over the ensuing weekend.
Monday, August 1st, 2004. The Department of Homeland Security raises the alert status for financial centers in New York, New Jersey, and Washington to orange. The evidence supporting the warning - reconnaissance data, left in a home in Iraq - later proves to be roughly four years old and largely out-of-date.
Number Ten:
Last Thursday. At 10 AM Eastern Time, the President addresses the National Endowment for Democracy, once again emphasizing the importance of the war on terror and insisting his government has broken up at least 10 terrorist plots since 9/11.
At 3 PM Eastern Time, five hours after the President's speech has begun, the Associated Press reports that Karl Rove will testify again to the CIA Leak Grand Jury, and that Special Prosecutor Fitzgerald has told Rove he cannot guarantee that he will not be indicted.
At 5:17 PM Eastern Time, seven hours after the President's speech has begun, New York officials disclose a bomb threat to the city's subway system - based on information supplied by the Federal Government. A Homeland Security spokesman says the intelligence upon which the disclosure is based is "of doubtful credibility." And it later proves that New York City had known of the threat for at least three days, and had increased police presence in the subways long before making the announcement at that particular time. Local New York television station, WNBC, reports it had the story of the threat days in advance, but was asked by "high ranking federal officials" in New York and Washington to hold off its story.
Less than four days after revealing the threat, Mayor Michael Bloomberg says "Since the period of the threat now seems to be passing, I think over the immediate future, we'll slowly be winding down the enhanced security."
While news organizations ranging from the New York Post to NBC News quote sources who say there was reason to believe that informant who triggered the warning simply 'made it up', a Senior U.S. Counter-terrorism official tells the New York Times: "There was no there, there."
The list of three additional examples follows.
Number Eleven:
October 22nd, 2004. After weeks of Administration insistence that there are terrorist plans to disrupt the elections, FBI, Law Enforcement, and other U.S. Intelligence agencies report they have found no direct evidence of any plot. More over, they say, a key CIA source who had claimed knowledge of the plot, has been discredited.
October 29, 2004. Seven days later - four days before the Presidential election - the first supposedly new, datable tape of Osama Bin Laden since December 2001 is aired on the Al-Jazeera Network. A Bush-Cheney campaign official anonymously tells the New York Daily News that from his campaign's point of view, the tape is quote "a little gift."
Number Twelve:
May 5th, 2005. 88 members of the United States House of Representatives send a letter to President Bush demanding an investigation of the so-called "Downing Street Memo" - a British document which describes purported American desire dating to 2002 to "fix" the evidence to fit the charges against Iraq. In Iraq over the following weekend, car bombings escalate. On the 11th, more than 75 Iraqis are killed in one.
May 11th, 2005. Later that day, an instructor and student pilot violate restricted airspace in Washington D.C. It is an event that happens hundreds of times a year, but this time the plane gets to within three miles of the White House. The Capitol is evacuated; Vice President Cheney, the First Lady, and Nancy Reagan are all rushed to secure locations. The President, biking through woods, is not immediately notified.
Number Thirteen:
June 26th, 2005. A Gallup poll suggests that 61 percent of the American public believes the President does not have a plan in Iraq. On the 28th, Mr. Bush speaks to the nation from Fort Bragg: "We fight today because terrorists want to attack our country and kill our citizens, and Iraq is where they are making their stand. So we'll fight them there, we'll fight them across the world, and we will stay in the fight until the fight is won."
June 29th 2005. The next day, another private pilot veers into restricted airspace, the Capitol is again evacuated, and this time, so is the President.
--
To summarize, coincidences are coincidences.
We could probably construct a similar time line of terror events and warnings, and their relationship to - the opening of new Walmarts around the country.
Are these coincidences signs that the government's approach has worked because none of the announced threats ever materialized? Are they signs that the government has not yet mastered how and when to inform the public?
Is there, in addition to the "fog of war" a simple, benign, "fog of intelligence"?
But, if merely a reasonable case can be made that any of these juxtapositions of events are more than just coincidences, it underscores the need for questions to be asked in this country - questions about what is prudence, and what is fear-mongering; questions about which is the threat of death by terror, and which is the terror of threat.
Comments?  E-mail:
• October 11, 2005 |
Earthquake overwhelming, all too familiar (Monica Novotny)
The images of devastation this week after Pakistan's 7.6 earthquake are overwhelming, and unfortunately, all too familiar.
Six years ago, in August of 1999, I traveled to Istanbul to report on Turkey's 7.4 magnitude quake that left about 20,000 people dead. If you haven't personally witnessed the results of a quake of this magnitude, I can tell you it is everything you might imagine, and worse. What I remember most vividly about that trip, perhaps not surprisingly, is the first day.
I recall arriving with my producer and cameraman in Istanbul, the city virtually untouched, and dropping off our things in an air-conditioned, comfortable, western hotel room. It was hard to imagine the devastation we knew was just a drive away. We soon would not have to.
Our group loaded quickly into a van and drove out to the Golcuk area, near the quake's epicenter. As we made our way closer, we saw the beginning of ruins that stretched for miles. First, buildings along the sides of the main road toppled... then entire neighborhoods wiped out. We eventually found side streets that were drivable (not an easy task) and ventured into what had been a thriving community made up almost entirely of apartment buildings. Buildings that once stood five stories high, now reduced to piles of rubble, twisted steel bars, and personal mementos.
We stepped out of the van into the dry summer heat when the road became impassable, and in a moment I will never forget, I felt my body jolt instinctively at the smell of death. Before my brain could identify it, my senses did.
As we walked among the piles, we saw what for me was the most heartbreaking image: survivors, family members who had not been present, now seated in groups on the ground or on plastic folding lawn chairs, next to many of the crumbled cement mounds. Patiently, quietly, they waited. Unwilling to move until they could retrieve what must be in the rubble - the bodies of their loved ones. It would take days if not weeks to get everyone out (in this neighborhood there were at least a few hundred bodies trapped) but these people were not swayed. Their calm, mournful demeanor in the face of such tragedy made it all the more difficult to witness. 
We made our way to a crowd surrounding a small group of rescue workers. Every few minutes, the workers hushed the bystanders, as they used listening devices in an attempt to find survivors in the rubble. It was hard to imagine that anyone could survive in the remains of an multi-level apartment building that now only stood about 15 feet high. But some locals thought they heard a cry for help, and they would not give up hope until they were absolutely sure. Soon enough, they were.
Between hushed moments, neighbors approached us, methodically explaining who lived in which apartment, which family was likely under the pile to our right, which family to our left. Which mother had recently given birth to a child, which couple just moved in.
It was difficult to grasp the reality, even standing there. And though as we walked from pile to pile we hoped we might hear a cry for help, none came.

We would eventually learn the earthquake in Turkey caused $20 billion in damage. The personal damage of course, impossible to quantify.

This week, Turkish aid teams arrive in Pakistan. As a reporter, I would love to be with them, to ask them how they will use their own experience to help the thousands now in need. To watch as they again pull out their listening devices in hopes of a miracle. But as a viewer, I must admit it's much easier to watch the images, as awful and familiar as they seem, from a distance.
Monica is a correspondent for Countdown with Keith Olbermann.  Send her your story ideas to Countdown@msnbc.com.
• October 11, 2005 | 9:02 a.m. ET
Angels win — and lose (Keith Olbermann)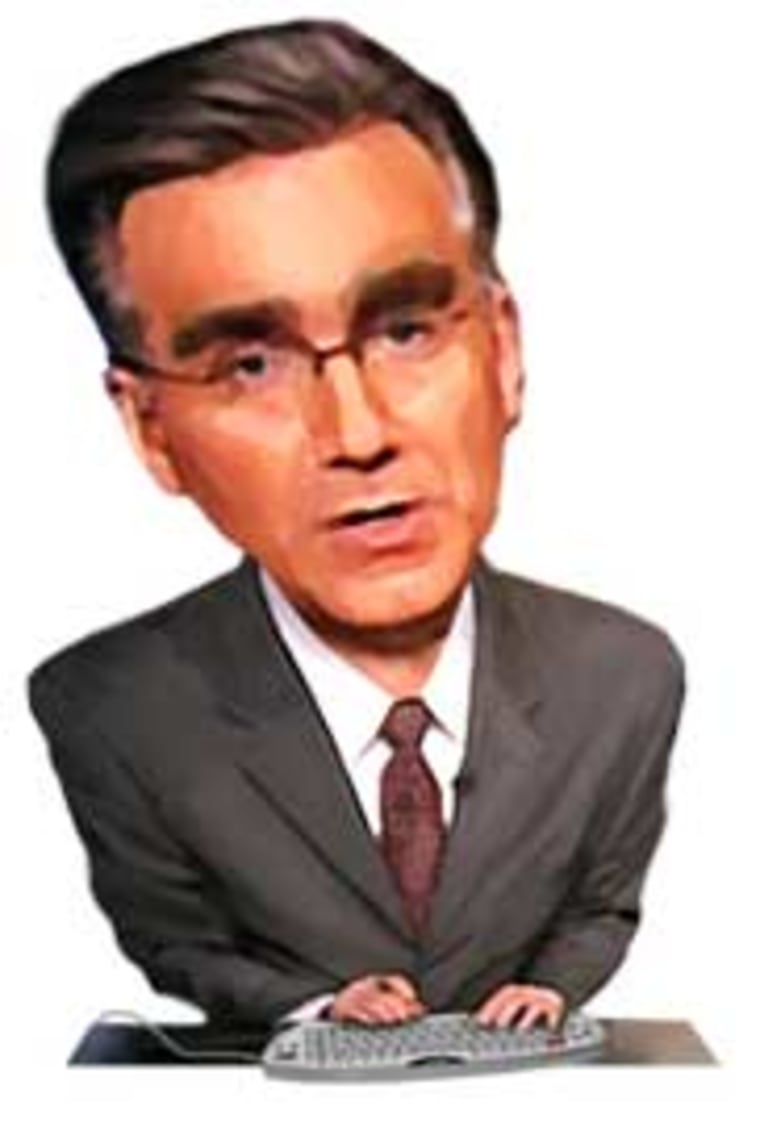 NEW YORK -- Since the third game of the regular season, when Mariano Rivera blew a save against the Boston Red Sox, the New York Yankees have been walking across a figurative tightrope — on their hands. Last night, even with the Los Angeles Angels repeatedly offering them safety nets, guide dogs, and training wheels, the Yankees finally fell off.
The Angels' 20-game winner had to come out in the second inning; their nervous rookie replacement gave up two quick runs; they were willing to end their first rally with a sharply-hit but manageable fly to right field; their Gold Glove catcher was nice enough to drop a third out, third strike with two men on in the 5th; their unhittable closer helped out by putting the tying runs on in the 9th.
And the Yankees took advantage of none of it.
Their valiant season will be memorialized by the sight of outfielders Bubba Crosby and Gary Sheffield -- unable to hear each other over the din of the crowd as that sharply-hit but manageable fly headed their way in the 2nd — nearly running head first into each other. Two Los Angeles runs scored, and the game went on for another seven innings, but it had all ended when (and this is a joke for the three British Football fans reading this) Crosby and Sheffield united.
Unfortunately for the Angels, while the Yankees' season literally came to a crashing end, theirs may have done so figuratively. Bartolo Colon was the 20-game winner who exited stage right, his shoulder barking after just 23 pitches. Jarrod Washburn, scheduled to start Game Four for the Angels, had to be scratched with a throat infection so serious that before last night's game the Angels admitted there was a good chance he would not pitch again this season. The club's emergency starter, Ervin Santana, had to come in for Colon and acquitted himself marvelously.
But unless manager Mike Scioscia has dreams of returning reliever Kelvim Escobar to the rotation, he suddenly finds himself at least two pitchers short of a rotation in the A.L. Championship Series against the Chicago White Sox. Paul Byrd — the Game Three starter against the Yanks in the Friday night rain — will presumably start Game One against the White Sox, and then it's anybody's guess. Scioscia — who in the post-game news conference said he'd spend much of the three-hour flight to Chicago trying to figure out who'll start that first game — may wind up dropping Washburn from the active roster (and maybe even Colon) and giving a spot to one of two youngsters — Chris Bootcheck or Joe Saunders — who between them made four starts for the Angels this season and combined to go 0-1.
The Angels showed enough flaws (the bullpen is not infallible, Vladimir Guerrero is not unstoppable, Chone Figgins is not an automatic base runner) that weakness in the rotation will be enough to guarantee a Chicago victory, probably in short order - five or six games.
The White Sox will meet the Astros in a World Series that will pit two teams that between them have gone a nice even 130 years without winning one. The "schedule flip" to which I referred here yesterday did not occur and Houston thus gets enough time to recover from its marathon win over the Braves on Sunday. It will be next spring, however, before the lynchpin of the Cardinals' bullpen — Al Reyes — returns from his late-season injury, and the statistics we pointed out previously here (8.1 innings in relief versus San Diego, 16 hits, eight runs) will only be amplified by the greater strength of Houston's offense compared to that of the Padres.
If these two series end at the right time, the 2005 World Series could easily begin with ex-Yankee Jose Contreras of the White Sox starting Game One against ex-Yankee Andy Pettitte or ex-Yankee Roger Clemens of the Astros. That will not please He Who Makes Ex-Yankees, George Steinbrenner.
And back on the news beat, a special report on the coincidences of timing between political developments and terrorism developments — "The Nexus of Politics and Terror" — is scheduled to air Wednesday night on Countdown.
Comments/ predictions?  E-mail:
Playoff Schedule may flip; so may Astros (Keith Olbermann)
NEW YORK - Several New York Yankees players were told last night that Major League Baseball would "flip" the schedules of the next round of the playoffs, giving them, or the Los Angeles Angels, an additional a day to recover from about 5,000 miles of air travel in under 30 hours.
Unless those players misheard or misunderstood - or unless common sense makes an unlikely comeback - the American League Championship Series would thus open Wednesday and not tomorrow, and the National League event would open tomorrow and not Wednesday.
Some sources insisted the switch was part of an informal deal among the players' union, management, and the television networks. The Yankees and Angels players agreed to play last night's game in primetime (and not in the afternoon), thus denying themselves the chance of an early evening flight to the West Coast and a slight chance of getting to bed before midnight Pacific Time. As the quid pro quo for that, the survivors of the team's decisive fifth game would be rewarded with a full travel day on Tuesday. Those sources' information could not be confirmed as of early this mornng.
This would come as something of an unhappy surprise to Manager Phil Garner of the Houston Astros, some of whose strategy in yesterday's epic 18-inning win over the Atlanta Braves was probably predicated on a seemingly ironclad assumption that his team would have two days to recover from the Sunday marathon, and not just one.
The manager of the Chicago White Sox, Ozzie Guillen, would probably be none too pleased either. His team efficiently swept the Boston Red Sox in three games and had earned the advantage of facing a road-weary opponent that a Tuesday opener would provide.
Instead - if those Yankee players are correct - baseball is to justify the "flip" as a merciful gesture to whoever wins the Yankees-Angels series tonight. The teams were rained out in New York Saturday and were thus forced to play here last night, then take red-eye flights to Southern California for the decisive game of their series tonight, with the winner then being forced to again fly overnight for the opener in Chicago Tuesday.
This would be baseball's way to give either the Yankees or Angels a fighting chance against jet lag and exhaustion, but of course it would be seen merely as a sop to the Yankees (some of whom, even before they had earned the right to the all-night flight to Anaheim, were complaining about it), and a disservice to the Astros and White Sox.
As of the end of last night's game in the Bronx, a baseball spokesperson insisted no "flip" decision had yet been made, but confirmed it was still being considered. The correct route, of course, would have been to make the decision or at least announce its possibility before Sunday's games and not wait until after the Astros and Braves had finished up.
And how they finished up!
Last April, in the freezing dugout at Shea Stadium here, a Houston player I didn't recognize sidled up to me and said, simply, "The other team's quarterback must go down, and he must go down hard." When I looked at him blankly, he gently scolded me. "Remember? You used to say that on SportsCenter?" I told him I remembered but he must've been pretty young the last time he actually heard it. "High school," he finally calculated.
Kid's name - and he was a 25-year old rookie who would hit just .248 with only five homers for the Astros this year - was Chris Burke, and he's now a lot more famous than he was in that dugout last April. It was Burke's homer with one out in the bottom of the 18th inning that let Houston prevail in the longest post-season game in baseball history, 7-6, over Atlanta (for the obsessive, like myself, the teams did not shatter the record for most innings played by two teams in one post-season series in one day - the Detroit Wolverines and St. Louis Browns played two full games of the marathon 1887 World Series on one day that year - October 21st).
The number of epic moments in "The Burke/Clemens Game" may well be uncountable. The key might've been Atlanta's Adam LaRoche - who had earlier hit a seemingly cinching Grand Slam - watching the ball, the fielders, and everything but his own third base coach's wildly windmilling arms, and getting himself thrown out of the plate in the 7th inning, instead of scoring what would've been Atlanta's 7th run.
Part of the mystery of the Braves' perennial post-season failures may be contained in an awful anniversary. It is now just about a decade since Manager Bobby Cox has gotten away with pitching a starter on three days' rest in the playoffs. Since Greg Maddux won Game Four of the 1995 World Series on short rest, the Braves have now lost on all six occasions when Cox has tried to sneak a starter back early. He often has not had many other options, and often (as in this game) it wasn't even the starter's fault, but it still reflects Atlanta's often fatal - and fatally-timed - pitching weaknesses.
So my predictions here are now one-for-three with one still outstanding.
YANKEES, ANGELS, TIED AT TWO APIECE
Atlanta - whom I had picked here to beat the Astros - left 18 men on base. 18! By contrast, last night in New York, the Los Angeles Angels stranded exactly one. They had blown their few chances against the Yankees by bad base-running and throws (one example of each from Vladimir Guerrero). The Yankees won 3-2, and considering that in their Game Three loss they overcame one five-run Angels' lead and nearly erased another, there is nothing in the Angels that suggests they are unbeatable in a Game Five at home.
The two teams played incredibly crisp baseball - as if they had a plane to catch (which they did, as it proved). Their first three games were not particularly enthralling - in fact, clearly the strongest part of the series had been the radio work of my friends Dan Shulman and Dave Campbell, who are, simply, the best announcing team in baseball.
WHITE SOX ELIMINATE RED SOX, 3-0
Got this one pretty good (Boston didn't even take the two gratuitous victories I forecast for them). Chicago manager Ozzie Guillen was on the radio with Dan Patrick and me the day before the decisive game, and I asked him how he'd succeeded in stifling Boston's big bats, David Ortiz and Manny Ramirez. He said he told his pitchers to focus not on them, but on the guys batting ahead of them, Johnny Damon and Edgar Renteria. Those Boston batters came to the plate 28 times in the three games and reached based exactly four times each. Thus, even though Ramirez homered twice and Ortiz once in the series, the Boston hitting machine never got started.
This outcome - and the holes throughout the Boston pitching staff - should underscore what a terrific job Terry Francona did in managing the Red Sox into the playoffs in the first place.
CARDINALS ELIMINATE PADRES, 3-0
The Cards' domination of San Diego, and the Jake Peavy fiasco in Game One, obscured some very ominous data for St. Louis. Not only did Larry Walker go hitless in the series and get banged up going for a fly ball in the finale, but the Cards scored 21 runs - 10 driven in by Reggie Sanders, and 11 by everybody else.
Worse even than the offensive inconsistency was one of the worst imaginable performances by a bullpen in a sweep. Five Cardinals' relievers pitched a total of eight-and-a-third innings - and gave up 16 hits and eight runs. If they perform similarly while the Astros  are close, the Cards are going to get smoked.
I'll wait to give you a formal prediction here until the American League Series is settled.
NOTES
This is why I love baseball - and periodically still write about it: It will always surprise you, even if you're sitting on the bench, waiting for the monsoons to stop long enough for them to get in the ballgame.
Pedro Gomez, the ESPN reporter, was passing the time with me when his old friend Felix Rodriguez passed in front of the dugout. In the last year-and-a-half, Rodriguez had gone from being a very good relief pitcher with the San Francisco Giants to a not-very-good relief pitcher with the New York Yankees, but he had remained one of the sport's most popular people.
Pedro went out to greet him and they conversed in Spanish. When he returned to the bench, he had a smile on his face. "One of your viewers," Gomez said. "He said to me 'Is that the guy who used to be on ESPN? Who does the news for NBC on cable? I watch him all the time. He's great.'" I don't know who was more surprised - Pedro or me.
This is not a gratuitous means of getting Rodriguez's compliment into a blog. It's designed to underscore the variety of people who've identified themselves to me or my staff as regular viewers of Countdown - the people I'm thinking of as we're putting together special items like the upcoming report on the coincidences of the last four years in which bad news for the Bush Administration has been followed within days by a terror alert or similar terror-related news story.
It also emphasizes that the typical depiction of sports figures as self-absorbed and detached from reality couldn't be further from the truth. Among the Countdown "baseball" audience are big league managers Bobby Cox (Atlanta), John Gibbons (Toronto), and Ned Yost (Milwaukee), and Jack McKeon, who just left the same post with Florida. Among the players, we have Todd Jones of the Marlins and Jeromy Burnitz of the Cubs, and among retired stars: Tommy John, Jerry Coleman, and, to my eternal surprise, Phil Rizzuto ("maybe some day you'll actually hit the camera with that crumpled-up piece of paper.")
Comments/ predictions?  E-mail:
• |
Exes and Errors (Keith Olbermann)
NEW YORK - White Sox fans saw utility infielder Tony Graffanino make 31 errors in just 273 defensive games over three-and-a-half years in Chicago. Last night, they watched him - as the new second baseman of the Boston Red Sox - kick an ordinary Juan Uribe groundball and turn a two-run rally into a five-run death knell, and give Chicago a 5-4 win and a two games to none lead in the American League Division Series.
New York Yankees fans suffered through two largely frustrating years from outfielder Juan Rivera. Last night, they watched him - as the rightfielder of the Los Angeles Angels - homer leading off the bottom of the fifth, to break Chien-Ming Wang's magic leading off the bottom of the fifth. Two innings later, Rivera led off again by beating out an impossibly high chopper, touching off the Angels' decisive rally in a 5-3 win that evened their Division Series.
So, it's all pretty much as I forecast here the other day. Except that the Yankees, Braves, and Padres aren't winning their series, and the Angels, Astros, and Cardinals aren't losing theirs.
WHITE SOX LEAD RED SOX, 2-0
The immortal humorist and sometimes Chicagoan Jean Shepherd put it best: Chicago White Sox fans "have known death every day of their lives, and it holds no terror for them." The Sox "represented not just Chicago, but the South Side. Do you know what it feels like to be a South Sider in a world of North Siders?"
These are fans of the team that won its last World Series the year before the Boston Red Sox had won what had been their last, until last season. Worse still, they have in their collective consciousness the awareness that either their greatest team - the 1919 squad starring Shoeless Joe Jackson - deliberately lost the World Series to the longshot Cincinnati Reds that year, or, probably worse yet, they lost while not trying to.
Thus for a true South Sider, is a 2-0 lead over the Red Sox in a three-game playoff series nothing to write home about (as it isn't, for anybody who remembers last year's 3-0 Yankee lead over said same Sox). In Chicago's only World Series appearance since the infamous 1919 clash, the 1959 "Go-Go" Sox eviscerated the Dodgers 11-0 in the Series opener, and dropped four of the next five.
Still, the White Sox have underscored three ugly truths about the Red Sox. Like the Yankees, Boston has an intemperate bullpen. But it also has an unreliable rotation. Boomer Wells might have been 10-3 in the post-season before last night's loss, but he's also the same guy who during the 2003 Series didn't tell the Yankees his back was killing him until it was too late for them to do anything about it.
Secondly, Boston's defense is a roller-coaster - ask Graffanino.
The final harsh truth is: teams that stifle David Ortiz and Manny Ramirez really don't have much to fear from the Boston line-up. And through two games, Ortiz and Ramirez are a harmless 4/15 with two RBI between them.
YANKEES AND ANGELS TIED, 1-1
There is comfort and concern for the Angels as they head to New York to face the Yankees and a Randy Johnson on a six-game winning streak. They rallied from down 2-zip to even the series last night in the home city that dare not speak its name.
But they did it largely because the Yankees handed it to them. Other than Rivera's fifth-inning homer, the Angels didn't score a meaningful run that wasn't enabled by Alex Rodriguez losing the proverbial groundball in the lights, or pitcher Wang panicking on a bunt Steve Finley caromed off the very edge of home plate an inning later. In two games at home against the Yankees' shakier two starters, the Angels still managed to get nothing (0-for-8) from leadoff man Chone Figgins and nearly nothing (1-for-7) from clean-up man Vladimir Guerrero. These are not strong augurs.
Neither is this. Baseball is actually suing a scholarship pre-school, for four and five year olds, on a copyright claim. The school logo is the interlocking initials "CA" - and baseball is worried that objects bearing that logo might infringe on its rights to the logo the then-California Angels used until 1996 - before they renamed themselves the Anaheim Angels (and redesigned the logo) and then re-renamed themselves the Los Angeles Angels of Anaheim (and re-redesigned the logo).
Baseball helped overshadow part of its post-season by suing a bunch of kids.
ASTROS LEADING BRAVES, 1-0
Good grief! You're trailing in the 7th inning of the playoff opener and your first guy out of the bullpen was the closer at North Carolina State until four months ago, had pitched in five previous big league games, and had a 12.60 ERA?
Bobby Cox - who is not merely one of the best managers in baseball but also one of its gentlemen - must've had his judgment clouded by those off-red uniform tops the Braves were wearing. Not only don't they match the team's caps and batting helmets, but they are so bright that - especially when you see Brian Jordan or Julio Franco in them - they look like they belong to a second-place club in an Over-50 Park Softball League.
My pro-Braves prediction may not have survived its first test here, but the 10-5 victory (with closer Brad Lidge warming up as it ended) at least erases the presumption by the cognoscenti that the Astros were going to close down Atlanta with infallible pitching.
CARDINALS OVER PADRES, 1-0
All those who predicted a San Diego upset are hereby given Mulligans.
Starting with me.
I cannot be expected to telephone each member of the Padres' pitching staff to ask them how manyribs they broke last week and didn't tell anybody - especially when it's their pitching ace, Jake Peavy.
It was remarkable how readily commentators were willing to assume Peavy had been hurtduring San Diego's first-game loss at San Diego. Readily, that is, until Peavy explained that he'd crunched himself as the Pods celebrated clinching the National League Western titlea week ago.
"We were jumping around on the field," Peavy said. "The next day I thought I had some bruised ribs, that I caught an elbow or something. But I never would've imagined it would have been this."
Thanks for mentioning it, Jake. Nice to know David Wells is your role model.
NOTES
Which veteran slugger appearing in one of Wednesday's games looked so thin and non-muscular, compared to his old self, that it seemed as if he'd had a Siamese twin removed?
A classic case of "What have you done for me lately?" in Oakland. As of May 29th, the A's were 17-32 and had lost 20 of their last 25. They finished with 88 wins, seven games out of first place, despite a late rash of injuries. So, of course, Manager Ken Macha won't be back next year. "We offered a three-year deal with a club option," said General Manager Billy Beane, "and they countered with a three-year deal without a club option. I don't think we were ever going to be able to bridge the gap. It was a significant gap." Just because Beanesays it was a significant gap doesn't mean it was - not if you wanted to keep a man as your manager.
And for the interested, Dan Patrick and I are doing our weekly radio hour today (Thursday) this week - 2 PM Eastern. I'd explain why, but this rescheduling happens so often that I'm just exhausted from the re-telling.
Comments/ predictions?  E-mail:
• October 3, 2005 | 7:47 p.m. ET
Yankees, White Sox, Braves, Padres (Keith Olbermann)
SECAUCUS — "What," my friend the CBS Sports producer asked, as we stood there in the field-level runway between the two clubhouses, just as the bottom of the ninth inning of Game One of the 1988 World Series began, "are we going to ask Dennis Eckersley after this game?"
"We're going to ask him," I replied, "how he feels about giving up that game-losing home run to Kirk Gibson."
She laughed. "No, seriously."
I laughed back. "I am serious. It's too obvious! Can't you see it coming down the hallway? The guy is too hurt to play, the Dodgers have no business being here without him, he's a football player who learned to play baseball — it's obvious."
Ten minutes later Gibson was hobbling around the bases with his game-winning homer off Eckersley and my colleague from CBS was looking at me real funny. "I also called the Bucky Dent home run in the Yankees-Red Sox playoff game in '78," I said as we scrambled towards the Dodger clubhouse.
All this is mentioned: a) because it makes me look good, and more importantly, b) because it underscores that the best baseball forecasting is a combination of hunch work, history, and instinct. On this eve of the 2005 playoffs, I have tried to keep my research to a minimum and gone more with my considerable gut.
I saw a list of the predictions of fifteen baseball experts today — six of whom are friends and/or colleagues. Six of them think the Angels will win the World Series; five pick the Astros; two choose the Cardinals, one each the Red Sox and Yankees, and, significantly, none the Braves, White Sox, or Padres. This alone should almost guarantee that the Angels and Astros won't even make it to the Series.
Yankees-Angels: An extraordinary Yankee team that has been teetering on the edge of extinction since the third day of the season and Mariano Rivera's first blown save against the Red Sox. No other Yankee first-place finisher has ever spent such little time actually in first place. Yet the Yanks finished by winning 20 of their last 29, and the back-up rotation cobbled together by Joe Torre and Brian Cashman, Of Chien-Ming Wang, Shawn Chacon, and Aaron Small merely combined for a 25-8 season. Neither Torre nor Cashman has ever done a better job, and unless the Yankees are exhausted by their season-long travails, they should be razor-sharp, even against that well-built Angels' club. Dismiss what you've heard about a slumping closer in Francisco Rodriguez - he was flawless down the stretch. The key to this series is the number of times you hear the "other" F. Rodriguez (Felix, of the Yankee arson squad), or the name Scott Proctor. If it's less than five, the Yankees will win in five.
White Sox-Red Sox: A season of vomiting managers, vomiting fans, and a nearly vomited 15-game lead. What a lovely image! The White Sox are the poster boys for underachievement, but a funny thing happened on their annual way to oblivion: they not only halted their own skid, but also knocked the upstart Indians out of the post-season. In the season's last thirty games, Chicago managed the second-best pitching in the league, and if the Yankees' turbulent staff could stave off David Ortiz and Manny Ramirez, there's no reason the more reliable White Sox pitchers can't. Terry Francona did nearly as much of a smoke-and-mirrors job in Boston as Torre did in New York, but when the smoke clears, Torre has Mariano Rivera and four behemoths in the middle of his line-up, while Francona barely has a back end of his bullpen. The White Sox in five.
Astros-Braves: Talk about fickle. Six weeks ago Bobby Cox was a genius again and the Braves' New World was a triumph of regional scouting, focused player development, and the flawless swing of Jeff Francoeur. Now, the Astros come within a loss of coughing up the Wild Card to the Phillies — the Phillies! — and because the Braves went 13-13 down the stretch, the Astros are the hip pick to win it all. I don't believe a word of it. I love Phil Garner as a manager, but the Braves are a mix of guys who have grown old waiting for a second World's Championship, and a bunch of kids who have grown up waiting for it. Waves of talent and decades of frustration take this one for the Braves, also in five.
Cardinals-Padres: Ah, poor Padres. In the playoffs only because you have to have a National League West team in there - like the obligatory Tampa Bay Devil Ray at the All-Star Game. No one seems to recall the three-over-.500 1973 New York Mets, who not only surged out of a sagging East to beat the Reds in the playoffs, but should've gone on to win the World Series. And no one seems to have noticed that in the last month, the Padres and Cards have fashioned almost virtually identical pitching stats (in the last week, the Padres were 5-2, 1.94; the Cardinals 3-2, 4.60). St. Louis barely has a player - pitcher or fielder - without a ding or a slump. Do not dismiss the prospects for a major shocker here: the Padres, perhaps quicker than five.
By the way, if you're at either of the far ends of the spectrum — fanatics and people who don't care at all about the sport — the just-concluded season was probably summed up for you in one word: "Steroids."
For everybody else, it was a stunningly successful year. Total attendance went up again; the New York Yankees became the first team in twelve years to draw 4,000,000 spectators; the Los Angeles Dodgers had their biggest audiences in 23 years; and the new team in Washington drew 2,700,000 fans — more than the old team in Washington drew in its last three seasons combined.
Comments/ predictions?  E-mail:
• September 26 |
Brownie's got a heckuva new job (Keith Olbermann)
SECAUCUS — Even his staunchest defenders had long since admitted that whatever else the President did or didn't do, or was or wasn't supposed to do, his supposedly solid political sense let him down completely at the beginning of the month of the hurricanes.     
It had seemed to rebound lately. Until today, anyway.
That's when a protestor was arrested on a technicality, not far from the White House. You might recognize her name: Cindy Sheehan.
      
And, that's when it was revealed that FEMA had apparently rehired a former employee as a consultant. You might recognize his name, too — Mike Brown.
At a meeting with staff of the special House committee looking into Katrina preparations today, the disgraced and displaced former FEMA director said he had rejoined the agency as a consultant to "provide a review" of how the agency functioned before, during, and after the storm. This according to two congressional sources.
      
A congressional aide told NBC News nobody's sure — but it is assumed Brown is being paid by FEMA. He is to testify tomorrow before that House committee, prompting our colleague Howard Fineman to joke that only in Washington would a man on his way to the electric chair be paid to belt himself in.
But the timing — Brown's announcement to the staffers came just hours after the arrest of Sheehan in Washington for not having a permit to sit down rather than just march — suggests that the political tin ear is back in control at The White House.
The President doesn't run The District of Columbia police, of course — not even Karl Rove can claim that responsibility. But one would think, what with Hurricanes Katrina and Rita proving to the administration the wisdom of the old saw that it's truly an ill wind that blows no one any good, a message would've gone out. Something along the lines of: 'don't touch Cindy Sheehan even if she self-immolates' — we finally just ended her publicity streak.
And one would've thought the FEMA folks would have been smarter than to let the face of the Katrina disaster, Mike Brown, back on to the public stage.
E-mail: KOlbermann@msnbc.com
• |
New FEMA boss is 'Duct Tape Man'  (Keith Olbermann)
SECAUCUS — If Michael Brown's resignation this afternoon as the head of FEMA was supposed to end the political controversy over the administration's response to Hurricane Katrina, it probably won't.
In another gesture symbolizing the continued confusion of the federal response, the man President Bush immediately named to succeed "Brownie," proves to have been the same FEMA official who, two-and-a-half years ago, suggested that Americans stock up on duct tape to protect against a biological or chemical terrorist attack.
David Paulison, then the government's Fire Administrator, joined with the then-head of Homeland Security Tom Ridge, on February 10th, 2003, to say that duct tape and plastic sheeting should be part of any home's "survival kit" in preparation for a terrorist attack. That set off a run on duct tape at stores, and widespread criticism of the administration. It might have been the first time after 9/11 that a large number of Americans wondered if the government really knew what it was talking about when it came to disaster preparedness.
And the man behind that politically explosive proposal, has just been named to succeed the man who had been the face of the politically explosive response to Hurricane Katrina.
Paulison brings an extensive resume to the post. He ran fire operations for Miami-Dade County in Florida, and was past president of the International Association of Fire Chiefs. But in light of the response to this hurricane, another comment he made at the time of the Duct Tape announcements rings especially loudly. Paulison said in February, 2003, that in the first 48 to 72 hours of an emergency, many Americans would likely have to look after themselves.
As to the exit of Mr. Brown, who knows how many of the millions of Americans directly or indirectly touched by Hurricane Katrina probably had the identical thought when he quit his post this afternoon: Namely, that he was no doubt already updating his padded resume.
       
And his departure was not even unattended by confusion. In Brown's statement, he wrote, "As I told the President, it is important that I leave now." But when first asked about it during his tour of Mississippi, Mr. Bush said he had no details, hadn't talked to Brown or Homeland Security chief Chertoff, and, "maybe you know something I don't know." Later, press secretary Scott McClellan said that the President had already known about the resignation — he just hadn't known that it had been made public.
And he was already just minutes away from naming Brown's successor: Duct Tape Man.
       
E-mail: KOlbermann@msnbc.com
Watch each weeknight at 8 p.m. ET & 12 midnight ET
Countdown airs weeknights, 8 p.m. ET on MSNBC.