/ Source: The Associated Press
Sijjad Rehman came from a town down the road, walking the last 10 miles with a pickax over his shoulder. Hassan Durraini came from near the capital, bringing milk and rice and cookies.
Mohammed Patan said simply that he came from "over there," pointing into the mountains that surround this small town, which sits almost at the epicenter of Saturday's earthquake and where nearly every building was destroyed.
Like an army of rescuers, thousands of people have marched on Balakot and other badly damaged Pakistani towns over the past couple of days, bringing what relief they can to places that have so far seen little of it.
Tuesday morning, the road to this town, closed to all but official vehicles, was crowded with men walking. Many carried crowbars or hacksaws or shovels. Some were coming in search of relatives, whether in Balakot or in more distant villages still cut off farther up the road.
But most seemed to know no one here. They'd heard the reports and seen the pictures of the little riverside town where building after building was turned to rubble.
So they came to help.
Patan, who carried a plastic bag of green sandals in small sizes, was handing them out to parents whose children looked to be in need. "When I have given them away, I'll go home," he said, shrugging.
Hoping to save trapped children
Rehman, who came from the nearby town of Mansehra, went straight to Shaheen, a school on the edge of town where anywhere from 200 to 400 children are thought to have been killed — and where at least five survivors were pulled out Monday.
"I am here to bring out more children alive," said Rehman, a strong-looking man with sun-weathered skin and the red-tinted hair many men here favor. But more than 72 hours after the quake, with temperatures dropping into the 50s at night and rain showers regularly pelting the area, he knew there was little chance of that.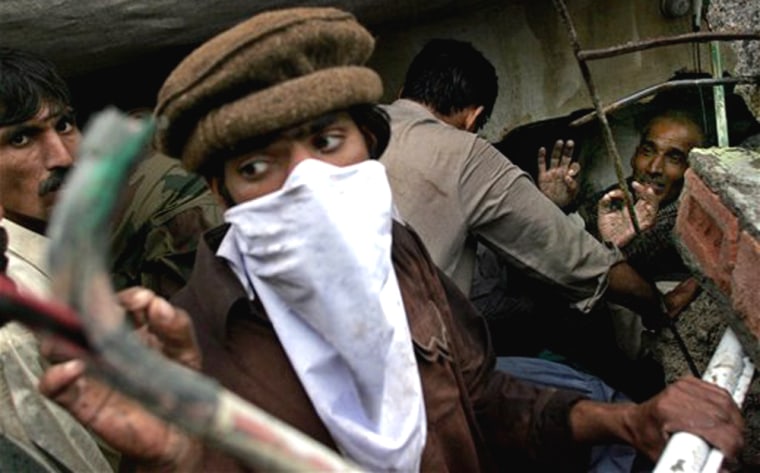 Throughout the day Tuesday, volunteers found corpse after corpse.
By a small wheat field behind the wreckage of the school, the bodies of students were wrapped in plastic shrouds and carefully laid out. Townspeople came by regularly, slowly turning down one shroud after another. Every hour or so, the sound of crying could be heard as a child was identified. Then the body would be taken away for burial, a small group stepping their way through the rubble of the town as they carried the child on a broken door or a wooden bed.
The need, in places like Balakot, is nearly impossible to imagine.
Estimates vary wildly on how many people died here. Before the quake, the population was about 30,000. The smell of rotting corpses hangs over parts of town, a reminder of the basic tasks yet to be done.
Closest medical facility is 25 miles away
But even when survivors are found, it's a long way to get to help. The nearest large hospital is in Abbottabad, about 25 miles away. While Pakistani military helicopters now churn in and out of town all day, and ambulances ferry out some of the injured, no one has taken responsibility for Balakot. Soldiers claim to be in charge, but few go out of their way to make sure people find their way to help.
"These soldiers are donkeys," said Nayyar Fida, spitting out the words as he watched the rescue efforts at the Shaheen school, where his 23-year-old sister, Majmin, was a teacher. There has been no sign of her since the quake, and Fida has little hope she remains alive.
He said a Pakistani military detachment had passed through the first day after the quake, but simply watched as he and other frantic villagers clawed at the school's rubble. The soldiers couldn't begin work, they told the townspeople, until they had orders to do so.
It's only the volunteers, he said, who have really brought relief. Most welcome are the professional search-and-rescue teams, such as a French group who found the five children at the school. But they were gone by Tuesday, and only the men with the sledgehammers and the crowbars were left, hacking their way through layer after layer of the flattened building, and shouting out in fear at the occasional rumble of the aftershocks.
There's no way to measure how much the volunteers have accomplished. They are completely unorganized, few have training and aid distribution is so haphazard that there were 3-foot-high piles of donated clothing in some areas, soaking in the rain.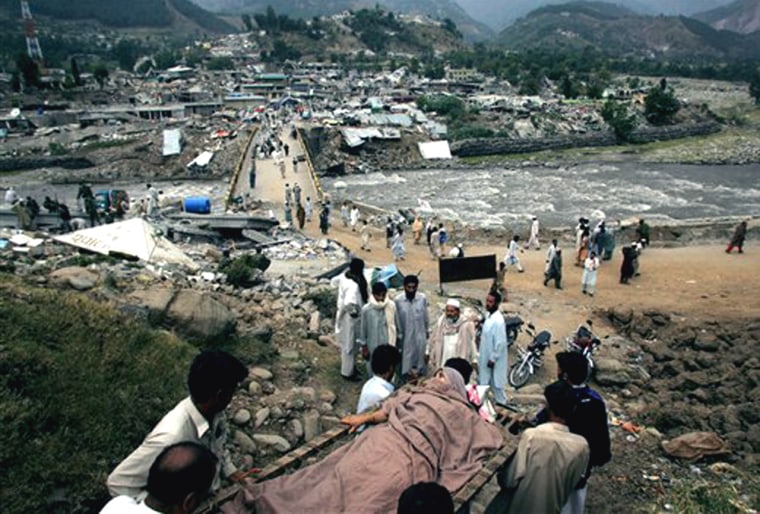 But they have also dug out dozens, and probably hundreds, of bodies. They've brought food and clothing to people who need it. Perhaps most important, they are proof to the residents of Balakot that people do care.
"We're very proud of these people," said Fida, motioning toward the volunteers. "Some don't have food for themselves, but they still brought food for us."