/ Source: The Associated Press
A rocket carrying two Chinese astronauts blasted off Wednesday from a base in the country's desert northwest, returning men to orbit just two years after Beijing joined the exclusive club of spacefaring nations.
The mission, reportedly due to last up to five days, is an effort by the communist government to declare its status as a rising world power with technological triumphs to match its rapid economic growth. Chinese space officials say they hope to land an unmanned probe on the moon by 2010 and want to launch a space station.
China is only the third country to launch a human into orbit on its own, after Russia and the United States.
The Long March rocket carrying astronauts Fei Junlong and Nie Haisheng in the Shenzhou 6 capsule lifted off at 9 a.m. from the heavily guarded Jiuquan Satellite Launch Center in the Gobi Desert. Shenzhou means "divine vessel."
In a sign of official confidence, the communist government broke with the military-run space program's usual secrecy and showed the launch live on state television.
Images of Fei and Nie in their cockpit as the craft roared toward orbit were broadcast live to hundreds of millions of Chinese television viewers.
"Feeling pretty good," Fei said in the first broadcast comment from the astronauts, or "taikonauts."
The capsule entered its preset orbit 23 minutes after launch, the government announced.
State television showed Chinese President Hu Jintao watching the liftoff from a command center in Beijing, while Premier Wen Jiabao was on hand at the launch base.
"We await your triumphant return! Goodbye!" a technician at mission control told the astronauts minutes before the liftoff.
Wen hailed the launch: "The Shenzhou 6, which has attracted worldwide attention, has successfully launched."
The manned space program is a key prestige project for China's ruling Communist Party, which hopes that patriotic pride at its triumphs will help shore up the party's public standing amid frustration at official corruption and social problems.
In Beijing, hundreds of people gathered on a plaza outside the main train station to watch the launch on a giant television screen. Some clasped their hands in anxiety as the rocket surged skyward.
"The Shenzhou liftoff brings pride to our divine land, pride to our Chinese people, pride to our country and pride to humankind," said one man, who would give only his surname, Zhu.
In Shanghai, students at the elite Xiang Ming Middle School cheered when the rocket separated successfully from the spacecraft, raising hand-painted signs that read, "My heart takes flight." Some fired off congratulatory e-mails to the space program.
"It's a very great day for our country," said Seymour Lee, 15. "It feels like we've been waiting 50 years for it."
In a show of the growing gap between rich and poor in China, however, peasants working on farms less than an hour's drive from the launch pad merely shrugged when asked about the space mission.
"I don't know anything about such things," Ju Guixia said as she used a knife to cut down cotton blossoms in freezing weather.
Riskier second mission
The mission by Fei and Nie, both former fighter pilots, is expected to be longer and riskier than the 2003 flight, which carried one astronaut and lasted just 21½ hours.
The government has not said how long the latest flight will last, but news reports say it could be up to five days. The official China News Service said Wednesday the capsule was expected to orbit the Earth 80 times before landing in China's northern grasslands.
Wen, the premier, visited Fei and Nie before dawn in their quarters at the Jiuquan base and called their flight a "glorious and sacred mission," the official Xinhua News Agency reported.
"You will once again show that the Chinese people have the will, confidence and capability to mount scientific peaks ceaselessly," Wen said, according to Xinhua.
Wen insisted ahead of the launch that China's aspirations in space were strictly peaceful and that it opposes deploying weapons there.
Xinhua said that during their flight, the astronauts will take off their 22-pound spacesuits to travel back and forth between the two halves of their vessel — a re-entry capsule and an orbiter that is to stay aloft after they land.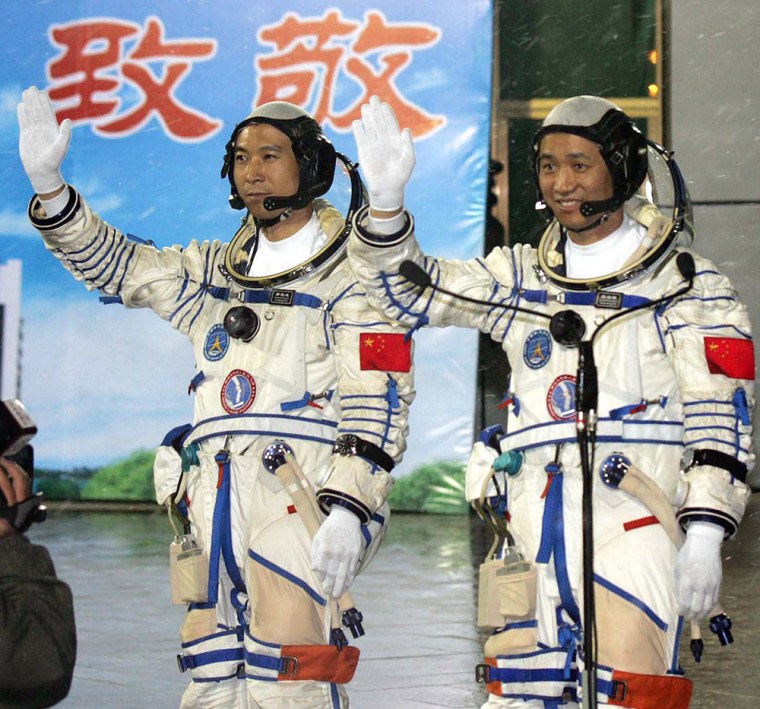 Fei's and Nie's identities were not announced until early Wednesday, hours before their flight. Xinhua said the astronauts — known in Chinese as yuhangyuan, or "travelers of the universe" — were picked from a field of six finalists.
Nie was one of three finalists for China's first space mission in 2003 but lost out to Yang Liwei, who became a national hero.
Foreign reporters were barred from the launch base near the former Silk Road oasis of Jiuquan. A handful of Chinese reporters were allowed to be on hand for the liftoff, but authorities at the last minute turned back Hong Kong reporters who had been invited to attend.
The Chinese reporters were warned that they might be ordered to hand over film or video — a possible image-control measure in case anything went wrong. Other reporters who tried to get near the base were stopped at roadblocks up to 50 miles away.
The Shenzhou capsule is based on Russia's workhorse Soyuz, though with extensive modifications. China also bought technology for spacesuits, life-support systems and other equipment from Moscow, though officials say all the items launched into space are Chinese-made.
China has had a rocketry program since the 1950s and fired its first satellite into orbit in 1970. It regularly launches satellites for foreign clients aboard its giant Long March boosters.