Would you take business advice from a criminal? Martha Stewart thinks you should. Fresh from her 5-month stint at Camp Cupcake, the high priestess of all things homey has published The Martha Rules: 10 Essentials for Achieving Success as You Start, Grow, or Manage a Business.
Now some might think a business book by someone who just got her Big Brother bracelet removed after a stint in the clink for lying to the feds is the height of chutzpah. But in her true lemons-to-lemonade style, Martha tells us her book was inspired by her experiences at Alderson Federal Prison in West Virginia. In the book's introduction, she tells of being "called over" by two fellow inmates who pitch her a business idea for a unisex hair salon/salad bar/cafe/soul food restaurant. Martha bravely disses the idea, saying it was "too ambitious," dutifully noting that "women did not want to eat where they had their hair cut."
But a "good thing" came from Martha's interaction with her convicts-in-arms: It led her to write The Martha Rules so she could help "mentor" her fellow prisoners about their business ideas. We wonder whether perhaps the "girls" with the business plan weren't really asking for advice, but were seeking some start-up funding from the fabulously wealthy felon? And if not, we're pretty sure they don't really appreciate their Big Idea being blabbed across Martha-dom.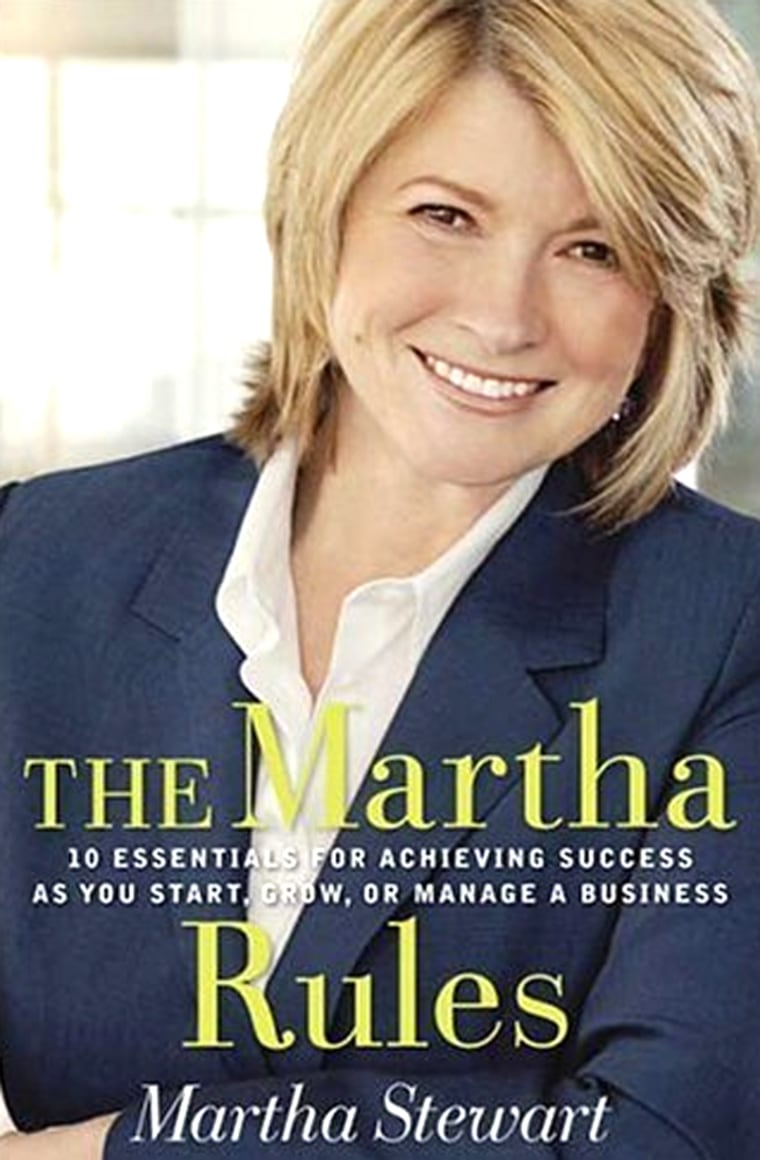 Meanwhile the ratings-challenged reality TV star is busily rebuilding her brand. She has another book coming out next month, "The World According to Martha," where she offers up her opinions on a host of topics. And just in time for your cranberry-potpourri-scented Christmas comes "Martha Stewart Living Music: The Holiday Collection," a compilation of her favorite traditional, jazz and classical tunes along with suitable recipes, decorating tips and craft ideas for you to better enjoy the festive season, whether at home or a federal penitentiary.
But those people who really want to mimic Martha may need this: Builder KB Home last week said it has a pact with Stewart's company to construct 650 homes in Cary, N.C. The Martha McMansions will cost up to $450,000, and are said to be inspired by Stewart's own homes in New York and Maine. But there's no word whether they will come already equipped with home-confinement monitors for you perjury-prone domicile-divas.
Not-so-bad ideas
ABC Dispensing Technologies Inc. has announced its new natural mountain spring water, au Le Cadeau, will come in a bottle shaped like the Eiffel Tower. Maybe it's just us, but beyond Tom Cruise and Katie Holmes, we don't see much of a market for this in Freedom-Fry fixated America.
Also on the America-first (and this time, wrong) front comes ESPN, which blacked out Major League Baseball playoff telecasts this month in the U.S. Virgin Islands, saying their contract with MLB prohibited broadcasts outside the "continental U.S.," according to Caribbean cable-TV operator Innovative Communication Corp. "Alaska and Hawaii are not part of the continental U.S., but the U.S. Virgin Islands are," maintained Rene A. Henry, Innovative's vice president of public relations. After perhaps a quick check of an old college geography textbook, ESPN admitted its error and lifted the blackout.
Talk about a loyal listener: The nation's biggest radio company, Clear Channel Communications, said yesterday that it had fired two programming executives and had disciplined several others for misconduct after an internal review of "pay for play" allegations. In one case, Diana Laird, the program director of the company's station KHTS in San Diego, is accused of receiving a flat-screen television from a music label which was disguised as a contest giveaway in the record company's accounting system. Free TVs for radio-contest winners? What's next, iPods?