/ Source: msnbc.com news services
Apple Computer on Wednesday unveiled a video version of its popular iPod digital media player and announced a groundbreaking deal to sell episodes of some hit ABC TV shows online.
The new video iPod, available in black or white, will be able to play video and podcasts on its 2.5 inch screen. A 30-gigabyte version will sell for $299 and a 60-gigabyte, $399, the same prices that the earlier, non-video iPod sold for.
Apple also announced its iTunes Music Store would sell music videos for $1.99 a song and introduced a new iMac computer designed to act as an entertainment hub.
Apple chief executive Steve Jobs said the online iTunes store will sell episodes of hit shows "Desperate Housewives" and "Lost" for $1.99 each, making them available the day after they air on television.
"It's never been done before, where you could buy hit TV shows and buy them online the day after they're shown," said Jobs whose other company, Pixar Animation Studios Inc., has a long relationship with ABC's parent, The Walt Disney Co. Short videos from Pixar will also be available in iTunes.
"This is the first giant step to making more content available to more people online," said Robert Iger, Disney's chief executive. "It is the future as far as I'm concerned. It's a great marriage between content and technology and I'm thrilled about it."
A slew of companies are trying to entice the public to watch video on their mobile devices but so far adoption has been slow. Media companies also have been slow to sign distribution deals, in part because of piracy concerns.
Videos downloaded from iTunes will be locked with copy-protection software, just as songs sold there are now. But the new iPod will also support the MPEG-4 video standard, meaning users could view home movies and other unencrypted videos on it. A user could store up to 150 hours of video on the device, Apple said.
Extra features on the new iPod include a clock, a calendar that Jobs said never looked better, a stop watch and a screen lock.
"It's really very beautiful and very thin," Jobs told assembled journalists and guests.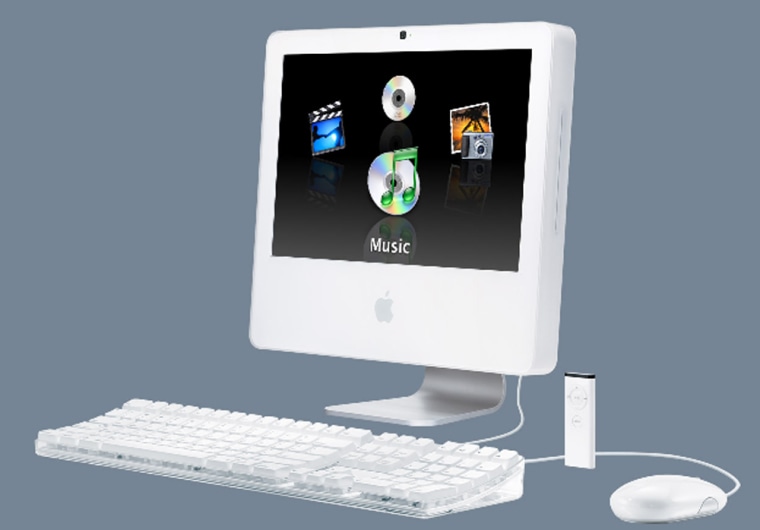 Apple also introduced a new iMac desktop computer with a remote control to allow access to music, photos and movies. The iMac G5 is designed to be an entertainment hub, competing with Microsoft's Media Center computers.
Apple has already sold more than 28 million iPods since their introduction in October 2001 and now has about 75 percent of the market for digital music players. Just last month Apple unveiled the pencil-thin nano iPod, which sells for $199 and $249, depending on memory.
Shares of Apple, meanwhile, continued to tumble Wednesday, after the company reported robust sales of its personal computers and still-sizzling iPods, but overall shipments of the digital music player falling shy of Wall Street's high hopes.