/ Source: The Associated Press
Russian security forces in an armored personnel carrier smashed through the wall of a store to rescue two hostages held by suspected Islamic militants Friday as authorities tried to clear out the last pockets of rebel resistance after more than a day of fighting that killed at least 108 people.
By midday, the head of the regional government, Gennady Gubin, announced that all rebel resistance had been suppressed and all captives had been freed, the Interfax news agency reported.
"All points of rebel resistance have been suppressed and hostages freed. Now the security forces are conducting a sweep of the city to find rebels who are hiding," it quoted Gubin as saying.
Chechen rebels claimed involvement in the near-simultaneous attacks on police and security facilities that began Thursday in this southern Russian city of 235,000 people and left corpses lying on the streets.
The fighting in the Kabardino-Balkariya republic near Chechnya raised fears that Islamic militants who have been fighting Russian forces for most of the past decade were opening a new front in the troubled Caucasus region.
President Vladimir Putin praised the response by the security forces but lamented that such attacks can occur, news agencies quoted him as saying. "It is bad that such bandit raids are still possible here," Putin said, according to the news agency Interfax, in his first public comments on the fighting.
He added, however, "it's good that this time all the law-enforcement agencies worked in coordination, effectively and tough."
Blockade around city
Putin has been beleaguered by attacks that have killed hundreds of civilians and underscored his failure to bring the turbulent Caucasus under control. On Thursday, he ordered a total blockade of Nalchik to prevent militants from slipping out and ordered security forces to shoot any armed resisters.
Putin indicated the central government will continue taking an uncompromising line in the region.
"Our actions must be adequate for all the threats that bandits make to our country. We will act hard and consistently, as we did in this case."
Militants battling Russian forces in the region near Chechnya have employed terrorist methods including suicide bombings and the seizure of more than 1,000 hostages last year in a school in Beslan, about 60 miles southeast of Nalchik. More than 330 people, mostly children, were killed in that siege.
In freeing the two hostages Friday in the center of Nalchik, soldiers shot grenades through a barred window of a store. Three militants were killed, Deputy Prosecutor General Vladimir Kolesnikov said.
Interfax also reported that that 12 militants had been killed in the local office of the Russian prison administration, according to deputy administration chief Valery Krayev. Nine hostages were freed from the building earlier Friday, Interfax said, while the RIA-Novosti news agency said three police officers who had been held captive there were killed.
No known demands
It was unclear whether the militants had any specific demands. The rebels' strategy has been to sow instability across the south, capitalizing on the turbulent Caucasus Mountain region's grinding poverty to swell their recruits, buying off corrupt officials to get weapons, and unleashing terrorist bombings and hit-and-run attacks against police.
The president of Kabardino-Balkariya, Arsen Kanokov, told Interfax that nearly 150 militants were involved in the attack and most of them were local residents. He said the main reason for the attack was the republic's difficult economic situation.
"The population's low income and unemployment create the soil for religious extremists and other destructive forces to conduct an ideological war against us," Kanokov was quoted as saying.
At least 108 people, including 72 attackers, had been killed in the fighting, according to a tally by officials, news reports and an Associated Press reporter.
Among them were 24 law enforcement officers and 12 civilians, Interior Minister Rashid Nurgaliyev told the RIA-Novosti news agency.
It was unclear whether any of the 12 rebels reported killed at the prison administration building had been included in the toll.
Gas reportedly used
Zaur Makhsiyev, who said his 20-year-old sister, Leyla, had been inside the gift shop, said she was uninjured but suffering the aftereffects of an unspecified gas presumably used to incapacitate the militants. The use of gas could not be independently confirmed.
Kolesnikov also said five police officers had been freed from a precinct station where they had been held by militants, and that eight militants had been killed there.
Nurgaliyev said 31 rebels were detained, RIA-Novosti reported. State-controlled Channel One television showed detained men lined up in the corridor of a police station, holding their hands behind their necks and facing the wall.
Six of the most gravely wounded were being flown to Moscow, 870 miles to the north, for treatment, ITAR-Tass reported.
Although Chechen rebels claimed involvement, Deputy Interior Minister Andrei Novikov told reporters in Nalchik that two-thirds of the militants, who numbered more than 100 and were mostly ages 20 to 30, were local residents. The rest were from other Caucasus republics, he said.
He said the alleged leader of the attack, Ilyas Gorchkhanov, had been killed. He also said that a large quantity of weapons, ammunition and explosives had been seized during the past two days around the republic.
Nurgaliyev said 31 rebels were detained, RIA-Novosti reported.

Outside Nalchik, in the suburb of Khasanya, rebels shelled a police car Friday morning, killing two riot police officers.
Bodies still in streets
Bloodied corpses still lay in the streets on Friday. One was near the entrance to police station No. 2 and the regional anti-terrorist center, where most of the windows had been blown out and even tramway lines outside had been brought down.
Seven more bodies were sprawled across the street, most with horrific head wounds. Heavily armed police poked and kicked at the bodies, presumably those of militants, all clad in tracksuits and running shoes.
Outside the local Federal Security Service building, several heavily armed officers picked gingerly through a black backpack that had apparently belonged to a militant, pulling out a candy bar, a bottle of water and a black T-shirt.
ITAR-Tass said that some rebels tried to escape in a van but crashed into a tree and were surrounded and killed. RIA-Novosti said there had been seven militants and an unknown number of hostages in the vehicle. The hostages were rescued, it said.
Estimates of the number of militants involved ranged from 60 to 300, and Interfax quoted an aide to the president of Kabardino-Balkariya as saying late Thursday that 17 had been detained.
Multiple attacks used before
Deputy Interior Minister Alexander Chekalin said the fighting began after police tried to capture about 10 militants in a Nalchik suburb, and that the attacks were aimed at diverting police. All 10 suspects were killed, he said.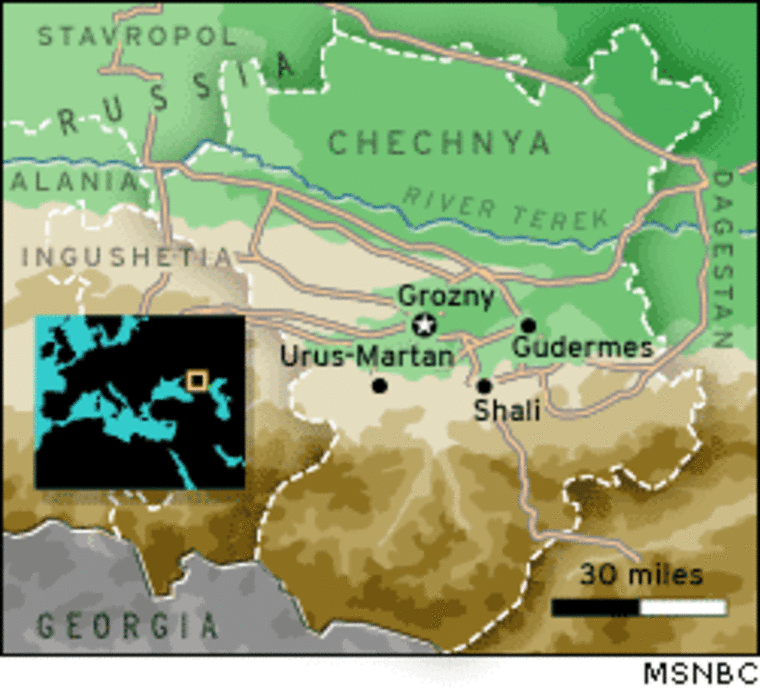 The Kavkaz-Center Web site, seen as a voice for rebels loyal to Chechen warlord Shamil Basayev, said it had received a message claiming responsibility for the attack on behalf of the Caucasus Front. It said the group is part of the Chechen rebel forces and includes Yarmuk, an alleged militant Islamic group based in Kabardino-Balkariya.
The strategy of launching simultaneous attacks on police facilities was similar to last year's siege in another Caucasus republic, Ingushetia, in which 92 people died and police armories were looted. Basayev claimed responsibility for those attacks and the Beslan raid.
Dagestan, another Caucasus republic, has suffered a sharp rise in violence this year, with bomb attacks and clashes between police and fighters of uncertain affiliation reported almost daily.