/ Source: The Associated Press
With a whoosh of dust, the twin-rotor Chinook helicopter circled a scene of devastation in this quake-flattened town in northern Pakistan and landed on a river bank in front of hundreds of bedraggled survivors of South Asia's quake.
Within minutes, the U.S. Army crew had disgorged its cargo of tents — donated by the Iranian Red Crescent — and filled the hulking chopper with a dozen badly injured people on stretchers and shrouded by blankets.
In a move that could boost America's battered profile in the Islamic world, the U.S. military has diverted eight heavy-lifting choppers from the war on terrorism in neighboring Afghanistan to help earthquake victims. It's due to send another two dozen helicopters from further afield in the days ahead.
"I don't have a bad feeling about America," said Wali ur-Rehman, who lost four children in the quake and cradled a surviving son, 2-year-old Kalil, in his arms. "It's a long, long way away, and they are helping us."
Six days after the temblor, the injured, many with open fractures that have become infected, were still pouring in from outlying villages to Balakot. From the air, it appeared the ground has been pulled out from under the town. Buildings were spread-eagled, tin roofs were grounded.
A race against time to find survivors
Local police and rescue workers estimated 2,000 to 3,000 had died in Balakot, including hundreds of children buried in three destroyed schools. Many more were feared dead in outlying villages, which have seen little of the aid that has gravitated toward the town.
The U.N. undersecretary general and emergency relief coordinator, Jan Egeland, flew over Kashmir by helicopter Thursday and warned time was running out for the tens of thousands left homeless by the quake.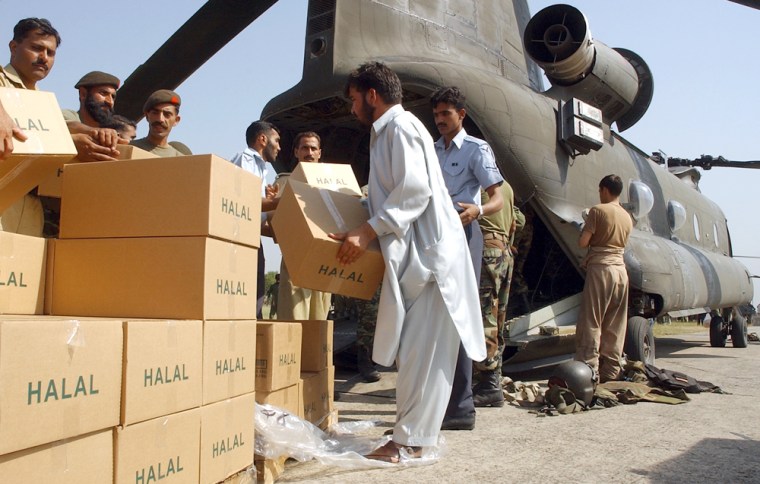 "I fear we are losing the race against the clock in the small villages" cut off by blocked roads, Egeland said. "I've never seen such devastation before."
Fateh Sher, 22, a medical student volunteer in Balakot, said the American helicopter missions would change people's opinions of the United States — whose Secretary of State Condoleezza Rice promised long-term aid during Pakistan's "hour of need."
"The media and all others who come here can see that America can help us," Sher said.
Another volunteer, Irfan Haider, was more circumspect.
"America always helps, like they did during the tsunami," he said, referring to the assistance given by the U.S. military to areas of Indonesia, Thailand and other nations hit by the devastating waves that killed tens of thousands of people last December.
"But I think the U.S. should not help Israel. America's politics are still a problem," Haider said.
The eagerness of the U.S. military to escort journalists on sorties into the quake zone suggested the Army understands the public relations potential of the exercise.
Conflicting relations with Pakistan
Pakistan's government is a strong ally in the war on terrorism, yet its 150 million mostly Muslim people deeply resent the United States, a sentiment that has only deepened in the two years since the invasion of Iraq.
"Miss Behavin"' — the lewd logo of the Chinook — was covered with green gaffer tape to respect "cultural sensitivities," said Chief Warrant Officer Mark Jones of Seattle, the chief pilot, who usually flies the helicopter to support combat missions in eastern Afghanistan.
"This is a good job," he said of the assignment in Pakistan. "You see the people. They are scared, and they're hurting. It's good to know we are getting them out to hospital, especially the kids."
Still, many of the quake victims appeared oblivious to where the choppers come from. Germany and Afghanistan also are contributing military helicopters, much needed in the mountainous terrain where many roads are still blocked by landslides.
The Chinook had no stars and stripes on its side and the nine crew barely disembarked during their mission and had minimal contact with the people they are helping.
Ur-Rehman, whose graying beard makes him look far older than his 40 years, initially guessed the Chinook that carried him and his son was from Brazil — after misinterpreting the meaning of a name tag worn by one of the American soldiers.
Ur-Rehman said he had carried Kalil on foot for four hours to Balakot from his home village of Zigan. The quake buried all eight of his children beneath his mud brick house, and he said he dug them out himself as there were no rescue workers to help.
"I found all my children. Four were dead, four were alive," ur-Rehman said, as he cradled Kalil, who had spent two days under the rubble.
After landing at a military air base near the capital, Islamabad, Kalil was sent to a hospital. The boy's left foot was bandaged and medics said it appeared to be turning gangrenous and might have to be amputated.