Most big electronics shows I get to cover are meant for industry types — either the people who make devices, sell them, or write about them. But this weekend's Digital Life Expo at New York City's Jacob Javits Center is meant for everyone.
As the name suggests, the show covers a wide range of consumer electronics, from TVs to PCs, games to networking. Some of the most interesting new items I found had to do with new ways of using Internet phone service and backing up all your vital information (and home movies).
VoIP (Voice over Internet Protocol) allows you to use your high-speed Internet connection (DSL, cable or satellite) to provide phone service. More and more people are looking at VoIP phones as an alternative to what is now known as POTS (Plain Old Telephone Service) — the wired kind which has been around for more than 100 years.
One VoIP provider at the New York show was proudly demonstrating their new video phone. Packet8's DV326 VideoPhone is a desktop device with a terrific-looking color screen on top.  In a quick demonstration, I received a video call from someone at Packet8's home office on the West Coast. I have to admit that both the video and audio quality was very, very good.
The DV326 sells for $99, with Packet8's videophone service priced at $19.95 a month for unlimited calls within North America and unlimited calls worldwide to other Packet8 subscribers. (There's also a $29.95 activation fee.) And of course, if you want to make plain ol' voice calls with this phone, you can do that, too.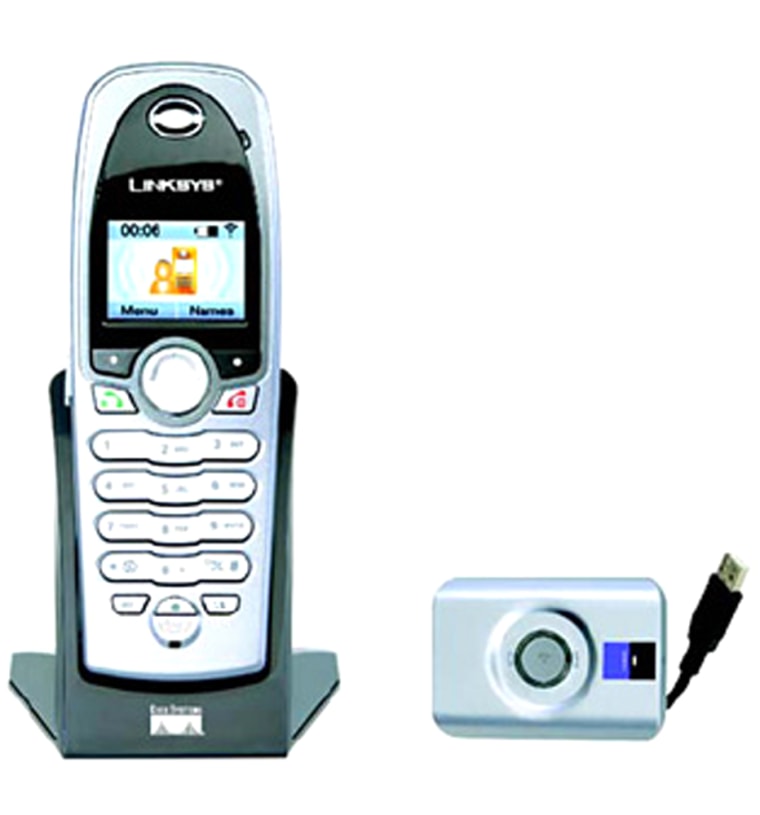 Linksys, best known for its networking products, has a new Skype handset system. Millions use Skype's free VoIP service to talk with other Skype users.  I do, too. Many also pay fees to use SkypeIn (for incoming calls from non-Skype phones) and fees for SkypeOut (to place outgoing calls to any phone). 
The Linksys device consists of two parts: a base station that plugs into your computer's USB port and the cordless handset. The base station automatically puts your Skype contact list on the handset's screen. The illuminated handset features Caller ID, a speakerphone, call waiting and an intercom feature to speak with additional (optional) handsets.
I currently use a $20 Radio Shack headset to call my friends via Skype, but I intend to try this new $129.99 device as soon as I can get my hands on one.
Apple's video iPod announcement has turned the spotlight on portable video devices. Expect to see a lot of companies announcing models to try to compete with Apple.
At the expo, iRiver was giving sneak peeks at their tiny U10 video/photo/MP3 portable. Very compact and lightweight, the U10 has a terrific screen and looked pretty great playing a video. There'll be two versions, a 512MB for $199.99 and a 1GB model for $249.99. Portable video will be a hot item in the near future. Expect to read about new portables soon from Archos and Zvue.
There was also a company at the show featuring software that allows you to use your iPod for something entirely different — backing up your data.
Tanagra's Memeo ($29.95) software is quite clever at allowing you to back up and keep track of all your files, including those ever burgeoning folders of photos, music and video. A simple checklist gives the user an easy way to place and locate important files and place them on any available storage location — including your iPod.
Better yet, you may want to back-up your files onto a larger device, say Buffalo Technology's amazing new storage device.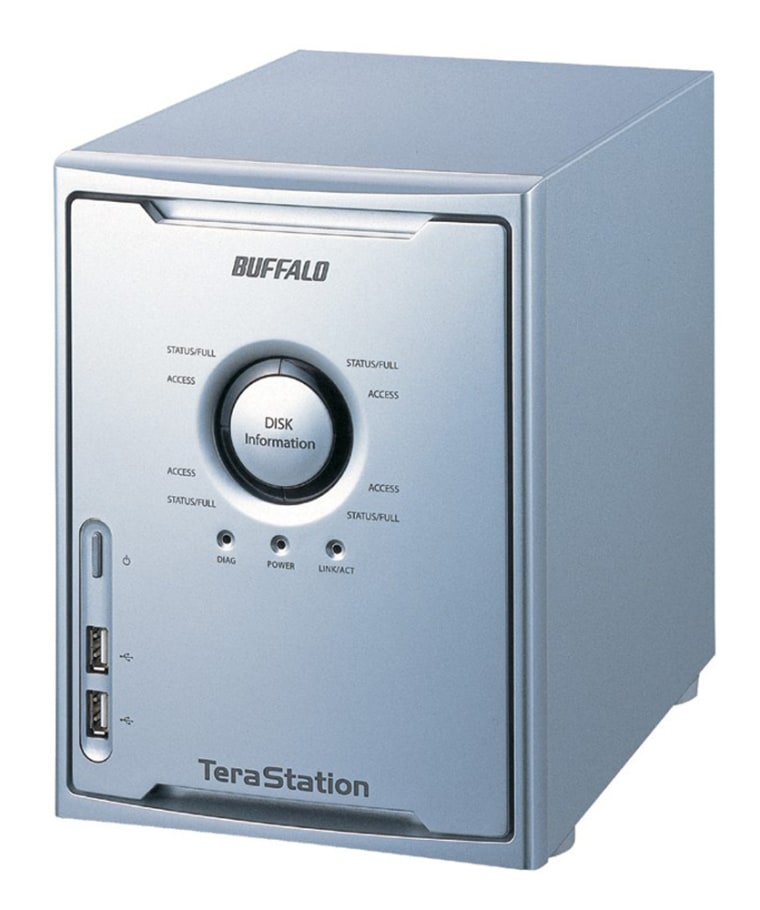 I've been using a 160 GB LinkStation storage box to store my digital music files (which are bigger than most people's because they're ripped using "lossless" standards). Works like a charm.
But Buffalo has gone one better with its line of TeraStation storage boxes. There are three configurations: one that holds 0.6 terabytes (that's four 160GB hard drives), another with 1.0 terabytes (four 250 GB drives) and a 1.6 terabyte model (with four 400GB drives). They're priced accordingly: $799, $999, $1,999.
This much storage in one place may sound like complete overkill, but if you rip you music at high-fidelity speeds —and plan to collect large video files for distribution throughout your home  — a terabyte isn't as silly as it might sound. 
Oh, I almost forgot, all of the different sized TeraStations light up really nice too — with lots of colored flashing lights. That's always good when you're buying neat technology.
But, in case you can't make up your mind how much storage to buy right now, how about a device that lets you put that decision off?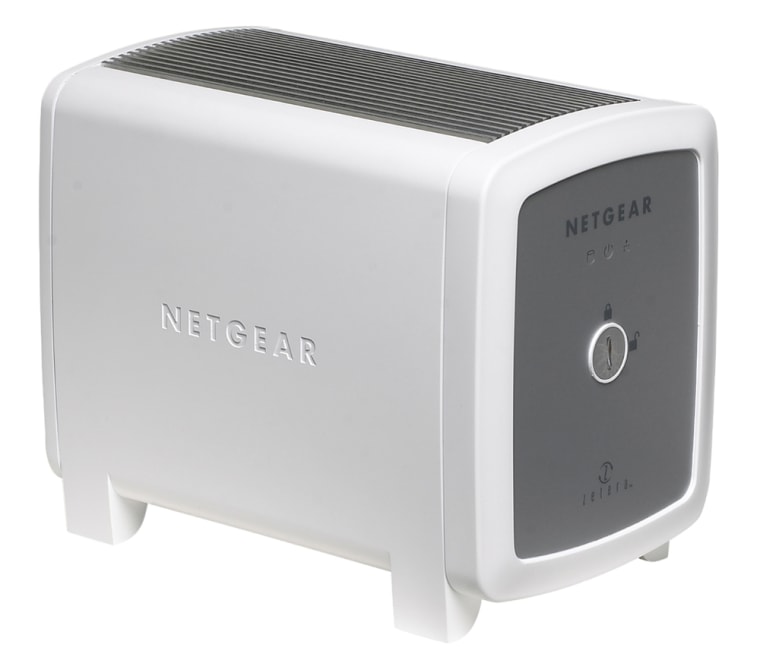 Netgear's SC101 Storage Central is a hard drive array without hard drives. It allows you to add one or two 3.5-inch IDE drives of any capacity inside its compact (6.75 by 4.25 by 5.66 inch) profile. That means you can shop for the best priced hard drives whenever you feel the need to expand your storage.
Suggested retail price is $129.99, but I've seen the SC101 selling for less on the Internet. The hard drives, of course, are extra.